Discussion Starter
•
#1
•
Well this was quite an adventure to say the least, bout 25 bikes, experienced to beginners.
For those that don't know, Doc Wong is a local guy who holds various free motorcycle riding clinics. He's very enthusiastic and its a great service to the community really.
This particular ride really did turn into an all out adventure though and a few poor souls might be so rattled as to never ride offroad again.
I'm going to do this ride report in increments as I have to head off to work in a few minutes, but here is the set up:
We all gathered at the Friday evening ground school at his Chiropractic office, (hint hint) and go through a short but thorough power point seminar on riding skills and dirt requirements. He does a really good job keeping the crowd interested and active and all in all it was a productive evening particularly for the guys who were new to offroading and motorcycling.
This particular clinic is geared towards big boar adventure touring bikes with a slight emphasis on the BMW's (he owns one) but Id have to say the KLRs at the ride out numbered anything else..
Fast forward to 2days later, I met up with a few people in San Jose at 7am to make the ride to the main meeting point in Tres Pinos Ca. just south of Hollister. The ride down was uneventful, and the place was easy to find. We all gassed up, got some supplies and a little breakfast and prepared to head in to the wilderness.........to be continued.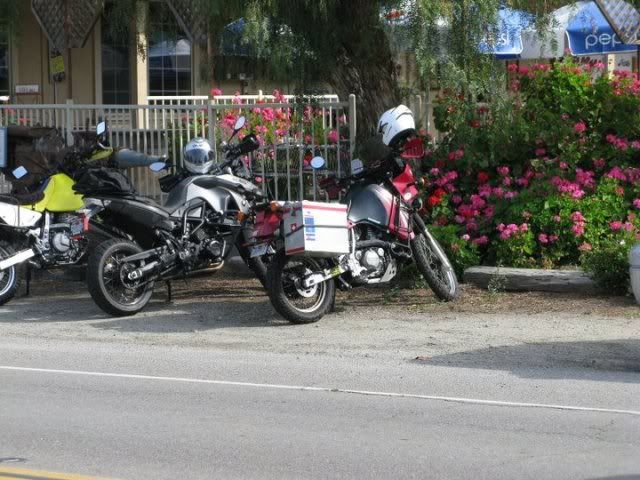 ***If you were there please jump in and add your experience, Id also like to catch up with some guys from the ride for future endeavors.