Discussion Starter
•
#1
•
Is anybody else using this program/app
Look it up at
http://www.dualsportmaps.com/
Its pretty cool, it saves your tracks and can be used on Android or IPhones.
I think its $20 for the phone app, but it integrates with the website. You can save track,
upload and download tracks and add discriptions, photos and other info like gas stops and POI's.
Its basically starting to create a database of rides and trails for guys like us.
It also send out location data to whom you like when in network range so its kind of like a spot tracker only limited to cell connections.
You can add users who you would like to share your location with.
Here I am sitting at home typing this to you.
Heres some trails guys have uploaded in the Sierra Mountains
You can download and save what ever routes you like to your smart phone and
download maps for use when out of the network range and get real satellite
GPS location unlike the nav/maps that come stock with your phone and require streaming data connections.
It also has some other cool features like a page that shows speed, compass heading,
trip/fuel odometer and a fuel gauge when you put in your endurance and reset the fuel odometer.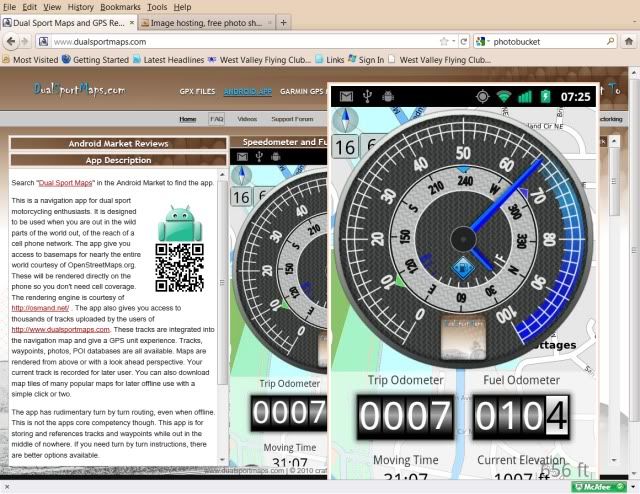 You can add photos on your route to show water crossings or that tricky fork in the road..
Anyway, some cool normal guy on ADV made it and I bought it and have been seeing what it can do...
seems reliable and so far seems to be able to compete with the Garmin free-ing up space on my handle bars,
If you are or end up using this app post your user name here so we can add each other to the private location view list.
Might help in an emergency. Last time I broke my clutch cable it was a PM to through this forum
that got me help as I could not get ahold of anyone on the phone and didnt have some phone numbers for guys near where I was.
Either way, something cool I'm getting a kick out of.