Discussion Starter
•
#1
•
Well, Mike and I had a very eventful day yesterday---we went to the big city(LOL) to Lowes and to look for me a new bike(another thread---WOOHOO)anyway, when we got home the creek crossing had come up substantially because it had warmed up and rained all evening along with all the snow and ice melting. The car wasn't going to make it thru,so, I had to take Mike around to another road that borders the top of our farm and he walked to the house thru the farm and came and rescued me with the big truck from where I was parked across the creek-now it's like 10:30 p.m. and I called the daughter in town and told her to stay with a friend and we went to feed her nags for her. The big creek that goes by the house was up and Mike was kinda worried about it coming out of it's banks. :shock: At 1:30 a.m. something woke me up and Morgan (our Springer Spaniel) was barking his head off in the basement and wasn't about to shut up-I could hear major noise outside and opened the basement door at the back of the house to hear water and ice roaring by and at the same time the blow-off for the gas wells going off and gurgling like it was underwater(it was)i went and got Mike out of bed and we geared up and headed out into the dark-he went to tend to the screaming gas blow-off :sc0010 and I to check on the horses-the gas blowing and the gas fumes were getting bad and really wiggin me out :sc0006 I was glad he was home to deal with it.The ice had broke lose from the creek and jammed down stream and caused a flash flood that came within thirty feet of the house and the ice had shoved the blow-off valve on -Mike went up on the hill and shut the gas off the lines and went to the blow-off just in time to see this huge wall of ice and water go by him :shock: -it went down probably as fast as it came up-the barn was full of ice in the horses stall and there had been about a foot of water in the barn which had already receded. The horses were fine and we went back to bed till morning---and then woke to this-the field behind the house
this looks like an ice chunk farm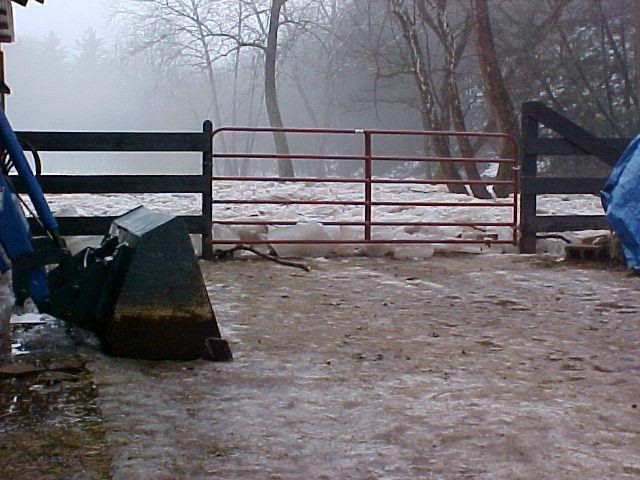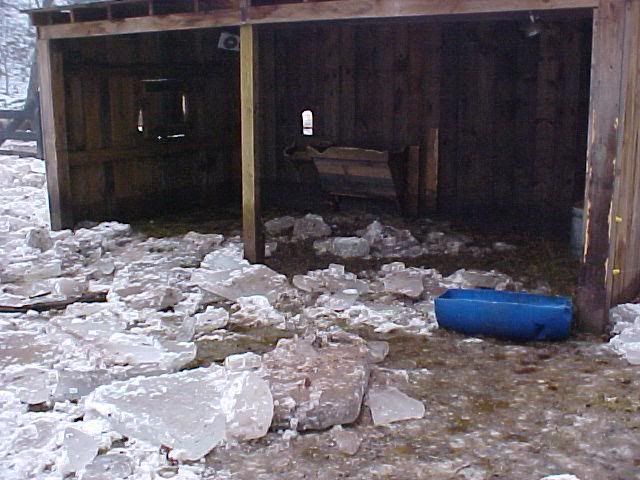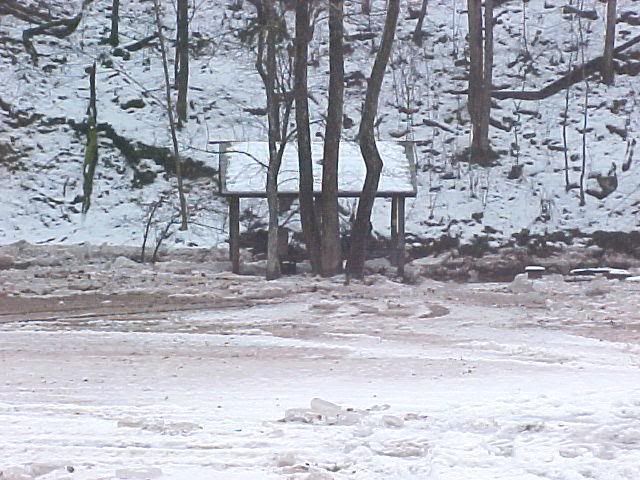 this is part of the horses pasture-needless to say we moved them
and then if we wanted to leave to go anywhere, this was the road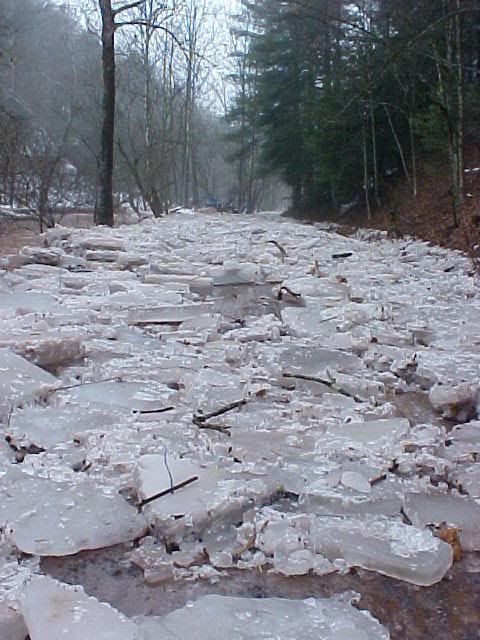 that's Mike at the other end working on it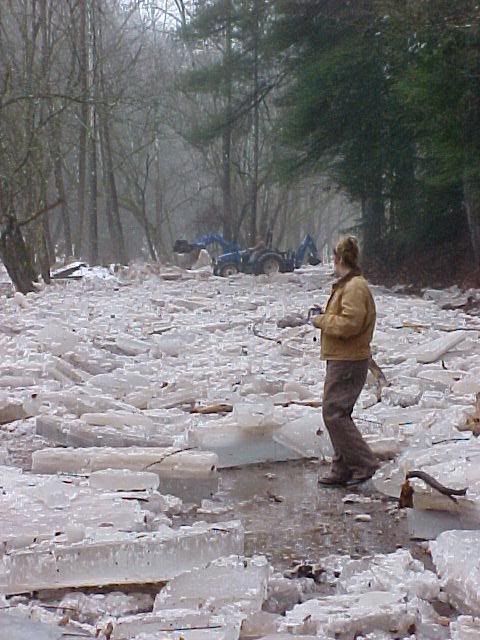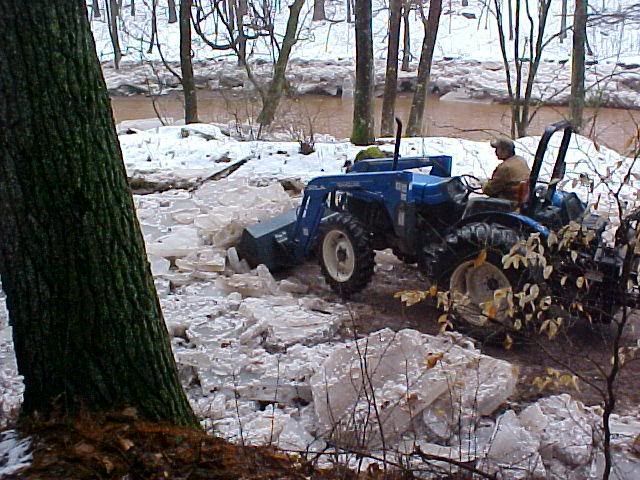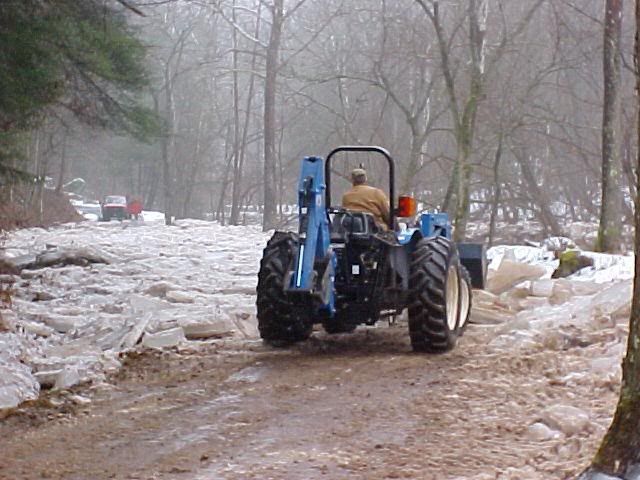 Mike took a little break after a couple of hours loading and dumping ice-that's he and Morgan with our son Corey and his girlfriend in the background hobbling thru.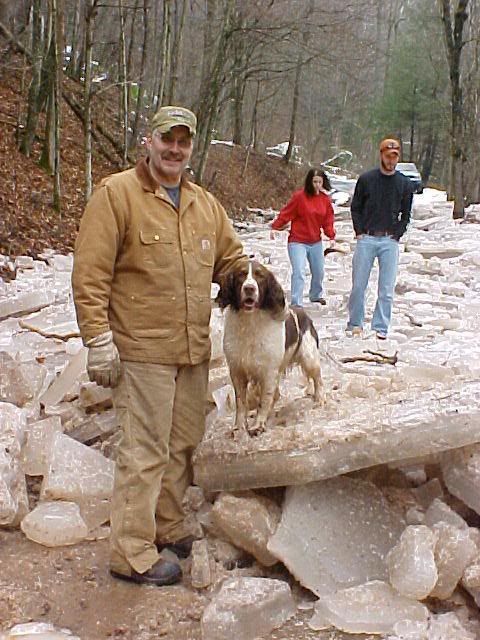 The girls decided this was the mode of transportation for the day.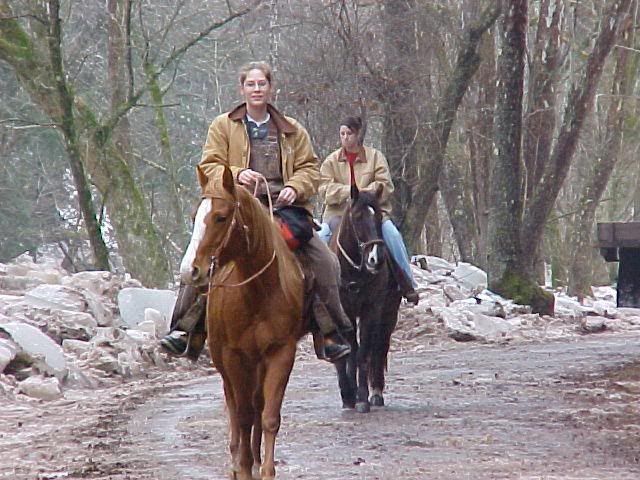 Mike made them a quick path to get thru
He's almost done
the trees along the creek got a little skinning from the force of the ice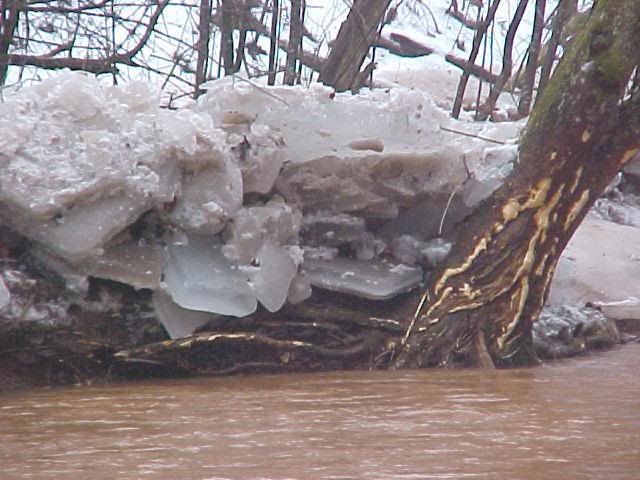 A little over three hours work and he finally finished :smile:
Gotta love living in the country!!