Discussion Starter
·
#1
·
I don't know if any of you fellas have the JC Whitney trunk but I use mine daily. I have no complaints to speak of and consider it to be a pretty good value for the price. (Just make sure you put some silicone or Goop on the hinge pins or they will vibrate out - and a 16 penny sinker framing nail makes a nice replacement).
I do however, remeber seeing a few posts on the other site about the mounting bracket failing. I don't even want to imagine the kind of problems that could cause. Anyway, my wife hands me a box from JCW when I got home this evening and wants to know what else I've bought. Honest, HONEY....I didn't buy anything!!! (from JC Whitney) :twisted:
So I opened the box and, low and behold, they have sent me a free replacement for the apparently weak molded plastic mounting bracket and included a $10.00 coupon toward my next purchase. (I'm guessing there might be some litigation pending somewhere???) The new bracket is all steel and looks to be a vast improvement. Still comes with that same high quality mounting hardware though. :lol:
Here's few pics for those in need of a replacement bracket or considering adding a trunk.
The trunk:
The old bracket: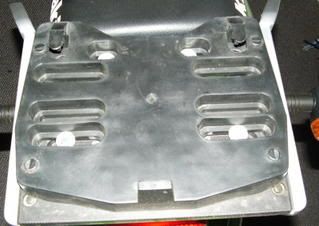 The new Bracket: