Discussion Starter
•
#1
•
HI all, I'm new to the site, and to KLR's, i'm thinking of buying a KLR, This one in particular:
i was in the shop a while back and made a passing glance over it, it has 24,000ks on it, but didn't pay too much attention to it, then saw it again online, though it doesn't show any information on it, year model ect.
My question is, how was the KLR changed over the years? this one appears to have a different healight and rear guard along with a few other changes compared to most other KLRs that i have seen, what is confusing me is that i have seen KLRs both older and newer than this one, which look basically the same as this: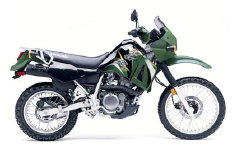 I know one is the a model and one the c model, but i can't seem to find info on when the change took place, and what the changes were, can anyone enlighten me?
Thanks, Rick.