So the oil drain bolt was over tightened, and this is the result after removing the bolt for the first time owning the bike to change the oil...:crying:. (REFER TO PICS). There are numerous threads on this very topic that can be found on KLRforum.com, but I still think that there are alternatives to: 1. welding the entire drain hole closed, and 2. JB Weld; though, I am not entirely sure what would work best and hold up for coming years. I want to keep this bike, and would really appreciate some of your opinions based on the damage described and shown in the pictures.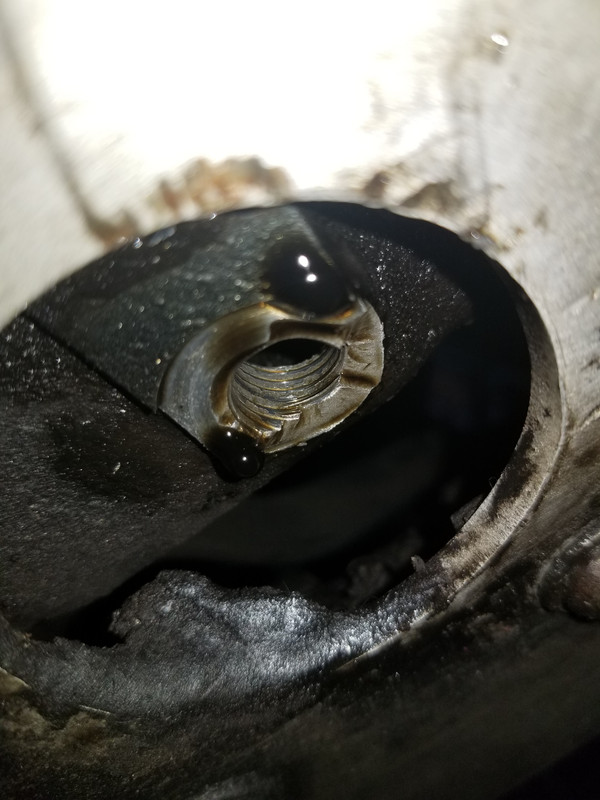 So, I just purchased my first KLR a few months back. It was an excellent deal, through a very close friend who was moving from the area. I never did my research on these bikes before I purchased this one, so I had no idea what to expect, other than quite a strong reputation. I knew that this bike (2004), was very well maintained throughout it's life. Before changing the oil, the bike never leaked oil, and was consuming oil according to specification. While pulling the bolt, I realized that it took a little more force than I was expecting, and a piece of the housing cracked off as you can see in the pictures. It's not horrible; there are still a good amount of threads where the bolt can thread back in, and it does thread back in without problems. There are also no hairline cracks around this area, and the case is otherwise clean.
However, there is the issue with the gap that is left when the bolt is re-threaded and the fact that it now has a slow leak from that spot. What are your suggestions? Have you encountered the same or similar problems? What were your steps in fixing the problem. I would really like to have it fixed for as cheap as possible. Really looking forward to hearing your responses and hoping to hear back soon! Merry Christmas, and a Happy New Year to everyone!