Discussion Starter
•
#1
•
I've been working on this mount for about a week and finally finished it up. A few things I considered prior to designing the mount:
* I didn't want to mount the case directly to the bike.
* I didn't want to permanently modify the bike unless absolutely necessary.
* I wanted to be able to change the position of the case for different types of riding.
* I wanted to be able to rotate the case 180 degrees so I can access the case while sitting on my bike. (to access my DSLR).
* I wanted to be able to make the changes on the fly without having to open the case and remove my stuff.
* I wanted to be able to use the handles on the rear platform when using my center stand or lifting the bike up off the dirt.
Here's how it turned out:
I designed and machined a set of mounts that utilize the same mounting threads on the KLR's platform (4 - M6 screws).
I also machined a set of mounts that are attached to the case and mate to the mounts on the bike. (tongue and groove) There are approximately 13 tapped holes on each mount. (Notice my faithful assistant?)
I designed and produced these SS pieces to stiffen up the bottom of the box where the thru holes were drilled for mounting. The piece on the right also acts as a divider where I'll put some protective foam in to hold my DSLR equipment securely.
Case mounted backwards and forward over the seat. This will bring the weight of the case and it's contents over the seat. I think this will work well when I'm out goofing around on day trips.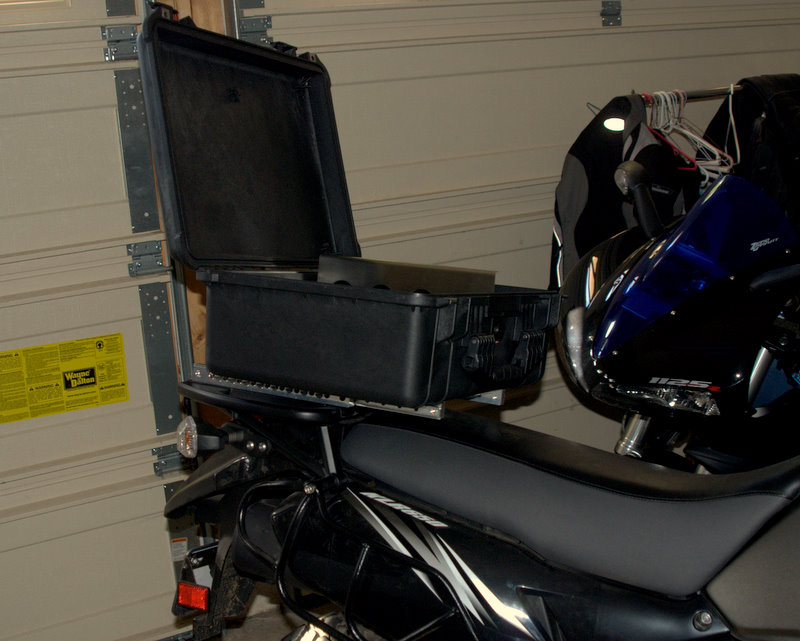 Even with the case mounted this far forward, I can still use 4 bolts on each side to secure the mounts to each other. It's very solid.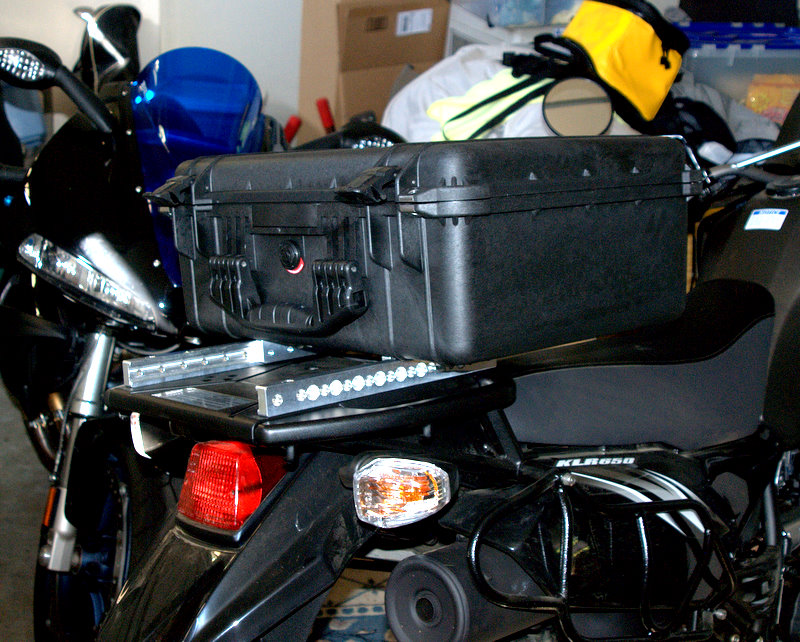 Centered over the platform.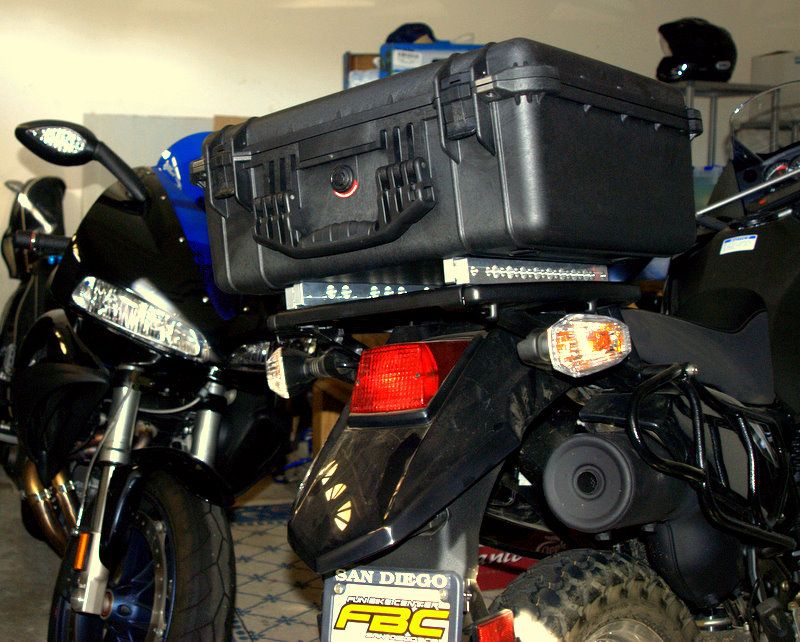 The mounts are 6061 aluminum. I designed them to lock into each other so there is minimal stress on the bolts as the bike bounces up and down. The total thickness of each mount is .63".
I also did my best to keep the weight down. I think with the case (1550 pelican) and the new parts it comes in around 11 pounds.
I will need to use a hex key to remove the bolts to change position / remove the case. I thought about pins, but I just wasn't comfortable with it.
I haven't had a chance to test it but it sure feels solid, and seems like it will be just as versatile as my KLR.