New 96 KLR NUT from S.TEXAS.With Pictures
I know I know I should have done this sooner but I was not ready to throw up pictures as of yet as I know how important pictures are for the other Nuts on this forum lol.
At any rate I picked up a 96 Kawasaki KLR 650 that needed more than what I first thought. But that was my fault as I have not messed with these two wheelers in some time lol.
At this point in the picture what I have done is due to the bad shape for the plastics from sitting outside all of its life not to mention broken pieces and ground off parts I had to do some reconstruction of the plastics like the side panels and the rear fender area. After that I used Dupli-Color spray bed liner paint on them and the fairing. Along the way I had to fix and repair and or replace fasteners that looked like they only saw pliers used on them. And replaced many with stainless steel cap bolts. Other than that and a decent clean and an oil change is where it is at now. It runs good and does not smoke at all at anytime of which I think I can contribute that to the fact that the original owner put in the doohickie and the Thermo-Bob early in its life. As when I purchased it the OD said 33,OOO Mi on the dot but to be honest that no longer worries me as it runs so darn well.
Here is a picture of what it looked like when I picked it up from the Previous owner.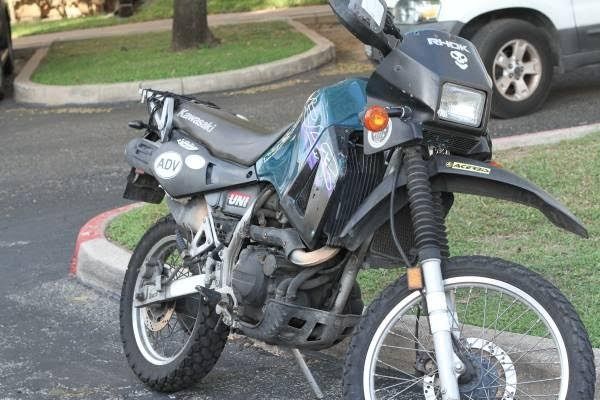 And here is what it looks like thus far.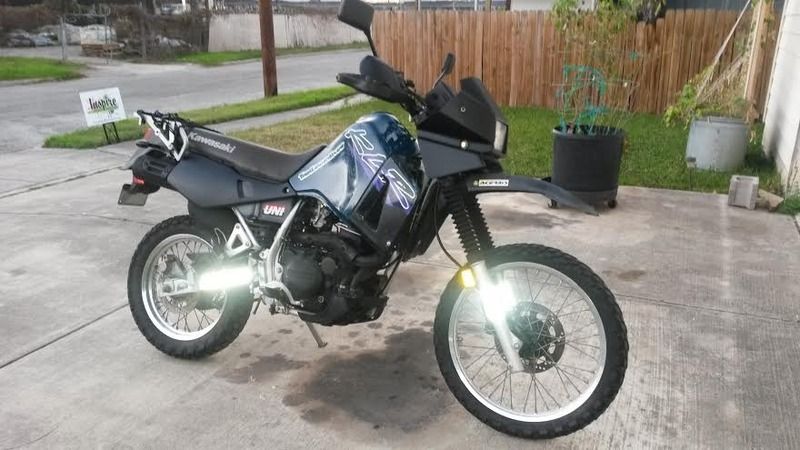 To continue of what I have done and am planning to do soon and or next with probably lots of help lol.
I picked up a Black IMS 6.6 Gallon fuel tank I picked up one of those as that will fix the problem of the dented fuel tank and faded lower tank covers and also negate the need for those steel protection bars.
I will also be getting in the mail soon some more parts and a Clymer book to enable me to actually work on the thing lol.
So the so called plan at this time is when I have the book in my bloody,greasy,sweaty fingers and depending on usage and time I will replace the front gear from the factory 15 tooth to a 16 tooth and use the Prevailing nut by Mike's as the bike will mainly be used on the street and little 100Mi highway jaunts. Along with that I will be replacing the factory type of tires the Dunlop K750's with some Shinko 705's front and year.
I will also be throwing on some TUSK 7/8ths Aluminum ATV sport bend handlebars in silver as the stock bars are bent some.
Back to the Black IMS 6.6 Gallon tank. I plan to do that when I have to remove the factory tank to check the valve clearance and then order the needed parts from Eagle Mike's to not only accomplish the valve adjustment but also at least some heavier clutch springs. That way I can take care of those things on the engine and the fuel tank in what maybe one long operation lol.
Well that is all I have for now.