Hello, Everyone!​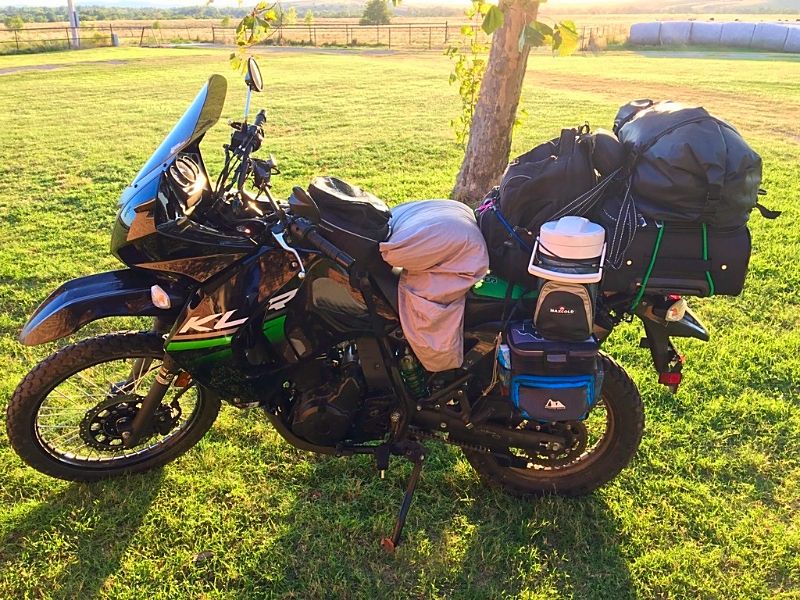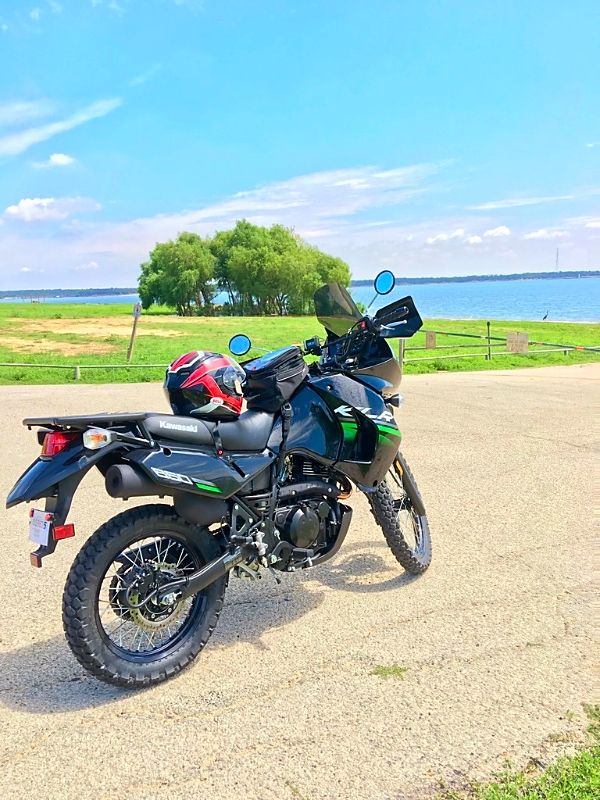 I am 24 years old. I grew up on four wheelers, my family would go to the mountains and ride. Growing up I always wanted a dirt bike, I rode my friends dirt bikes but never had my own. My dad, used to take me riding on his motorcycle all the time. He took me on a trip on it to New Mexico. When I graduated, I wanted a motorcycle as well. Naturally, I wanted a KLR when I discovered it. I had been looking at used for the last year, but I decided on new. I bought my first 2016 KLR650, green and black, in August. I bought a new KLR because I did't want any issues. I bought the black and green shown in the pictures and I love it.
I ride around near home, at grapevine lake often. I mess around on a few side roads. But I need more places to go off-roading in/ by DFW. If anybody knows of any places, let me know.
I also ride near lawton, Oklahoma. Its only 2h 30 min from home and it's a great place to spend the day riding. There is the wildlife refuge and the Wichita mountains. I also have a 600 acre ranch, where I go ride and camp any chance I get. (we have a ranch house but camping is more fun). I go hunting/ fishing there in the winter and ride around in the summer.
As a rider, I am pretty safe because I want keep my $7000 vehicle in tact... But I also like to push myself to get better everyday. Soon I will purchase engine crash guards.
Future plans for my KLR, is to go to Lake City, Colorado in the summer of 2017. I plan to bring my girlfriend with me. She will be on a Kawasaki four wheeler, which I will haul in a trailer. We will be doing some discrete camping and staying in a cabin. I plan on asking her to marry me on the trip.
I also go visit my parents in North Carolina, near the smokey mountains. We ride near the blue ridge parkway each christmas.
I plan on starting a youtube page of my experiences. Nothing personal on youtube, just fun.
Anyway sorry for the long intro.... but you only get one.
Starting in 2017!!!​
Here is a video of what to expect on this weekend trip.
http://youtu.be/m0KJEHcBSHg
This is opportunity is available starting in 2017. Dates are: March 18th and 19th, July 15th and 16th, October 7th and 8th.
All are welcome!
Two day, One night trip.
Free camping on the ranch.
All you pay for is your own gas, food/ water. Bring Your Own camping gear.
The ranch is 5 miles west of Elgin, Oklahoma. (2h 30 min drive from my home in Dallas, Texas)
The ranch is: 580 acres of grassland/ 100 acres of woods/ 7 ponds; with cows, a donkey, horse's. There is enough to spend 4-8 hours riding without getting bored. All trails are easy. You can find hard trails, but there are easy trails to get around. There are some more challenging trails, if you have the ability.
The ranch is 15 miles from: a
60,000 acre wildlife refuge
,
wichita mountains
,
mt. scott
,
Medicine Park
, and
[URL="https://en.wikipedia.org/wiki/Medicine_Park,_Oklahoma"]Ft. Sill
[/URL]. (see links all the info)
Restaurants
, (over priced)
grocery
,
fast food
, and
gas
: is located in Elgin, OK (5 minutes from campsite).
Walmart
is 15 miles away.
Also, there is the
Comanche Spur Casino
, 5-10 minutes form the campsite.
*You can shoot guns on the Ranch *just watch your aim, *don't hit my animals, and *shoot in the woody areas....:character00110:​
Saturday plans:
Arrive between 9am-9:30am.
Set up camp for night time.
Ranch tour, 30 min.
Ride the ranch for a few hours.
Go to lunch on the way to refuge. Eat at Meers cafe
.
About 1pm start the Wildlife Refuge tour.
Go to the Wichita Mountains Wildlife Refuge & Visitor's Center. About (20 min-45 min)
Drive the west end of the refuge. It's a scenic route. (takes about an 1 hour) *try to find elk/ prairie dog town.
Turn back East, towards the Holy City in the refuge. (stay for about 20-30 min). *look for buffalo, deer, longhorn, other critters.
Go to the lake, right next to the holy city in the refuge. (10-20 min)
*there are some off-road trails, for us to explore.
At about 5pm, head to the top of Mt. Scott. Climb around. (stay for about 30 min- 1 hour).
If there is still time we go to Medicine park. (If not we go on Sunday if the group wants.)
Eat at ann's country kitchen for dinner, when it get's dark.
Then head back to camp.
Saturday Night Time
Fish/ hang out by the campfire/ drink if you want.:kumbaya:
Night ride through the Ranch.
9pm-10pm: Go to the casino, if the group wants.
Sleep
Sunday plans:
Sunday is a *Free for all* day. (go on your own or group's choice)
If we do not get to see all of wildlife refuge, wichita mountains, mt. scott, Medicine Park, and Ft. Sill; Then will go back to what we missed.
Breakfast is: cook your own, or sonic, or gas station food (its actually pretty good).
Lunch: Group decision (tons of options within 30 minutes)
Sunday's options:
Go back the the refuge and do what we missed.
We/ you can visit any of the towns around the area (elgin, lawton, apache, medicine park area).
Or explore the miles of gravel roads behind the ranch.
We/ You can also re-do our/ your favorite trails on the ranch or refuge, from Saturday.
****Pack up and be ready to leave the ranch by 5-6pm Sunday.****
****If you want to continue your trip, cheap camping is available on the refuge.****​
Let me know if you are interested.​
There is also a thread for this event on ADVrider.com, here is the link