Discussion Starter
·
#1
·
OK guys... here it is! Just arrived 5 minutes ago from Woody's Wheel Works and I'm giddy with excitement!
Pics and Part Numbers as Promised:
To my door cost was $364.70 Price included $20 shipping and $99 Lacing and True 40.
Notice the phatty spokes!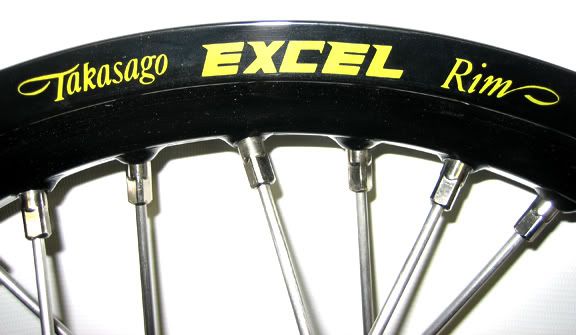 See where they drilled the holes, and looks as if they even enlarged the holes as well.
Now for the technical bits and pieces.
The Invoice lists the item number for the rim:
? PMREXC: Rim Excel 2.50x18 w/o Insignia = $178 <-- not sure what that means, as we can all the the insignia in the pic.
Stainless Steel Spokes:
? PMSNSZ: SS Spokes & Zartan Nipples = $95. <-- If you have to have black spokes, they would add an additional $3 per spoke! (They suggested against since they would have to be Parkerized, since they are stainless and not anodized like aluminum.)
So there it is... all the info I've got. Now, for those of you that can "Superlace" and True your own wheel you can save $99. (I am guessing Superlace means also enlarging the holes at the correct angles)
Yay! Now I've got to go find a good tire combo!
www.WoodysWheelWorks.com