Discussion Starter
•
#1
•
In the past, I've come up with a scale that helps me communicate quickly what the road ahead may look like. The scale goes from 1 to 5 and is by no means an end all scale. Just to help.
Of course, weather conditions can affect all of these, so be aware.
In general, the smaller the width of the road/trail and the more blind turns you have, the higher the ratings may be.
Here it is:
1
- Well packed, smooth FS Roads.
1.5
- Fresh gravel FS roads. (2, if deep)
2
- FS roads not as well taken care of, with, (and/or/all)
mild
ruts, sandy areas, some mud holes, shallow creek crossings.
2.5
- Mild single track OR abandoned, steeper dirt rds with, (and/or/all)
med.
ruts, sand, rocky areas, mud holes, creek crossings, some wood debris.
3
- Med. single track OR steep dirt rds., with, (and/or/all)
tougher
ruts, sand, rocks, mud holes, creek crossings, wood debris.
3.5
- Fairly agressive/steeper single track OR very steep dirt rds., with, (and/or/all)
very tough
ruts, sand, rocks, mud, creeks, wood debris (logs).
4
- 3.5 rating, but pushed to the maximum fun I can have on the KLR. Tougher single track, ultimate fun, work-out type ride.
4.5
- Places I can take the KLR, but I shouldn't be there. (think sewing-machine legs)
5
- KLR and I can't do it.
THE RATING WE GIVE THESE RIDES NORMALLY MEANS THAT ALONG THAT ROUTE, THERE ARE SOME AREAS THAT GET THAT RATING. A MAJORITY OF THE RIDE WILL PROBABLY BE A TICK BELOW THAT RATING.
WHAT LEVEL SHOULD YOU RIDE?
1)Never been off of pavement?
First try
1-1.5
.
2)You want to do some slightly more technical rides?
Ride with a group on a
2-2.5
tour.
3)Getting the hang of handling the bike, instead of vice-versa?
Hook up on an exciting
3-3.5
run!
4)Been there, done that, NEXT?
4
's are awesome/challenging.
4.5
's are better suited for lighter, low gearing bikes, but doo-able. Ready?

These ratings are for KLR650's. KLX250's, or lighter bikes such as these, could probably move up a half or full rating.
Don't feel bad though, 650 riders. Remember, 650's can take you through a 4 and then take you home 400 miles later.
The terrain in the following pics are primarily from the Southeastern states.
Rating 1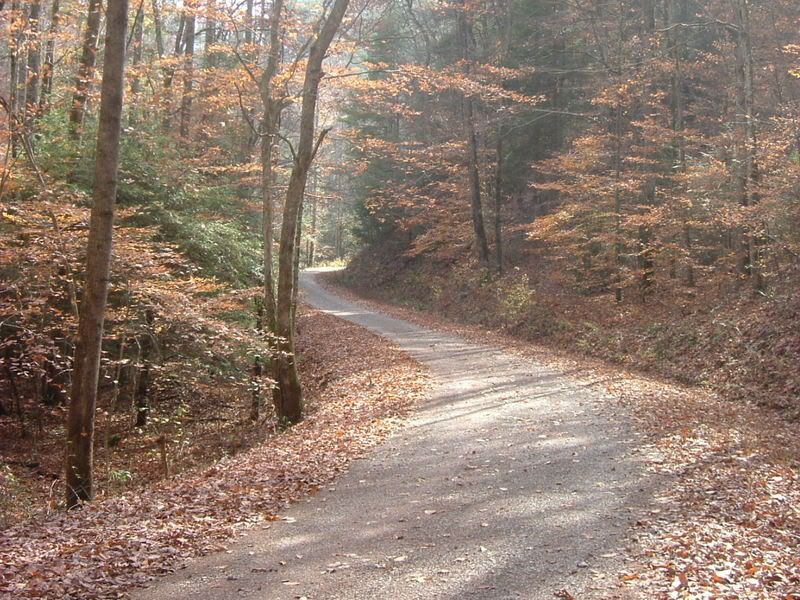 Dream roads! Found in my back yard.... FS 67, Cherokee National Forest (CNF).
This is Fire's Cr. WMA. Variety of terrain here, going up to 2.5. I've got to get back up here during the changing of the leaves.
Rating 1.5
This portion of 'Route 66' is tame and makes for some very enjoyable riding! Dense vegetation and blind turns make it a 1.5 due to limited sight distance.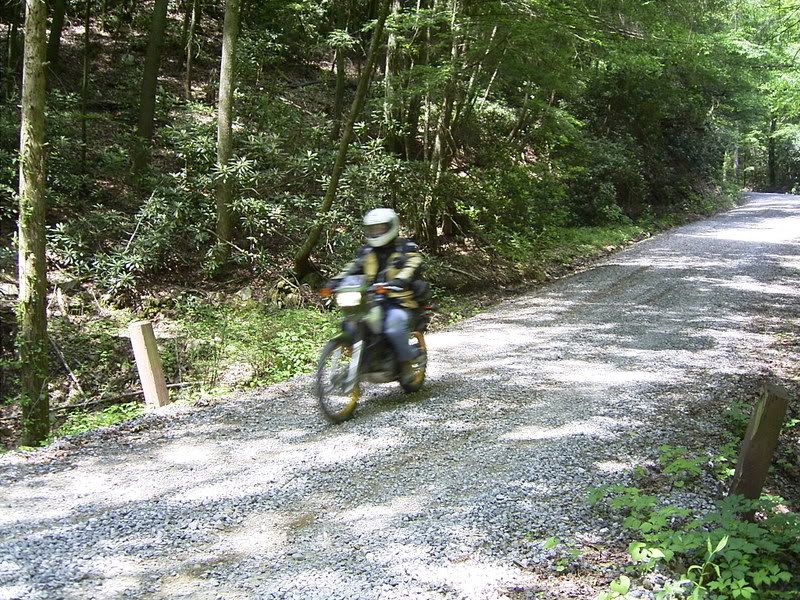 Gravel adds a little more respect into the equation. FS 185, CNF; TDT-II 'Local Fav's #1'.
Rating 2
Occasional ruts and rocks up this road to a 2.0. Pigeon Mtn. in northwest GA.
I didn't ride this area, but if the
terrain
stays like this where you are riding, it is a good 2. But if roads/trails this size starts to become rougher terrain, it moves up the scale pretty fast due to limited space. TDT-II 'Trackhoe Ride'.
Rating 2.5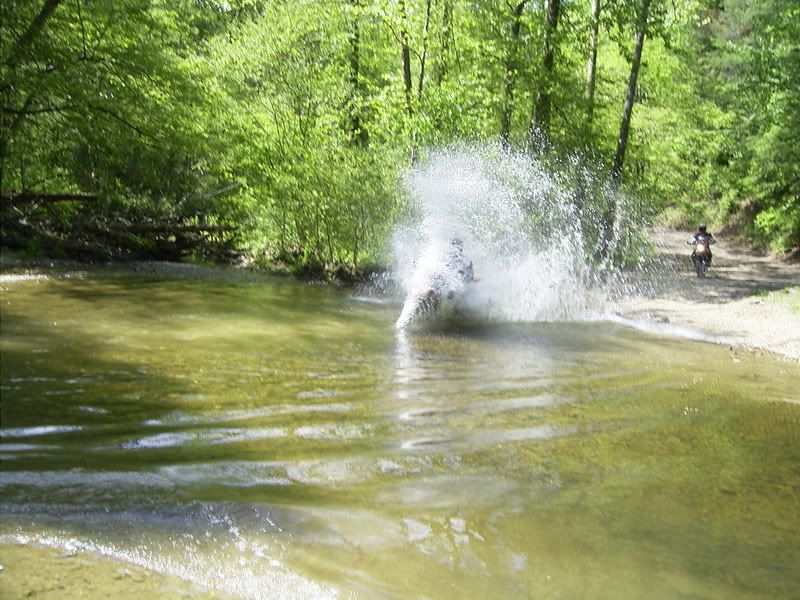 You can hit
med. deep water
at any speed you want. Just be aware of the consequences. He never hit the brakes, did he!
Good stable rocks on this long, med. deep water crossing allows a comfortable 2.5 rating.
Mild single track can be loads of fun for people wanting to venture out a little more. Easier portion of Tr. 82, CNF.
Sand in foreground looks like a 2.5. Background seems to be a different story.
Rating 3
Tight trail, small creek, & a few rocks at this location, makes for about a 3.0. And that's a 400 lb. pig. Gordy!!! TDT-II 'Hooligan Ride'.
Low canopy, fairly steep, and with loose rocks makes this a solid 3.0. TDT-II 'Hooligan Ride'
Rating 3.5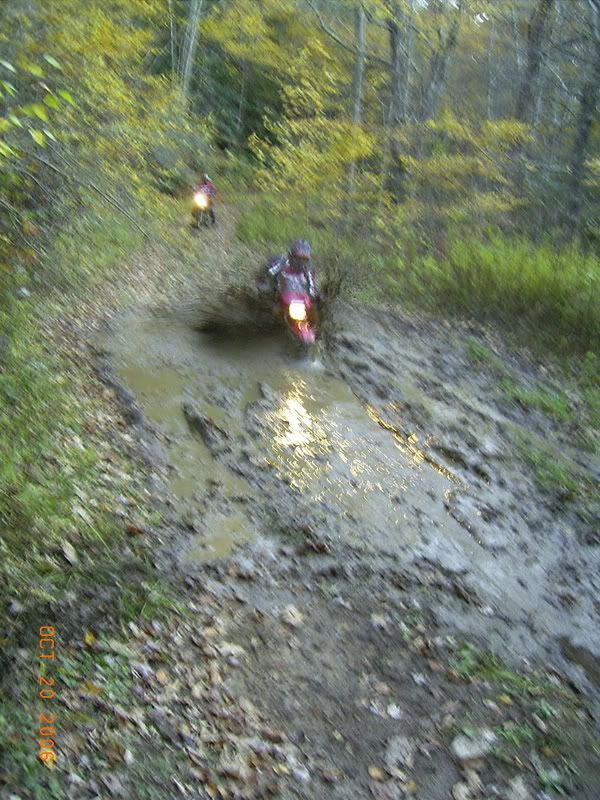 Optional puddle on Dill Falls Tr. (I don't include it in Dill Falls Rating, because you can easily go around it.)
This puddle is deceiving. It drops about a foot or more, all of a sudden, which caused Brian to dump.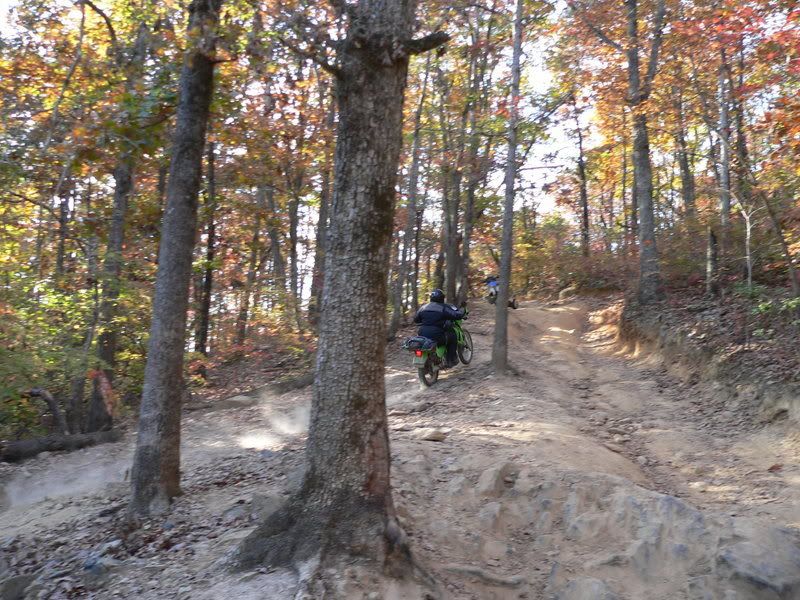 Ron having some fun on some very steep hills. This area, in general, definitely gets a 3.5. Some lines may be impassable (see rock in foreground, right). It normally takes a good biting tire, some good balance, eye on your lines, and a good bit of nerve to jump on this one.
Again, not a trail I have ridden. Single rock outcroppings like this one makes for fun obstacles. Rating moves up the longer the stretches of rocks are and the more jagged. TDT-II 'Trackhoe Ride'.
Rating 4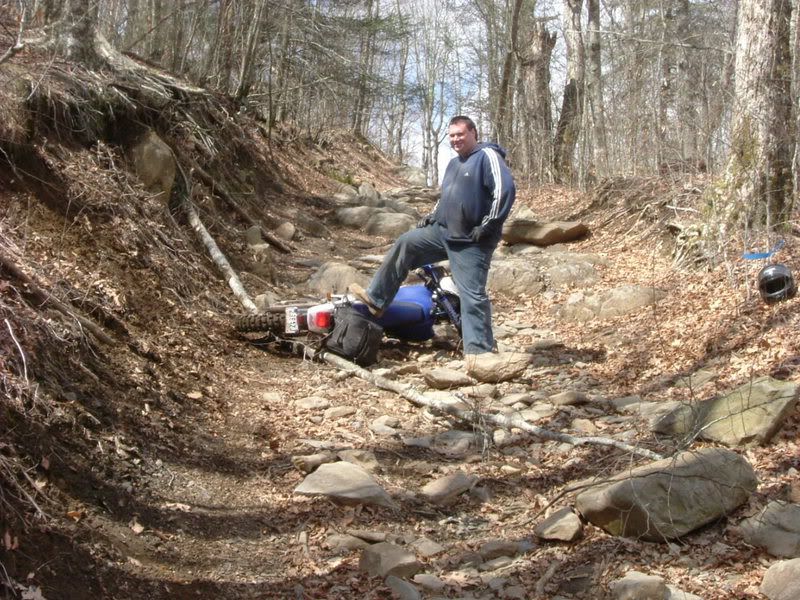 This may look tougher than a 4.0, but we had a good path to
crawl
through. A particular piece of wood debris didn't like Greg.
This portion alone would probably be a 3.5, but if you take into account the approach (next pic, but only about the first half of the approach), the constant searching for the best line would cause it all to be a 4.0. TDT-II 'Hooligan Ride'.
Approach to pic above. TDT-II 'Hooligan Ride'.
Rating 4.5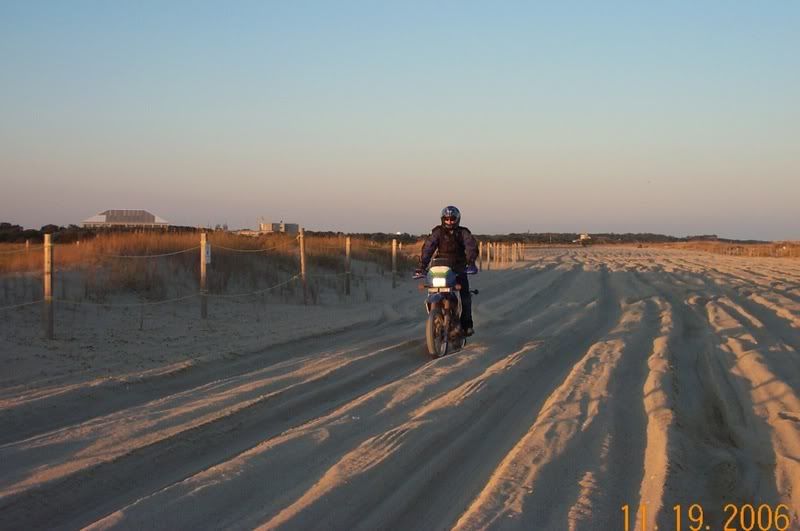 You may look at this pic and say to yourself, 'hmmm, that sand doesn't look that tough', but I wouldn't be so sure about that. Let's see what Rico had to say about riding in these ruts; "slowing below 5 mph would have the front tire sinking to rim depth. It was insane".
O.K...... this type of stuff will wear you out, if you had to do it all day. The approach isn't too bad. At best it is a 4.0 (maybe a 3.5), mainly due to the loose rocks and the steep climb. Where it gets its 4.5 honors is where I am heading. Having to climb over jagged rocks, while on a steep hill, trying to balance a fully fueled pig, is a challenge. But it's a challenge that a lot of us like.
Rating 5
THIS IS NO MISTAKE! IT IS A 4.5
AFTER
I DO IT!!!!!!! i haven't done it yet....
5.0..................5.0.................5.0..................5.0...................5.0..................5.0.................5.0..................5.0...................5.0...................[