WHAT:
Handlebar bracket, relocating left rear view mirror and choke lever.
WHY?
Shown below, stock mirror perch and choke lever placement (KL$250 shown, but KLR650 similar):
In the event of a fall, the left handlebar switchgear is vulnerable to collateral damage from the mirror stem grenading the housing; also, the choke lever's position is perilous.
In the interest of crash survivability, the mirror/choke lever relocation bracket places these components as shown (Eagle Mike product):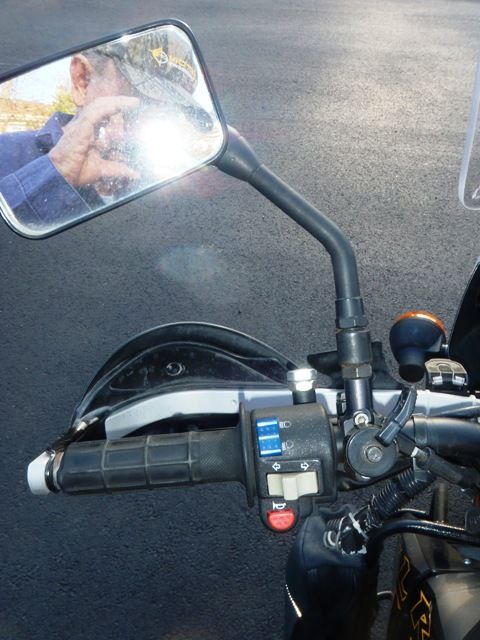 The threaded hole formerly occupied by the left rear-view mirror stem is now filled with a 10 mm bolt and spacer nut.
HOW?
Ain't much to it; just separate mirror stem and choke lever from their OEM orientation, clamp relocation bracket to handlebar with Allen-head machine screws as shown, and reattach mirror and choke lever in their new homes.
Besides increased crash protection for the switchgear and the choke lever, some slack is gained for the choke cable; useful if handlebar risers exist.
Other protection strategies: TPI (et al) sells a "Euro" left handlebar perch and switchgear product; plug-and-play, with some switching versatility and relocation of the left rear view mirror stem (choke lever also, possibly).
Ken Sean folding rear view mirrors (shown above on the KLR250) fold, instead of break (one hopes), in the event of a crash.
(Bottom image shows TPI 5-1/4"-wide rectangular mirror with damper mounted on KLR650 handlebar.)