Discussion Starter
•
#1
•
This is a repost from the other site. But the report section is a little skinny here, so I thought I'd throw it in.
Well, thought I'd step away from normal life today and go riding today. You know, not to work, not to the store, not to pick of the kid....just riding.
So, a buddy (Chad) came up for a couple days, we borrowed a KLX250R and put in a day.
A crisp fall morning greeted us as we loaded up our supplies in my tailbag. The high was about 70 degrees and aside from a little fog here and there, the weather was perfect. We left Port Angeles headed Westbound toward the rural wide spot called Joyce, Washington. I'd heard about a riding spot just West of Joyce called Sadie Creek. A 36 mile turkey run is scheduled there this Sunday, so there must be some good riding, right? We were sure going to find out! We had to be back by 1630, so we got an early start.
Joyce is about 25 miles from Port Angeles, so our first stop was at the Joyce general store, post office, and town gossip depot. Creaky wood plank floors greeted us as we paid for the 250's top off.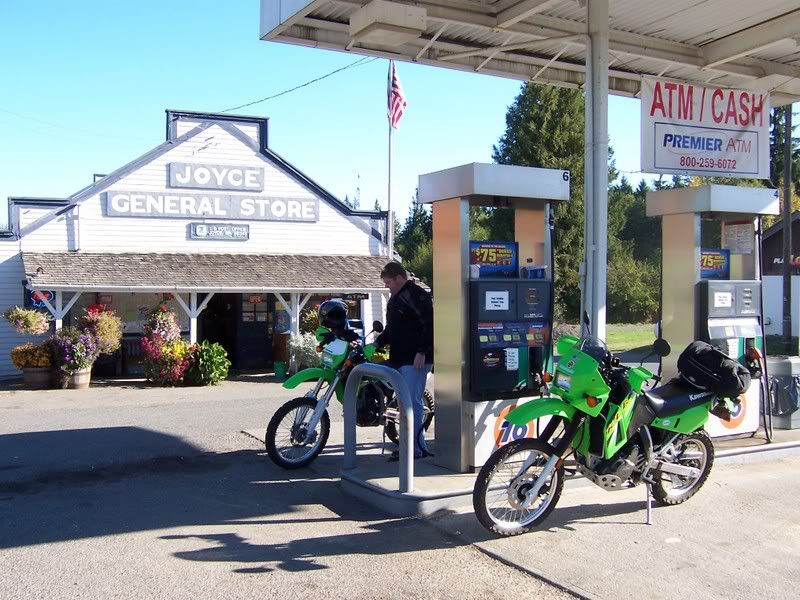 As we arrived in the area, we found a single track trail-head:
However, I wanted to scout some areas that I could take my wife and son riding. I'm fairly new to dirt riding, but they are brand new! I noticed a logging road that went on past the tail-head, so off we went. The road was well maintained and soon was rapidly gaining elevation. Our first stop:
Chad (Canada in the far horizon)
As we continued to climb, I was struck by how steep the area became.
We rounded a corner and found these fellas enjoying the steepness: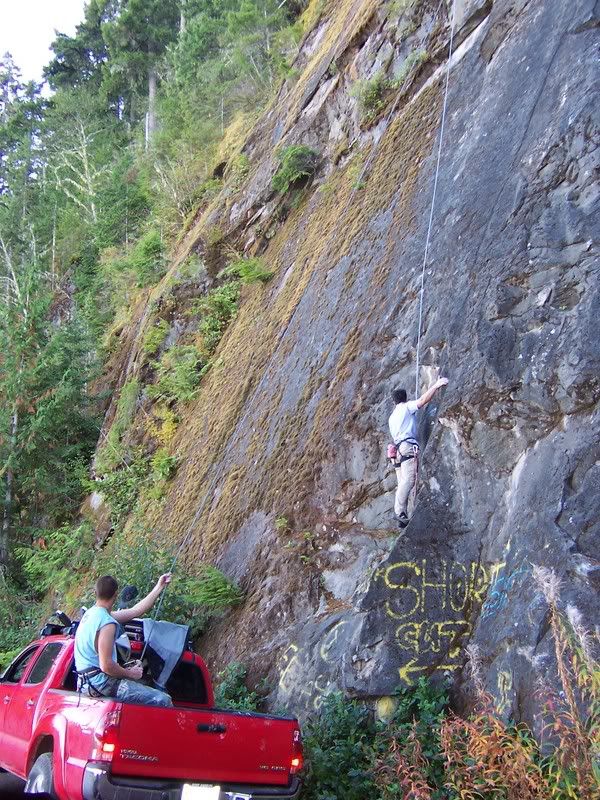 More views:
Where's the KLR?
Gratuitous bike shot: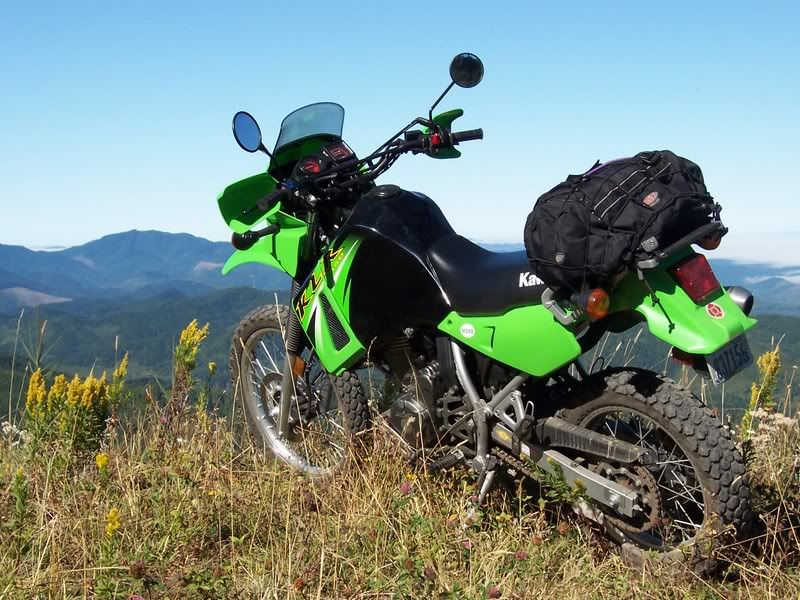 So, after about 50 miles of logging roads, and a couple near low sides coming down the hill, we decide to head back into Joyce for some grub and some fuel for the KLX (again!)
We hit Joyce's famous "Family Kitchen."
Home of the famous "Logger Burger."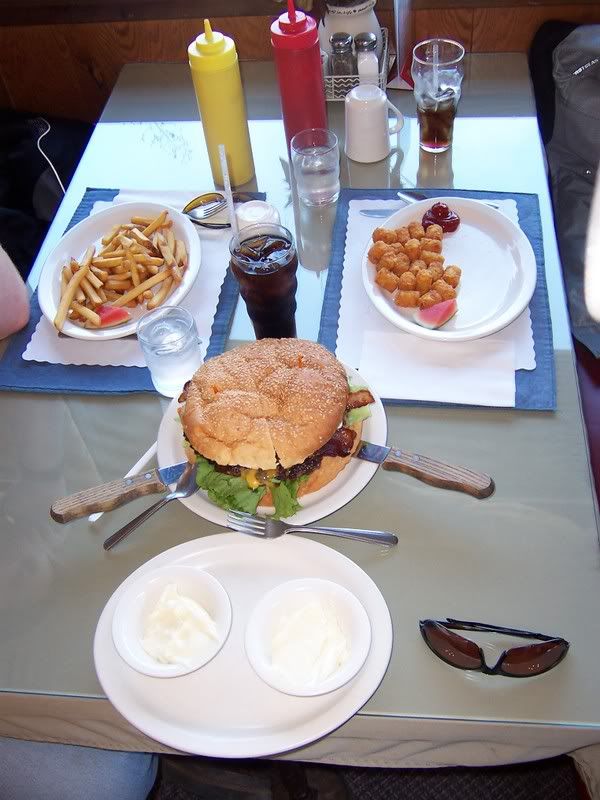 A pound of hamburger + the works. A mountain of sin on a plate. I'd eaten here before and knew that splitting one was the only way we would be able to return to the dirt and keep lunch down.
So, with bellies full, we dozed the 9 miles back to the dirt.
The lower single track stuff was a barrel of fun: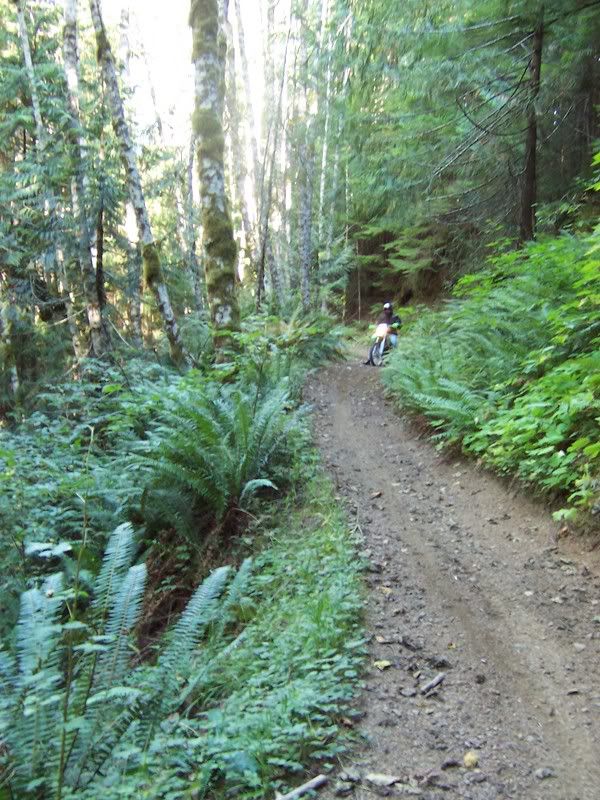 But as we traveled, we found that the trail started to climb just as had the roads.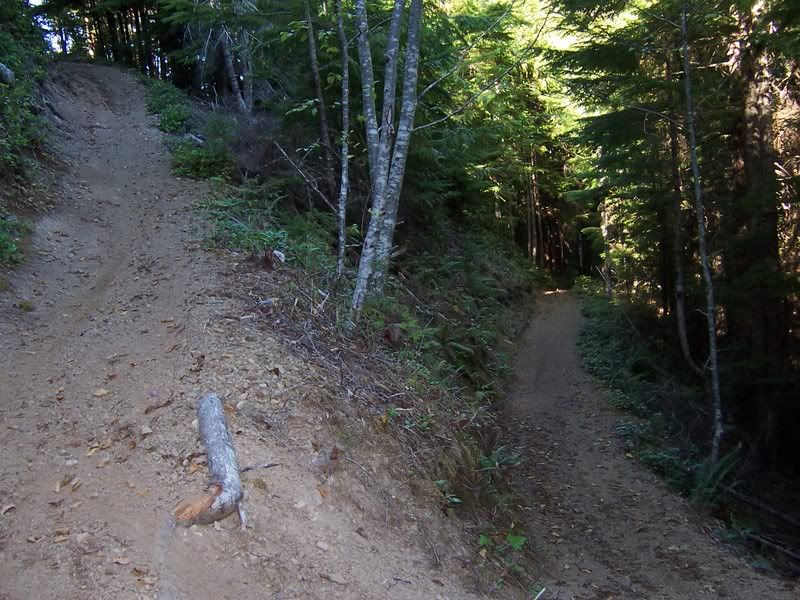 Chad has a really bad back with vertebral fusions, so he decided that steep, rocky stuff wouldn't work for him. To be honest, I was working my butt off and was not a bit sad (if not nervous) to turn around.
It was a good day. I just marveled at creation all day. We put in about 100 miles of dirt and about 50 more on pavement. Some day, I'd like to revisit that single track. Rumor has it the trail goes from 600' elevation to 0ver 2600' and runs along a narrow ridgeline at the top. You know, the one wrong move and you're dead kind. But the views are supposed to be fantastic.
I think I have to put in a LOT more dirt miles before I tackle that. I kinda realized today how weak my dirt skills are. Well, practice, practice, practice!
Later
Jamie