Discussion Starter
•
#1
•
Rode out to the east side of San Diego county with Sandiegowheels this morning. The intent as always was to have an enjoyable ride on some moderate fire roads and take in all the awesome sights the area has to offer.
Well after some great riding on some moderate fire roads, Kevin (sandiegowheels). stops at a single track trail head and throws out the "you want to try it"? I gave him the "yeah lets give it a try" and the "if it gets too crazy we can always turn back". So began my and probably Kevins first single track ride on the KLR650.
It started of with a lot of smiles and "yahoos". Kevin was leading and soon out of site. The weather at the start of the track was extremely hot and a bit humid. I was drenched in sweat. A short ways into the track it became obvious that the trail was a descent leading off the mountain. Challenging would be an understatement. I soon found myself getting fatigued as well as my KLR, as it was soon taking frequent naps. Kevin's KLR as well. The trail kept getting tighter and more difficult.
Enter the rain. A quick rain started and everything turned to snot really quick. We spent a good part of the last 3rd of the trail sliding down the trail, dropping the bikes and picking them up. My last spill sent my bike sliding down a hill a few yards. It stopped about half way down and at an angle. I tried to pick it up twice and only pushed it further. Finally after a resting for about 5 minutes I sacked up and got the job done. Kevin had already made it down and was waiting, another rider offered to ride back up and check on me. He got there just after I got the bike up. Very cool of him, I'm sure Kevin didn't want to come back up that sloppy trail.
When I got down to the parking lot there were a few guys with some 250s that were pretty amazed that we made it down that particular trail with those big pigs, not to mention in the mud.
This was one of the best times that I've had in a long time. I was thoroughly exhausted from the amount of work required to get down that mountain. I can't even remember how many times I had to pick up my bike, maybe 4 or 5. I bottomed out my suspension a few times, hit rocks so hard with my skid plate that it knocked my bike to the side, Really just ran the crap out of that bike and it took everything. We ended up taking the Highway home. After all that, it hummed at 75mph down the super slab to get home. What a bike.
Pictures and video below:
Nice clean bikes before the trails.
Kevin quenching his thirst, it was HOT!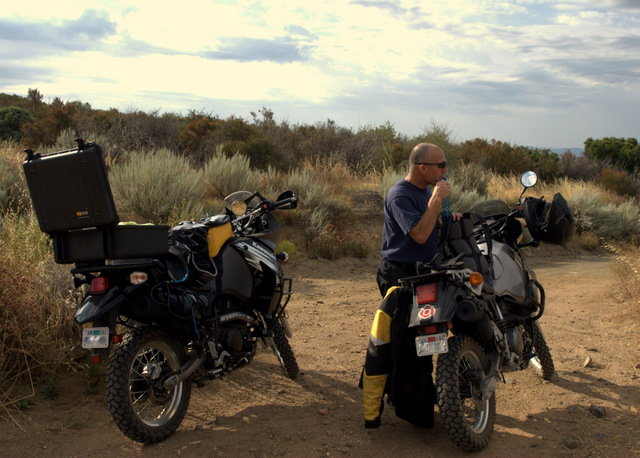 Gratuitous motorcycle shot.
Scenery.