Discussion Starter
•
#1
•
I discovered another seat option for those who find the "hatchet" effect of the KLR seat less than appealing. Not sure about anyone else, but my mind will enjoy the ride as long as my butt is happy. When the butt runs out of happy, so does the ride. What I can tell you about this seat is a discovery, not an endorsement. Just information I'm passing along.
This seat looks to be built along the lines of the world famous Russell Day Long Saddle, of which I have bought four. I loved every one of them. I still have one on a Concours. The KLR I ride ain't gettin' a $600.00 saddle. That price is the only draw back to experiencing, one more time, the "pride of ownership" of one of the best motorcycle saddles made. This seat I found may serve the purpose without having to ebay a kidney.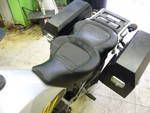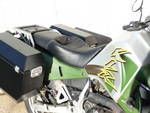 I talked on the phone today with the man that sells these saddles. He is Terry Adcox, located in south-central Tennessee. This saddle business is a sideline to his cycle repair shop and franchised Kawasaki Dealership,
Kawasaki of Tullahoma.
After we visited a bit, he emailed me some images of some of the work he has done on KLR 650's. He does seats for both Gen I and Gen II KLR 650's.
He requires you send him your seat pan. You might keep your original seat, and send him one you found on ebay.....throwing the stock seat back on when you sell or trade, allowing you to put your custom, broke in saddle onto your next KLR 650.
The features of the seat look good. Wide enough to spread out support. Pressure point "hot spots' are the biggest complaint most riders have, along with riding right on their tail bone. This style of seat relieves most of that.
I asked Mr. Adcox a few questions about custom work. His response: "I do a single bucket, a double bucket where the rear seat is a little bit small and a double where the seat size are the same.
I do different stitches and no stitches. I do custom work so if the customer wants something we will need to talk about what is needed. I also do other bike seat. from HD to BMW'S I can do most seats." "This seat keeps the narrow front for standing up but making the back wider for more street miles. I can do other modifications, lower, wider, and double bucket for passenger."
Seems accommodating. Even better than his willingness to work with you is the price. A single bucket, flat rear, starts at $225.00 plus $25.00 for shipping. He did say he had experience fitting the long legged riders further back and higher to buy some more leg room. Also knows how to help out the vertically challenged.
Mr. Adcox can be reached at:
Kawasaki of Tullahoma
216 W. Lincoln St.
Tullahoma, Tn 37388
931-455-0108