Discussion Starter
•
#1
•
The thought came to me----- 'Some of the TDT regulars would probably like something really new this year', ----- so I thought we could have 1 Guided Tour (GT) and 1 Self Guided Tour (SGT) to these beautiful mts. Baggitard will be leading the GT (pavement) and of course the SGT (dirt/pavement) is wide open for many groups.
The N Ga Mtns. happens to be where I spent a lot of time during the 90's. Although I did get to see a lot of the territory, I needed a refresher, so I could fully understand what I needed to say when people ask me about this area. When I saw the thread that Wildhair and Lucky were wanting to do some dirt riding, we decided to meet at TWO campground and head out for a day of riding.......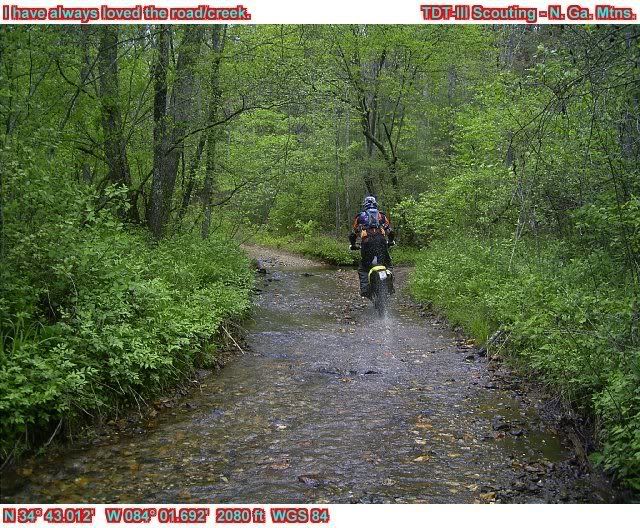 I need to take a moment and tell you what happened after the above pic.....
First, Lucky brought his tire down hard in the deepest part of the creek and soaked me.
Second, he asked me if I wanted to ride his bike (which I normally never do). I accepted.... but as we were switching bike/camera, the bike started rolling and I only had hold of the throttle. Well, his bike has that crazy recluse, automatic clutch thingey and I thought it was in neutral. All of a sudden, I have a 215 pound motorcycle spinning its lugs on both my feet!!!
And there goes his pride and joy in the creek while I'm jumping up and down cooling off my feet. :18:
Third, as if that didn't warn me not to get on this bike, I decided to anyway. So, I took it across the creek, did a small wheelie, but he didn't get the pic. So I go back and try it again....... Now, as you will see in the next pic, I never got use to that stupid recluse and brought the bike up a little to much..... I dropped my feet in case it was coming over on me, but it didn't. After the pic, I ended up back in the creek, on it's side, tire jambed under the creek bank, 2 feet away from Lucky who took the pic......
Well, here's Lucky laughing so hard, he's about to cry, while I'm trying to pic up a bike that cost more than what my insurance company is willing to pay. So, in the future, don't anyone ask me to ride their bike. Barbie and I have been together for 14 years, so I guess I go stupid whenever I'm on something else.
Also, I don't ride wheelies for a reason. Now you see why....................