Discussion Starter
•
#1
•
Hey guys, been a while since I posted. Just thought I'd share a ride report on the Utah trip Kevin (Sandiegowheels), and myself took in early June.
Preparation
Bikes and gear:
I have a 2011 KLR650, Kevin rides a 2007 KLR650. We both have upgraded our suspension with Cogent Moab shocks and replaced the front springs. I also put in the Race Tech emulators in my forks. We both had failures with our OEM rear shocks just riding the local back roads and trails here in San Diego. This upgrade allows the KLR to ride to its full potential. All of the dirt riding we did in UTAH was with all of our gear strapped to the bike, we were fully loaded and the bikes handled everything we threw at them. We both have engine protectors. I have The Happy Trail setup and Kevin has the SW Motech setup. Kevin's setup prevented a cracked case from a pretty bad impact at the bottom of the bike. Money well spent. Both of us have front foot pegs and used them. They were a godsend. We also both have stock seats. Halfway into the ride I joked about wanting to write a book called "150 different ass positions on a KLR". There was discomfort.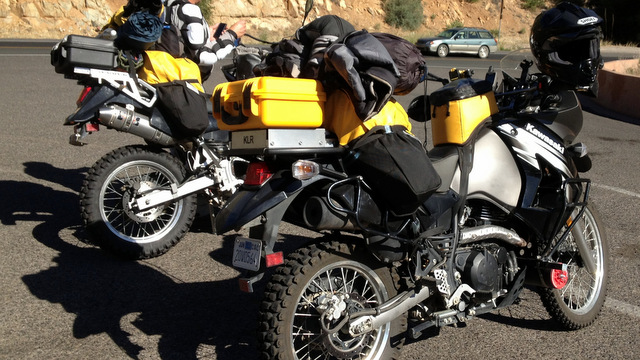 Between the two of us, we had all of the tools we needed for basic roadside repair. I used a tool tube, Kevin did not. I made a custom mounting assembly for my Pelican box that allowed me to stow two spare tubes, as well as a spare shift arm and spare clutch and brake levers below the pelican box.
We both wore full gear. We bought fox Titan off road mesh armor jackets. They too, were also a good call. They kept us comfortable in the sometimes 100 degree heat. Kevin had mesh pants, and I wished that I did.
Personal gear and storage:
We both decided it would be a good idea to travel light. We used small Pelican Cases mounted to the back of the bikes for waterproof and easy access storage. We opted to use the Great Basin saddle bags from Giant loop and were not disappointed. I brought a tent, Kevin slept under the stars. We both had air mattresses and sleeping bags. The bags stowed nicely in the saddle bags. We brought dehydrated food for in-camp breakfast and dinner. We also brought plenty of energy type bars and snacks. I brought an MSR camp stove that runs on virtually any type of fuel. I chose to use gasoline and it worked very well. The idea was to only have to bring one type of fuel so we could use it in the bikes if we needed it. The stove worked as expected, very good quality. We bought water each day making sure we both had plenty. I had enough changes of socks, underwear and shirts for 5 nights. One pair of convertible pants, a wind breaker and some slip on shoes. I also brought a small folding stool that I thought would be great for camp. I was wrong. The last thing I wanted to sit on after being in the saddle for 300+ miles a day was that stool. Kevin had a nice attachment that turned his air mattress into a seat. I'm going to get me one of those. We both had tank bags, Kevin's is a Wolfman and I have one from Giant loop. I think the only thing that i regret not bringing was some talc. It would have made a huge difference in that heat.