2nd Gear
Join Date: Sep 2006
Location: San Martin, CA
Posts: 153
Alaska, when is the best time.
---
what month or months is the best time to go to alaska. on the KLR of course. I am turning a certain age in few years. ( not telling, im young ) been telling the wife at that age, I will be going to alaska on the bike. I am starting to plan now.

thanks
---
Steve - Tazmanian Devil
00 KLR
PTB - FTM - KTF
Join Date: Sep 2006
Posts: 57
I am in the planning stages myself. I plan on next June mainly I am told the mosquitoes will carry you away in July and August. Also I want to do the D2D which is at the end of June.
2nd Gear
Join Date: Sep 2006
Location: San Martin, CA
Posts: 153
what is d2d?
---
Steve - Tazmanian Devil
00 KLR
PTB - FTM - KTF
1st Gear
Join Date: Oct 2006
Location: Cuyahoga Falls, Ohio
Posts: 65
Quote:
Originally Posted by Tazman
what is d2d?
d2d = day to day?
1st Gear
Join Date: Oct 2006
Location: Portland, TN
Posts: 74
Join Date: Oct 2006
Posts: 42
I'm heading up there next June from Cali with my dad. Who else? Anybody? It'd be nice to hook up. Maybe save a buck or two on a camp site.
Join Date: Sep 2006
Posts: 57
I don't have exact dates...but I will be heading there from Wisconsin. I figure starting out the second week and getting back the first or second week in July.

I am also trying to get my dad to meet me along the way. He is waiting for his new KLR to arrive at the dealer in Helena. He already has the corbin seat...just needs a bike to put it on.
Join Date: Oct 2006
Posts: 16
there's 4 or 5 of us heading up from Oregon sometime in June. It sounds like we neet to all get together if travel times allow
Here's our little logo [img]http://www.midnightsunrider.com/articles2006/d2d.html
we should plan on doing this as part of the trip!
Here's our little logo I made up: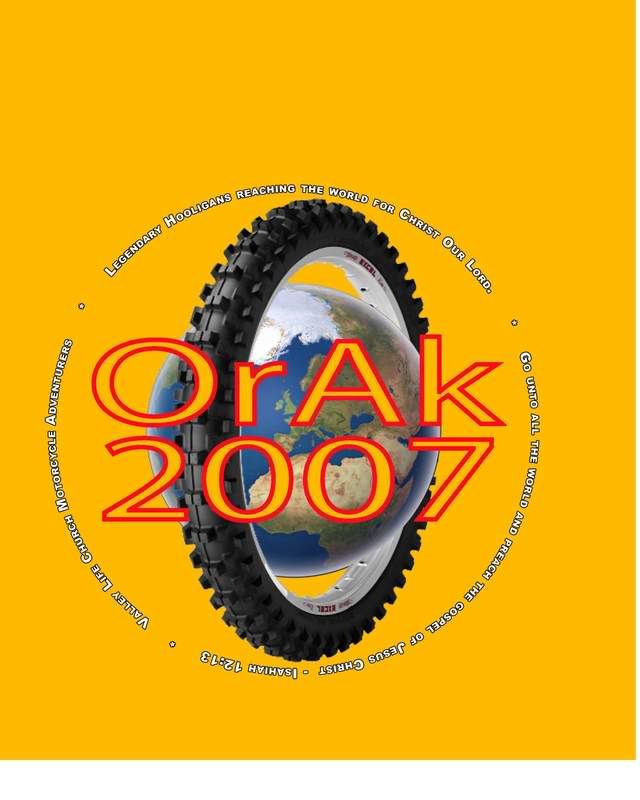 [/img]
Were not a bunch of religious wack-o's and will be thowing back a few with the best of you all :mrgreen:
Join Date: Oct 2006
Posts: 34
Yeah, plan on hittin Dawson around Solstice to meet up with many of us for D2D. There's alread about 50 plannin on the trip. It'll be my first but I've known many of the regulars for year. Fun bunch! (aren't we all?!? :P )
If you want to read more and see many photos on the trip go over to
www.advrider.com
and go to the 'Great White North' subforum in the 'Regional Forums'.
Make sure you all have a mosquito headnet for the trip up. Some places can be REALLY bad if there's no breeze. At least one rider decided it just wasnt' worth it and left his 2 buddies and went home on his way up here. He late felt badly as his friends told him the bugs weren't that bad farther into the trip. Lots of variables.
I was born and raised up here and have been ridin for many years and love talkin bikes and Alaska if you have more questions.
If you'd like to take a little (albeit kinda expensive) side trip respit I HIGHLY recommend ridin the Alaska State Ferry between Prince Rupert B.C. and Haines AK. The roads in and out of Rupert and Haines are AWESOME! You don't really need reservations with a motorcycle and don't rent a stateroom. Just sleep up in the solarium in the fully reclining lounge chairs and enjoy mingling with many other fun filled travellers. Also, avoid riding the newest ferry MV Kennicott as it's the LEAST passenger friendly. It was built after the big Valdez oil spill and is an oil spill comand vessel. LAME!
Take care, Mark H.
Join Date: Oct 2006
Posts: 308
Ooo, Ooo, Ooo. Need to talk to bride! I'd love to do that. I have a buddy in Anchorage.

Jamie
Similar Threads
Thread
Thread Starter
Forum
Replies
Last Post
Newbies from Alaska

SNICK

Introductions

4

10-09-2014

08:13 PM

KLR Alaska

KLR AK

Show Off Your Bike

12

05-31-2008

07:14 PM

back from Alaska

brooksie-dog

KLR & Other Motorcycle Related Discussion

4

07-15-2007

12:34 AM

Hello from Alaska

KLR AK

Introductions

9

05-26-2007

08:41 AM

Good Alaska Book?

Jamie

Travel Log & Trip Reports

5

11-06-2006

11:50 PM