Slaying the Dragon 2013 Ride Report!
---
It's always fun coming to Iron Horse Motorcycle Lodge and hanging out with friends and the CMA crowd! It was great seeing the old faces and meeting new ones!!
Friday was a strange day of...'Is it ever going to warm up'.....to......'I don't remember seeing snow in the forecast????'
10 of us headed out for a ride (6 KLRs, 1 XR650L, 1 F650, 1 DRZ400, and 1 Tiger 955i).....stopped by the old Almond Depot for a pic!
Couple of pics and video of us coming up Tellico Gap!
After Tellico Gap, we stopped in Kyle for a quick store lunch/break. Our plan was to go ride the new asphalt on FS711. We went south on Wayah Rd. as a little rain started moving in..... we were going to run FS711 north. Well, just as we got on 711, the snow started coming down pretty good! It made for a pretty ride, but the new pavement was very wet.....and knowing we still had a lot of elevation to gain, we decided to not continue since I couldn't tell when the wet stopped and the ice began!!!
We made our way back to Nantahala Lake and since David was in some serious pain with his back, he decided to head back to camp.....taking half the crew with him. 4 of us decided to keep pushing on.....
Here we are on Tusquitee Gap!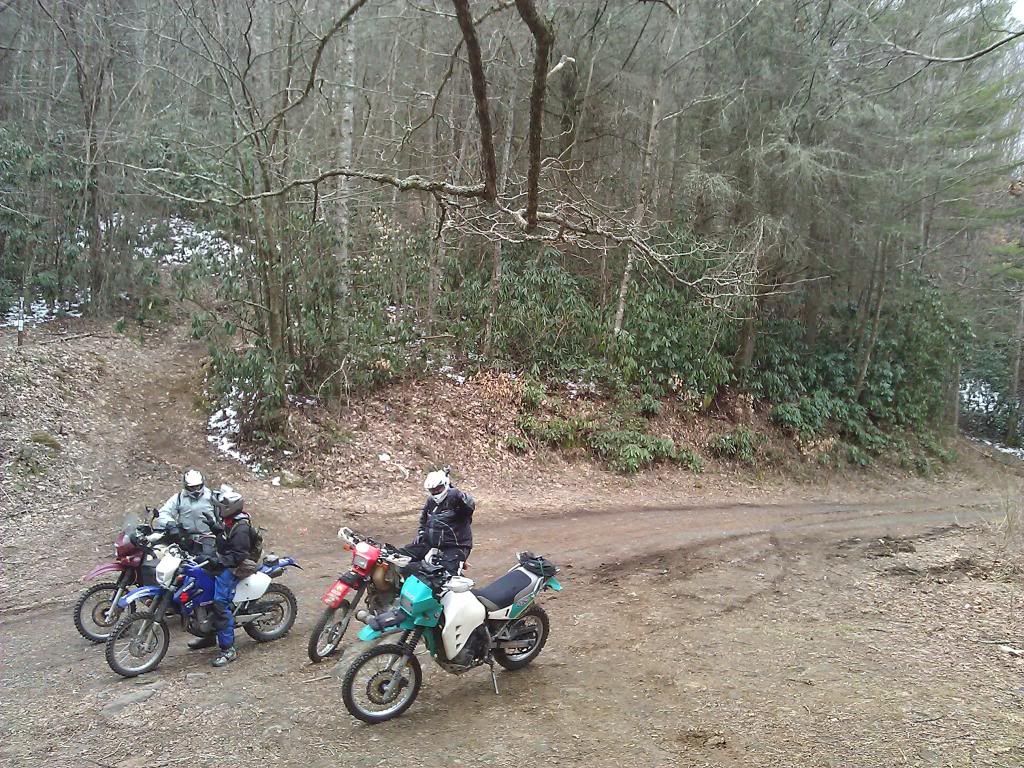 Chunky Gal hiking trail crosses at the gap........this trail connects Fires Creek WMA with the AT!
---
Keep Loving Rides!
---
Last edited by cherokee_chuck; 04-01-2013 at

10:26 AM

.
My phone/camera was dead at this point, due to not being turned off properly
, but to finish off the day, I went to take Tatham Gap road over to Robbinsville, but never made it over because of closer. The next day, I found out from Mark at Thunder Mtn. Store that it will be closed for 2-3 YEARS! Wow! Anyway, it was around 5 o'clock, so the logical choice was to retreat to Andrews and pavement back to camp........of course LOGIC doesn't register with me at times, so I asked the guys if they wanted to 'short-cut' through Master's Mission! Well, that place is wet during the summer, so you could imagine how it was after snow and rain had fallen the last week! I was able to get these videos......
We thought we were home free once we got over the 3.0 hill, but later on we ran into a dozer across the road, so we gently squeezed by and proceded to ride in the rain back to camp........nice and cold!!! We got in just in time to enjoy some great BBQ and for me to watch Steel Magnolias!!! Please, don't ask......
Next morning looked rough, but turned out to be a great day for riding!!! As usual, Iron Horse was a great place to gather with friends!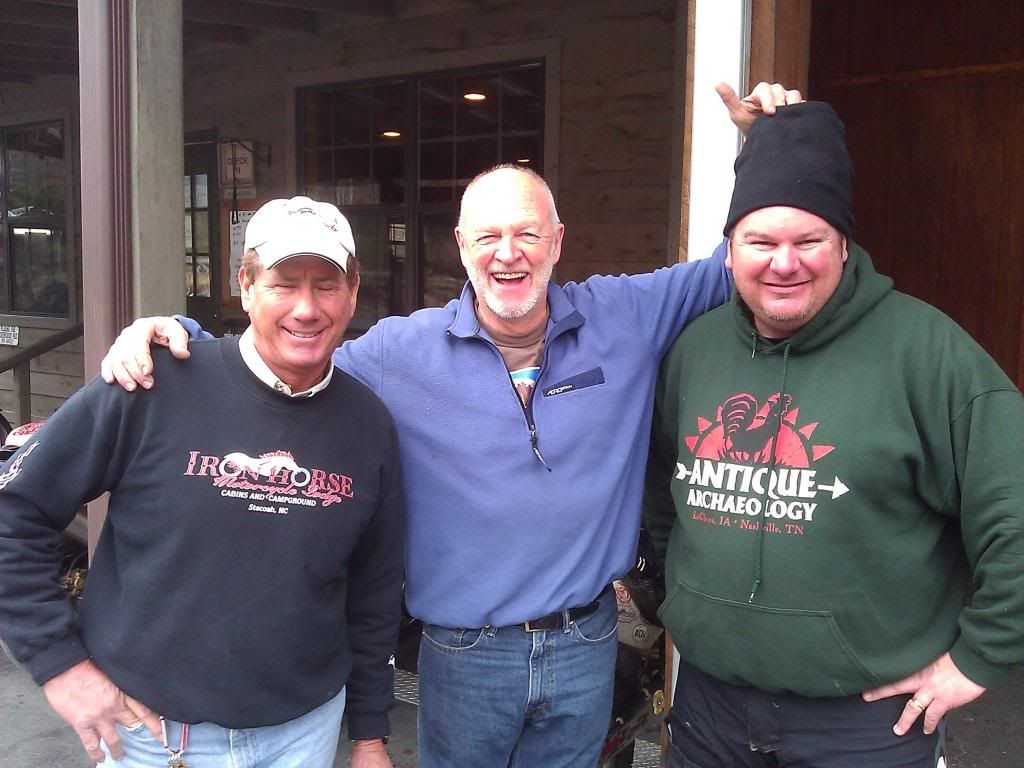 ---
Keep Loving Rides!
---
Last edited by cherokee_chuck; 04-01-2013 at

10:27 AM

.
There were 9 of us on this ride today.......here we are about to imbark!!
I take them over to one of my favorite places......where Tuskeegee Creek dumps into Fontana Lake!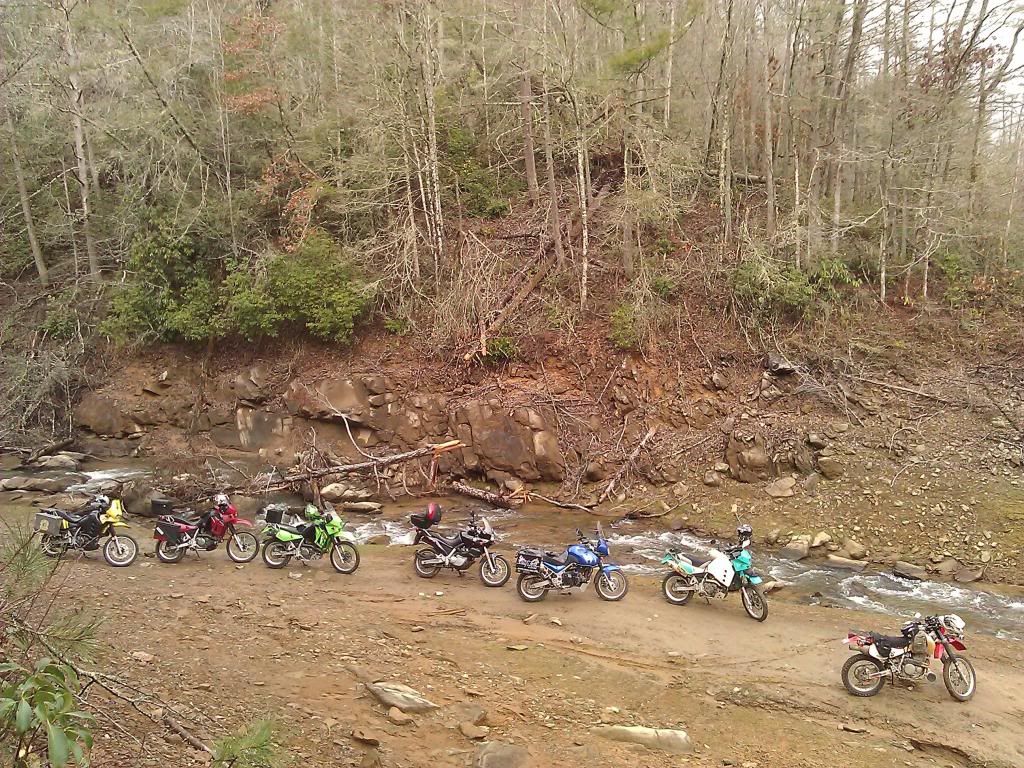 Afterwards, we take tons-of-twisties over to Santeetlah Lake/Dam!
---
Keep Loving Rides!
---
Last edited by cherokee_chuck; 04-01-2013 at

10:27 AM

.
We went to Thunder Mtn. to get some lunch and gas.........didn't get pics, but some others got pics and hung out with some famous moonshiner on TV! Man, I need to get satelite.......
After lunch, we do some riding close by.......Big Snowbird and then these pics/video are from going up to the gate on Little Buffalo!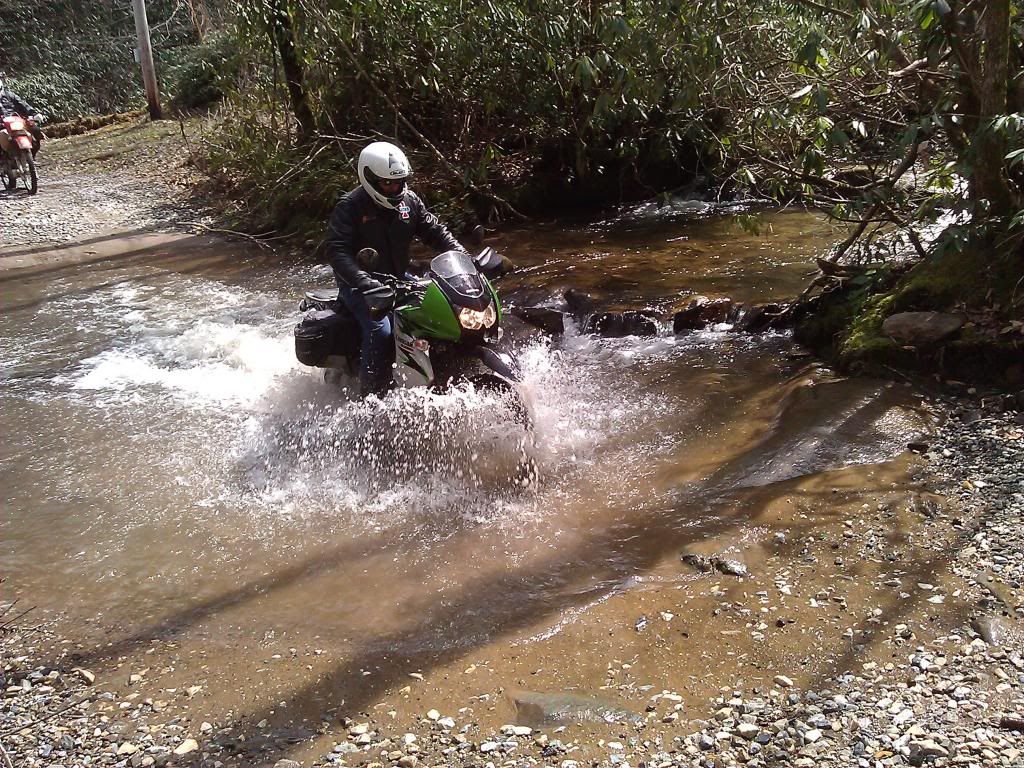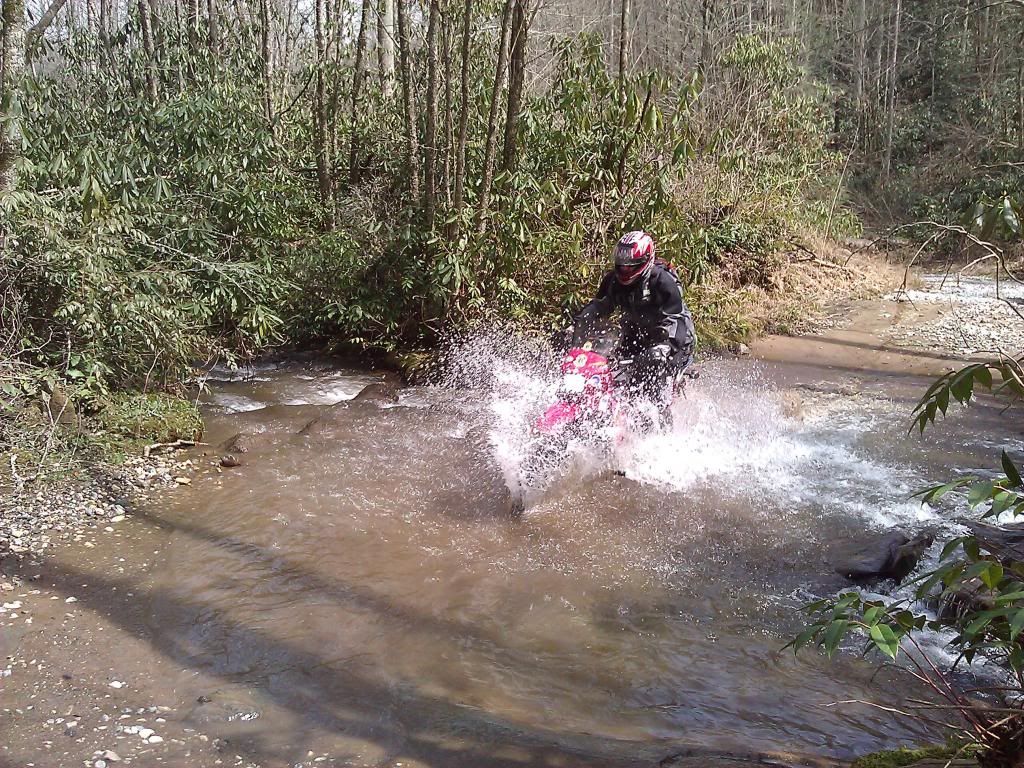 Our last bit of dirt before taking the Skyway back to camp was riding up FS81 and taking a break at Stewart Cabin! All enjoyed, I believe!
I had a great time riding with you guys!!!! Look forward to next year! Hope to see some of you guys that didn't get to make it.............until next time!!!!
---
Keep Loving Rides!
---
Last edited by cherokee_chuck; 04-01-2013 at

10:28 AM

.
Looks like you folks had a nice couple of days riding to kick the season off. Nice write up and pics.
Just noticed the technical difficulties. I will try and fix it. The new PhotoBucket has crapped out on me again.....
---
Keep Loving Rides!
Hopefully all is fixed.....
---
Keep Loving Rides!