Join Date: Sep 2006
Posts: 143
KMSR dual sport ride 10/21/2006
---
A cold, rainy, and MUDDY ride in Wisconsin. I met up with Elmo and Benp1981 from ADVrider. Unfortunately, I haven't bought a digi-cam yet so I'll let Ben tell the story.
http://www.advrider.com/forums/showthread.php?t=175433
This is my job today:
Looks like I'm going to have to find a creek to run through a few times to get it cleaned up.
I'll post a more gooder report after I get things sorted out.
Join Date: Sep 2006
Posts: 57
Morning Ham!

My knees feel like they have a bad tooth ache! Yeah...I am still recovering!

Nothing on the bike broken up. Just me!

Elmer out!
Join Date: Sep 2006
Posts: 143
I'm not too sore, I just feel like I fell out of a third floor window, which is better than the fifth floor. :lol: I guess my employer won't be getting my finest work tonight, I can't move real fast at the moment.

I don't know if my KLR will ever be clean again. Two washings so far and it still has chunks of Wisconsin on it.

I e-mailed Ben to access his photos for a proper ride report.

Still grinning over the ride, what a bunch of fun, except for the moto-track (at least while it was happening).
Join Date: Sep 2006
Posts: 143
Ben Paske posted this report at ADVrider. He gave me permission to post it here. That is a KLX650 he was riding. Elmer wisely brought his XR650R instead of his KLR650 because he hasn't ridden his new to him KLR very much.
(quote Ben Paske)
Today was the Kettle Moraine Sport Rider's annual Field and Forest enduro ride. Brought to you by the fine folks that are also responsible for the annual kewaskum will climbs-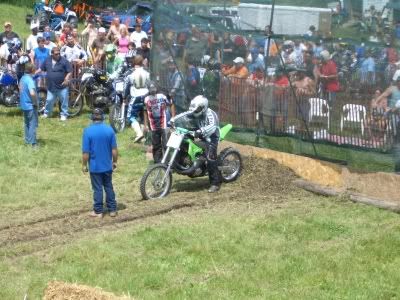 The infamous 'Little John' of Wabeno Fame even has a hand in it, So you know it has to be good, right??
So, Me and 100 of my closest Freinds Gather at Midcities motorsports Round about 8:00. We All do a fair bit of gawking.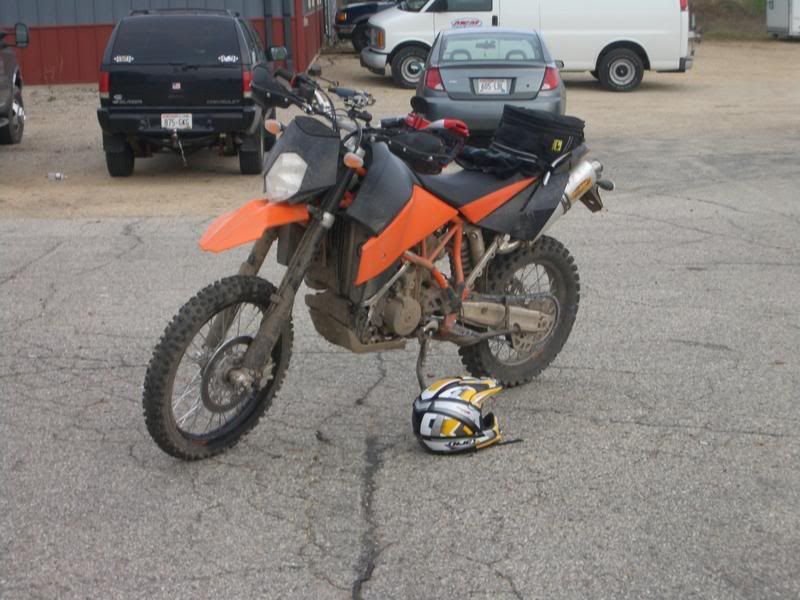 Get our soudchecks, Get registered, and have our rider meeting... Blah blah blah, NO SHENANAGINS, blah blah Green Arrows, Blah Orange arrows, Blah blah... Basically, Dont make an ass of yourself and screw it up for anyone else...
Elmer found out that he left his Brain Bucket at home, Good thing we're starting this thing at a dealership-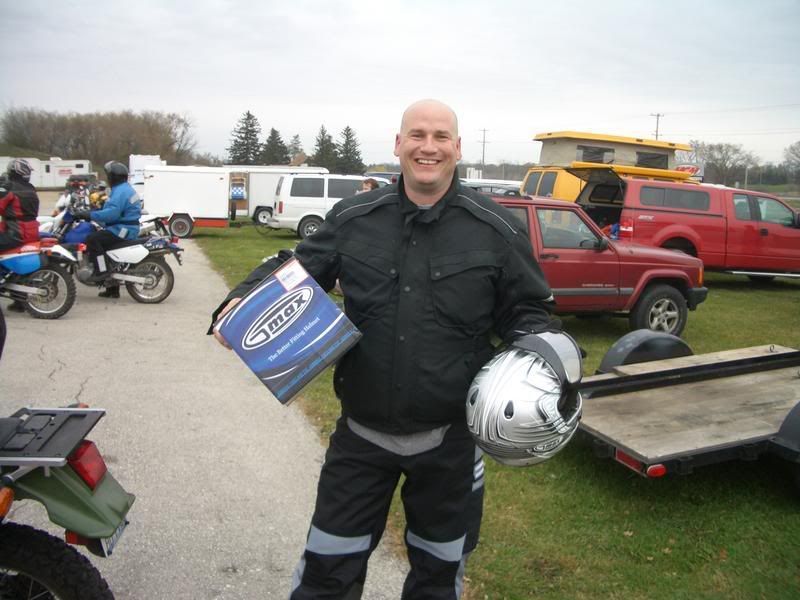 Let the races Begin!!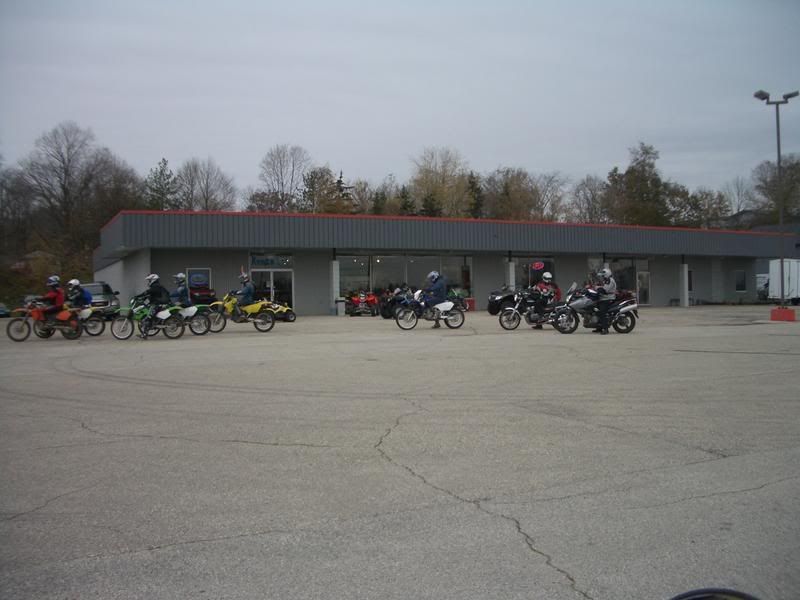 Among the participents there were a good number of *cough* "legal" *cough* dirtbikes, A v-strom with street tires, This guy on a mid 70's four-cylinder UJM with knobs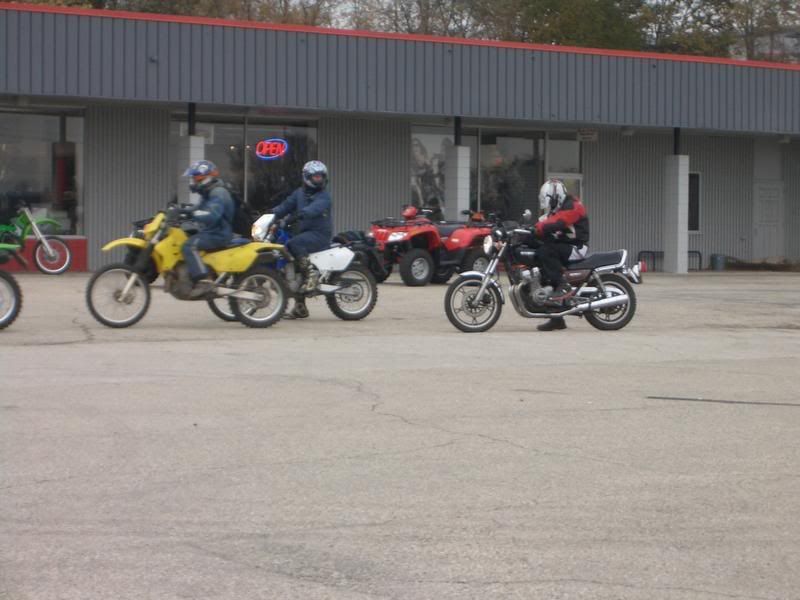 Some old bikes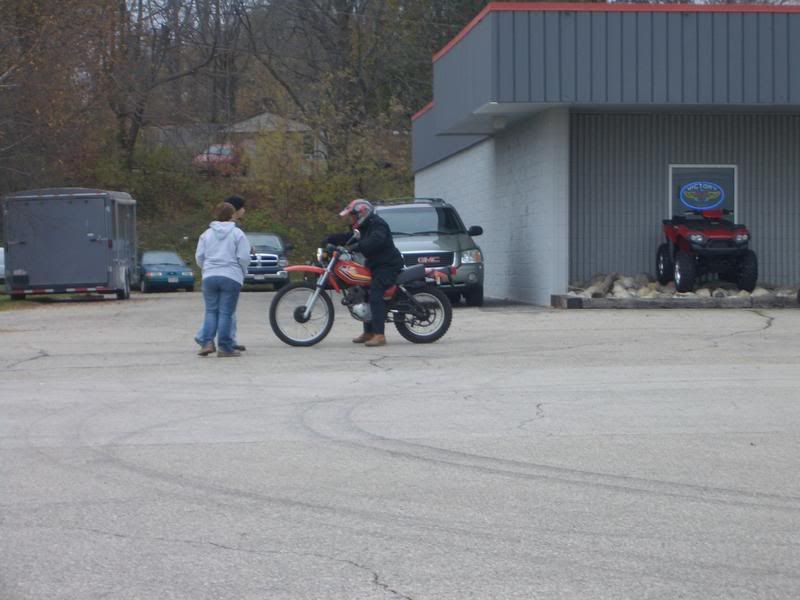 And some guys apparently caught by suprise of the need for a kickstand. Well, "Need" is a relative term I suppose, I think his bike spent less time on its side than mine during this trip...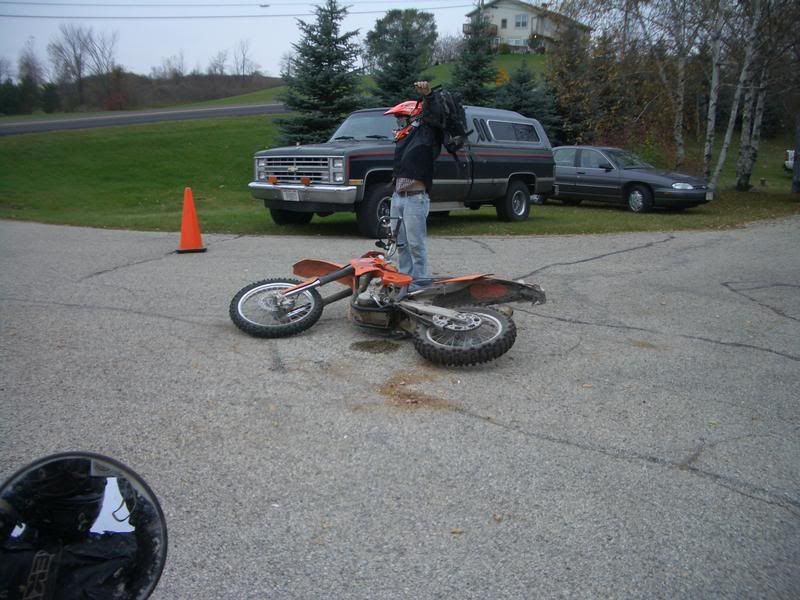 With just over a 100 riders the single-track was a bit crowded at first. That led to a lot of slow manuvering, Which led to a lot of kicking for those of us without magic buttons...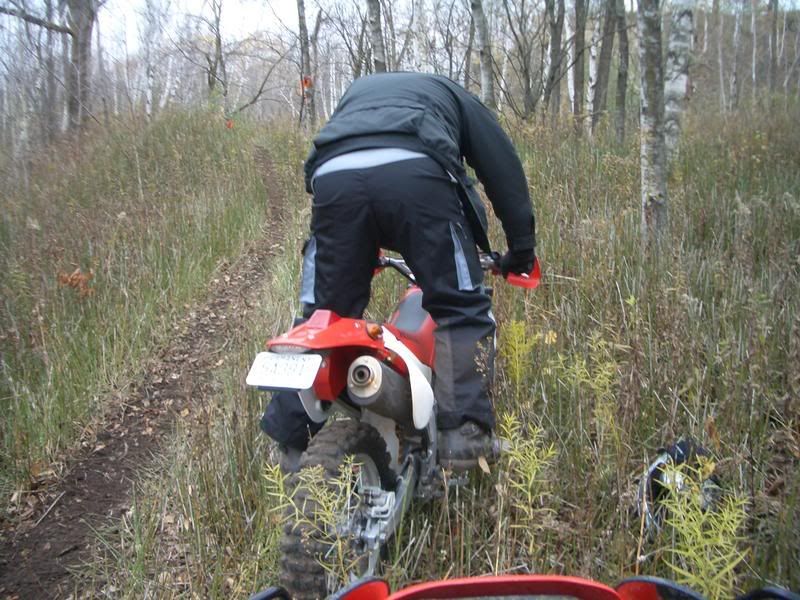 I find out that my shiny new skidplate is a great way to transport topsoil!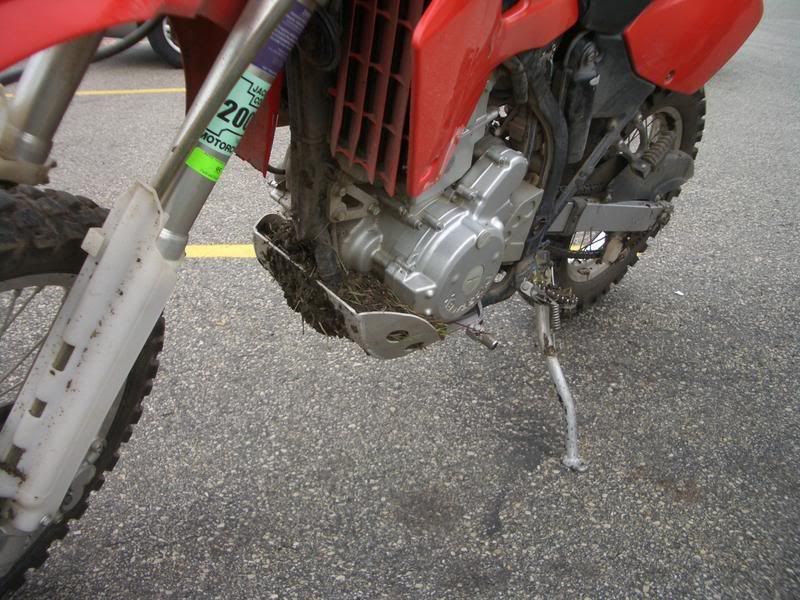 And at our first gas stop We are given a great reminder that Yes, We are indeed in Wisconsin. (Notice tractor leaving the pumps)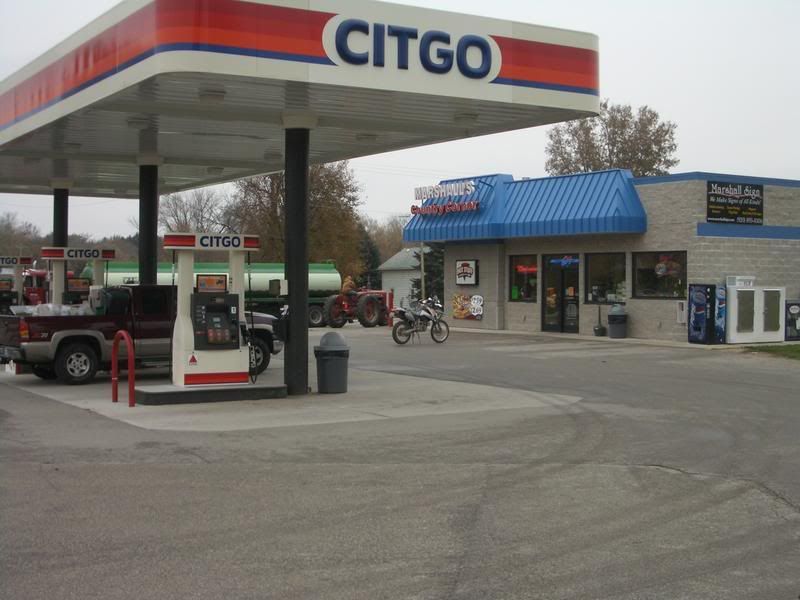 In the olden days, They didnt have cable... They needed to rely on satilites.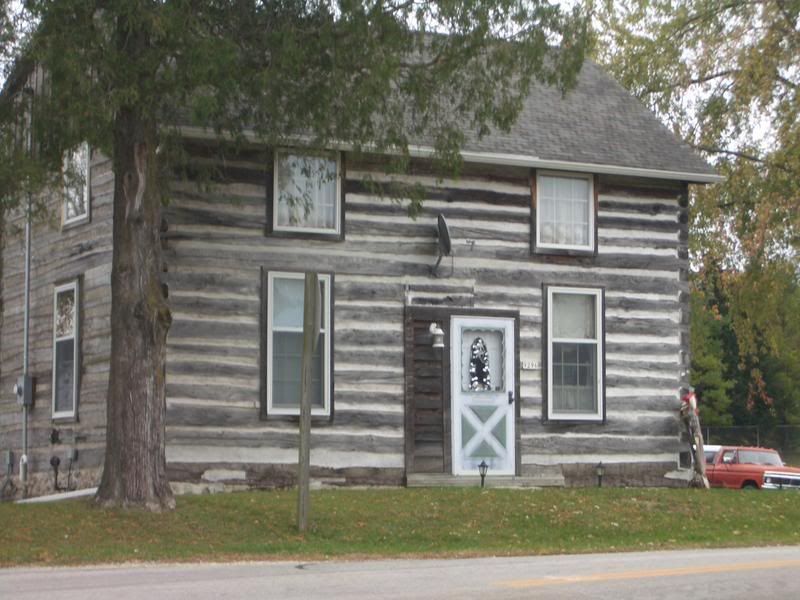 About this time it started to rain. Now, it was already about 45 degrees... So rain wasnt exactly welcomed. The off-road sections got worse and worse. The mud got deeper and deeper, and Knobbie tires make excellant roto-tillers, Which really make things even worse for us slow guys in the back. We took Every oppurtunity to get out of the drizzle.
Riding through barns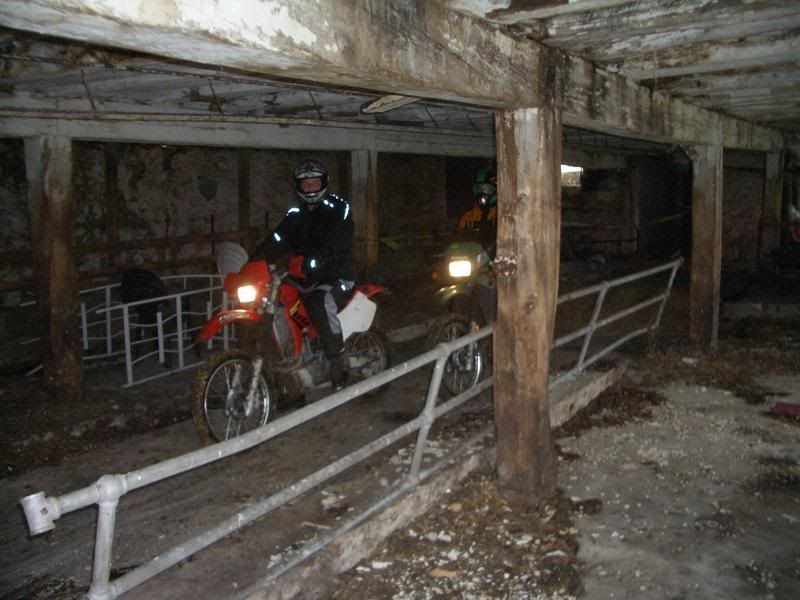 Through culverts (btw, Yes, It is as small as it looks)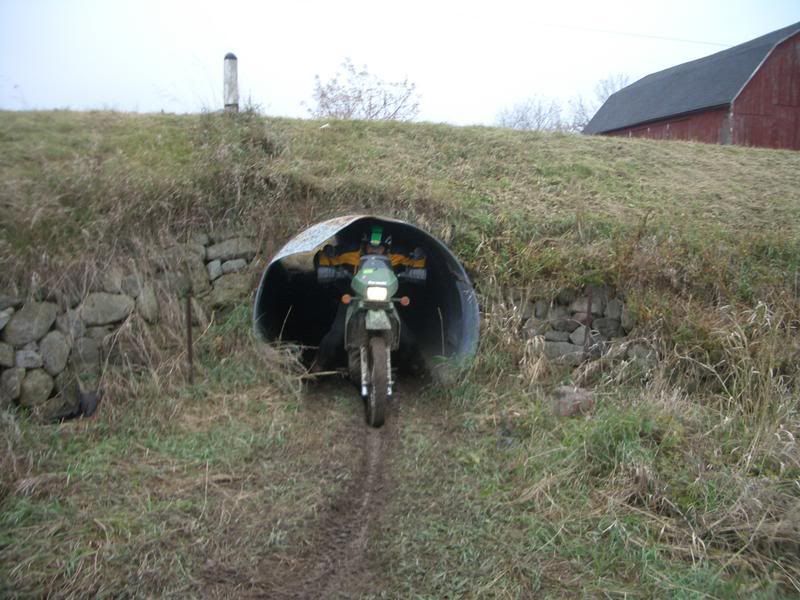 Any scratches on the new Lid Elmer??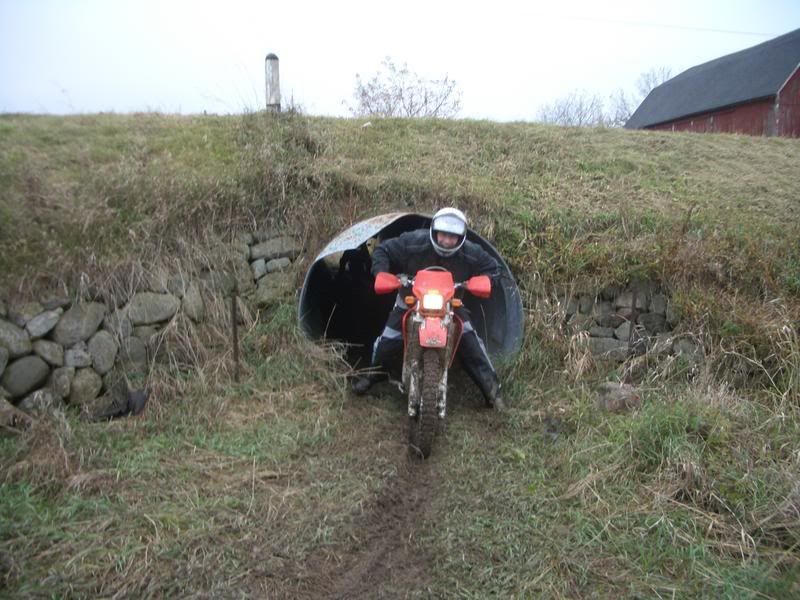 I decided at one point it would be fun to slide backwards, Downhill, into the brush, and get hung up on a log.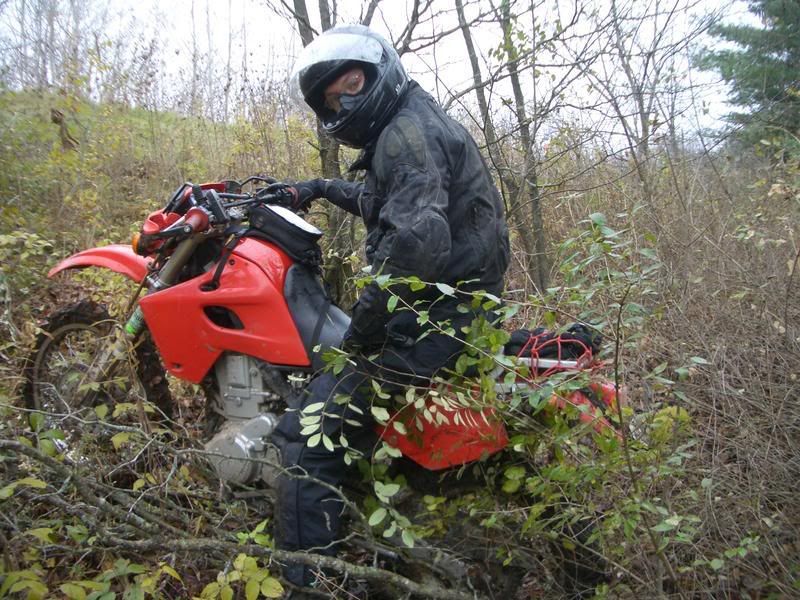 I would dump it twice before I got back to the trail (Even with help) which was only 10' away, Rip my seat, Bust my first rear turn signal lens, and put a hole in my rainpaints. After getting back on the trail, I thought I would top it off my tipping over, downhill with the wheels pointing uphill, So it would be EXTRA hard to pick back up. No, REALLY, I did it on purpose guys... Umm... Can you help me pick it up please??
Acutally, I crashed two more times before I made it off that hill... That was a rough 1/4 mile.
Time for a smoke break!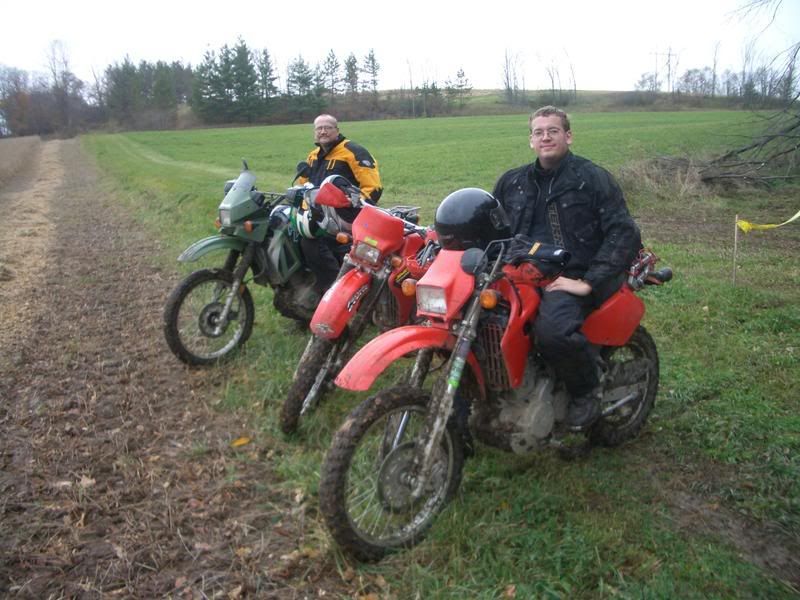 After I do a little front end re-aligning, We hit Lunch! No pics of the food-- Cheeseburger, Chips, soda. Nothing special, But We did get to ride to the top of the sunburst ski hill-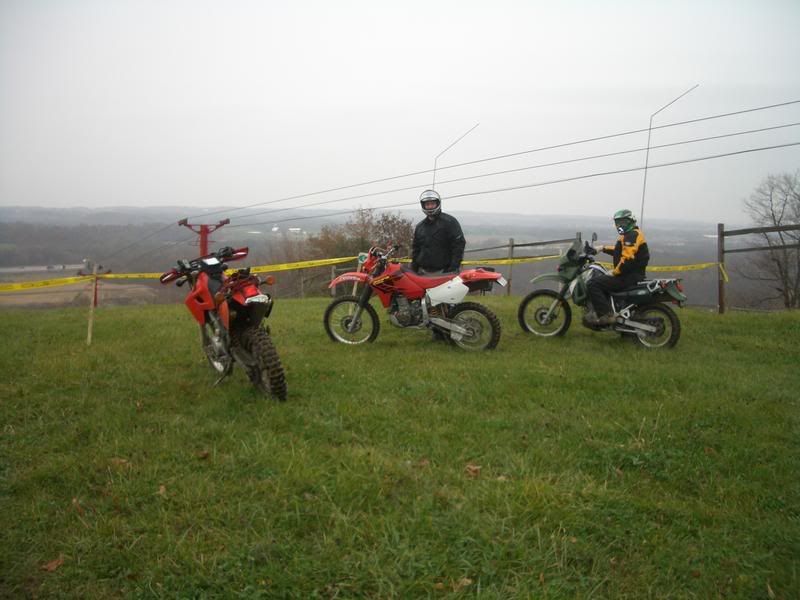 Lots of bikes down there-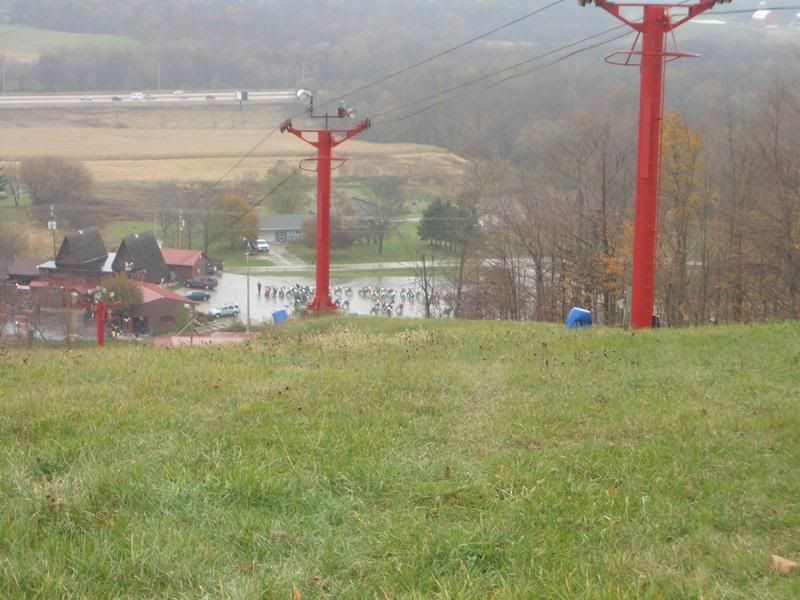 With a Full belly, and an empty Bladder, we once again hit the trail. Right after lunch was our longest off-road section. A full 12 miles criss-crossing farmland, Skirting cornfields, Exploring horse-pastures, and overshooting corners.
We came upon This guys Motocross track from hell.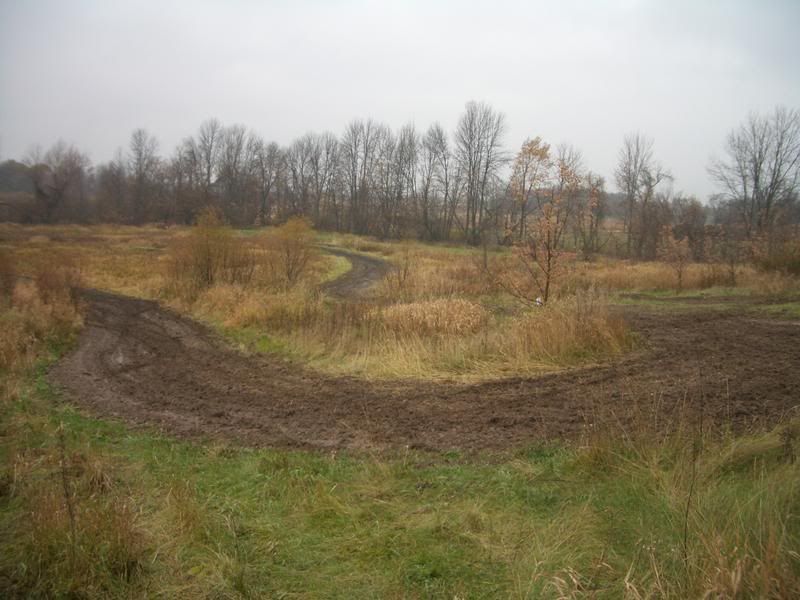 Honestly, It looked like he trucked in mud. For the first time, The mighty KLR goes down (By this time my KLX has been down more than a $3 whore)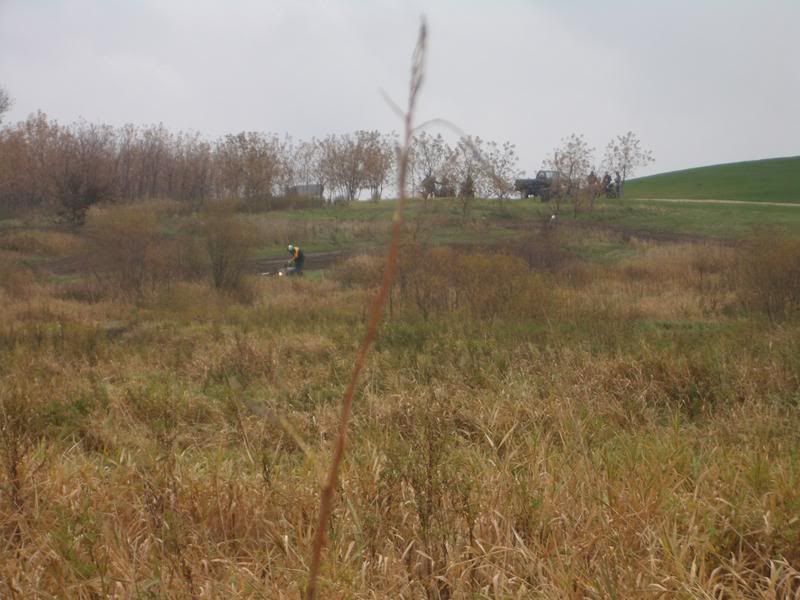 Lots of revs, and not so much speed makes for an interesting Thermal dynamics problem... I was never very good at thermal dynamics, But I'm pretty sure it all boils down to this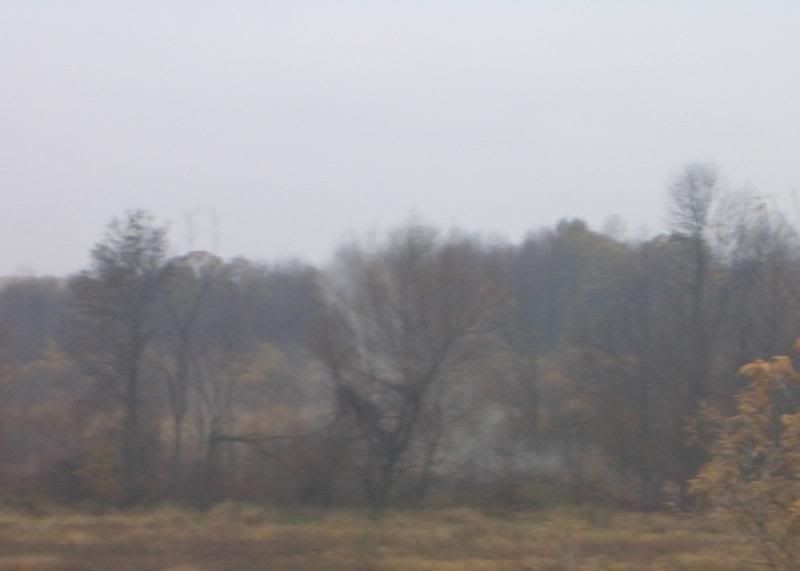 At some point I decided doing a hero section would be a good idea... And now I have another mirror to add to the pile.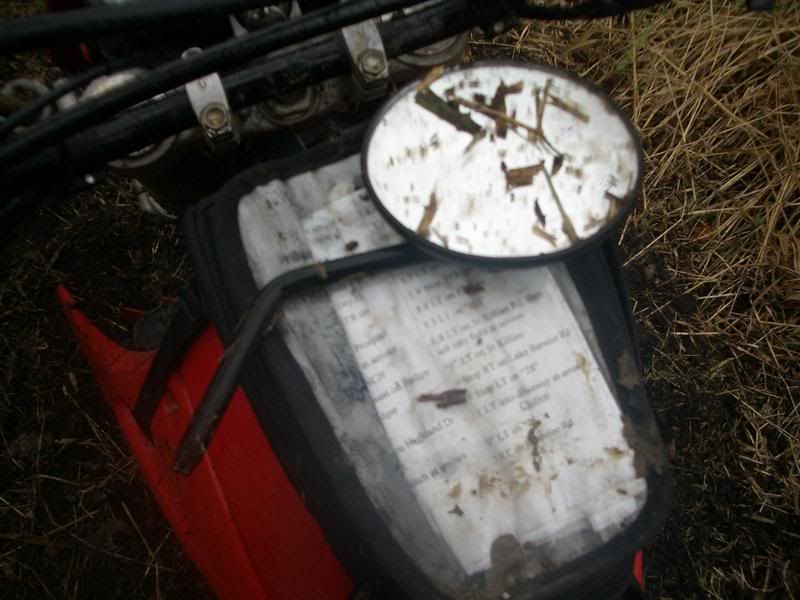 But hey, Misery loves company, Right??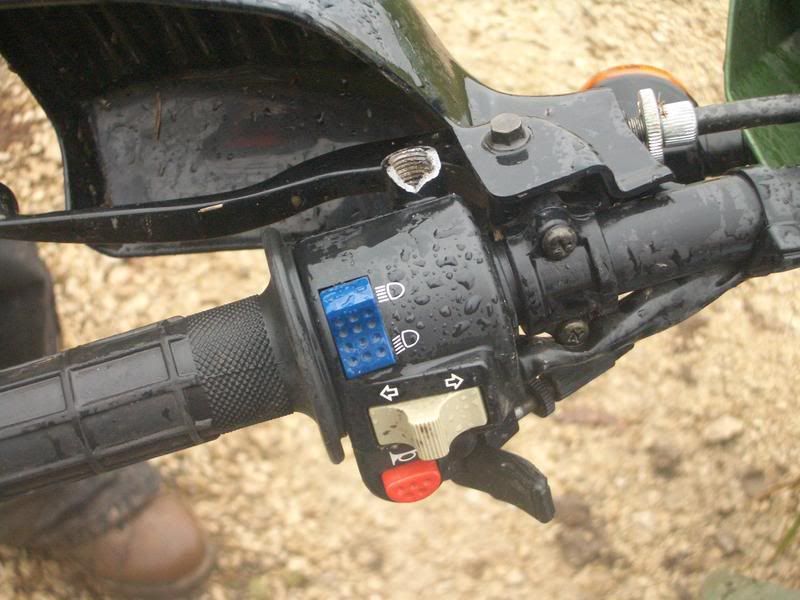 Did I mention is was muddy out there? It wasnt soupy mud either... That just slops off. This was Clay, Greasy, Grass-reinforced, Tirecloging, Chain-destroying, Friction-inhibiting, bottomless, Mud.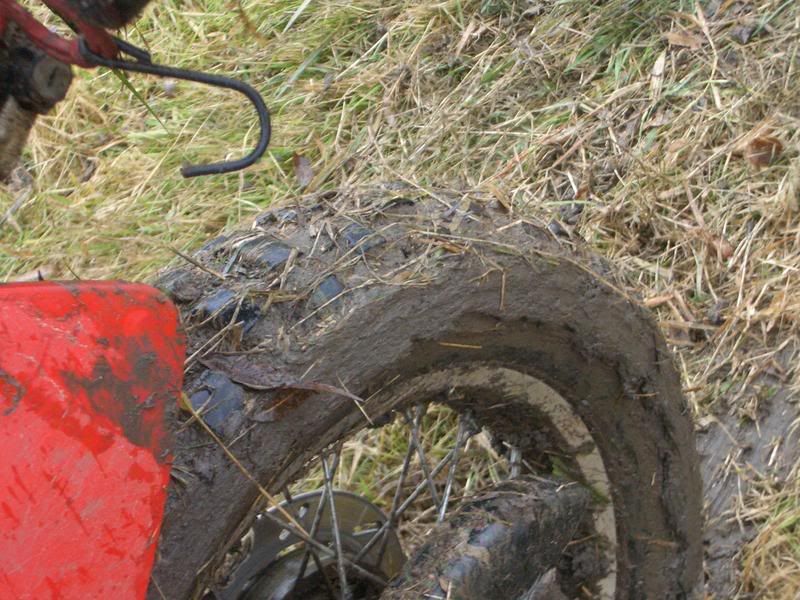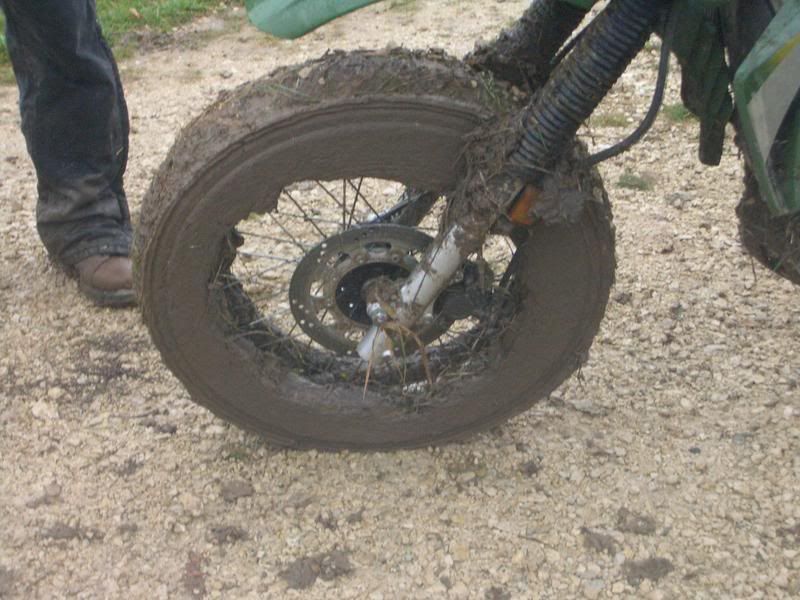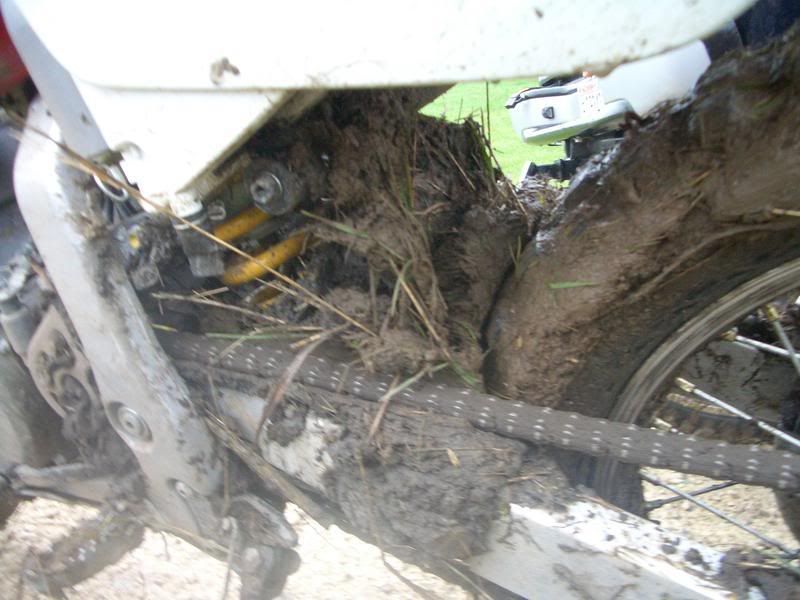 Stones for traction!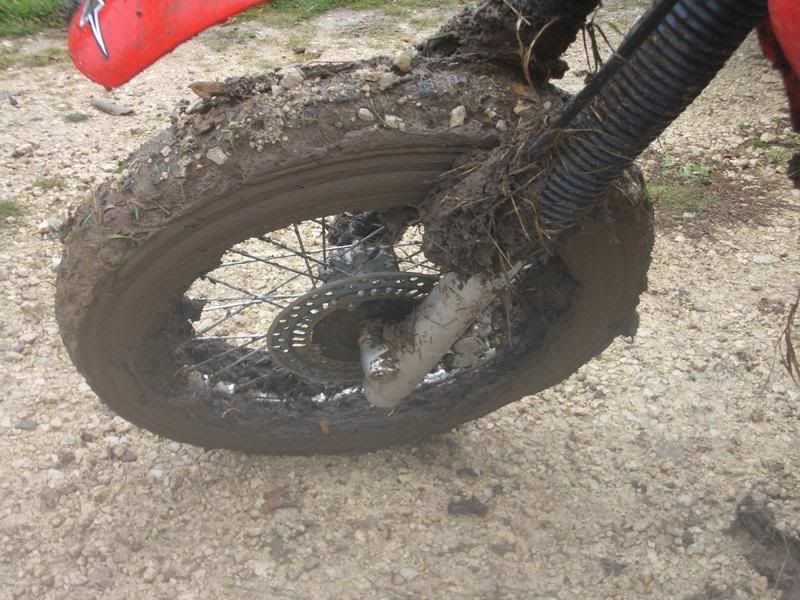 I think this guy is wondering why is helmet weighs so much...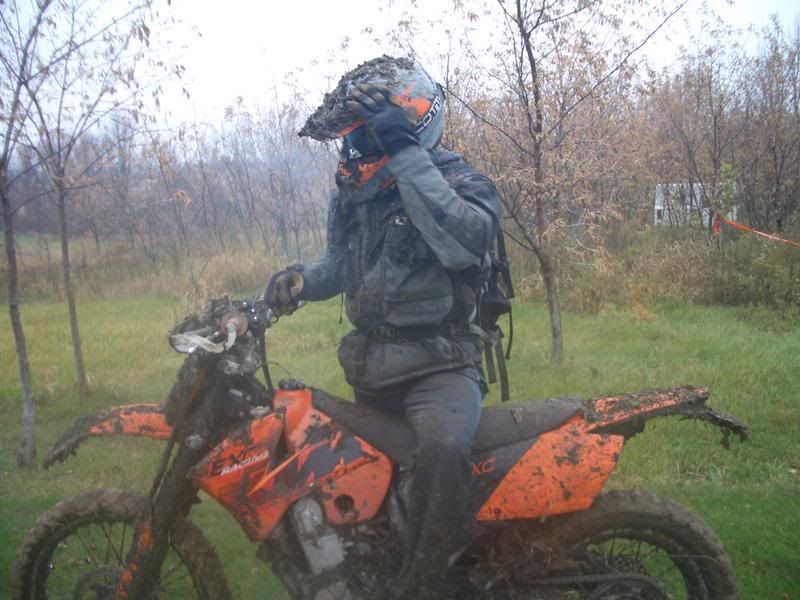 But hey, At least now I have a matching pair of busted turn signals lenses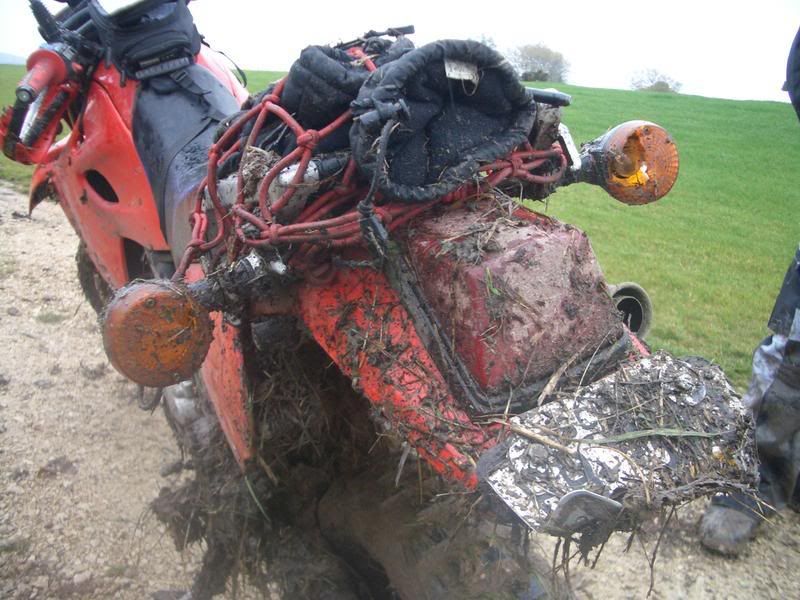 And just for kicks, Here's a Vid! (I think, If this works...)
<object width="425" height="350"><param name="movie" value="http://www.youtube.com/v/URqVSC3GaMc"></param><embed src="http://www.youtube.com/v/URqVSC3GaMc" type="application/x-shockwave-flash" width="600" height="350"></embed></object>
One of the landowner's Pups came out to say Hi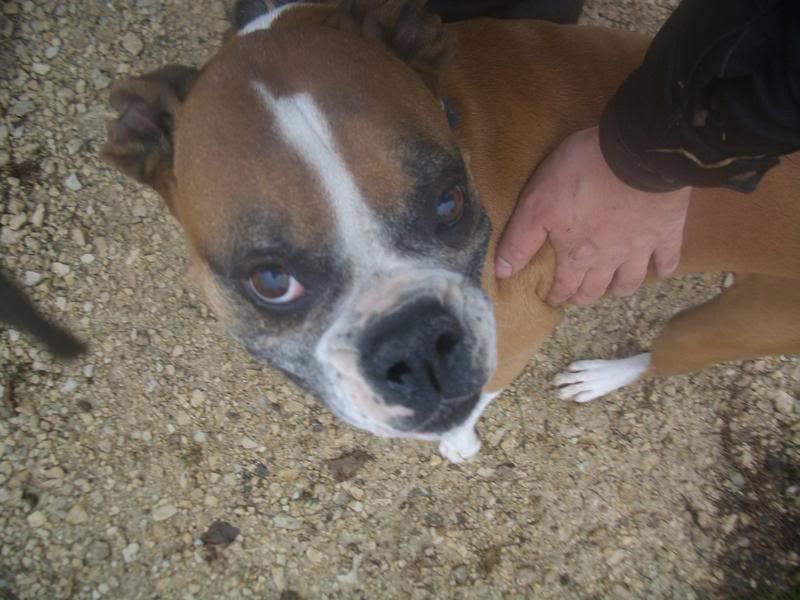 So, after this we started to look at those Hero sections with a bit more discretion... But we did find a nice little hill to try out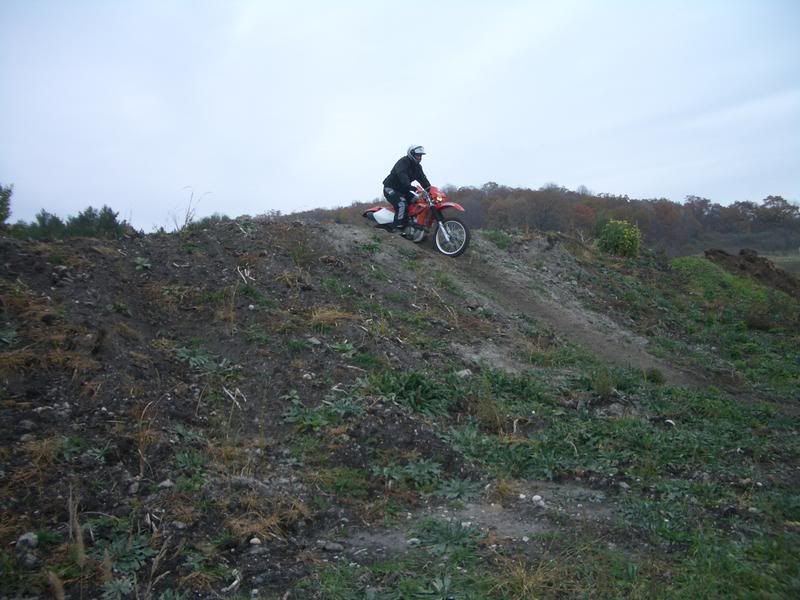 Then we headed back to dinner at Midcities Motorsports-
Chili-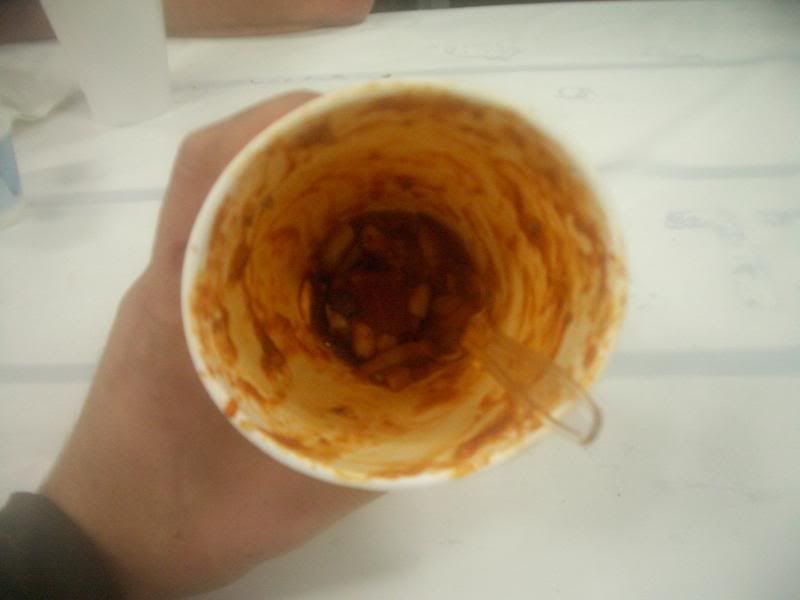 And... THIS! (tasted better than it looked...)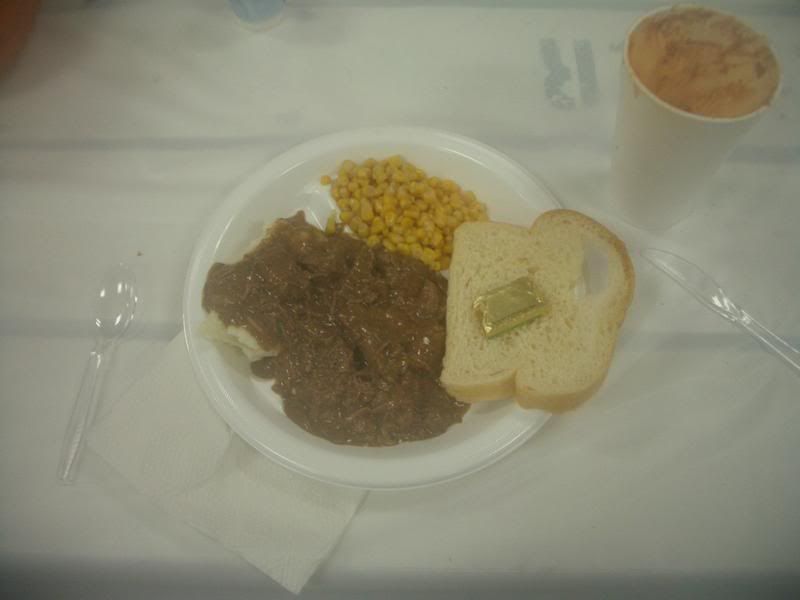 Other folks Lived the High life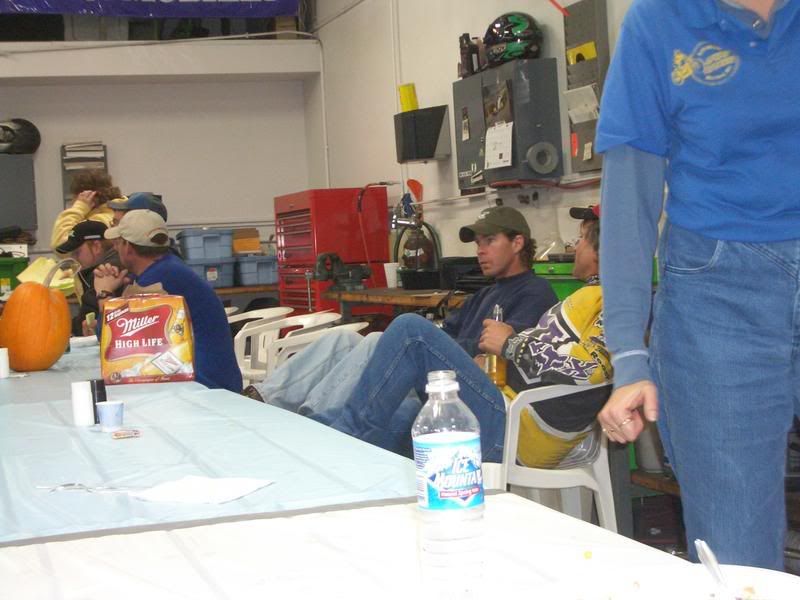 I know there are others out there with pics... So lets See them!
(end of quote)
I have a new respect for the KLR650's abilities after the day. I also have a new respect for its shortcomings. Lucky for me, I was able to grind the broken mirror mount down and re-install the mirror. There are plenty of threads down deep in the mount. Before doing another dual sport ride, I will be doing some mods. I already have some Acerbis rally handguards coming. The shift lever needs to be reinforced. Cheap folding mirrors are going on. the front end needs some stiffening. Need a route chart holder. Fresh rear tire for mud. Radiator guards for moments when gravity take over. Really, these are the only things that could have made my day a little better. Most of the bikes there were converted full on dirt bikes and several people said they didn't envy me on the KLR. Honestly, other than the mud moto-track and a few extra greasy trails, it did great. The Kenda K270 tires worked as well and in some cases better than full knobby tires.
It took hours of cleaning to get my KLR clean and it still has some munge on it.
Thanks Ben, for letting me borrow your ride report. I would like to hook up with you and Elmer for future rides. Maybe a few more KLRistas can join in.
Join Date: Sep 2006
Posts: 57
I was wondering if you were going to be able to fix that mirror. Glad it was a easy fix.

Elmer