Big Rigger and Klrmikes WV ride
---
Big Rigger And I decided to take a last minute overnighter to the mountains this past weekend.We left my house around 9am sat morning.But,before we left,Kay fixed us a breakfast fit for a king.Farm fresh brown eggs,bacon,sausage,toast,homemade jelly,and fresh coffee.When we finally hit the road,the fog was starting to lift and had warmed up to 39.
Big Rigger (Rick) on the left,and myself. No Kay this trip :cry: To cold
[img]
Our first break down the road after the sun came out.The rest of the day was sunny and a high of 52.Great riding weather.
[/img
We were about a week late for the peak fall colors,but still plenty to look at
Anyone here recognize this route thru the mountains? 15 miles of sheer fun on a motorcycle :lol:
Pics of random roads traveled this weekend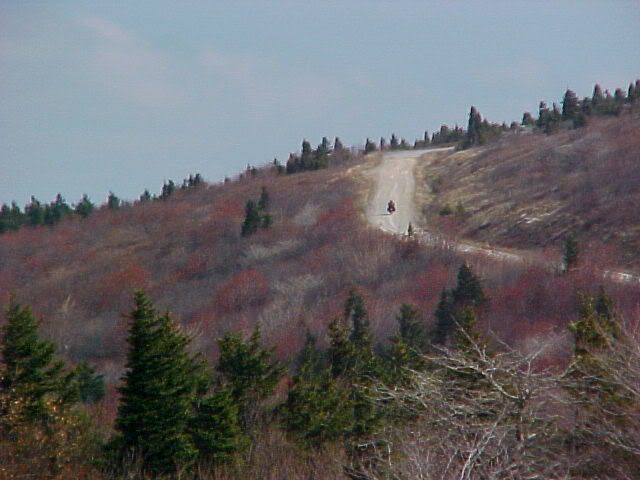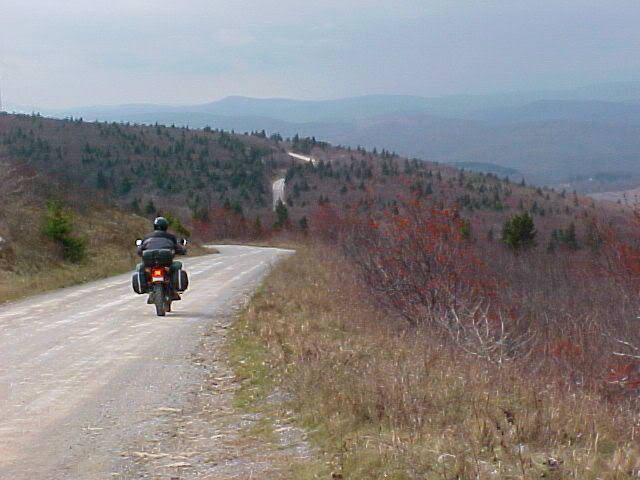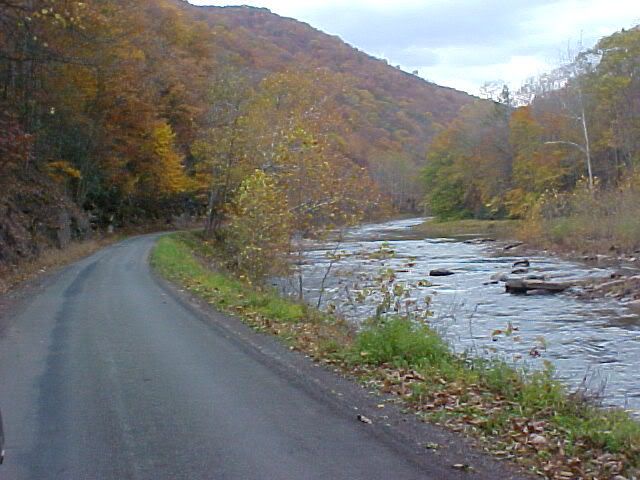 and some random scenery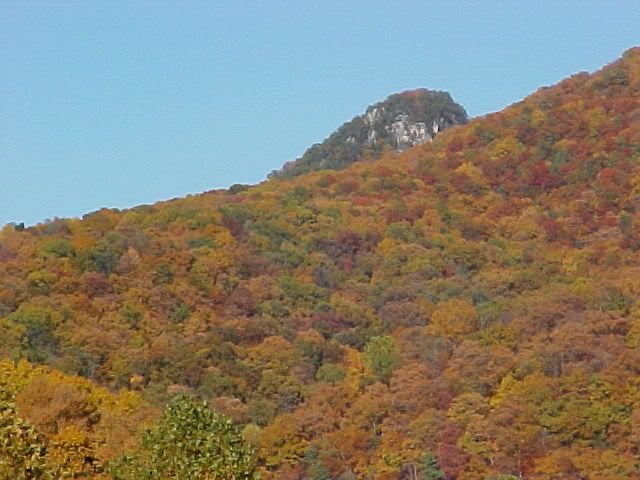 This is Rubys.It's a little store tucked in the middle of nowhere.Very friendly people.Gave us firewood for the night and a pint of apple butter made that day.Always good for a hot cup of coffee.
That night it dipped into the 20s.We had frost by 10pm.Sun was also a good day for riding and made it back home around 6:30.It was a great fall ride.Rick has only a few miles under his belt but is hooked.So we will be seeing more of him,and he is always up for an adventure. Don't worry Kaylr,you're still my number one adventure partner.
---
You can't shake hands with a fist
If you can read this,thank a teacher.Since it's in English,
thank a soldier.
---------------
What could possibly happen
---------------
05 KLR The faster Red one
01 Triumph Tiger Sold
08 KTM 990 Adv S
08 Yamaha 250 WR Sold
09 KTM 530 EXC
Join Date: Oct 2006
Posts: 101
Man, I totally misread "Big Rigger's" screen name.... :mrgreen:


Great report. I love the fall.
Join Date: Oct 2006
Posts: 43
Great pics & report,I would love to ride that part of the USA in the fall.MMMMMMMMMMMMM,farm fresf eggs,that's what we eat.Supermarket eggs just don't get it.
Good report....I especially like the country house in the background with the stone chimney. :co020 Oh and, I like places like that Ruby's!!! :h0065

Aaaaahhh, the country life....someone please rescue me from Suburbia!! :h0005 I'm green with envy! :w0007!
---
Hugs,

~Swish~


[COLOR=#a33224]It's not whether you get knocked down, it's whether you get back up. [/COLOR]


[COLOR=#a33224][FONT=VERDANA, ARIAL, SANS-SERIF][SIZE=1][I]-Vince Lombardi[/I][/SIZE][/FONT][/COLOR]

[COLOR=#a33224][IMG]http://<!-- Facebook Badge START --><a href=[/IMG][/COLOR]
Join Date: Oct 2006
Posts: 32
Post Script from Big Rigger
---
Just wanted to say thanks to KlrMike for a great trip,also to KlrKay for the big breakfast, (one of many I've had at their place). The log house with the stone chimney in the background of the first picture is their place. Its way, way out in the country at the end of the road, and has a water crossing to get there. The location of our ride was the Monongahela National Forest. I highly recomend it. It is beatiful and very remote. If you like mountains, you'll love this place. It also is the headwaters for five major river systems. Fast, white water trout rivers and streams abound. There are miles and miles of back country roads. It has many good campsites, primitive and otherwise. We camped at Mike's favorite place along a awsome trout stream called Gandy creek. Anybody interested in a Great Ride can call the " Senaca Rocks Visiter Center", and order a " Forest Visiter Map", for six dollers at 304-567-2827. :smile:
Join Date: Oct 2006
Posts: 11
Pics like that remind me of what I miss so much about WV. So many beautiful places and great people - if only there were more ways to make a living. I here it was snowing today in some areas around my Fayette County home - another thing I miss.
Join Date: Sep 2006
Posts: 251
I whitewater rafted the New river last summer. WV is a nice state. Had a great time there.

Great trip report. Love your house Mike. Very cool.
Join Date: Oct 2006
Posts: 121
That's some beautiful country. I gotta get to the east someday....