Join Date: Oct 2006
Posts: 308
Kim's 1st Ride a.k.a. Jamie's an idiot!
---
Well, after having Kim's new sherpa for 3 weeks, Kim finally got to do a ride today. 3 weeks.....sad. But, 3 kids, soccer, violin, work, blah blah blah. Anyway on to the ride!
Kim was in town, so we arranged to meet at her work. So I trailered up the bikes and headed for PA.
When I arrived, she had to show off the scoot to the gals-
We arrived at Sadie Creek, a local riding area with miles of logging roads and some single track. Kim was really excited if not a bit nervous. Prior to today, she's only ridden laps around our house. She did get up to 3rd gear and about 25 mph.....you should see the lawn :roll:
Anyway, the bikes are out and this happy girl is getting ready-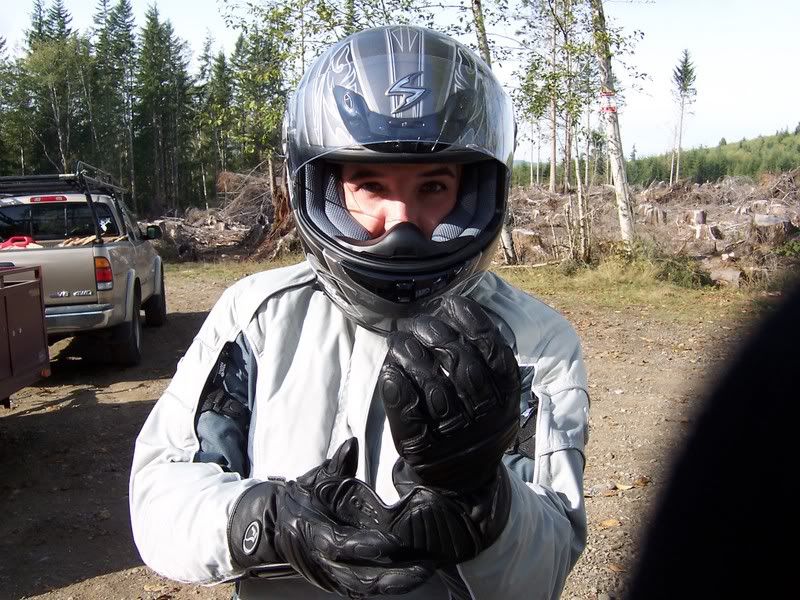 After a bit of last minute instruction, she takes flight!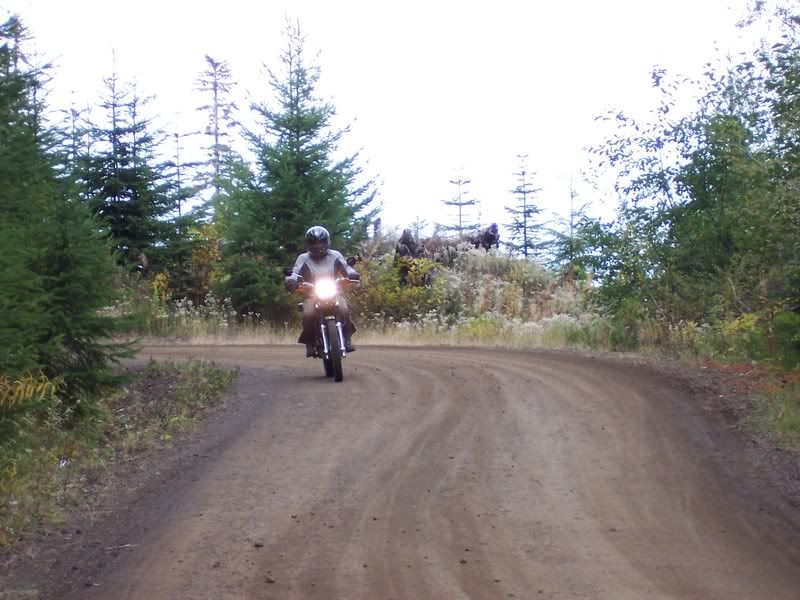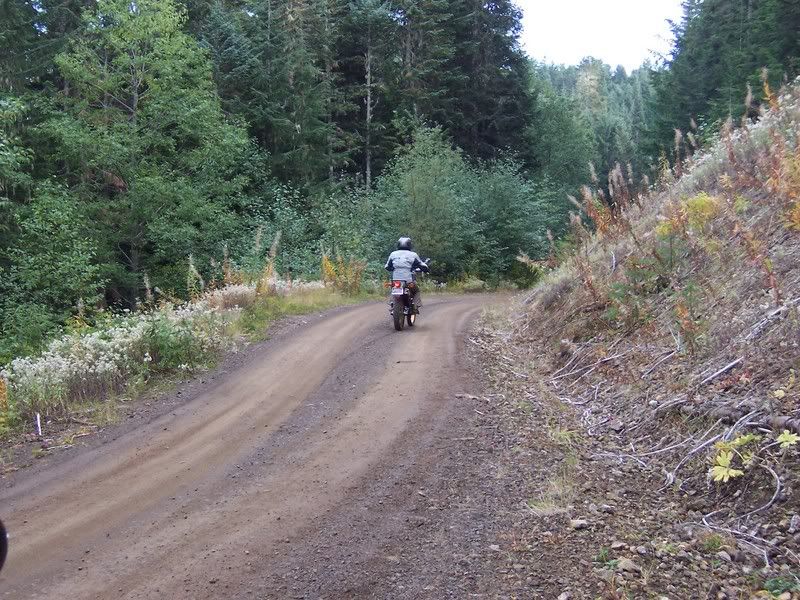 The road I chose leads up and overlooks Lake Crescent. But alas, road construction stopped us short-
She looks a natural!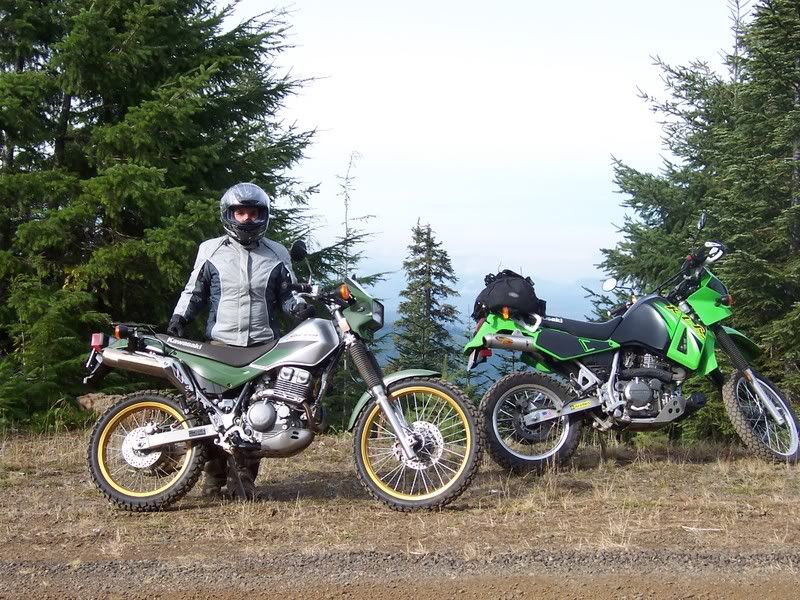 So I know..your're thinking when do I get to hear about you being an idiot! Here it is:
Kim is just doing fantastic. Her confidence is building and she's having a great time. We head back down the hill and I remember that there is a short section of single track near the bottom that leads right to the truck. I have this internal dialogue going, "She's having fun...just stay on the gravel."........."But that single track is pretty easy and would be a bigger confidence builder."......."Don't scare her on her first ride!" "I bet she can handle it." Hmmmmmm.
So we get to the trail head and I tell her that if she's uncomfortable just stop and I'll get her out of there. So off we go, I'm leading and the trail is as I remember. But I hadn't gone 100 yards and started coming across roots, rocks, tight corners. Of course, I'm glued to my rear view thinking she's going to stop at any moment. But she's doing great! So I take off again and go past a tricky little spot, then stop to look back just in time to see her go down. :sad:
The bike is on her right leg and she is hollering. Oh Lord! I AM AN IDIOT! I jump off and run back. I delivered all 3 of our kids so I've heard her holler, but I DID NOT like this one. I lifted the bike off her and she was complaining of knee and ankle pain. She also said she felt like she was going to throw-up. I'm thinking I just broke my wife's leg on her first ride! We get her helmet off and she is pale. Her knee looked scraped and a bit bruised, but nothing major. So of course I snap a quick picture-
She said "Yeah, we need a shot of my first wreck!" So we sit there for a few minutes and the leg pain diminished to the point that she wanted to stand. She still looks a bit pale, but I help her to her feet. She immediately moves in close to me so I give her a hug. She lays her head on my chest. Awwww....that's sweet. We stand there for a second.....she starts to sag a bit.....I'm thinking, "what is she doing?" She sags more...and more.... and I realize...she's out! That's right, out. Not a bought of dizziness or a stint of light headedness...she is unconscious! Out cold!!!!
I lowered her to a sitting position then onto her back. Her BP came back up and she woke up. She said she felt like she'd been asleep and that she was waking up in bed. She couldn't figure out why she was looking up at trees and my fat head! I think the adrenaline rush, the leg pain and a quick stand-up just caused her BP to drop too quick. What a crappy feeling though. I was a paramedic for years and I know what's happened, but it's so different when it's your bride!
So.......I had her just lay there for about 5 minutes. She started feeling better right away. So I rode her bike out to the road then walked back and got mine. I took a look at the spot and saw the root that was her undoing:
When I made it back, we stood there in the road just rehashing the event and telling each of our perspectives. We laughed and she assured me she wasn't afraid of that trail. What a trooper! So I took her picture;
I gotta say, Kim and I don't have a lot of hobbies in common. I can see that riding together will be something that will draw us closer. Here't to many more, if not quite so traumatic, rides!
Jamie
2nd Gear
Join Date: Oct 2006
Location: NW Florida
Posts: 132
Great story! Don't feel bad, We are all idiots.... :mrgreen:
I'm glad she is OK, and that it didn't scare her off.
---
Today is the first day of the rest of your life.
Great report.Glad kim wasn't hurt seriously.Sounds like a great riding partner to jump back in the saddle.Kay and I do all kinds of riding,and I can assure you,there is nothing as enjoyable as having your other half along for the adventures and be able to reminiscence later on.
---
You can't shake hands with a fist
If you can read this,thank a teacher.Since it's in English,
thank a soldier.
---------------
What could possibly happen
---------------
05 KLR The faster Red one
01 Triumph Tiger Sold
08 KTM 990 Adv S
08 Yamaha 250 WR Sold
09 KTM 530 EXC
Join Date: Oct 2006
Posts: 331
KayLR here --KLRmikes other half--and yes ---you are all idiots!!!!!! Shamey -shamey on you Jamie---Mike pulls that crap with me all the time(and just cracks himself up about it later ) and he's not the only one-one of the other girls said we can't get our husbands together because we'll all need winches and straps to get out of the places they take us :razz: It sounds like she did great and tell her we girls are proud of her---I can't believe she went for that single trail on her first ride out----what a trooper---it's a good thing you were a paramedic and weren't flipping out-I would have been when she went down. But ---on another note --they do make for good stories around the fire for years to come---and believe me there will be more(stories)---and the fun you guys will have is just beginning. Mike still laughs at the time he had to walk back(it was too nasty to turn his bike around) and found me standing and my bike lying on it's poor side sinking slowly deeper and deeper in to the abyss (of mud)- :shock: ---yelling at him ---"I'm not having any $#%& fun anymore". He pulled it out and we went home with him saying after we got there"I'll wash your bike honey" good answer I thought!!! :razz: She sounds like a good sport and with that kind of attitude she's going to make you a great riding partner. Tell her those biffs(she didn't wreck) are all part of the game and it won't be her last one--thank goodness most of them are just like that--going slow biff or just falling over because of the terrain we pick to play on---it's part of the dual sport world. Just tell her next time once it gets to that point when falling over(that there is no stopping it)---just let her go and get outta the way--you can always get new parts easier than new legs--(I'll probably hear it on this one)-and I'll not even go into the recoup -non riding time it costs ya..I'M proud of her--now---get her signed up on here so we can hear her version!!!! :mrgreen: Kay
Join Date: Sep 2006
Posts: 251
Alls well that ends well. Glad she's OK. Sounds like a good day anyway. Nice looking country you have there. Oh your bride helps the senery some. :smile:
Join Date: Oct 2006
Posts: 308
Quote:
Originally Posted by KayLR
KayLR here --KLRmikes other half--and yes ---you are all idiots!!!!!! Shamey -shamey on you Jamie---
I know, I know! The funny thing is....today, her leg is fit as a fiddle and my back is out. Hmmmmmm. Had it comin', I s'pose!
Quote:
Originally Posted by Deerhntr
Nice looking country you have there. Oh your bride helps the senery some.
Heyyyyy
Yeah, I married up.....no question!
Quote:
Originally Posted by klrmike
I can assure you,there is nothing as enjoyable as having your other half along for the adventures and be able to reminiscence later on.
I'm beginning to see that. I don't think I can remember a time when we were both looking forward to the same thing with such excitement!
Thanks
Jamie
3rd Gear
Join Date: Sep 2006
Location: Elk Grove, Ca
Posts: 990
great report!!

reminds me of the time i talked mrs. larryboy into riding the boys' dirt bike and going out on the power line roads. it was pouring down rain and muddy as heck so i told her to wait at the bottom of a hill while i scouted ahead a little bit. this was a straight up hill with huge ruts and a small track that a dirt bike could ride. i decided that we would turn back after scouting ahead. i came back and she was at the bottom of the hill sitting on the bike...in the bottom of a 4 foot deep rut. :shock: she had decided to ride up to the top to see where i went,almost made the top and slid into the biggest rut and went backwards down the hill and stopped at the bottom..all without falling. :lol:
---
Quote:
Larryboy, you're brilliant!!
Join Date: Oct 2006
Posts: 40
Man!
Stories of couples ridin together get me everytime!
Glad you had a happy ending to that one Jamie.
Great photos!
I have a KLR and Pam has a Sherpa too.
There are plenty of us out there, we could fill up a sticky!
Chicky riders Hoodlum Hubbys rock!
Rod
Join Date: Oct 2006
Posts: 21
What a sweet wife and story, you are a lucky man indeed, she deserves a nice dinner out for being so cool about the crash. :smile: