Sun afternoon ride with my sweetie
---
Sunday afternoon,temps hitting 50ish-Hey honey,wanna go for a ride :lol:
Didn't take to much to get her out the door,shes been busy with christmas orders,
so away we gooooo.The first water crossing is on our driveway
Kay the explorer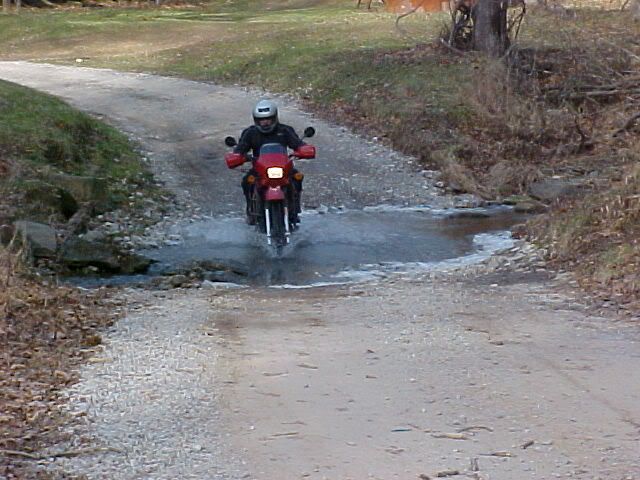 note the ice on the edge,we had to reroute a few roads today because of ice,
but not this one,solid ice both tracks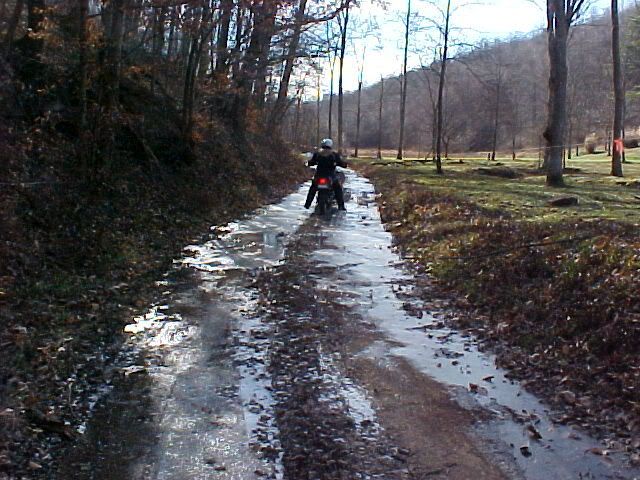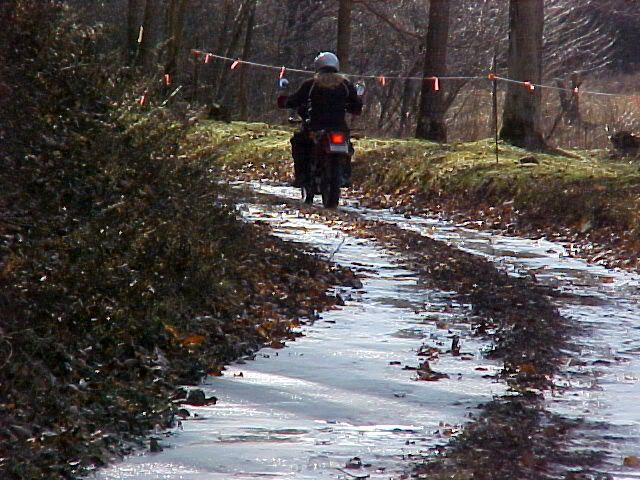 no biffs here,so onward we go,this was a fairly good size water crossing,but the ice
had been broken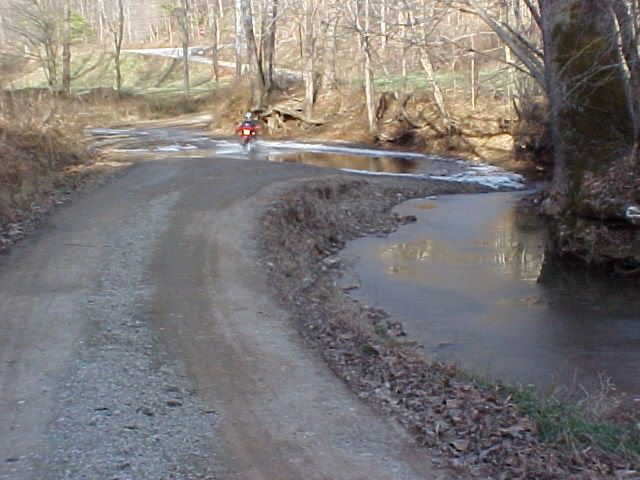 further down the road we ran into these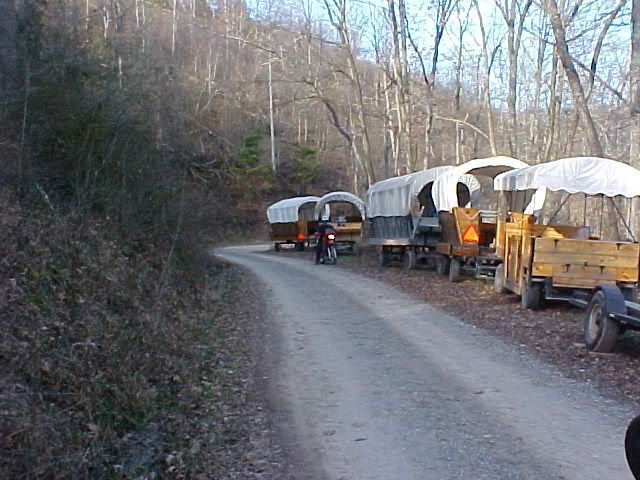 which are pulled by horses on the North Bend Rail Trail,so here is a photo of a
section of trail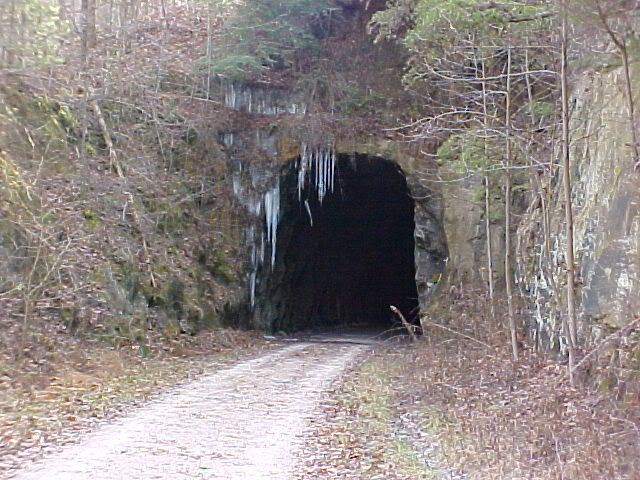 The trail is over 70 miles long and allows hiking,bicycles,horses,and wagon or carriages
by horse.It runs from Parkersburg WV to Clarksburg WV
Random shot of the country side with Kaylr sneakin thru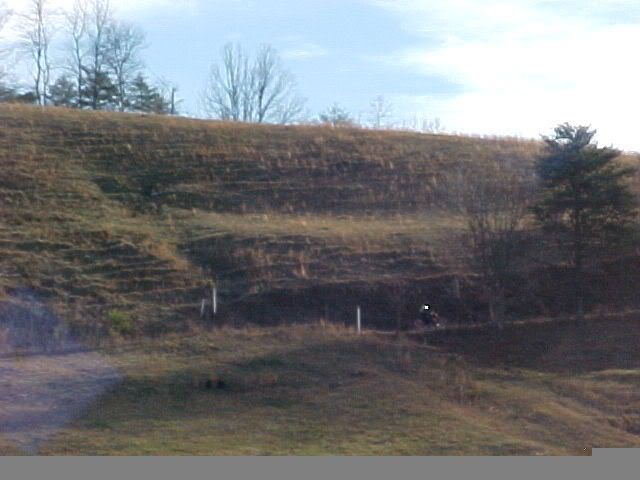 we came to another icy crossing and it had a troll guarding it,but he allowed us to go thru with the hair on his back standing up and a lot of pig noises.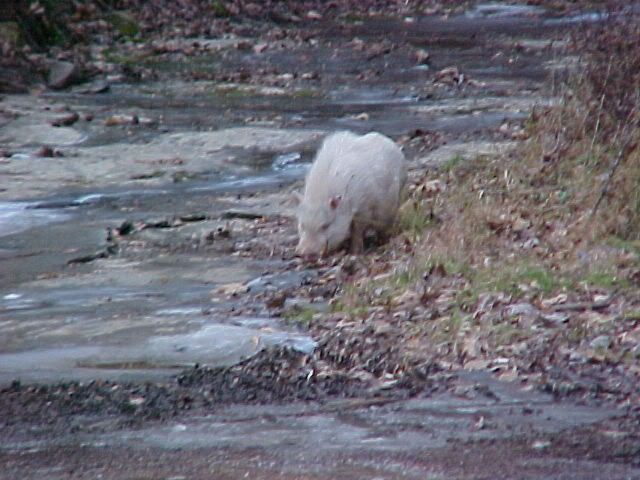 as we traveled into uncharted territory :lol: Kay had a little episode with a washout
and decided to sit down for awhile (can we say Jamie and Kim) She actually went
down a little hard bruising her leg.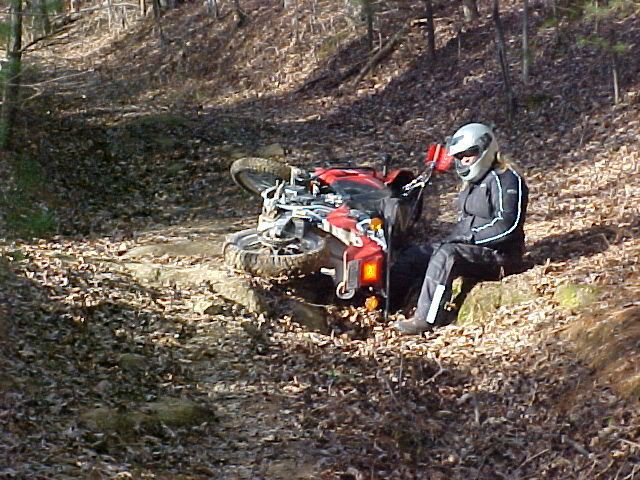 After getting her up and moving,things went pretty smooth the rest of the ride.
We ended up at our little country store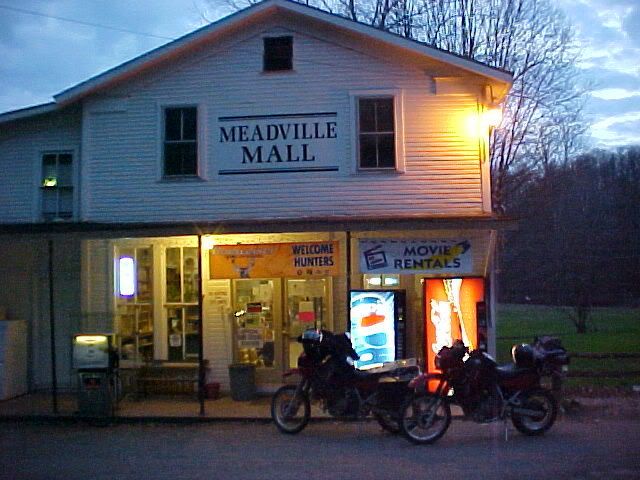 A couple of dogs and a Hanks ended our day.We actually came across something
on this ride that was very disturbing to us both,but I will post that in off topic later.
Happy ridin
Mike
---
You can't shake hands with a fist
If you can read this,thank a teacher.Since it's in English,
thank a soldier.
---------------
What could possibly happen
---------------
05 KLR The faster Red one
01 Triumph Tiger Sold
08 KTM 990 Adv S
08 Yamaha 250 WR Sold
09 KTM 530 EXC
Good job for riding in the ice. These KLRs like to lay down in the middle of the road sometimes.
---
Today is the first day of the rest of your life.
Join Date: Oct 2006
Posts: 331
my version
---
Well, now you hear my version of the day-not to much different--my big decision was -to go-or- not to go---he was already getting dressed and the responsible side was saying -you got orders for artwork---like I'm a freakin elf I think---Hey,wait for me ---I'm goin---he waited while I found my warm riding gloves and changed to warmer clothes-ATGATTed up and ready to roll. Sun was shinin-beautiful day-a bit brisk but I was warm as toast in my ATGATT and full face helmet. We encountered the ice road right off -first thing-I should have known where this day was goin when Mike wanted to be the camera man--you go first Honey :h0099 Rolled thru some creek crossings and I wimped out at one that was all ice going down into the creek at an angle leaning to the right to boot. Mike came back and got my bike. HEY-it's almost christmas and I got art orders--remember!!!-and baking and presents to wrap and I can't do it with a broken arm or appendage---it's awful to get old and sometimes the things you think about can put a damper on fun---like not going balls to the wall on your bike all the time!! :mrgreen: Oh well, we still had fun--he did get me on that road that turned into a 4-wheeler path. He does it every time -I tell ya- every time!!! Just kinda slips right onto them --hey Hon--you know where this goes??? Why no Dear-let's go see!! :roll: I got over the big rock going down-but comin back up I just didn't flog the dog enough and dumped myself.(Thought I was a good sport letting him get his pic) I'll post a pic of the bruise after it gets real purdy and colorful in a couple of days-it's sore right now :sad: and I haven't checked my upper leg yet -it got some of the smackdown too. The pig in the middle of nowhere was kinda weird--not really a regular pig ya know-I guess a potbelly???but man-the hair on his back stood up like a dang razorback :shock: we encountered him at this creek crossing and the water is running across the road and all this ice everywhere and in a hairpin turn and then this PIG--he's like coming at us and then backing off and then coming back with his hair all up and making awful noises and I'm like -great-Mike and I sat there awhile accessing the situation-I'm going to try and beat him around this turn--right?--slide and bust my arse on the ice and then while I'm down he's going to waddle right over and bite me-god knows where ---- try and explain that one-wreck first and then get bitten by a pig!!!!!!!!!!!I don't want a pigbite hole in my ATGATT! :a0026 ---------------Only on a KLR --right?!?!? Well, I revved my mighty KLR -blew my horn at him and went for it--you're on your own Mike--he backed off--probably scared to death of us
ops: Well, we continue on and ran into the unforgettable site we did(Mike posted about it under off topic)I was so shocked that it didn't hit me till we got back on the highway and by the time we went another mile and got off the highway ramp I was truly upset. Took a chill and rode on-stopped to tell some farmers they had a cute little black calf out in the ditch running around -picked up some milk and groceries(Mike does love those beautiful panniers :razz
-stopped at our little country mall for hotdogs and headed over the hill home(Mike stopped and put some neighbors cattle in and hooked their fence back up).Just another(eventful) day on my KLR with the husband. Fire in the fireplace and cool beverage-I'm starting to like December in WV. :mrgreen: Kay
Join Date: Oct 2006
Posts: 121
2nd Gear
Join Date: Oct 2006
Location: Scottsville, KY
Posts: 226
Good report. I really like Kay's version. I would NEVER do my wife that way.
---
"Gopher Everett"
Official "Trachoe Gang" Member
Join Date: Sep 2006
Posts: 102
A great write up by both of you! And the pig / troll was hilarious. (What a perfect emoticon too)

And it's the first time I've heard / read a woman say: "balls to the wall". (No disrespect indended, I'm married to a Macy's queen - city slickerett).

You folks live in some beautiful country!!