4000 Miles
---
So sometimes life closes in and you have to retreat, regroup and return with a new perspective.
I was mad, mad at the world, my gal, the injustices of society.
I had to get out, it didnt matter where or how but something in me needed to put distance between myself and all that was wrong with the world.
My trusty KLR had just been Spring serviced and was calling.
I had the bug....The traveling bug.
It had been calling me recently, the urge for the unfamiliar.
Without any thought or consideration to anything or anybody i put my tent and sleeping bag on the bike and headed east. Nobody knew I had left, where I was or where I was going. I wanted it that way.
I have taken many rides and trip by myself but never had I conducted a solo journey of what was to become an epic adventure.
I ventured East. Across the bridge and into the central valley of California.
I had no destination or time frame for this trip.
One of the positives about being a contractor is the ability to make your own schedule. I cancelled a few appointments for the week and I was on my way....indefinitely if thats what was needed.
I took Hwy 50 out of Sacramento. This would be my guide for the first 1000 or so miles of my journey.
I arrived in Lake Tahoe, the beautiful volcanic lake in the Sierra Nevadas, just as the sun was setting. It was marvelous coming down the mountain to the view the lake between the high mountain walls and watched the sun dip behind the 12,000ft peaks.
I filled up the bike, smoked a cigarette, and pounded a Red Bull.
This would be my SOP every 150mi for the next 10 days.
I continued on as twilight turned to darkness with no intention of stopping and no set destination for the night. I started thinking about the Iron Butt riders who ride thousands of miles all day and all night long. If they could do it why couldnt I? I wanted to test myself, maybe not to that extent but I enjoy riding at night and watching mile markers go by.
The other underwriting reason for the extended night passages was the fact that I knew I would need a new rear tire at some point during this journey and by traveling in the cool darkness I could extend the life of the rubber, if even by a fraction.
I arrived in the town of Austin Nevada somewhere around 2am.
My thoughts were to find a hotel and rest for the night however as I slowly rolled through the sleeping old wooden and dilapidated western mining town all the hotel (all 3) had no vacancy signs. I was surprised as this town had nothing to offer and was in the middle of nowhere in the remote Nevada Desert. The fact is, I was located just North of the infamous Area 51/Groom Lake and the Nuclear testing grounds of Tonopah, sites that were chosen for the lack of humans and prying eyes.
So why were all the Hotel rooms filled up???
Nothing I could do about it anyway at 2am.
I worked my way back out of town a few miles to a sign I had glanced at indicating a camp ground. I found the sign which pointed my down a dirt road. I carefully traveled the dirt road in search of the illusive campsite for about 4 miles. With the worry that I was by myself, on a dirt road, fully loaded, with a balding tyre, and not a soul knowing I was there, I stopped to get my bearings.
Now I know I said I was traveling solo but that was not entirely true.
I had with me my two sexy voiced personal assistants, Siri and Sena.
Siri (iPhone) is my PA (Personal Assistant), if I want coffee I say "Siri find me some coffee" and she sez "Sure thing, there are 5 coffee shops within 2miles" and so on. She handles my music needs, takes messages, gives me directions and tells me what the weathers like up ahead.
While Siri is amazing, none of this information would be viable without my other Bond girl Sena (007 did always have a few women to work with)
Sena (helmet intercomm) always greets me with a sultry "Hello" when she comes on the job and goes right to work informing me that "Media is connected/Phone connected". She is my secretary dictating and routing my request to Siri and vice versa.
So there I am on a dirt road in the middle of the night unsure of which way to move forward to my resting spot.
I tell Sena to ask Siri where the Battle Mountain Camp Ground is...
They inform me that its 15 more miles down this road!!! Well, Im not going 15 more miles down this road. I look around and not a sign of humans except for the airport beacon flashing white and green at least 20mi away.
I pull off the road, break out my tent and sleeping bag and proceed to make camp, quickly passing out in my riding gear.
I woke up with the sunlight and this is what I saw.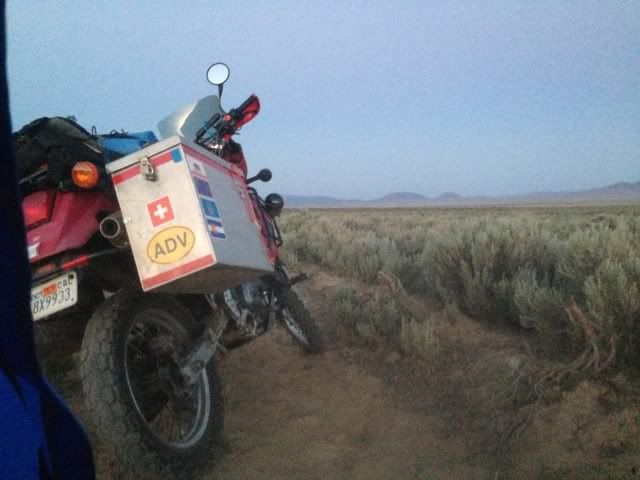 ---
Tractorking
Sitting on a dock of the Bay
Redwood City, California

"Although motorcycle riding is romantic, motorcycle maintenance is purely classic."
Robert M. Pirsig
...waiting for the next installment. So far, sounds interesting!
---
People should not be afraid of their governments. Governments should be afraid of their people.
yep sounds like me, only i have this thing called a girlfriend who INSISTS i bring her presents anytime i take off. postcards always seem to be the norm as i a TRY to explain how a ceramic owl just wont make it through the day on my bike.
---
Never ride faster than your angels can fly
5th Gear
Join Date: Oct 2011
Location: Lac La Biche Alberta Canada
Posts: 3,205
Wow! I am loving it already!
jj
---
It's not a Tractor....It's a LOCOMOTIVE!! Chugga Chugga
Woooo WOOOOO!!!!!
I'm in..
---
Sent from my rotary phone
================================
Track me here -
https://spotwalla.com/tripViewer.php...354a61e5f3997a
Michael G in SF
|
2018 KTM 1090R Adventure | 02 XR400R (Plated)
|
2011 FJ Cruiser Army Green
|
------------------------------------------------------------
"If you have the will and not the way, you wont get very far."
Snakeboy66
I was away...but not far enough.
The grip of tension in my stomach and my furrowed brow told me I needed more distance between myself and my worries.
You could call it running away but I like to think it was decompression time and time will dull the anger and allow clear headed and reasonable solutions.
Being by myself was also quite pleasant, I ride when I want, eat when I want, and the direction I venture to is only on me, my abilities and desires. I had no plan and that felt good.
I broke camp and rolled back into Austin to fill up, smoke a cigarette and pound a Red Bull.....it was 5am.
While at the only gas station I see a few gents up the road eyeballing me..
I notice a KTM shirt....
Crap! My ATM card is not being accepted and the gas station attendant is nowhere to be found. I had plenty of cash on hand and cash in the account. I whip out my other credit card and it goes through. I fill up and Siri and Sena go to work with a nice round of Tchaikovsky's Nutcracker and Swan Lake.
Not my usual faire but suited the morning sunrise.
I rolled past the strangers lurking outside the hotels and the notice something I could not have in the darkness earlier the night before. They were all sporting trucks, strapped with enduros and dirt bikes.
A local race maybe or just a group going for a desert ride.
They wave at me as I pass by, I wave back and in seconds I am once again down the road into the open desert.
Highway 50 has been officially named the "Loneliest Rode in America".
I did not know this when I set out but understood the truth in this statement and for all the reasons mentioned above it suited the mood and mode I was traveling in.
I rolled into a town, Ely Nevada I believe but I am not really sure about that. What I am sure of is the giant Suzuki Yamaha sign I saw and my spirits were lifted.
They probably have a tire for me. It was 9am.
Once in the parking lot I noticed the shop looked ransacked an had broken windows.
The sign said open at 8am but it was obvious they were not going to be open today, the next day or the day after that. It looked like a zombie apocalypse had ensued and all the motorbikes, gear, and what have you were stripped clean.
I went to the local gas station and saw some high school kids getting coffee and snacks before heading to school. I approached them "Yo! Whats up with that motorcycle shop down the street?". They informed me it had been closed for awhile and did not know of another one around.
I spied a typical American small town dinner/coffee shop and headed in for what was to be my only real meal of the day.
It had all the sights and sounds you would expect of a small town dinner.
The people. The decor.
The sweet midwestern plump and motherly waitress in an apron with a slight southerness to her asked "What can I get ya hon'?"
"Biscuits and Gravy and a cup of coffee" I replied.
As I ate breakfast and slithered down my coffee I was using what little cell service I had to source a tire on my route.
I had a thought, a shot in the dark.
I remembered Halfthrottle lived just south of Salt Lake and I tried in vain to send a twitter message in the hopes that he could point me in the right direction. To no avail...I never did get an answer back but it was probably mostly my fault due to not checking back and little or no cell service in most of the places I was to go.
As the waitress picked up my plate I asked about any motorcycle shops in the area.
"Well actually the DJ on this radio show we are listening to right now has a shop down the street, Sahara Motors I think its called, let me check"
She called the radio show and sure enough they had a shop. Even better it was a Kawasaki dealer. Things were looking up!
I headed out the door and in true American Diner fashion straight outta Pee Wee's Big Adventure, she hollers at me "Tell 'em Cookie sent ya!".
I will never forget that moment, it brought a smile to my face.
I headed down past the railroad tracks and sure enough there it was, "Sahara Motors"
I walked in, emboldened by my fortunate find.
I looked at the pimply faced kid behind the counter wearing the Kawasaki pit crew outfit and said:
"Cookie sent me, she sez you might have a tire for me, the owner or some such on the radio show told her to send me over"......
Silence.......
The kid had no idea who Cookie was or what I was talking about.
"Parts department is back in that other building over there"
"Thanks"
I walk into the service and parts dept and see more cars being worked on than bikes. I find the old guy behind the counter and ask about an enduro or any tire for my bike.
"We don't stock any tires or parts".
In my mind I'm thinking "Then what the hell is your job in the "Parts Dept" for?", but I simply ask if he knows of any place else to which he tells me there is a supplier in Delta, about 200mi away.
Okey Dokey, no point in wasting time in this "no parts stocked" town, and I was on my way.
Around 2pm I motor into Delta NV to get gas, smoke a cigarette, and....you guessed it, pound a Red Bull. While doing so I ask an older gentlemen the whereabouts of this shop that was mentioned. He points down the road to a blue roofed building about 50 meters away.
I thank him and ride to the shop which looks legit and open for business. In fact it was a very well equipped shop which also sold guns and other sporting goods but the best part was a massive motorcycle department and a clean and well equipped service center.
Me:"I need an Enduro tire for a KLR"
Service Gal "No problem."
YES!!!
I am amazed that:
1)Shes knows what Enduro means.
2)She knows what a KLR is
3)She has a tire
She pops in back and comes out with a Shinko 205 (I think) and I'm thinking "Great!". The price is $10 more than bike bandit but that's just like the tire I am replacing so I am super happy. Even better, I spotted a Shinko 700 series on the rack that fits and suited my purposes for this trip much better.
Ok so things are looking up!
I ask them about having it mounted and the gal tells me the mechanic is not in today.....bummer...the thought of pulling out the irons in the hot parking lot does not sound appealing. She tells me she will give him a call, he probably wont come in,but if he does it will be awhile before he gets there because he lives outta town.
"How long are we talking?".
"About 30mins"
"No problem, I'll pull the wheel of so its ready to go when he get here, either way, I will buy the tire."
At this point the another guy at the counter has been eavesdropping on the conversation says
"If you pull the wheel I can change the tire for you".
Excellent!
We wheel it into the shop, put it on a stand and in a matter of minutes I have the wheel free of the machine and he's going to work going to work on the tire. While he's doing that I do some minor servicing of loosey goosey things that have rattled apart with full access to all the shop has to offer.
He gets the new tire on and sprays it down with soapy water, it's leaking air, a little too much air.Initially they tole me they did not have a new tube for me but the old one was fine when I got there and I always carry a spare on these trips anyway. He says he has never pinched a tube and would be dissapointed if he has ruined his perfect record.
We remove the tube and find a hole the size of a thorn.
We check the new tire and rim. He mentions the old tire, I stick my hand in there.
Lo and behold a nice sized, inch and a half, tack of some sorts. I must have just picked it up while in that town. I cant believe how lucky I am. If I had not stopped there and changed the tire, I would have been down the road, in the middle of the desert, on the "Loneliest Rode in America" with a flat.
We grab the spare tube and install it, patch the old one to use as a spare, I pay the bill, slip him a $20 for some beer and thank them for everything...
I motor on for awhile and come to a gas station in the middle of nowhere with nothing else around for miles. Just a gas station and a large colorful sign.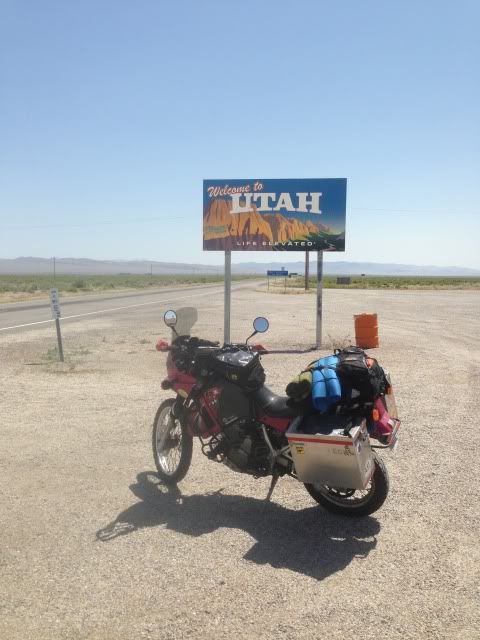 Utah is amazing, especially the southwestern part.
I should have stopped and taken pictures but I was in the zone and humming along. The bike was happy and somewhere along this point all of the troubles I was escaping from seemed to fade away.
It took +1000mi and two days.
Although, every now and then I was asking myself "What the hell am I doing out here?"
Either way it was awsome to watch the scenery with the sun slowly decending behind me.
I stopped for the usual Gas,Smoke,Bull and added an Arbys Beef and Cheddar.
So disgusting but oh so good at that moment.
Young guy asks me about my bike, he's looking for a KLR to do what I'm doing. He's dirty with red clay dust, he and his buddies have been car camping around the area. He asks me if Ive seen Long Way Round, I have, He cant get enough of the show and the idea of motorcycle travel to far off places to which I agree. We chat for a little longer and I politely say "I've gotta roll on." I am sure we could have talked all day about it, nice kid.
I call my brother in Denver and tell him I'm at the border and expect to be there about 2am. He's a night owl so has no problem with a late arrival. He's also a motorcycle guy and makes a nice side business buying junk bikes and restoring them to cool bobbers.
I head into the Rockies, its still hot, the suns going down, I'm motoring along and all is good. I have a destination for the end of the day and twist the throttle a little harder.
The sun goes down behind me on the way up the western slope. There is some Thunderstorm activity and rain ahead but I am hoping that the road will weave in a direction to avoid riding in the mountains in the dark and rain.
It does.
I am still in desert kit with my vents open and nothing but a t-shirt under my jacket. It starts to get a little chilly but I continue until finally just after crossing Vail pass at 10,662ft above sea level I finally stop for gas, smoke, Bull and pull out all my gear. Insulated vest, Fleece windbreaker over that, motorcycle jacket all buttoned up tight, jeans, riding pants and my North Face rain and windproof pants. Balaclava and bandana around my neck.
I am still cold.
10,000 feet at midnight moving 70 miles an hour.....bbrrrrrrrr!!
On Interstate 70 now and the road markings are gone due to the winter snowplow action. The road weaves right and left and there are no street lights to illuminate the way.
I'm in the right lane, the rode dodges to the left but with nothing to tell me which way is what I am quickly in the busted up gravel tarmac at the shoulder headed for the edge!!!
I correct and continue thankful that I am on an enduro made for that surface rather than a street bike. I slow down and wait for a car to follow, someone to lead me with better lights than I have and to provide a little warning of the curves ahead, but even the cars have the same problem determining the direction of the road. We end up in the left lane next to the concrete barrier which gives us the only indication in the thick of the night.
We are humming along, not fast but at a nice clip.
Myself, two cars slightly ahead, everything is working out nicely.
We come around a bend and there are several highway patrol cars, lights blazing, quite a scene ahead, looks like the right lane is blocked off.
We slow down.
In the dark laid out on the road, completely filling the right lane is a Brown Bear the size of a Honda Civic...On the flat bed wrecker is the Honda Civic that hit the bear...The car is totaled...The bear is dead....
It looked to be a beautiful majestic creature, its massive frame, head and snout laying on its side as if it were asleep. I felt bad for the bear. I felt bad for the people in the car, but mostly for the bear. We all slowed down the rest of the way, a reminder that anything can happen, only fate knows what lays ahead.
We go through the Eisenhower Tunnel at 11,158ft altitude.
Its a little warmer in the tunnel, a 1.7mi reprieve. Inside is a sign that indicates the Continental Divide, the point at which water flows either East or West depending on which side you are on. It's all downhill from here. I know that the more I descend the warmer it will get.
I motor on through the night until finally the city lights of Denver are splayed out in front of me. It is the place where I grew up, I'm on familiar ground, the air is warm and in a short while I'm curled up in a warm bed having put 833miles and 20hours of riding behind me.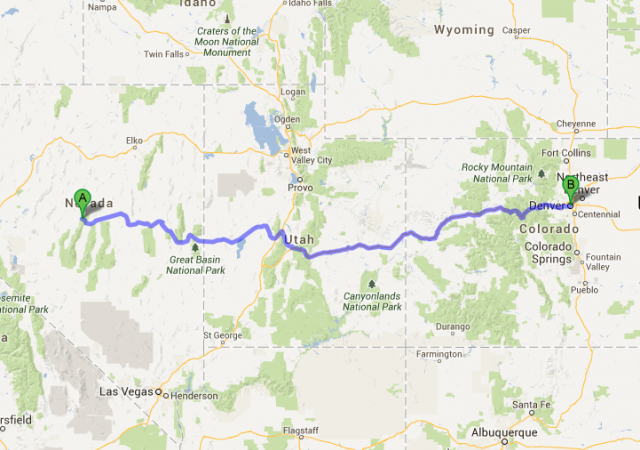 ---
Tractorking
Sitting on a dock of the Bay
Redwood City, California

"Although motorcycle riding is romantic, motorcycle maintenance is purely classic."
Robert M. Pirsig
---
Last edited by tractorking; 06-11-2013 at

03:29 AM

.
Really enjoying the story and the pictures....especially Colorado
Now I am getting the itch....
but I have another month to wait....
Ride Safe....
OverDrive
Join Date: Jan 2011
Location: NW MO
Posts: 5,376
Great trip report and story. I'm sure I'm not the only one who felt like they'd been with you on this trip. That's some good writin'.




I go through Delta regularly, and I purchased my 2012 KLR at Delta Sports Center - which is the shop where you got your tire replaced. And you're right: They're good people there.
One interesting tidbit about the gun shop side of the business, back in December when my son was picking up his KLR there, they had a big bucket of 30 round AR magazines for $30 each. If my son would have had any money, he would have bought a bunch of them and sold them back in California for $60 each. LOL
Anyway, we're all waiting for more of YOUR story...
---
People should not be afraid of their governments. Governments should be afraid of their people.
Subscribed !!!

Tractorking, man I hear 'ya. There are times when it's just time to pack up and GO. The where isn't as important as the getting to anywhere else and taking the time to regroup your perspective on life.

Thanks for the ride report and pics. I'm currently stuck in my routine and living vicariously through your experiences. Soon.......
---
Gray-haired riders don't get that way from pure luck.

Unknown