Utah, June 2013
---
Hey guys, been a while since I posted. Just thought I'd share a ride report on the Utah trip Kevin (Sandiegowheels), and myself took in early June.
Preparation
Bikes and gear:
I have a 2011 KLR650, Kevin rides a 2007 KLR650. We both have upgraded our suspension with Cogent Moab shocks and replaced the front springs. I also put in the Race Tech emulators in my forks. We both had failures with our OEM rear shocks just riding the local back roads and trails here in San Diego. This upgrade allows the KLR to ride to its full potential. All of the dirt riding we did in UTAH was with all of our gear strapped to the bike, we were fully loaded and the bikes handled everything we threw at them. We both have engine protectors. I have The Happy Trail setup and Kevin has the SW Motech setup. Kevin's setup prevented a cracked case from a pretty bad impact at the bottom of the bike. Money well spent. Both of us have front foot pegs and used them. They were a godsend. We also both have stock seats. Halfway into the ride I joked about wanting to write a book called "150 different ass positions on a KLR". There was discomfort.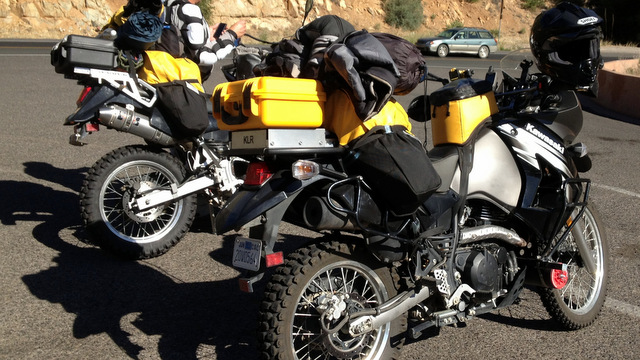 Between the two of us, we had all of the tools we needed for basic roadside repair. I used a tool tube, Kevin did not. I made a custom mounting assembly for my Pelican box that allowed me to stow two spare tubes, as well as a spare shift arm and spare clutch and brake levers below the pelican box.
We both wore full gear. We bought fox Titan off road mesh armor jackets. They too, were also a good call. They kept us comfortable in the sometimes 100 degree heat. Kevin had mesh pants, and I wished that I did.
Personal gear and storage:
We both decided it would be a good idea to travel light. We used small Pelican Cases mounted to the back of the bikes for waterproof and easy access storage. We opted to use the Great Basin saddle bags from Giant loop and were not disappointed. I brought a tent, Kevin slept under the stars. We both had air mattresses and sleeping bags. The bags stowed nicely in the saddle bags. We brought dehydrated food for in-camp breakfast and dinner. We also brought plenty of energy type bars and snacks. I brought an MSR camp stove that runs on virtually any type of fuel. I chose to use gasoline and it worked very well. The idea was to only have to bring one type of fuel so we could use it in the bikes if we needed it. The stove worked as expected, very good quality. We bought water each day making sure we both had plenty. I had enough changes of socks, underwear and shirts for 5 nights. One pair of convertible pants, a wind breaker and some slip on shoes. I also brought a small folding stool that I thought would be great for camp. I was wrong. The last thing I wanted to sit on after being in the saddle for 300+ miles a day was that stool. Kevin had a nice attachment that turned his air mattress into a seat. I'm going to get me one of those. We both had tank bags, Kevin's is a Wolfman and I have one from Giant loop. I think the only thing that i regret not bringing was some talc. It would have made a huge difference in that heat.
The Trip
Day 1 - San Diego, California to Prescott, Arizona
We met up at Lake Henshaw in Eastern San Diego County. Caught up for a few minutes then got on the road.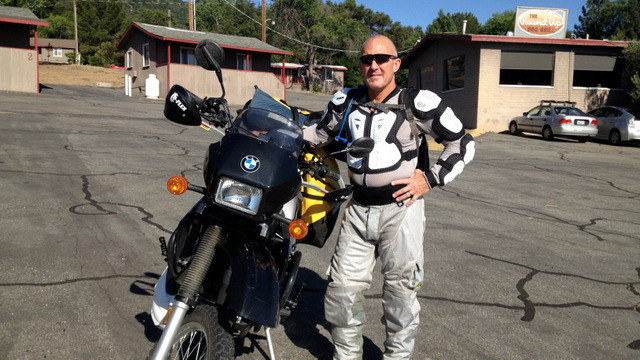 We didn't make it too far when I heard a loud pop and saw Kevin's rear tire go flat. We pulled over and discovered that the blowout resulted in a damaged bead on the tire and a shot tube. As Kevin pulled the wheel, I retrieved my spare rear tube for him to use.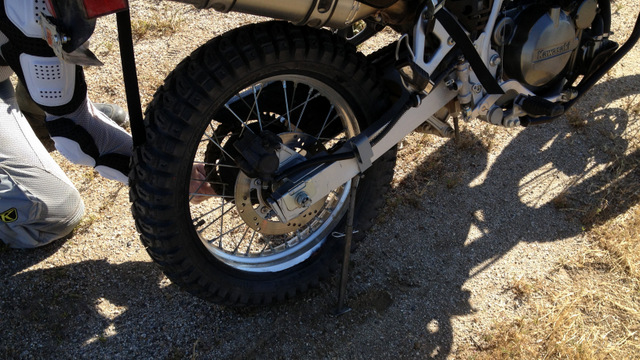 I packed a front and rear tube for the trip and Kevin had packed a front. With the damage to his tire, it wouldn't have been a good Idea to use a front tube.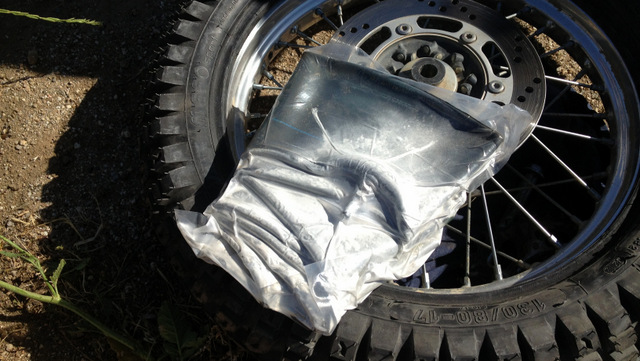 We decided to limp to a bike shop with the damaged tire to get a new one mounted. Kevin got word that the closest shop would be in El Centro. Which is a bit out of our way, but we didn't have much choice. So we limped along at about 40mph with his rear tire wobbling pretty bad. We made it down to the bike shop and they got to it. We had a quick bite to eat and escaped the 100 deg plus temps while the tire was being replaced.
After about a good 3 hour delay, we got back on the road. We stopped off for a quick break near Glammis, known for its sand dunes. The wind was really blowing hard through this area. It's a weird feeling to have such a drastic lean angle while you're riding straight. We got pelted pretty good by the blowing sand through there.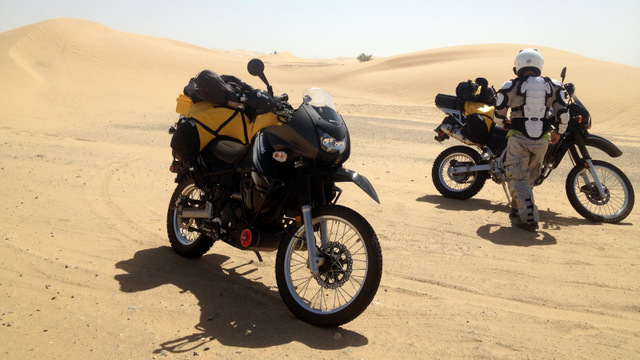 We managed to push on through to Prescott Arizona on the first night. Highway 89 was a really nice road. We pulled into the first camp ground we saw. It was already getting dark and I was beat.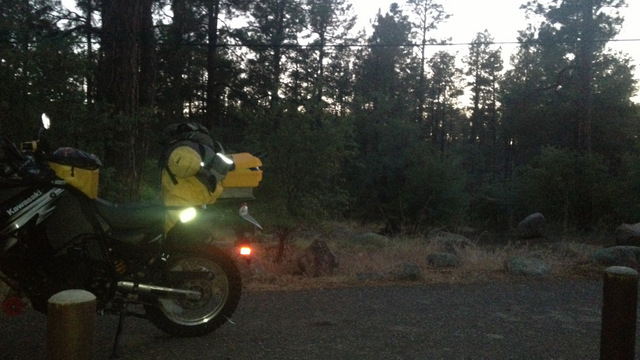 Day 2 - Prescott, Arizona to Capital Escalante National Monument, Utah
After Coffee and breakfast we broke camp and got back on the road.
Prescott National Forest was beautiful.
We made our way up through Sedona, love this town. The ride along 89A is awesome. I think you could spend quite a few days up there and not get bored.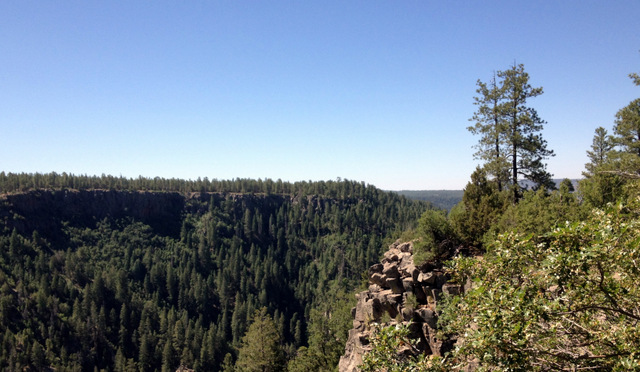 Stopped off in Page Arizona to take a look at the Glen Canyon Dam.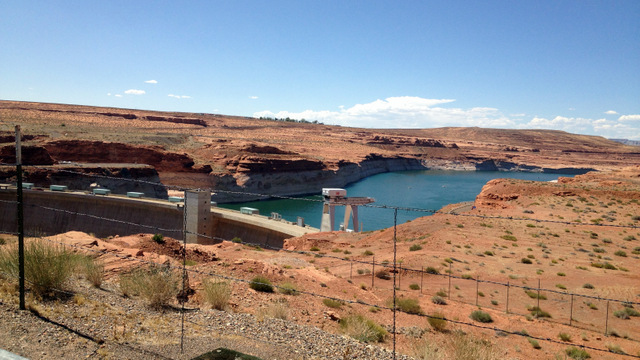 Shortly after Page, we found ourselves on the Smokey Mountain Road in Glen Canyon National Park Utah. Our first dirt road of the trip. It took me a little while before I started to feel my dirt legs. The road had just been graded and it was a little loose. I managed to get it together after a few miles. The views are indescribable . It was hard concentrating on riding as I just wanted to take everything in.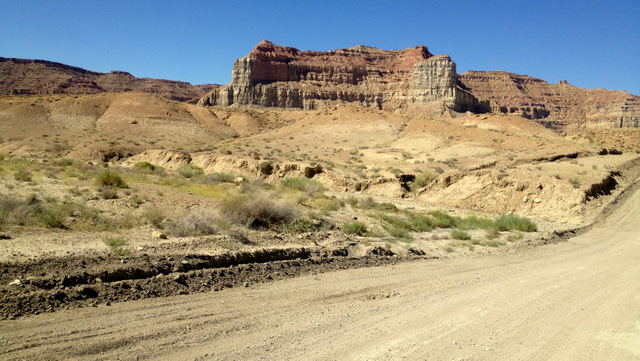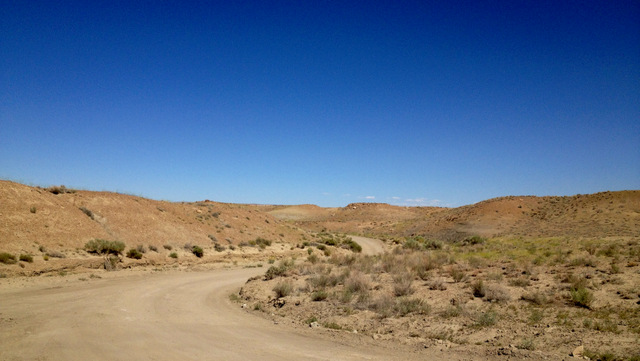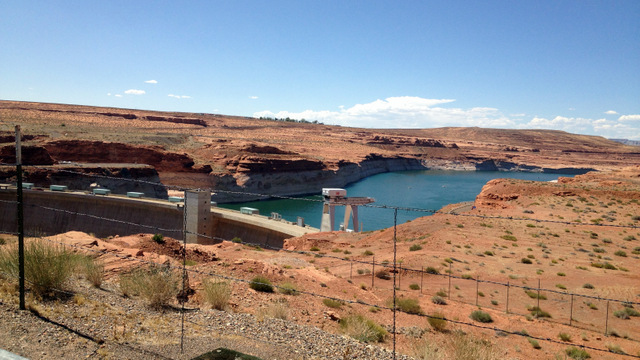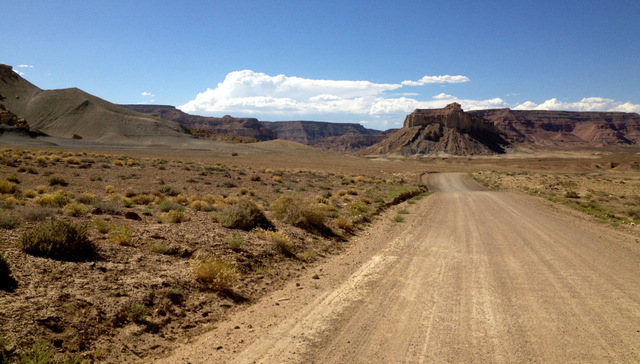 ---
Last edited by SD_Charlie; 07-08-2013 at

11:08 PM

.
After several miles we found ourselves in Escalante National Monument. By this time it was approaching 5:00pm. Kevin stopped and said his bike was getting hot. We pulled off to the side to check it out. It looked like the fan wasn't turning on. This was not good. It was still pretty hot out there and the only shade we had was beside our bikes.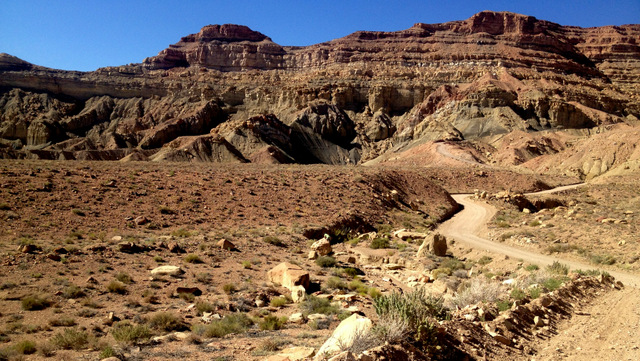 This area being our destination for the day anyway, we talked about setting up camp here. I wasn't too thrilled with the location. Not many options of getting the bikes off the road let alone finding a spot that we felt comfortable with. We talked about getting down into the wash (pictured below) as it was a little more secluded. But getting the bikes in and out would have been a huge undertaking. Plus we weren't supposed to be off the road.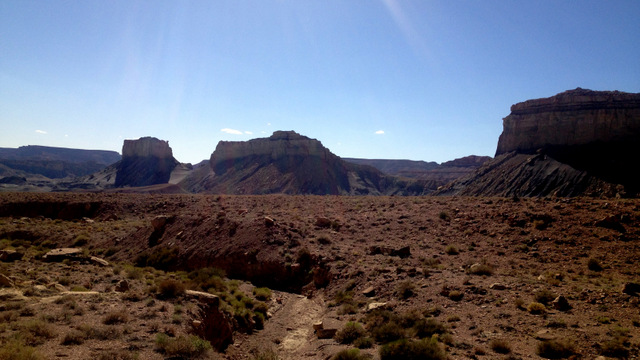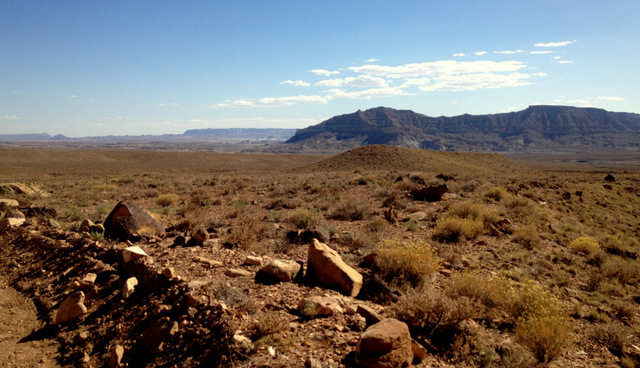 Kevin took a little hike to see if there was a good area ahead of us. You can see him in the bottom left corner of the following picture. Should give you an idea of the scale of this place. Kevin researched this road on Google maps, so he knew we'd be going up through a series of switch backs until we reached the top of this mountain.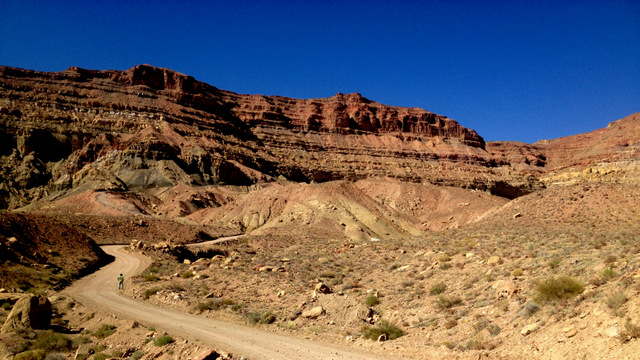 We decided to let his bike cool down a little, then work our way to the top and find a nice spot to camp up there.
About half way up we stopped to let the bike cool a little bit. It was a great place to look down and gain a little perspective. The following picture shows the road that came in on. Right about dead center is where we first stopped to let the bikes cool. We both agreed that the road just amazing.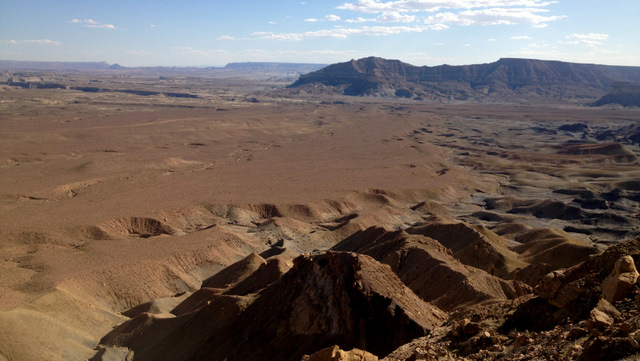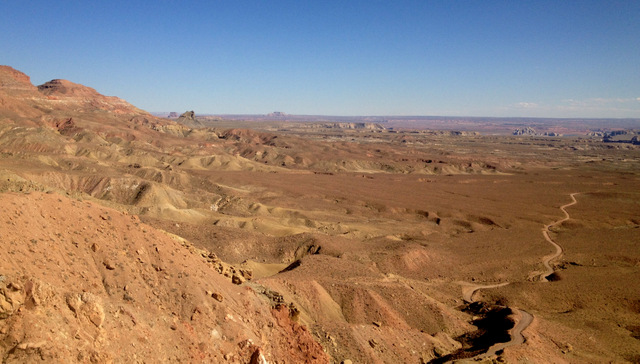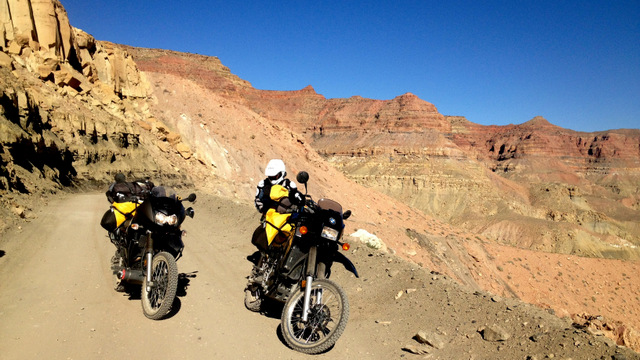 When I finally reached the top, Kevin had already pulled off to a nice flat spot on top of the world.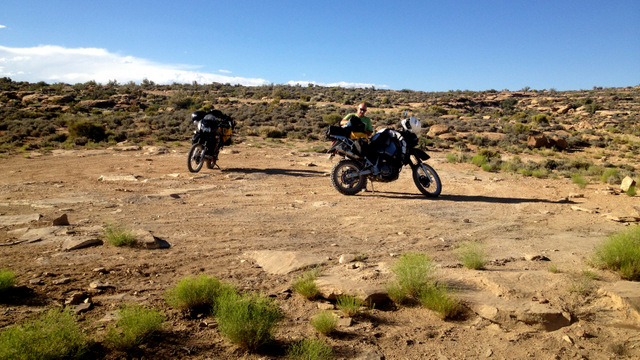 You've got to be kidding me, this is our view tonight? We were out in the middle of nowhere. Incredible.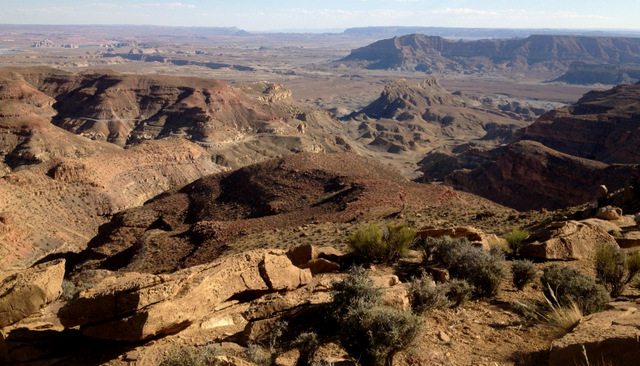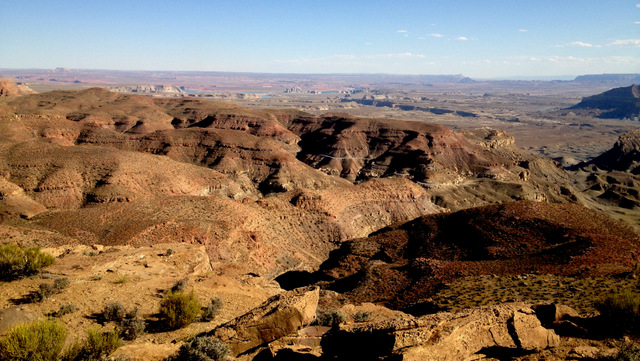 We set up camp, had dinner and watched the sun go down.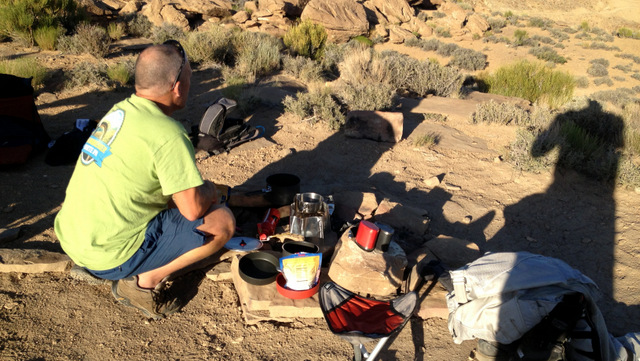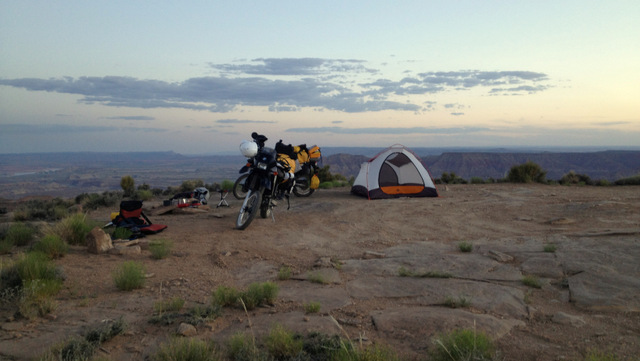 Day 3 - Escalante National Monument, Utah to Capital Reef National Park, Utah
We continued on the Smokey Mountain road for the best part of the morning. The plan was to move at a little faster pace and get into the town of Escalante before it started getting too hot for Kevin's bike. Kevin knew of a motorcycle shop in town that may be able to help.
Some shots from the road.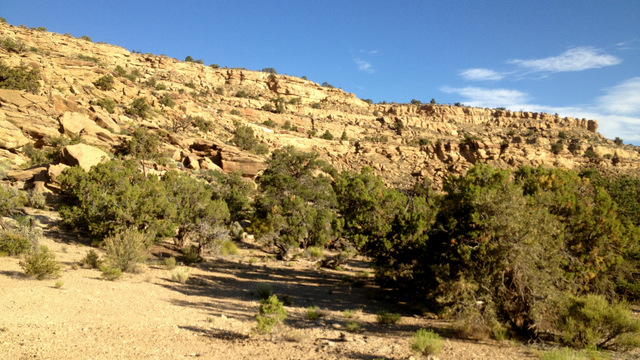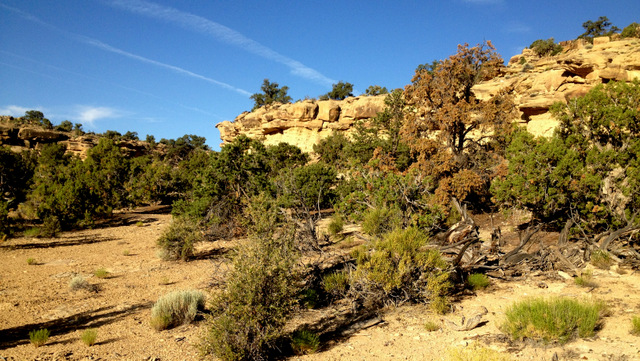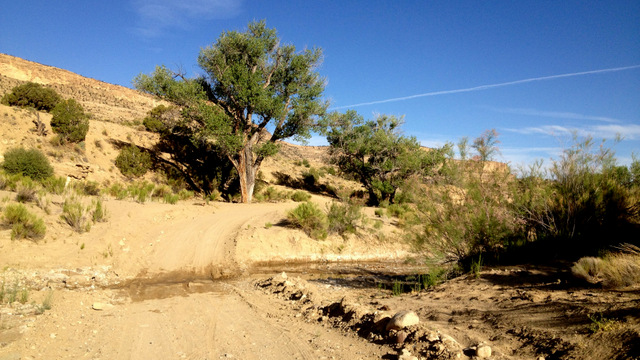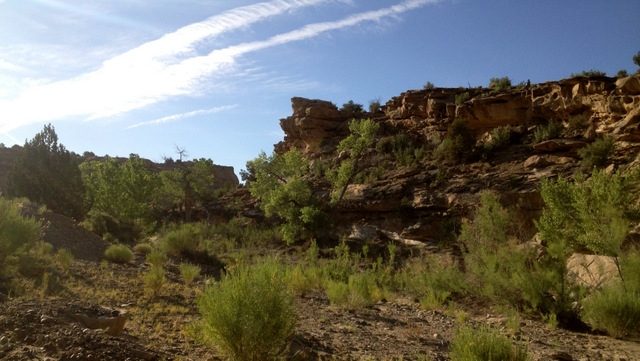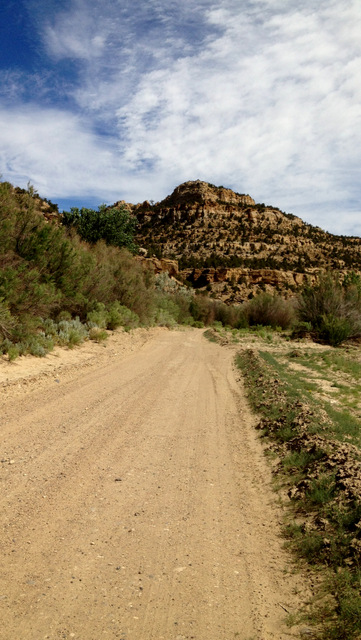 Some video:
We made our way into Escalante and found the Shop. The "Desert Doctor" runs this place out of his garage. He's probably the only shop within a couple hundred miles. This is a photo from the outside of his place: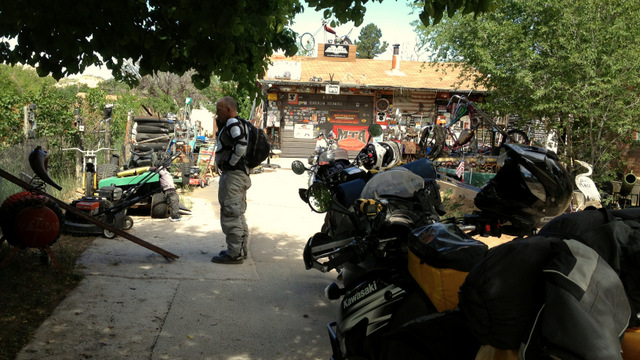 This is the Desert Doctor.
He got Kevin's bike up on the lift and got to it. He immediately starts in with a few stories about himself and some of his customers (pretty entertaining). He started diagnosing the bike, all the while continuing his stories.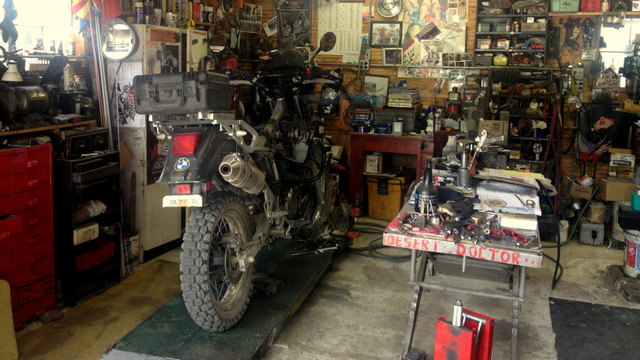 He keeps souvenirs from some of his customers such as these worn tires. He meets people from all over the world that roll through there and find themselves needing a little help.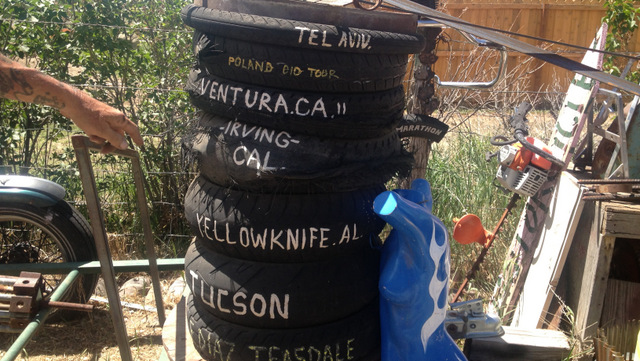 He found that the temperature switch on the bike was bad and not turning on the fan. He wired a quick fix that would allow Kevin to turn the fan on and off manually, which worked just fine. He charged Kevin a whopping 75 bucks for his time.
After that we stopped off at a cabin that Kevin's buddy owns. We grabbed a quick shower and relaxed for a few with a frosty beverage.
We then went into town for a pizza dinner at the Escalante Outfitters. Good food and service.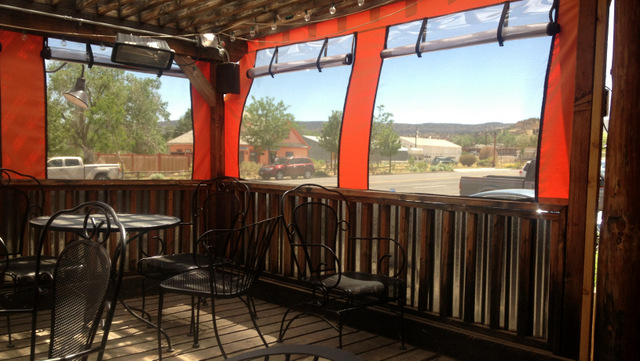 The views coming out of Escalante were spectacular.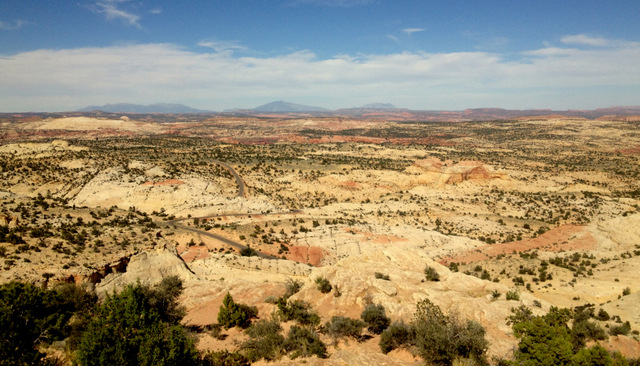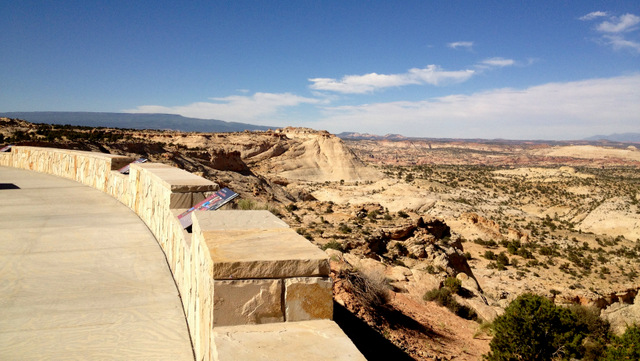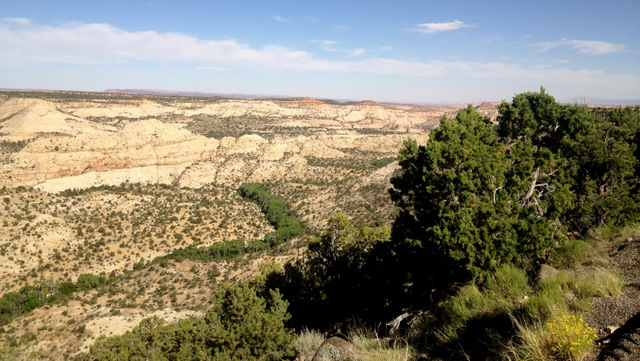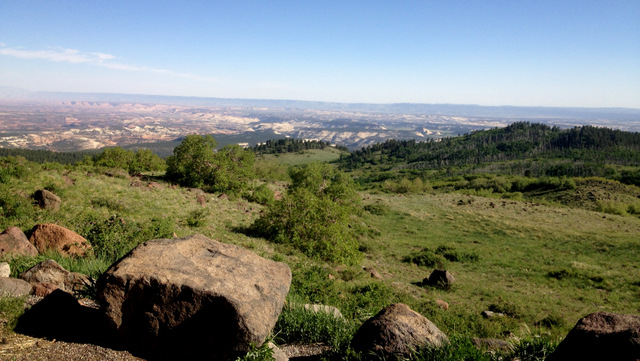 And then when you think it couldn't get any better, we roll into Capital Reef national park.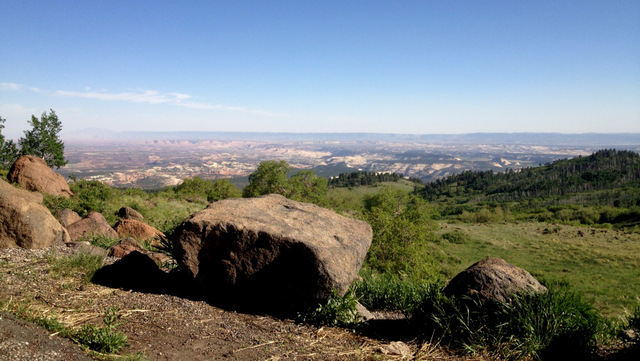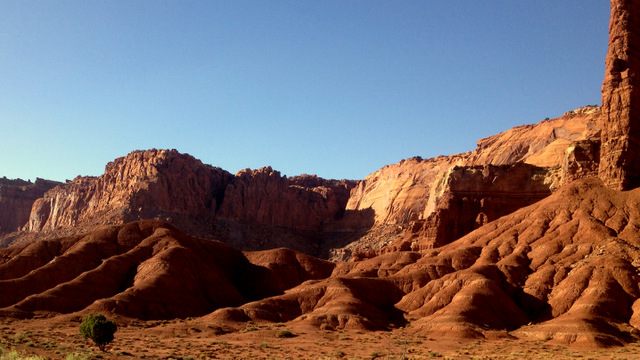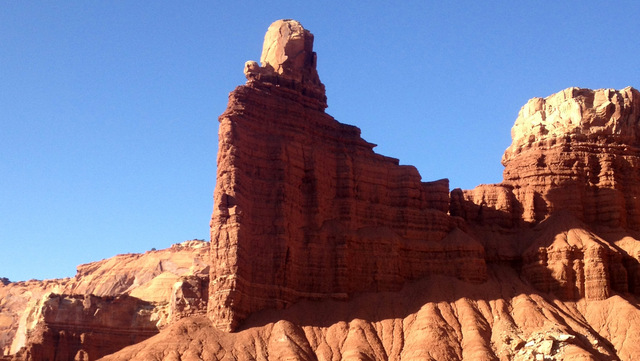 We stopped in at the campground in Capital Reef and were a little disappointed with the "campground full" sign. We decided to ride in just to see if they could guide us to the next campground. It was a good decision. We pulled in and the campground host approached Kevin with the "you guys got the last site". - Awesome. It was a long day of ridding and I was ready to stop. I guess they hold one handicap site until the end of the day, so we were fortunate to arrive so late.
While relaxing and taking in the views, we start noticing all the deer wondering around the campground. I've never been around deer that were so comfortable around people. Almost like they can read the "No Hunting" signs posted.
Day 4 - Capitol Reef National Park, Utah to Moab, Utah
We had decided to do a ride that was featured in a Cycle World magazine article "must ride roads". The ride took you down from Torrey to Mexican Hat. It was about 180 miles and went past Natural Bridges National Monument and through Valley of the Gods. It did not disappoint.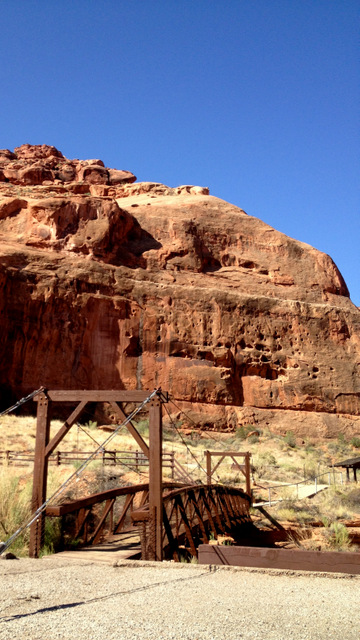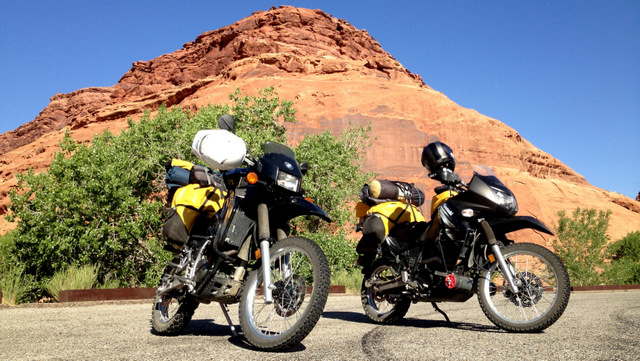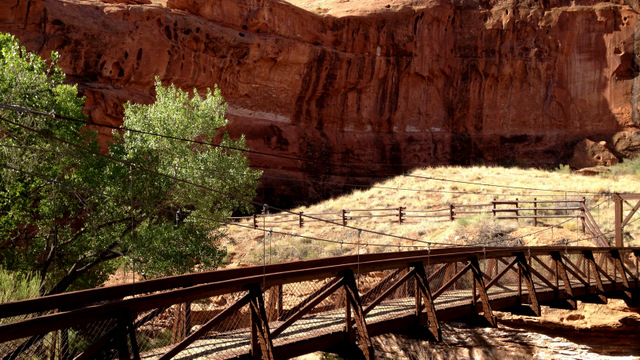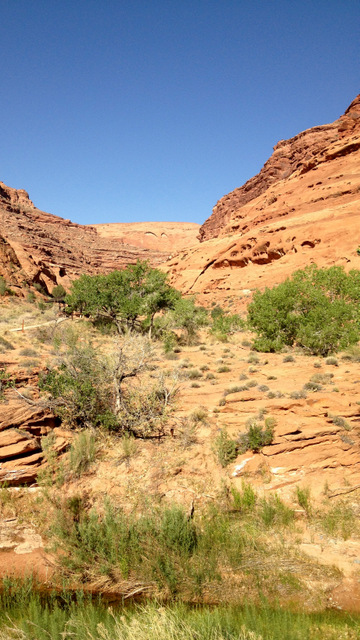 Overlooking Glen Canyon National Recreation Area.