Join Date: Oct 2006
Posts: 308
4 states, 3000 miles, Kim and Me.
---
My wife asked me a while back what I would like for my 40th birthday. I said, "I want to ride my bike to Alaska." I'm thinking I'd go with my buddy Chad, but she pipes in with, "I want to go with you." Huh....really? After my initial shock, I was thrilled. Biking is some thing we have discovered that we both love. It has taken us 13 years to find "that thing." So we began to plan. We soon realized that Alaska was a bit too ambitious. It would require us to be away from our three little ones for too long. We decided that two weeks was the most we could be away. Armed with a time period, we began to plan.
A few months later, we were ready to depart. I'll share the route as we work through the pics. This may be a lengthy report, so I'll have to split it up over several posts. Please bear with me!
Here we are ready for departure from a friend's house (they were watching the kids first
We were primarily camping, so the KLR was loaded. Kim is riding a 250 Super Sherpa. I knew this trip was at the edge of the little bike's limits, so we kept her load light: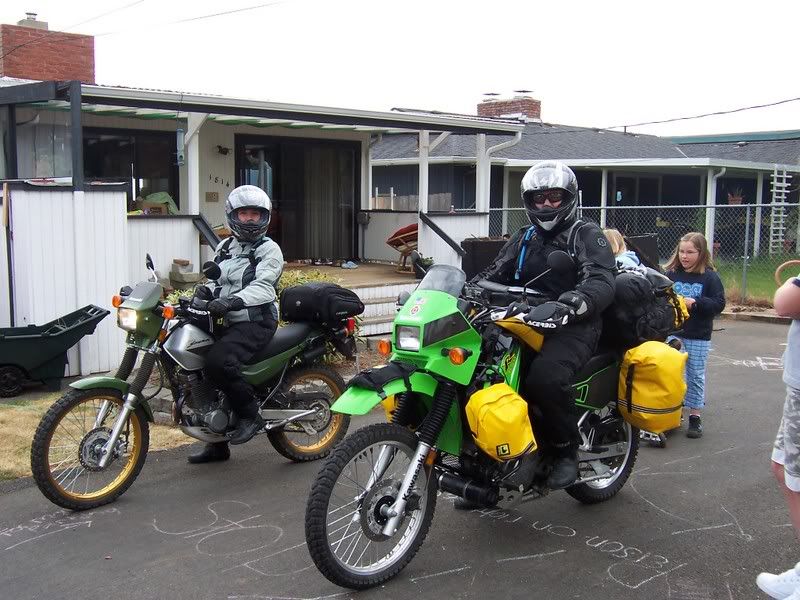 We left Port Angeles and headed down the Washington coast on Hwy 101. The road is beautiful, but you see very little of the actual coast. Also, since we live here, we were focused on getting out of dodge! We did see a pretty cool car at a fueling stop: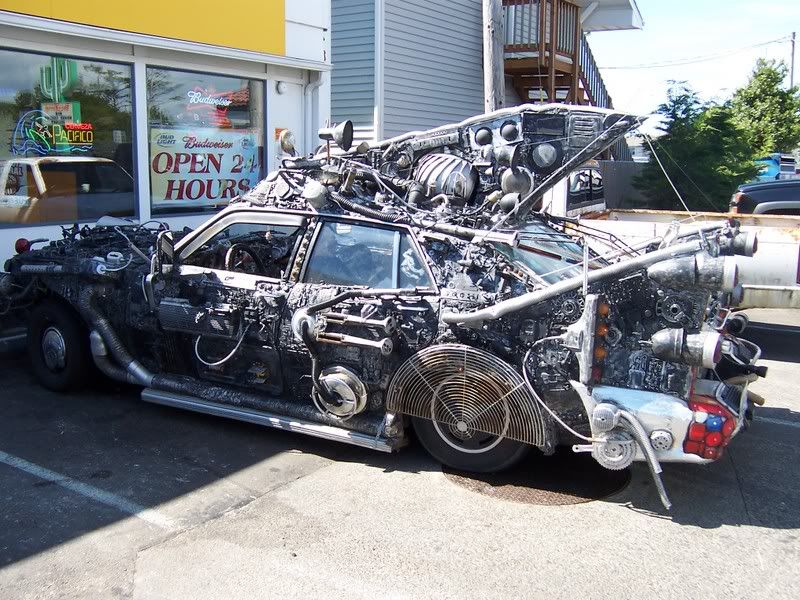 That fella has some time on his hands, in addition to some other issues! We made it down the Washington coast and crossed into Oregon at Astoria. We started down the Oregon coast and made it to Manzanita. I think day one was about 280 miles. We camped at Nehalem Bay state park. Our first camp site...awwwww:
The park is right on the ocean, so after getting set up, we took a stroll down to the beach:
It was a bit windy and cool, so we didn't last long. It was still beautiful as always. We did see a guy kite sailing in the waves. Pretty cool. Oh and I saw this beatiful lass: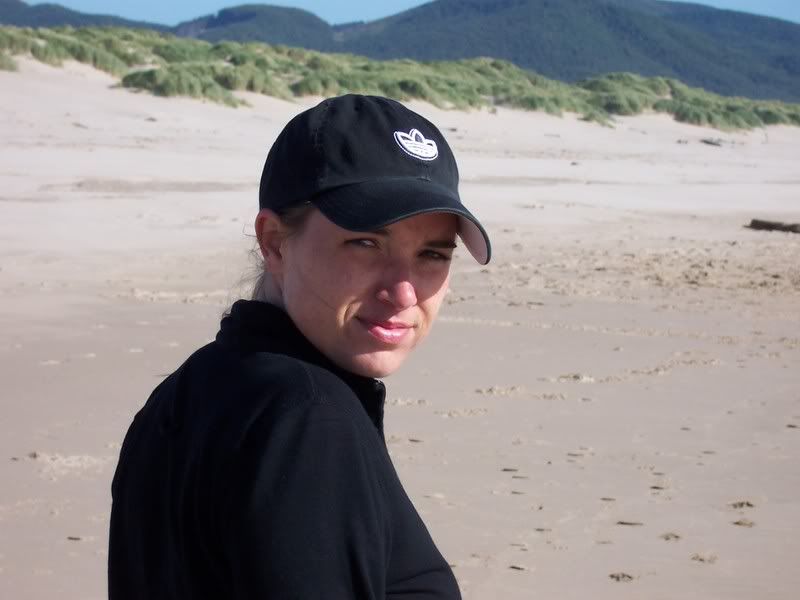 We had a good night's sleep and were excited for the next day's riding. We started down the Oregon coast. I have driven much of it, but never ridden a mile. WOW! Imagine 200 miles of twisties interspersed with neat little towns and jaw dropping scenery. A couple scenes:
My biker-chick wife:
I gotta say, she handled herself very well. If I was going too fast, she just went her own pace. She admitted later to being intimidated by the twisty roads. However, later in the trip, she said she'd like to go back and do the Oregon coast again with the confidence that her experience provided!
A few sea lions enjoying the sun: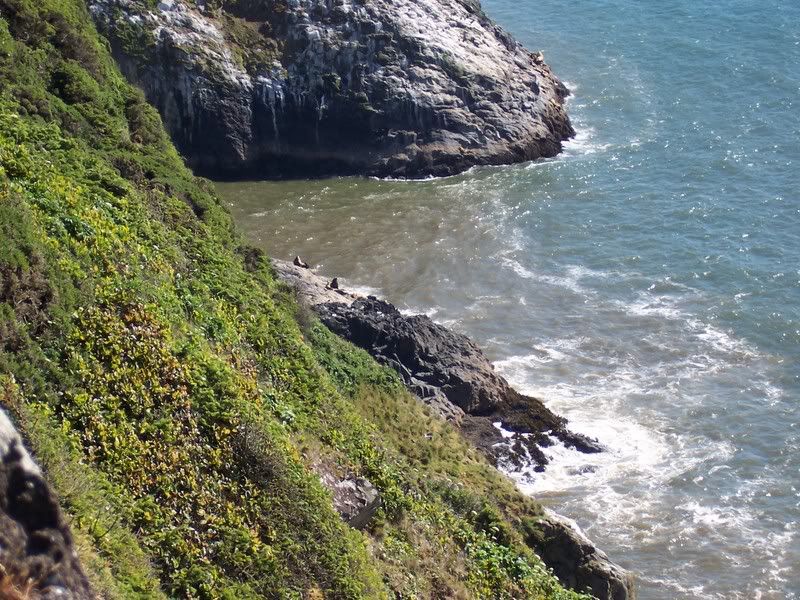 We enjoyed a great lunch and were still in the heady, excited and nervous phase of the trip.
That's all for now. Much more later!
Jamie
---
Last edited by Jamie; 07-09-2007 at

10:47 PM

.
2nd Gear
Join Date: Oct 2006
Location: Scottsville, KY
Posts: 226
First off I have to say
Man did you marry up!!!!!
Now for the pics, those are great can't wait to see the others, that is some amazing scenery.
---
"Gopher Everett"
Official "Trachoe Gang" Member
I was just thinking, Jamie needs to change his tag line of "I got nothin'" to "I got EVERYTHING!!"
Join Date: Oct 2006
Posts: 308
Thanks fellas. I think I'm going to have to quit posting pictures of my self when I show my bride to spare the comparison! You're right though, I am completely blessed.

Jamie
I would love to be able to have my wife ride with me, but I just can't get her over her fears, but even if she never rides, I too am a blessed man to have her and my daughter in my life.
2nd Gear
Join Date: Oct 2006
Location: NW Florida
Posts: 132
---
It has been absolutely great watching Kim become a rider.
My wife even got my wife to read this post last night
Excellent pics!
---
2004 KLR650
1985 KLR250
2001 KX 250 #762 B
2nd Gear
Join Date: Sep 2006
Location: Asheville, NC
Posts: 173
---
More fool stabilizer, please.
Join Date: Oct 2006
Posts: 308
Ok lemme see. We worked our way down the coast and as I said, it was amazing. We camped at a state park near Coos Bay, Oregon that night. Kim has recently taken up running for exercise. I've been running for years. So we found a golf course and did a few miles. Really beautiful. Unfortunately, I didn't get a pic of our campsite that night (the only one I missed, doh!) There was this nice stream nearby: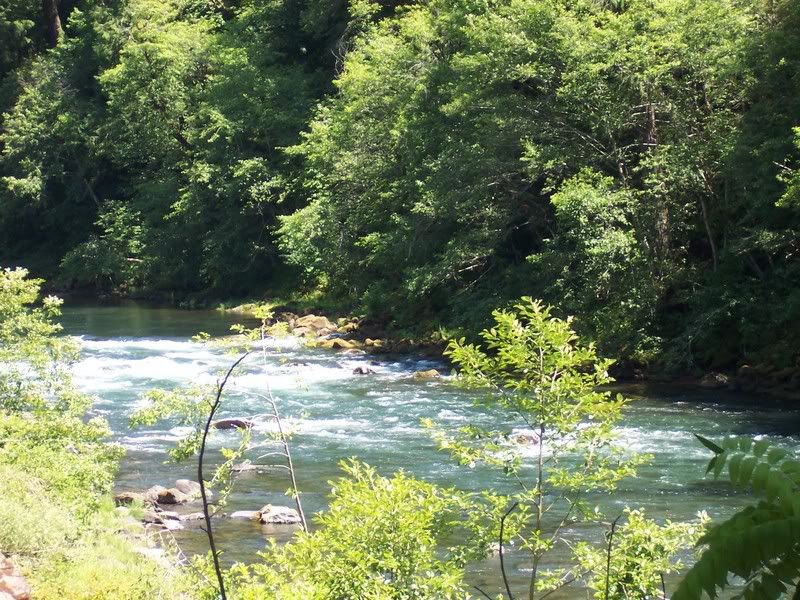 It took Kim a while to get used to my propensity for suddenly pulling off the road to take a picture. She just followed a bit further back. What a patient girl!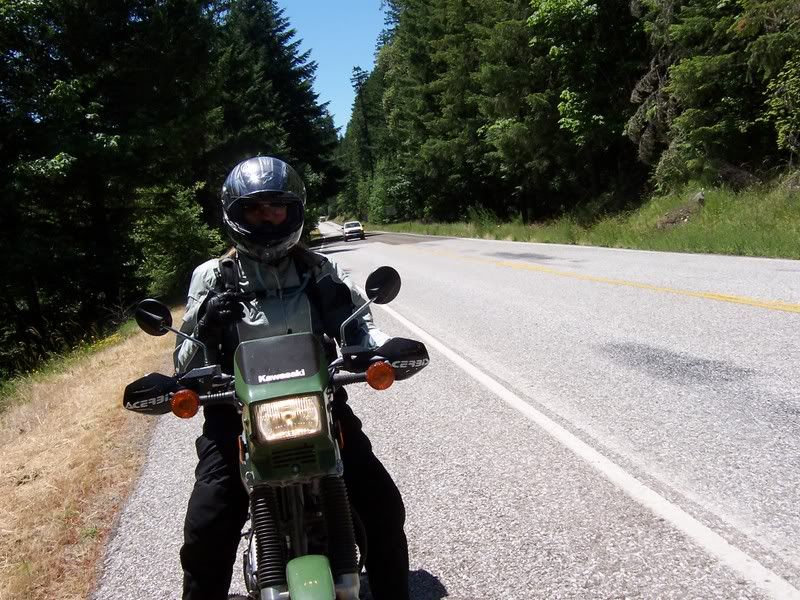 So we left Coos bay the next morning headed for Crater Lake. It was my intention to camp up there. On the way, though, we ran into a couple of Harley guys, and they steered us to Diamond Lake. I got a photo of their bikes, but not them!:
One of the guys ran snow cat at Daimond for years. He said it was a nicer place to stay. I fished there as a kid and had a vague picture in my mind of the campground. It was as pretty as I remember:
Kim is trying to simultaneously text her sister and swat mosquitoes. She is like a bug magnet! We were able to get a site right on the lake. Had a dinner of convenience store food and beer. It was a good evening.
I was up early the next morning and took a few pics for Kim. She loved this place and wanted it recorded! Here are a few: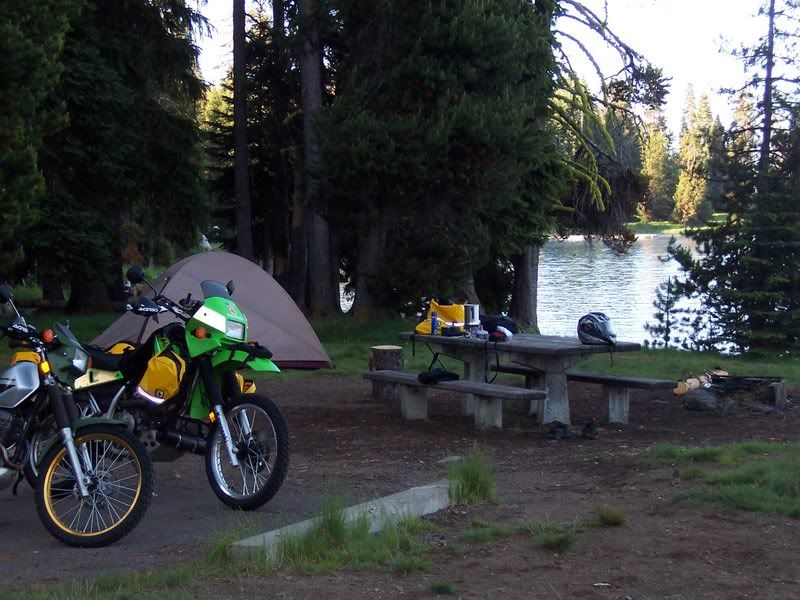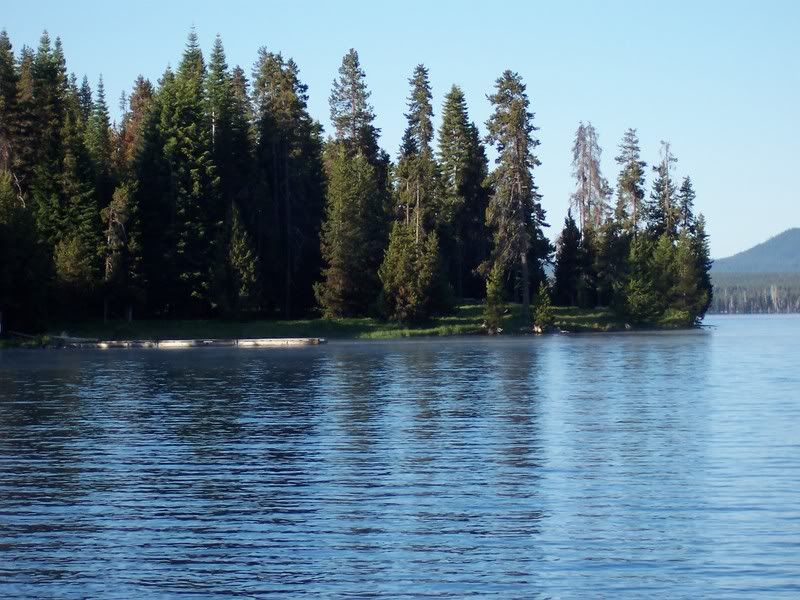 After a breakfast of fignutens and water, we were on our way. We were getting good at breaking down camp. The first morning took about 2 hours. The second about half that.
So the first stop was Crater Lake. I was by there when I was a kid, but not since. Kim had never been. It is only about 20 miles from Diamond lake to the rim of Crater. As we entered the park, we came out of the trees into this: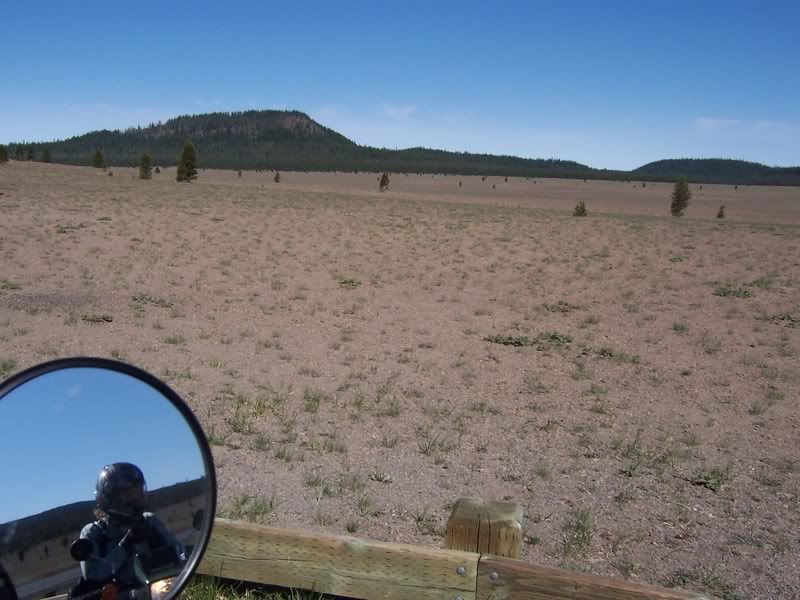 The sign said "Pumice Desert," or something like that. My bride: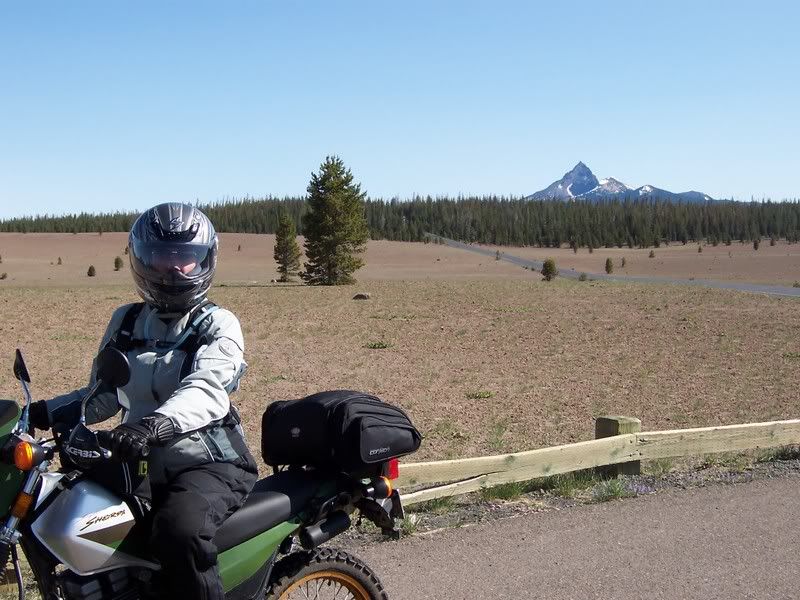 When we made to the rim where you can see into the crater, it was about 0900 hrs. The light was nice. But it was cold up there. I think the elevation is about 7000 feet, so we were glad we stayed at Diamond lake! Here are a few shots of the area: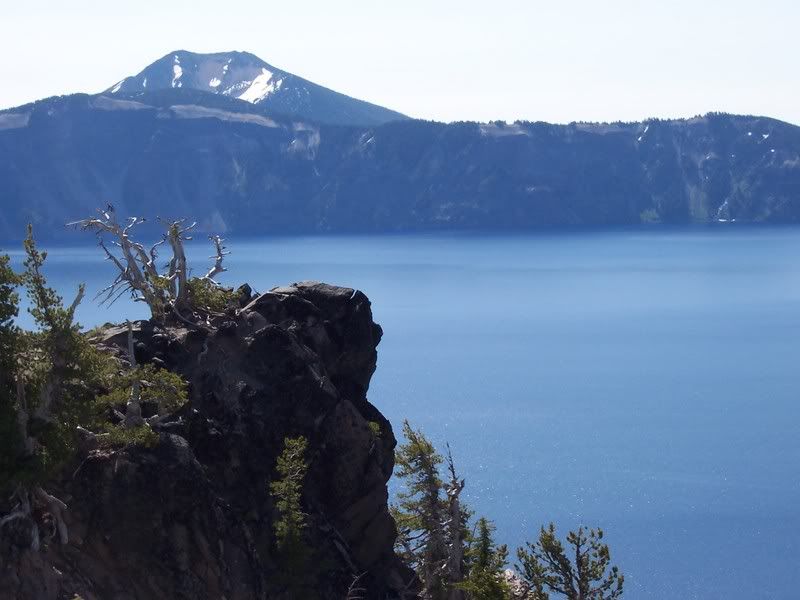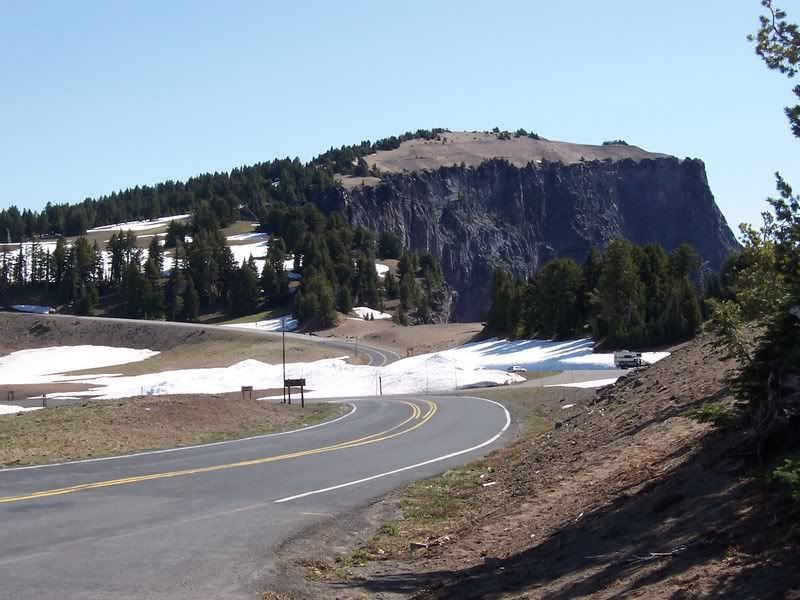 I get bored quickly so I fished a bag of peanuts from my pack and found some friendly chipmonks: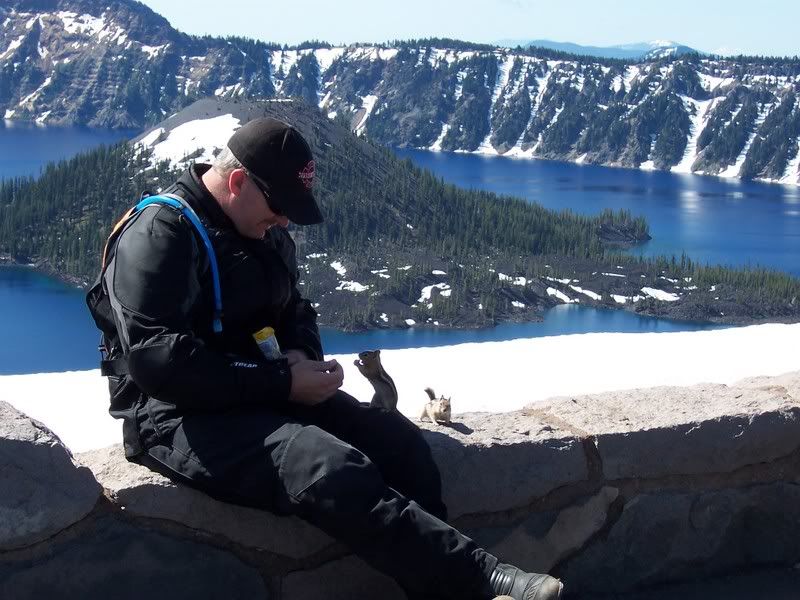 Looking back to the North: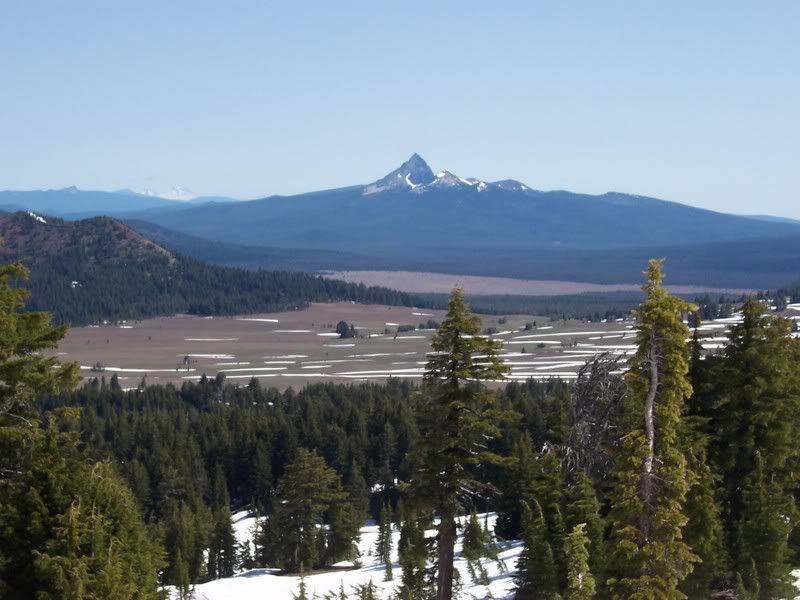 As much as I loved the beauty of the park, I was more moved by the closeness I felt with Kim. Here I am, it the middle of doing something I love, and my wife is right there with me. It doesn't get much cooler than that.
More to come. Next chapter: Bend, Or., Idaho, Wyoming.
Jamie
2nd Gear
Join Date: Oct 2006
Location: Scottsville, KY
Posts: 226
So far so good, can't wait till the next round. Keep'em comin'.
---
"Gopher Everett"
Official "Trachoe Gang" Member
2nd Gear
Join Date: Oct 2006
Location: South of Spokane
Posts: 477
Jamie and Kimmy,sitting in a tree, K-I -S-S-I-N-G, first comes love, then comes marriage, then comes.....You get the picture
Can't wait to see you 2 again this summer, Oh, and cool report and pics and thanks for staying at the
LOLOLOL...Dang, I think I'm passing a Stone.....No, I know I'm passing a Stone........
---
The shortest distance between two points is a damn shame.......

I rode Broke Back mountain, and my a$$ is killing me.....
Similar Threads
Thread
Thread Starter
Forum
Replies
Last Post
Who Has The Most Miles On A Klr

YANKEES6161

KLR & Other Motorcycle Related Discussion

8

10-31-2008

09:32 AM

3000 RPM...Help

Ianstuie

1987 to 2007 Wrenching & Mods

9

11-03-2007

05:57 PM

How many miles?

rvrman

KLR & Other Motorcycle Related Discussion

9

08-02-2007

03:09 PM