Join Date: Oct 2006
Posts: 331
OBX trip-ATGATT on the beach
---
Well, I am finally getting around to posting this trip report Mike and I made to the Outer Banks in JUNE!!!! My bad!!! Mikes brother Steve and sister-in-law Kris invited us for a few days on the outer banks where they were staying in a house on the 4x4 section of the beach--if you are not familiar with this it means ---NO ROAD
---you actually travel the beach to get where you are staying and mind you -definitely KLR material-some of these people live here year round and do this on a regular basis....So we left on June 12-tuesday morning--we are going to two lane all the way down being we are on the KLR's. We kinda motored on without very many pics the first day because we wanted to get as far into NC as possible because on the second day we needed to make low tide to get to the house by 12:30 a.m.---the family that was there all had 4-wheel drives but said it was still challenging with all the deep sand rutted out so suggested low tide would benefit us. Mike sat with the map and picke droads for us to take and he did a bang-up job--especially since we hadn't ridden most of them before...we left home and got over into the mountains of WV-got on 39 and rode it to Marlinton and continued thru Warm Springs where we stopped at this pull off to change our Jackets for like the third time that day---cool-reg.jackets-got hot-went mesh-rained-rain gear-hot again-mesh-you get it-we were like a couple of teenage girls changing all the time
when we stopped at the pull off in Warm Springs VA we had this waterfall lookout--it was gorgeous
we rode on to 42 and then got on 43--this was absolutely the coolest rode I have ever been on with our bikes yet---twisties-switchbacks and even some whoops---miles and miles of it down thru VA. We haven't done the dragon but it couldn't compare to this I wouldn't think...I saw some awesome sights I would have liked to take pics of--but that low-tide schedule loomed over us so I guess we will just have to do that road again sometime
from 43 we went to Alta Vista -hit 668 then 501 into NC and then got on 158 east. Now we were close enough to the beach we looked for a room to hit the hay----I wasn't going to get into this story but I really would have rather slept in the hay!!!!! I will try and keep it short and move on to the positve side of the trip...got a room in a nice big motel,hotel whatever-probably a couple hundred rooms, pretty new--unloaded 2 totally packed out KLR's--we had tent and sleeping bags(for trip home),clothes etc. Settled in ,ordered a pizza--I go to take a nice hot shower and the tub is full of dirty water--OK--I'll hit the drain knob--no luck!!! I tell Mike we can't take showers because the tub is full of water--he says "let it out" I tell him "you don't understand-it won't drain and there is a dirty ring around the tub" he comes in and just drops his head and goes back to the room phone and calls the desk--" do you want to shower tonight or on the morning ??they ask him--what makes the difference we think
they give us another room and Mike goes to get the key--he checks the new room on his way back and comes in and says you won't believe this "I checked the new room they gave us and the bed is unmade ,towels are on the floor and the commode isn't flushed!" I am starting to go into menapausal hotflash hell mode now--he can tell---he knows not to let me go to the office-so back he goes and they come with him to give us a new room this time-they go check it out together-everything is in working order and clean-ya still thought about just putting your sleeping bag on top of the bed and sleeping in it though. I caught the pizza guy in the parking lot as I knew they wouldn't find us now!! The next morning when we checked out they gave us another 10.00 refund.....Ok,that will pay for breakfast since we skipped their continental breakfast they offered----can't imagine why!?!?!? This was the only bad happening on the trip..
Join Date: Oct 2006
Posts: 331
This was our bikes packed out at the waterfall stop
Well, we finally got started the next morning after a good breakfast and made it to the Outer Banks right at the beginning of low tide......Ok, we haven't been there before and we are just cruising up the strip--tourists,t-shirt shops and lots of million dollar homes, saw a guy on a Harley with full leathers and full face helmet---go ATGATT!!!!!!all of a sudden the road turns right and then it ends-BANG!-just like that!!!!!!there is a wide place on the left side of the end of the road for everyone that can't do the beach to turn around---so we park ove there so Mike can air down our tires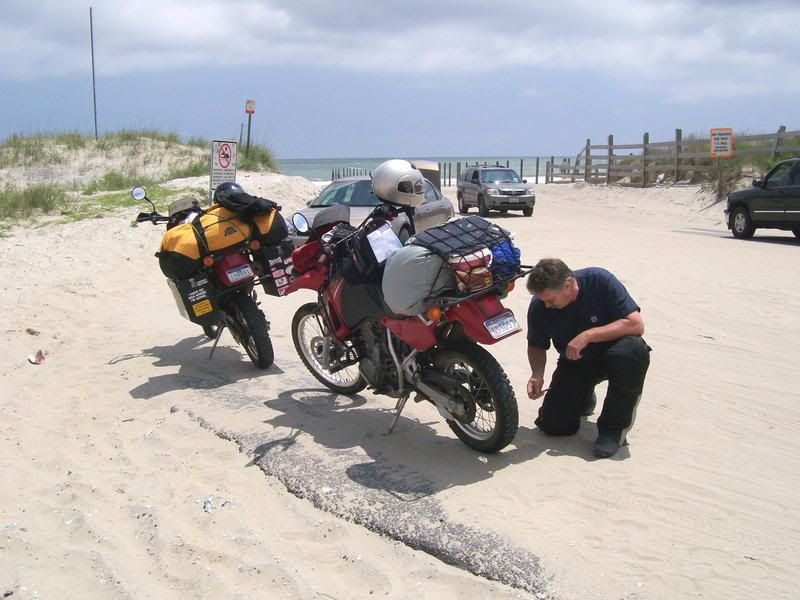 he walks down to the beach to check things out---we still have to go thru the deep stuff to get to the waters edge where the sand is packed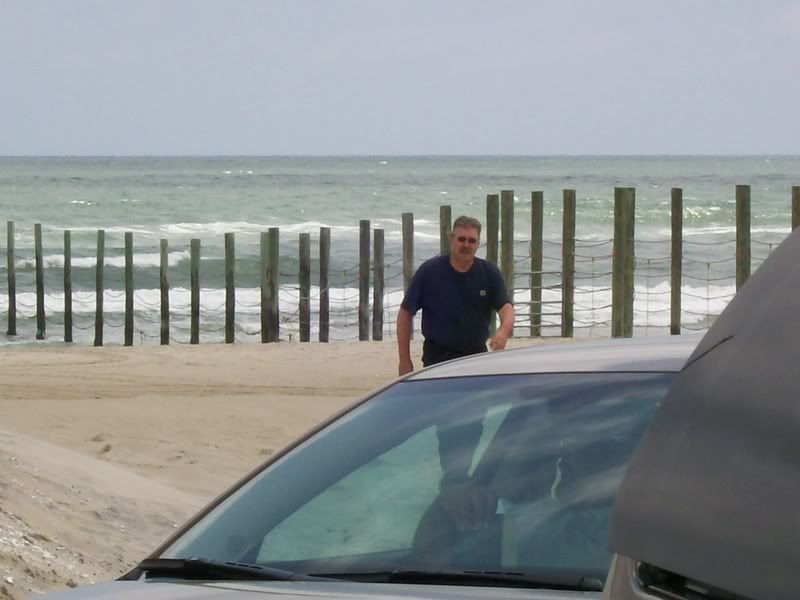 this is where we gotta go---the fence is to keep the wild horses on the end of the island we are heading to(more on that later)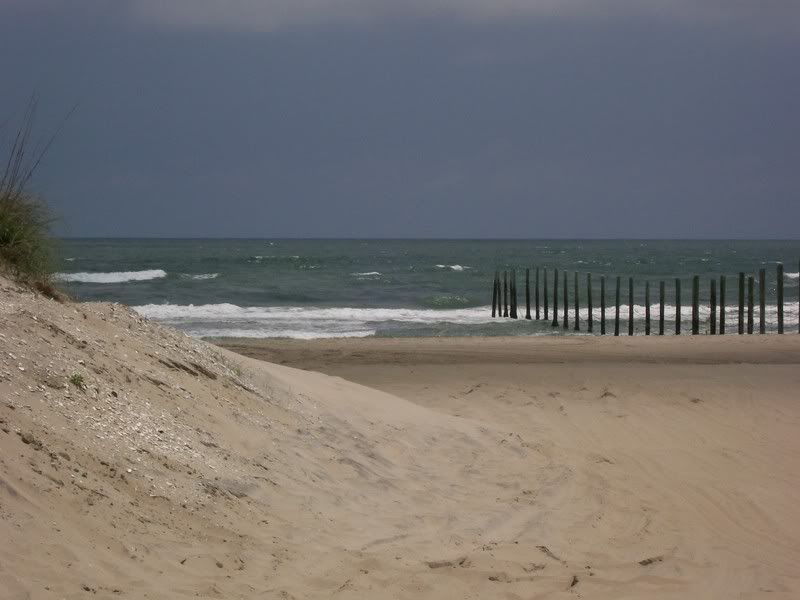 We hit the sand---OH MY GOSH!!!!!! I felt like a big ol wiggle worm---whoa,I am going down,no,no got it,aghhhhh,I am going,going, ahhhhhhhh finally down to the water and firm sand-breathe,breathe--gad -everyone looking at us in our black ATGATT trying to keep my bike up -I won't speak for Mike-he ended up behind me somehow so I don't know how many snake tracks he left in the sand-
As we headed on up the beach I relaxed and enjoyed the ride as much as you could with big 4-wheel drives flying by you and shell pickers and kids to watch for---we had 8.8 miles to go --finaly ran into Mikes brother and friend and nephews surf fishing --the kids were all excited--Uncle Mike and Aunt Kay are here on their bikes!!!
Our oldest son Ryan (stationed in VA-navy boy) had planned to come down that day and see us too---we weren't there 5 minutes and here he came --great timing---Big ol orange jeep
Steves friend Barry went up to the beach house and got his truck and brought it down so we could unload the bikes and Mike could ride them up to the house---that was all deep,crazy sand --I let him be gallant and take mine--
thank goodness
he took his up first and the boys gave me this real cool kickstand pad -bait cutting board-kickstand pad---works!!!
Mike got the bikes parked under the house right along side some horse manure that had been left there....
more to come...
Join Date: Oct 2006
Posts: 331
We all got settled down and we even had our own room--hot tub out back and a beautiful view
The weather turned cold, so sorry guys..no bathing suit pics--just this ATGATT girl relaxing on the deck
Our son Ryans jeep was a big hit with the kids----and Mikes brother Steve--Steve is a jeep hound -has
two -old one-newer one---Ryans is a little bit of this and that--drivers seat from a race car and a helicopter harness to strap you in ---can't imagine where he got that
He took the kids all back down the beach to check out the beach shops and get some of those famous OBX stickers for Mikes panniers..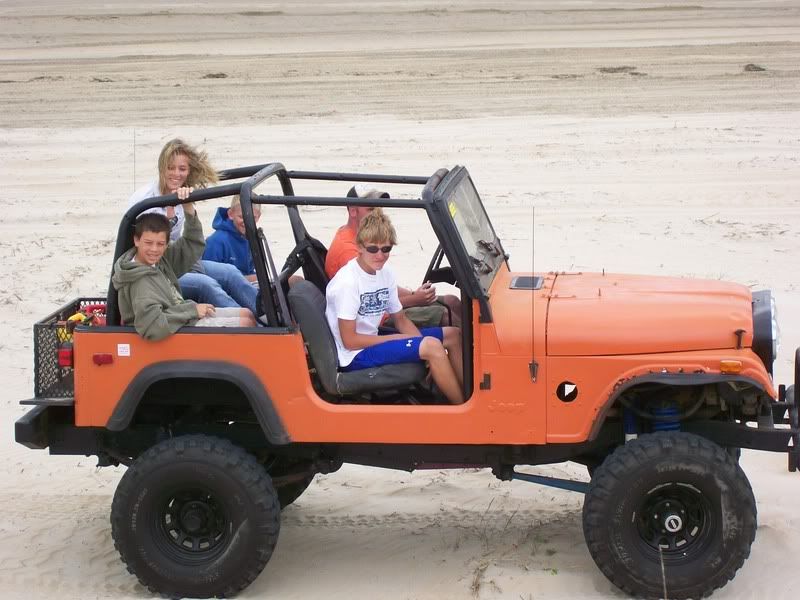 Four of us went for a walk the next day and saw this guy that thought he would put his 4-wheel drive to work---guess he overestimated it!!!
Ryan came back with kids and the boys had talked him inot buying this contraption--probably didn't take much talking as he is the biggest kid I know and has major toys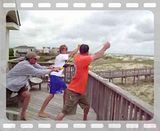 Steve is a big kid too!!!! That's him on the left and our son Ryan in the orange shirt-Steves oldest son Mitch on the far side. The poor girlchilds job was to keep them supplied with water ballons and two of the younger boys were on the dunes trying to catch them-----major fun!!!
I still hadn't seen the wild horses I had heard so much about so I went for a walk when I spotted some of them from the third floor deck.
There was a stallion and two mares -a foal and a yearling...kinda rangey looking-long skinny necks but not too skinny as far as weight--which surprised me considering what they had to graze on---these wer blooming everywhere
More to come....
Cool pics Kay! I guess the beach went beyond the "Jeep" trail rating. We see people get stuck crossing the creek at Pismo Beach all the time and its usually because they aren't wise enough to air down their tires.
---
Last edited by SLO-KLR; 08-07-2007 at

01:18 AM

.
Join Date: Oct 2006
Posts: 331
The cold weather and big waves made them flag the beach for no swimming so we played scrable and cards in the house,took walks,ate great food and enjoyed everyones company..Ryan stayed Wednesday night with us and the headed back to VA beach the next afternoon. We headed out Friday afternoon for a few leisurely days of riding to get back home...Made it thru the sand again---Mike took the bikes down to the beach--Steve still races hare scrambles as does his sons, so he couldn't stand it-he had to try it out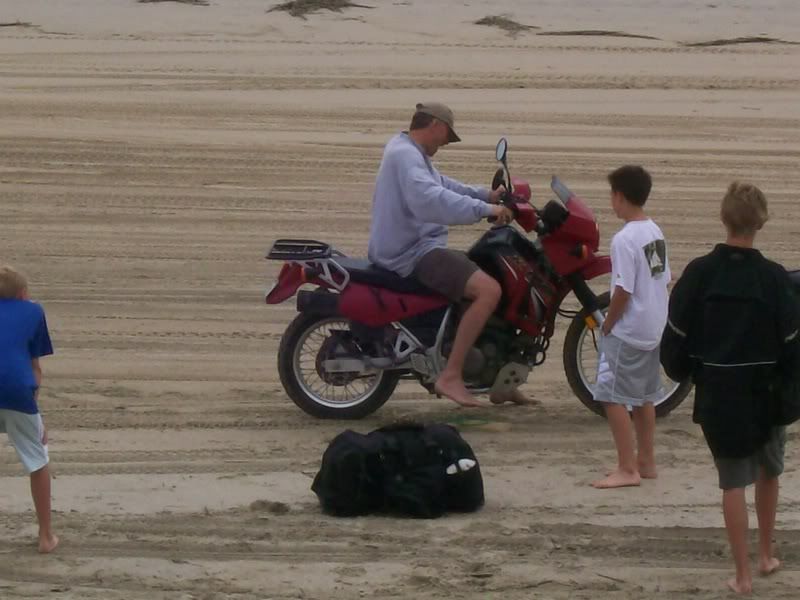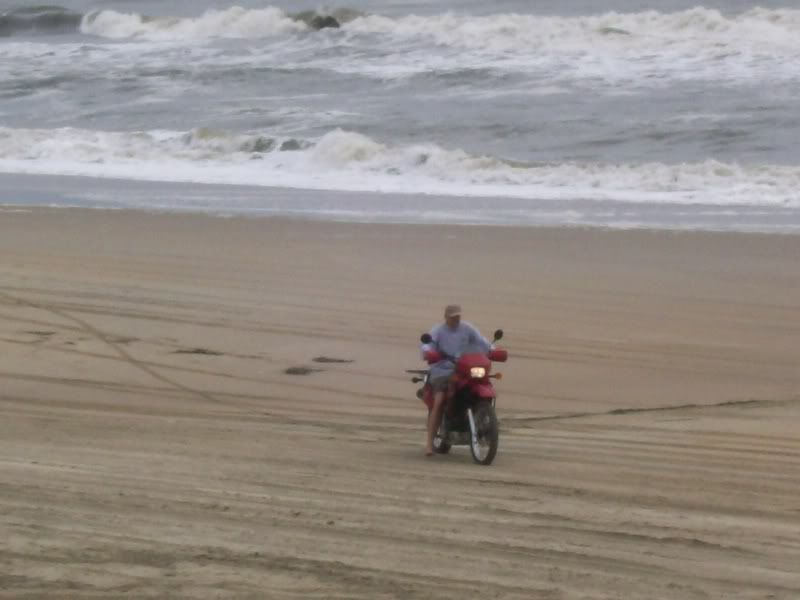 we thought he was goin down a few times but he kept the rubber down...
Steves youngest Andy was all about my bike-holding my helmet and coat-helping me reload it-got a bungee cord for me and thought it was cool that I didn't need it for my rev-pak as I have a strap under my seat that is just snaps into---COOL!! he says---I told him to put the tank bag on and get it out of our way--it pulled right out of his hands and snapped on --Whoaa, he says "it's got a magnet on the bottom"!!! He was truly fascinated with the whole thing----by the way-he finished 1st. in hare scrambles in his class in PA last year...his brother finished 6th and Steve was up there too. Definitely a riding family!!!
As we headed off the island we stopped at Currituck Lighthouse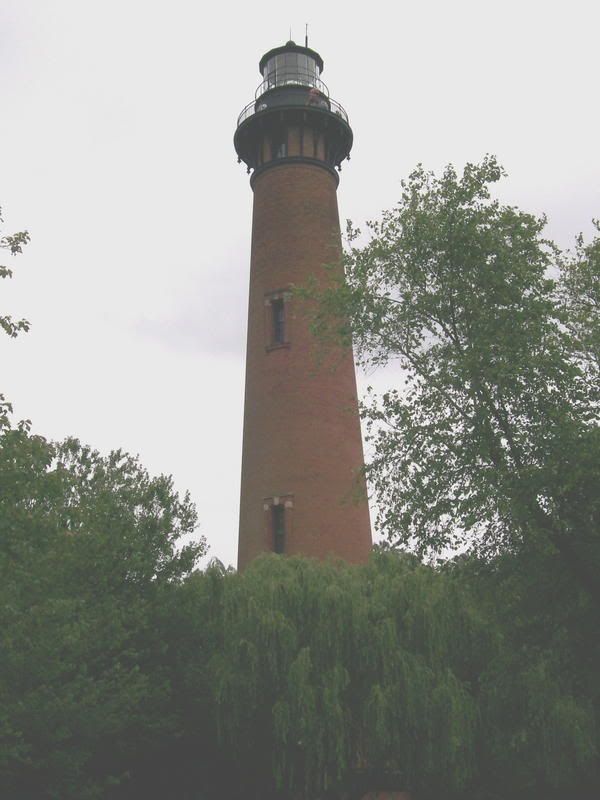 after leaving the island and heading back west on 158 we stop at the Gravediggers headquarters!!!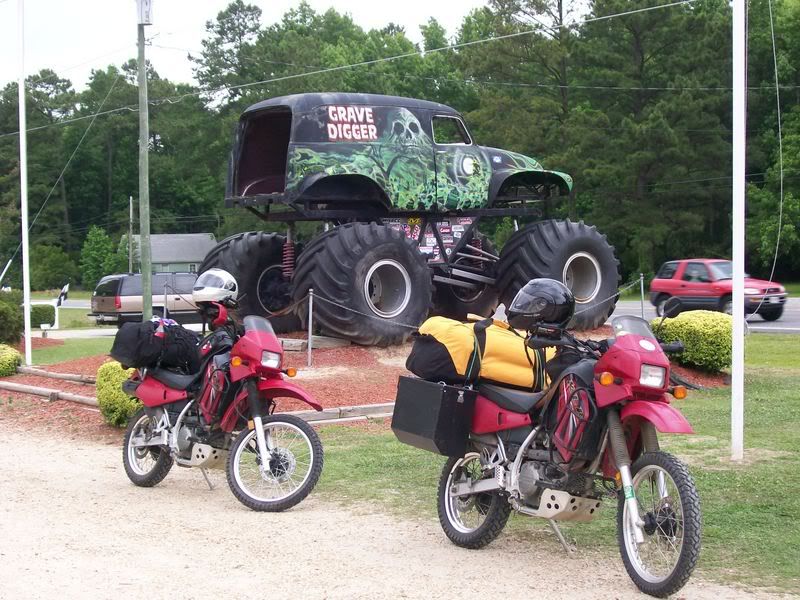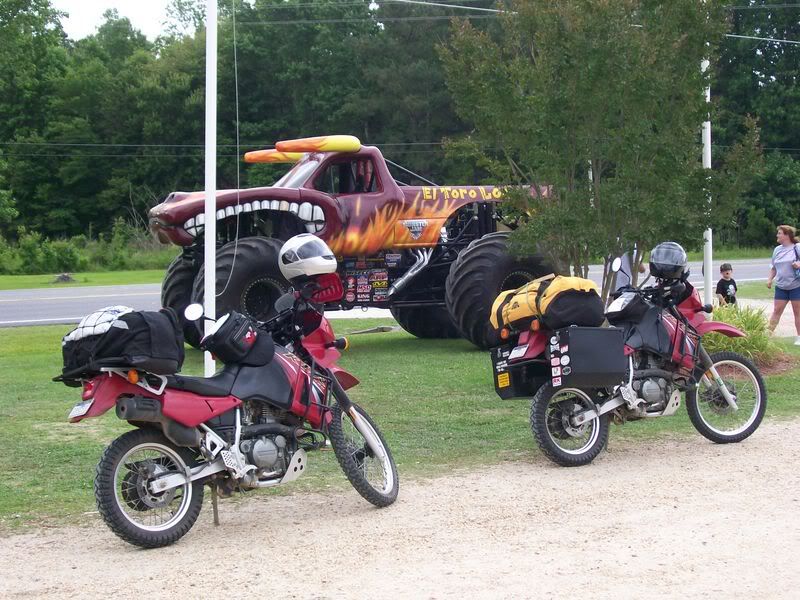 inside their lair
projects to come
we passed by the Dismal swamp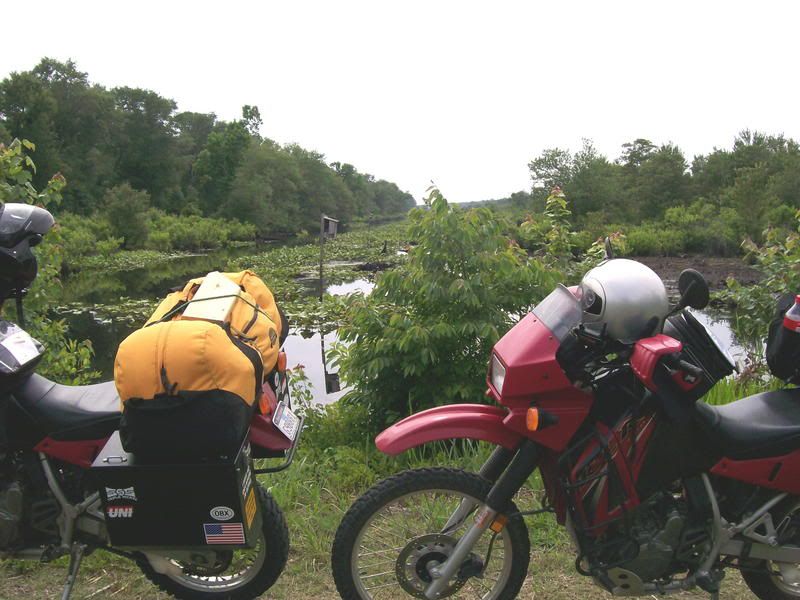 Mike thought this was just too-well-you know!!
Love the tobbacco barns!
We stopped at the Horne Creek Living Historical Farm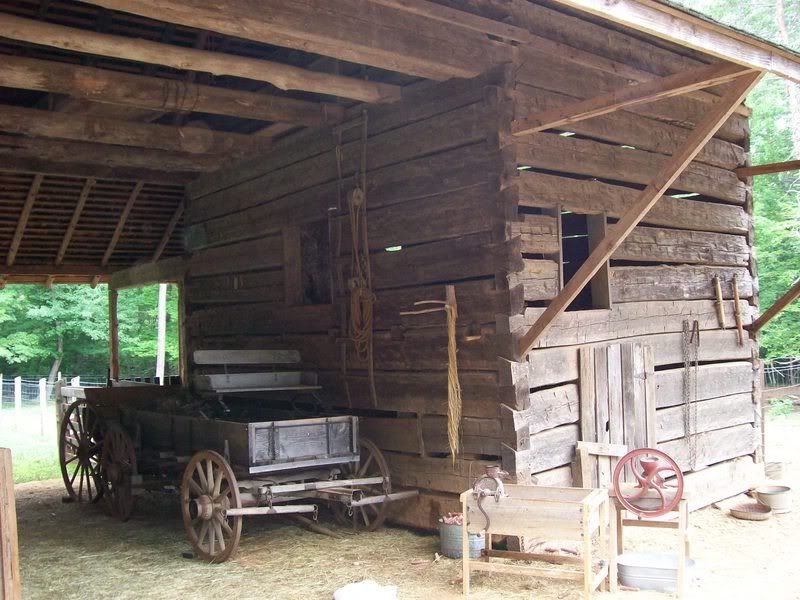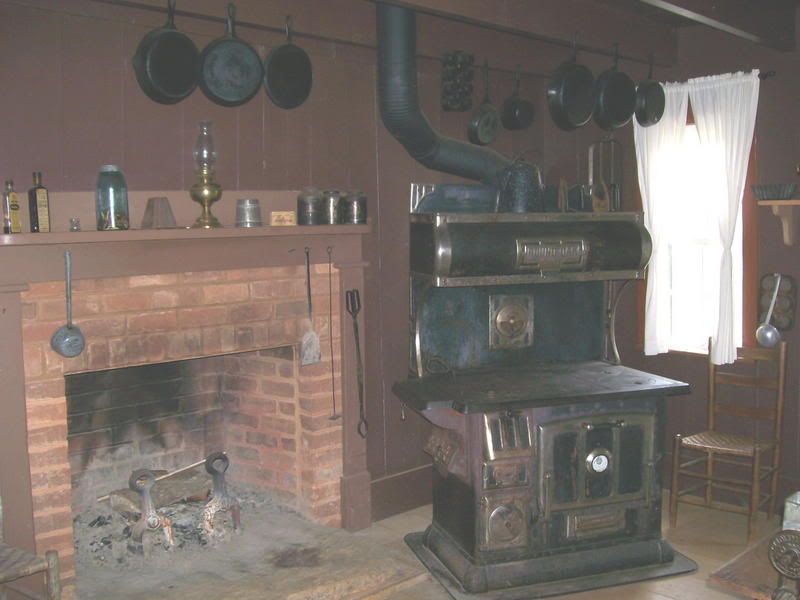 We were hoping this was to keep to the bugs off the baby rather than the alternative!!!
Cool kitchen pottery
we stayed in Reedsville that night in a very nice motel--WONDERFUL ROOM!!! They even told us where the good restaurants were and we had excellent mexican that night....
---
Last edited by KayLR; 08-07-2007 at

02:04 AM

.
Join Date: Oct 2006
Posts: 331
After we left the farm we headed for the Blueridge parkway---we had supper at Mabrys Mill
went a few miles further and camped at a parkway campground at Rocky Knob.
The next morning we had a great breakfast in Tuggle Gap at a little place that has been there as long as the parkway I think...
We pulled over at an overlook
met a guy driving this and he gave us directions to 311 which he said is a great bike riding road..
Well, we got on it and it was OK for awhile and then got real boring-just when Mike and I were getting bummed---WHOAAAAA! It woke up and got real knarly-boot and peg draggin material------What fun!!!!! We had a close call at 55 mph when it said tunnel ahead--no kidding ,I saw Mike slam the brakes take a quick right in front of a guard rail that was suddenly blocking our right side of the road and dissappear -I followed suit with the brakes and was still tryign to figure out what was goin on and found myself running thru this huge corrugated pipe,culvert,whatever--they called it a tunnel-from the looks of the guard rail on the other side some people have called it Hell...crazy stuff!!!!!!
we rode on into the mountains of WV and set up camp at Laurel Fork close to Spruce Knob. Someone left us some firewood
Mikes panniers double as camp stools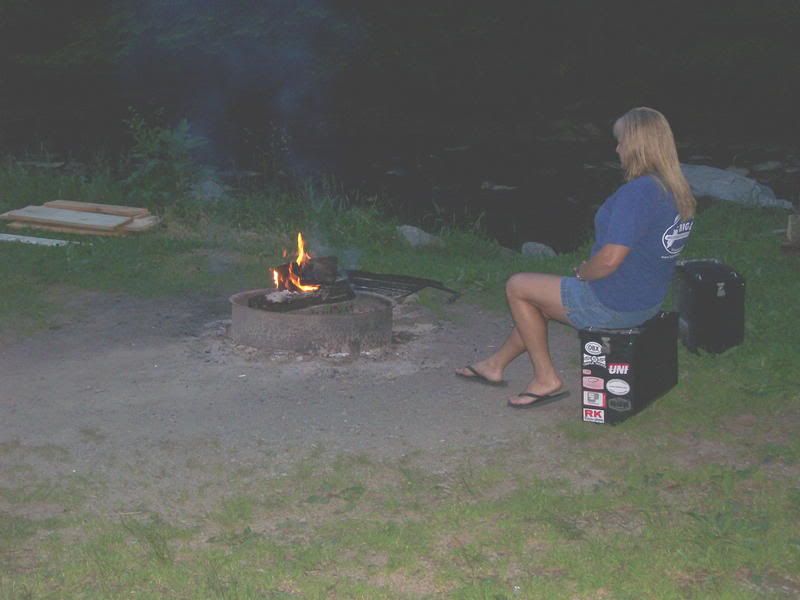 Laurel creek beside our camp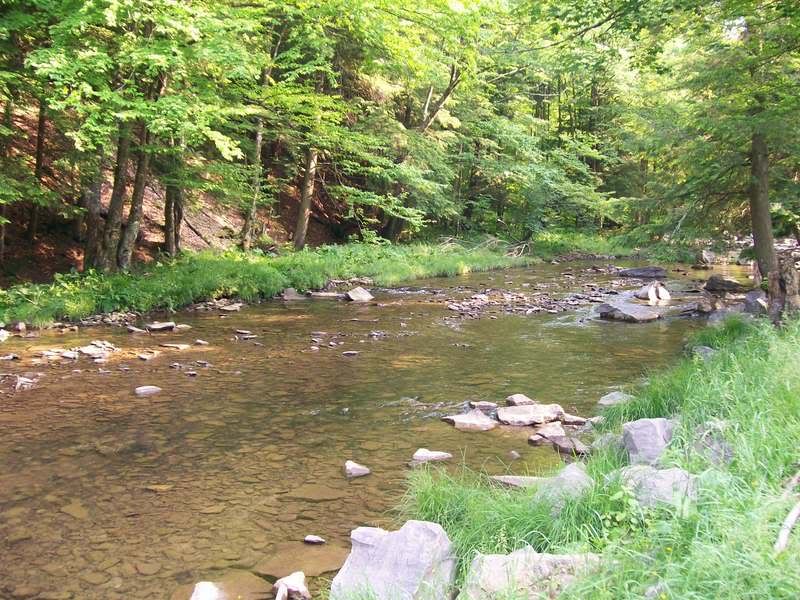 Mikes bike got kinda groggy to start and finally crapped clear out so he took off the seat and found the battery was kinda thirsty---gave it some bottled water and she fired right up--new gel battery came today in the mail!!!
The next morning as we packed up 2 A-10 warthogs flew about 250 feet over our heads-----Whew....those boys love those mountain flybys.
We had one more close call with a couple of baby fawns in the road before we made it home but all in all it was ANOTHER GREAT trip!!!!
---
Last edited by KayLR; 08-07-2007 at

02:27 AM

.
Join Date: Oct 2006
Posts: 331
By the way, one of the kids got a video of Mike and I going up the beach on our bikes---but they turned the camera sideways when they filmed us and now the video is sideways--is there anyway you can rotate a video???
GR8 job on the report Kay,
---
Today is the first day of the rest of your life.
2nd Gear
Join Date: Oct 2006
Location: Scottsville, KY
Posts: 226
Any time you can go to the Outer Banks is a good one. As I sit here typing there are 5 pictures of the lighthouses that are on the Banks just over my right shoulder. My wife, and I loved the place as you can tell, and the funny thing is I am NOT a beach person, but the things to be seen there are unreal. Glad you saw the horses, the only true wild ones we saw where down towards Cape Lookout light. GREAT job on the report, with some awesome pics.
---
"Gopher Everett"
Official "Trachoe Gang" Member
Join Date: Oct 2006
Posts: 32
Great report Kay, looks like a good time was had by all. Nice to Mitch growin' up.....