Alien Conspiracy
---
***It think the govt deleted my orig post due to reasons mentioned below so I am re posting this blast from the past Ride Report. This was Lorne's first real motorcycle trip and on the way back he said it had been the most adventurous and rewarding experience he had ever had. Rest In Peace my friend****
Op Order 20110528
Operation Mufon
Mission: To observe and collect data regarding alien and UFO activities in the Nevada desert.
Location: S4 (also know as Area 51)
Equipment: 1xSuzi DR650, 1xKLR650, Too much Red Bull
Execution:
29/05/2011 0900hr
Recon unit (Us as in me and my buddy, not U.S.) secured provisions and equipment to Desert and Rodeway Investigative Vehicles (DRIV pronounced "drive") and proceed south through the SF Bay area to Gilroy, East to Madera via San Luis Reservoir, South via hwy99 to Bakersfield the direct via Tehachapi to Barstow and on to Las Vegas for a rendezvous with informant...............
Desert and Roadway Investigative Vehicles (D.R.I.Ve)
(Prepared to deploy for Operation MUFON)
During the en-route process, the Recon element was able to make contact with a long time associate in the Las Vegas region.
The associate, Codename "Rockabilly" attempted to bribe the recon unit with fancy cars, plush accommodations and delicious food. He and his lovely wife attempted to dissuade our trek stating, " I hope your not disappointed, theres nothing out there" to which we replied "The TRUTH is out there".
That evening the "Coast to Coast AM" radio shows topic was "The Secrets of Area 51". We saw this as a sign that we were on the right track.
Delicous Food
Fancy Cars
Plush Accomodations
---
Tractorking
Sitting on a dock of the Bay
Redwood City, California

"Although motorcycle riding is romantic, motorcycle maintenance is purely classic."
Robert M. Pirsig
---
Last edited by tractorking; 02-20-2014 at

09:03 AM

.
30/05/2011 0900hrs
We prepared the DRIVe's for the 2nd day and headed into the desert. The route was to be peppered with obstacles in our path, a sure sign that there were forces out there that wanted us stopped.
As The Recon team made north we noticed a great exodus of vehicles in the opposite direction, apparently something had spooked the herd as various Campers, Trailers and other recreational vehicles all proceeded south bound to the city of Las Vegas while we made our way north.
The Recon team ventured closer to destination, and were stopped by a roadblock. Apparently the local authorities in conjunction with the government staged an auto accident involving one of the so called "Recreational Vehicles" in an elaborate ruse to slow our progress...
Eventually we were let through the elaborate spoof and continued north to our first checkpoint: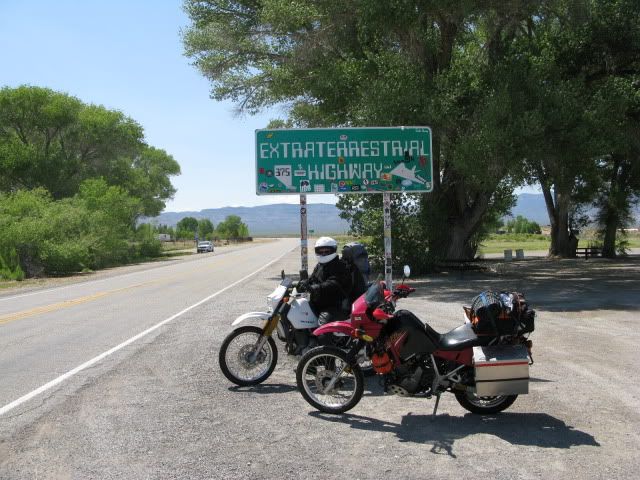 While proceeding up hwy 375 we spotted a dead cow by the side of the road, obviously probed by beings from another planet, unfortunatly we did not take photographic evidence of this as we then had our first ALIEN SIGHTING!!!!!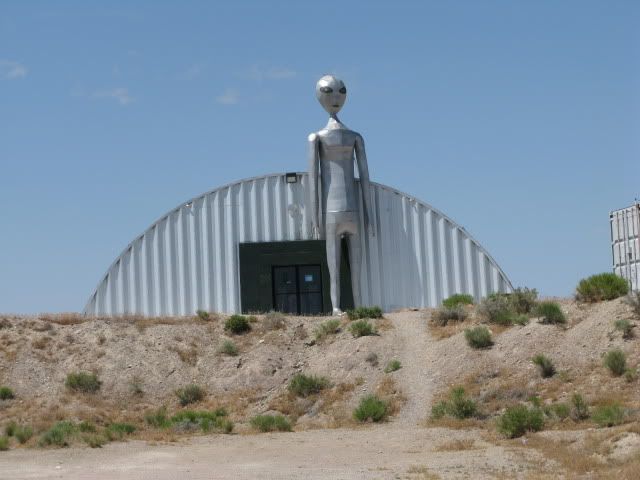 It was obvious to us that the Government had not planned on the visitors being so large as the facility doors were certainly not big enough to contain this creature.
The team then inspected the surrounding vegetation for signs of Alien Goo or Burn Marks from a space craft landing..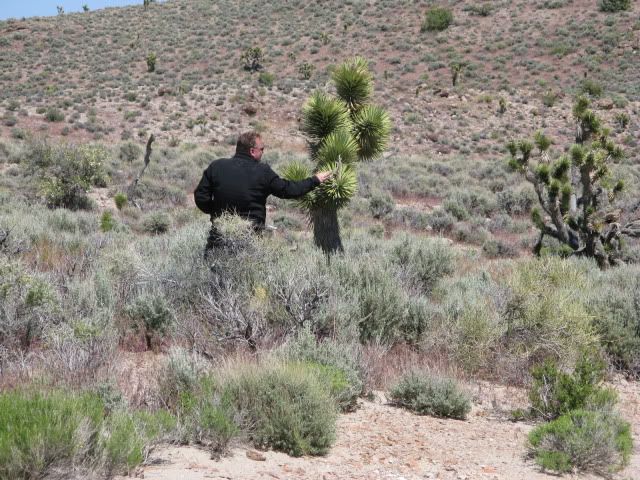 After finding no other signs of activity, we made our way to our second checkpoint..The Mailbox (Black Mailbox, now white).
This mailbox location is synonymous with the sightings of UFO's since the 1950's.
We proceeded further and had our second alien encounter....
Well, ALE INN encounter I guess would be better put...
However the team of researches found many signs and shrines that the visitors were near.
---
Tractorking
Sitting on a dock of the Bay
Redwood City, California

"Although motorcycle riding is romantic, motorcycle maintenance is purely classic."
Robert M. Pirsig
The team decided to continue further north on the DRIVes..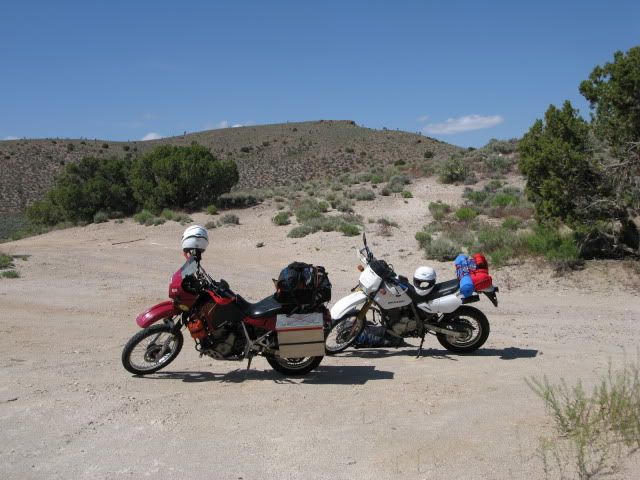 We continued to the entrance of the Tonopah Test Range, which is the official name for the "We do secret things here that we dont want people like you to know about place"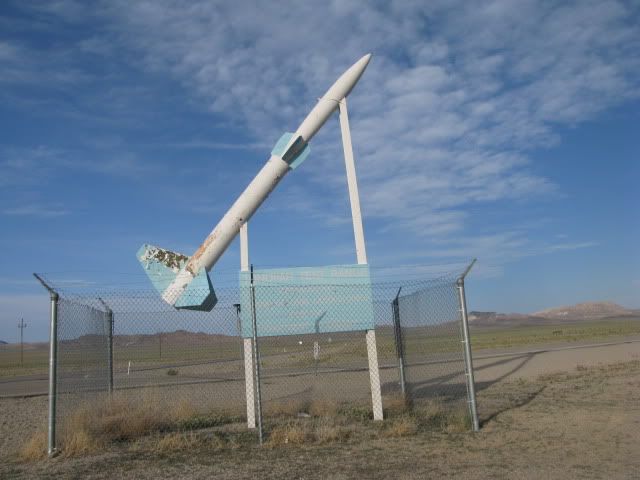 During this whole trip through Hwy 375 we were constantly blocked by "Alien Controlled" herds of cattle. There are no fences and the cattle are allowed to roam free. Most of the locals say they stay on the road because its warm but I suspect the locals and the cattle are under control by other beings who were trying to slow our progress. I also suspect that the dead cow we saw at the entrance to this highway was trying to warn us but "The Government" got to him first.
We continued on to the town of Tonopah were we again encountered diversions, mind control and enigmas...
The team was obviously falling under the spell of the alien mind probe or radiation form the nuclear test site (or both). We were drawn to this sign and could not break the spell....
At this point the mind altering controls forced us in the direction of an elaborate alien human processes mill called a "Casino". These human processing mills attempting to control your wits and soul by injecting you with alcohol, mesmerizing you with flashing lights and audio, forcing you to insert your traveling funds into machines that feed the Alien/Government conspiracy. I would also subsequently add that the Alcohol injection process is being submitted by scantly clad attractive female human clones to further control your mind.
The team regained composer, and were able to stagger away to recoup and free ourselves from this sirens song. The next morning they still felt the effects of the injections from the night before as blurry eyes and headaches had to be fended off with coffee and waffles..
Note: More alien activity was detected as at 0700hrs the room next to one of the team began making pounding noises, we noticed furniture and carpet being removed and suspect this was a Government clean up of some secret activities. They desk staff said it was a room renovations but as we all know by now they are under alien/government control as well and would lie to us, providing cover stories to maintain the charade .
---
Tractorking
Sitting on a dock of the Bay
Redwood City, California

"Although motorcycle riding is romantic, motorcycle maintenance is purely classic."
Robert M. Pirsig
31/05/2011 0900hrs
We thought our luck was changing for the better. The direct route to our HQ was now clear of snow and we would be able to make good time. Little did we realize the government agency known as NOAA, which controls the weather had brewed up some anomalies for us.
As the team proceeded west to the Sierra's, the NOAA generated gale force winds, upwards of 50mph. They attempted to blow us off the road many times and thwart our forward progress with massive side and head winds.
We rode the DRIVes into a beautiful redwood forest where it suddenly turned to charred landscape with felled trees for miles. Some say it was a forest fire but we suspected alien landing sight.
We were fortunate enough to follow a large semi truck for much of the way, hiding in the vacuum and finally making to the safety of the California boarder. The team breezed through the agricultural checkpoint but were tailed by a mysterious government vehicle for some time...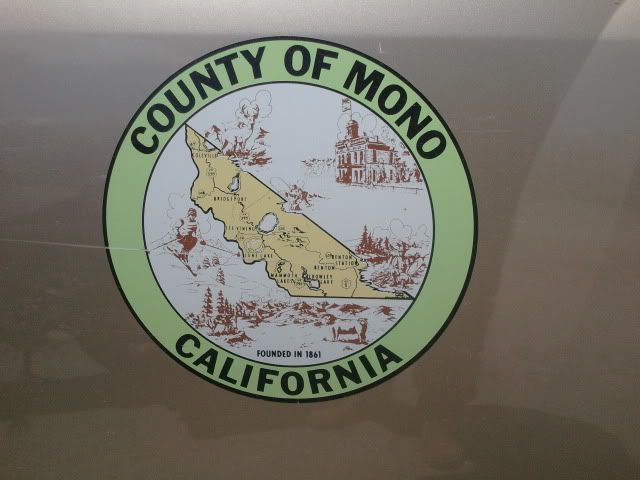 We lost the tail and proceeded into the shelter of the mountains.
We thought we were safe until we were tailed by 2 MTVR military transports.
The team eventually lost them but as we passed the "Marine Corp Mountain Operations Center" we spotted more and more military personal throughout our journey hiding in the mountains in tents and campsites observing our progress.
We were able to push through and finally made it to our summit point, it was all downhill from here..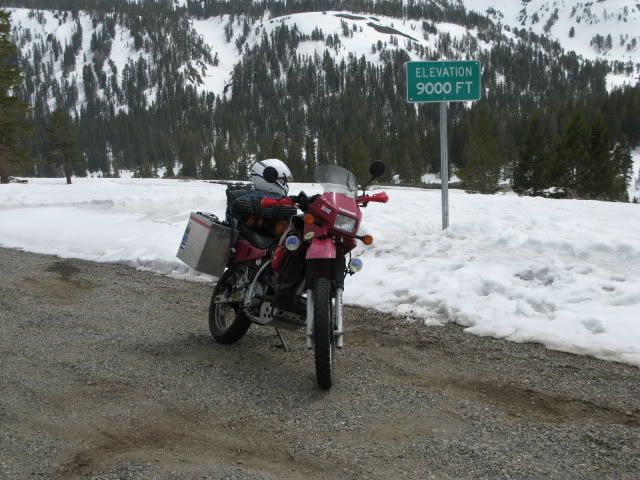 After a final push down SR108 we had made it to the Central Valley and back to our HQ situated in the SF Bay area at sea level. We are still compiling the data gathered but are sure there is another recon operation in the near future. The intent is to venture down the dirt trails and set up camp in an attempt to observe the UFOs at night and gather more data.
We are always looking to recruit more investigators....maybe you.
The Truth Is Out There.....
---
Tractorking
Sitting on a dock of the Bay
Redwood City, California

"Although motorcycle riding is romantic, motorcycle maintenance is purely classic."
Robert M. Pirsig
2nd Gear
Join Date: Jan 2013
Location: Tampa
Posts: 386
Good stuff! Very fun ride report.

I've ridden all around that area, but have never gone to the "black mailbox" or final gate. This RR gave me the extra oomph to get over there and see what the gubment is really up to...

Well done.