Fun Half-day Fall Ride
---
My original plan was to check out Fires Creek WMA during a great fall day. Due to posting late, a didn't get any bites from fellow riders. I did, though, get a call from harvickdaman29 asking me if I would like to ride with him around the Cherohala area. He was setting up camp, early, for him and some of his old high school chums and was going to ride alone, so I changed my plans. Hoping to get to hit Fires Creek next Friday!
Our trip started off with a stop in Tellico Plains to eat lunch. My favorite place is Town Square Cafe and Bakery, downtown.
Since I was to grill hamburgers that night when I got home, I convinced Scott to get my favorite dish, Town Square Burger (grilled onions, bell peppers, and mushrooms), while I tried the Philly Cheese Steak. Wow, it was good!
After lunch, we walked across the street to Mike's outfitters store. Mike has already helped supply door prizes for an Adventure gathering over at Cherohala Motorcycle Resort and would like to do the same for TDT-III.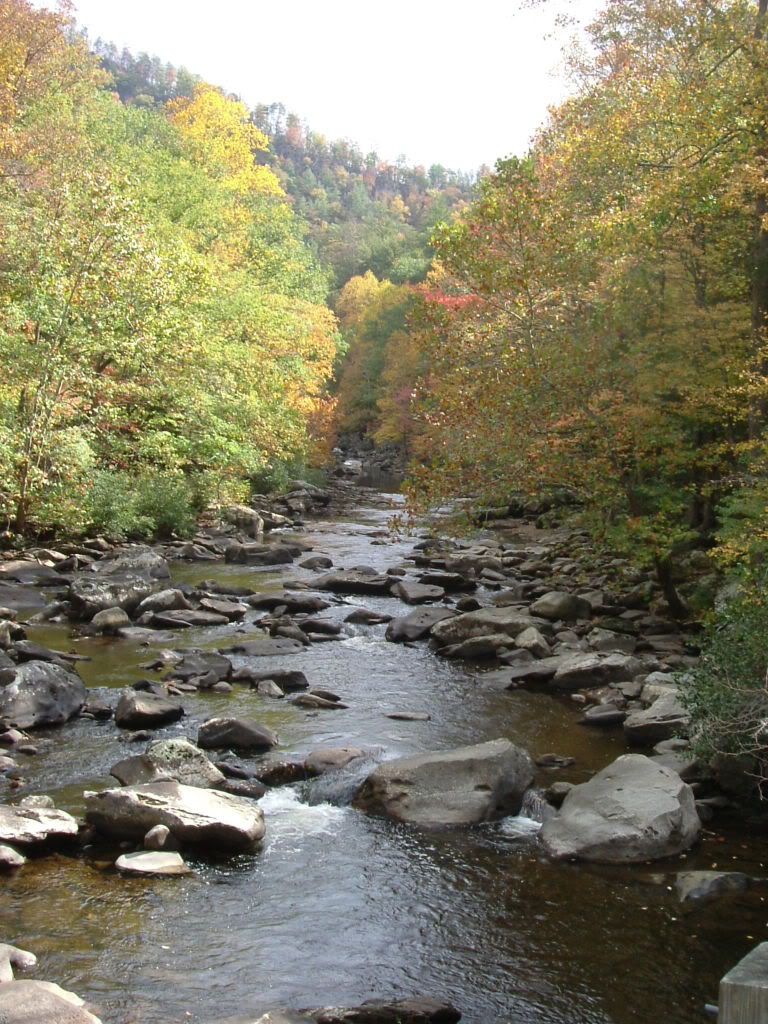 Of course, the water level was low, but still pretty. This pic was taken at about 1400' elev. Still a good bit of leaf changing yet to take place.
Colors starting to come in. Pic, around 3800'
Strong red color!
Still a good bit of green, though.
Around 5000', on the east side of the mtns, some leaves are still changing and some have fallen. Still great riding, even though the trail was covered.
Scott checking out Squally Creek Trail ~4300' elev. This is the beginning of a rough ride . Rating is a consistant 4.0 with a couple of 4.5's. Lower gearing is very much needed. Heavy clutching is expected with stock gearing. Terrain in the background is about a 3.0-3.5.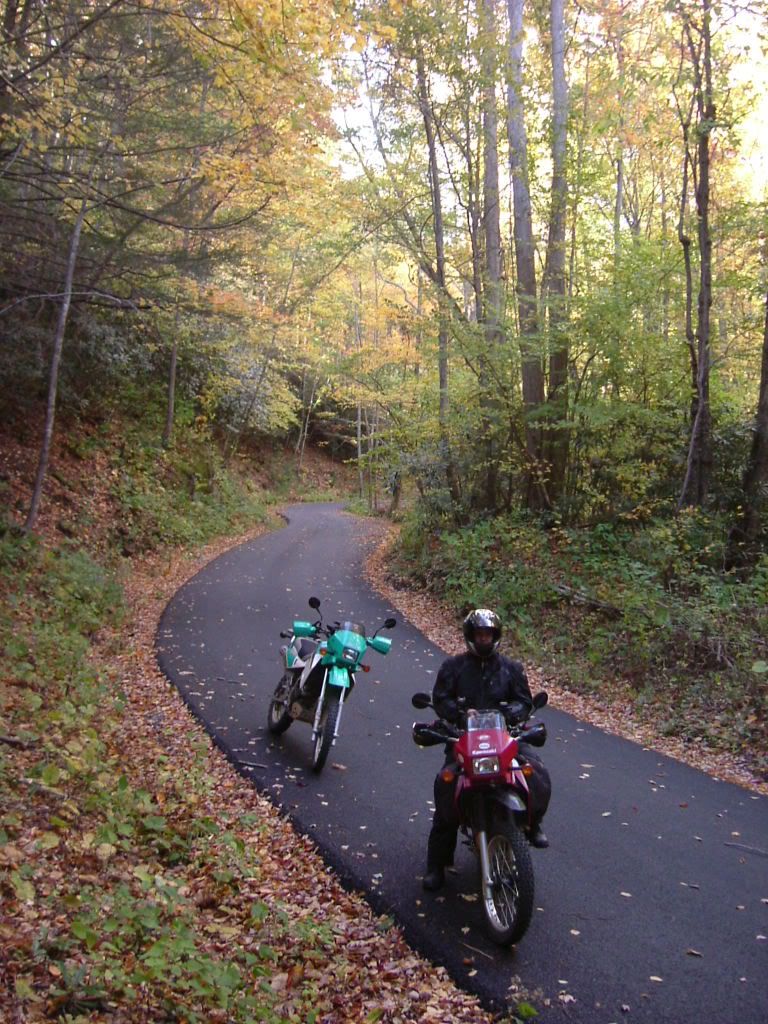 Fresh pavement on a portion of the North River Rd.
Probably the sweetest surprise of the day was the AWESOME ride up FS 81. What is amazing is that back at TDT-II, several groups, including a group Scott was in, said that this road was a dusty, gravel mess, which I don't doubt in the least. Somehow, all that dusty gravel got turned into the best off-highway surface I have ever experienced! I doubt very seriously that I could have ridden much faster if it had been paved. We were having so much fun, I think we only got 1 pic, and you will have to wait until Scott gets back since he took it.
Trust me, if you want to ride on the finest surface around, go check out FS 81 before it dries out again! Just be careful not to get a speeding ticket. Most of the time, we were around 30 mph on the hard turns, 50 mph on the mild turns and 65-70 mph on the few straights, and it felt like we were just cruising the whole time .......
---
Keep Loving Rides!
---
Last edited by cherokee_chuck; 10-26-2007 at

11:36 PM

.