Pics from Sequatchie Valley Days III
---
Great time at TTC and Sequatchie Valley Days! Love riding the area and hanging with all the folks! Look forward to it again next year.......and hope to see more of you guys there!
Friday
Little trouble on I-24 on the way to camp!
There were 4 of us there to start the weekend off........so we head to Prentice Cooper WMA! After a huge tree keeps us from coming into the back door of Haley Rd., we did some wheeling on a side fun road.....
We left and headed around to the main entrance and started riding some of the nice side roads...........
---
Keep Loving Rides!
Had a late lunch at Shufords BBQ!!
I felt right at home with the Roll Tide Room!!
Watch out boys.....Madison is into weights and competes!
Despain with looks to be the leg off a small child...........
I had not eaten anything that whole day, so they hooked me up with a sampler!
You will start to see a theme with the gathering.......FOOD! This is later on that night at a very good Italian Restaurant in Jasper! Italian Steak Sandwich!!
---
Keep Loving Rides!
---
Last edited by cherokee_chuck; 06-02-2014 at

06:53 PM

.
Saturday
Had a great breakfast to start the day from Cracker Barrel.
We decided after a meeting that we would take 2 groups out......Daven would lead a group on the Valley Tour, and I would take a group back into Prentice Cooper!
We tried the back door again, hoping after telling one of the forest workers the day before about the downed tree, that it would be cleared up............it was!!! On we go with Haley Rd!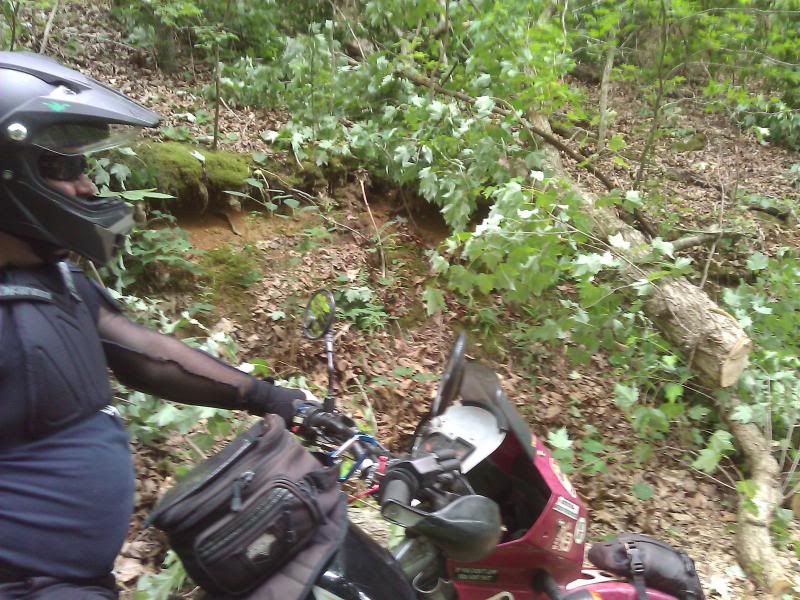 First stop was a cool cabin!
---
Keep Loving Rides!
Glamour Shots!
Tunnel under I-40 (North Bound) to LBI (Land Between Interstate)
Again......a reoccurring theme of eating very well this weekend!!!!!
My last pic is of me riding some of the 'less aggressive' trails on TTC's property!
Look forward to seeing a bunch of you guys here next year!! There is a large variety of riding for everyone and some great scenery out of Southeast Tennessee!!!
---
Keep Loving Rides!