Motel Bike Security
---
Seems like this would be the place to ask this. What can I do to keep my bike from being stolen left overnight at a motel short of taking it in the room? I've seen at other places where bikes are parked near the front desk, some chained up to a pole. Have not looked into alarms if available for motorcycles. Any other ideas?
---
Gray-haired riders donít get that way from pure luck.

Unknown
I put mine in the room with me
... gotta keep your loved ones protected..
Right. That is my preference also along with my pistol under the pillow. Most of the new motels are inside entrance only....they may object to me rolling the bike past the desk, up the elevator and down the hall to the room ;-).
---
Gray-haired riders donít get that way from pure luck.

Unknown
Yep, I can see your point. We usually try to find a motel with ground floor rooms and outside doors. Those usually being lower cost motels. But understanding that isn't always available, have you checked into perimeter alarms?, or any other type of motorcycle alarm? As sad as it is to say, if someone wants something bad enough, they will always find a way to get it. Our MSF instructor told about a buddy that had bought a high dollar "chain" lock and locked his ride just as you said to a post. To show his buddy that anything can be taken, he and 3 other guys, took some 2x4's and lifted the bike and chain up and off the post and directly into the back of his truck. Brake Rotor Locks could be a decent deterent, along with the bike being chained to something. I'll just continue keeping mine in the room. Hope some of this helps you out, its just a topic that I think most of us take for granted and don't give a lot of consideration. If you do come up with something in the alarm category, I hope you would pass on your info
.
3rd Gear
Join Date: Oct 2006
Location: Evansville, Indiana
Posts: 815
This is one advantage of campgrounds. Unless you sleep like a rock, would be hard not to hear someone messing with the bike 5 feet away.

However, the cheapest way to protect a bike is to buy a full cover, motion alarm and strong cable lock. Full alarm systems are also available. Even some that page/call your cell phone.

Kryptonite makes a full line of products.

The cover obviously just keeps everything a mystery. The cable attempts to keep the bike in place and the motion sensor will be set off when the cover or bike is messed with. You can also get cables that set off an alarm when cut.

If you can't sleep well even after taking these precautions.... gonna have to give up touring or take a knock out pill.

Ultimately, if they want it bad enough they will get it. When I was in Georgia, I heard some guys were using tow trucks. They would back up, sling the bike by the boom and haul ass. Gone in sixty seconds had nothing on these guys.
---
Last edited by TheWanderer; 08-05-2008 at

12:41 PM

.
Good idea. I like the thought of using a cover, out of sight out of mind. I did look online today at some alarms. Most are about the size of a cell phone. I think one would fit under the side covers / seat or maybe under the fairings. At least with that you have a chance to take a few pot shots and get a description of the truck hauling ass with your bike, alarm blaring. KLR's are light enough for two men to lift into a truck bed and be gone in 10 seconds. I would think the best we can do is to chain up to something immobile and use an alarm. The chain would at least take more time for a thief to deal with and be another deterrent. I'm only thinking this if I have to leave it unattended. Thanks for the input, any more is welcomed.
---
Gray-haired riders donít get that way from pure luck.

Unknown
Moderator
Join Date: Mar 2007
Location: Fort Sask , Alberta, Canada
Posts: 3,497
We usually overnight is a group of three. Each of us has one of these: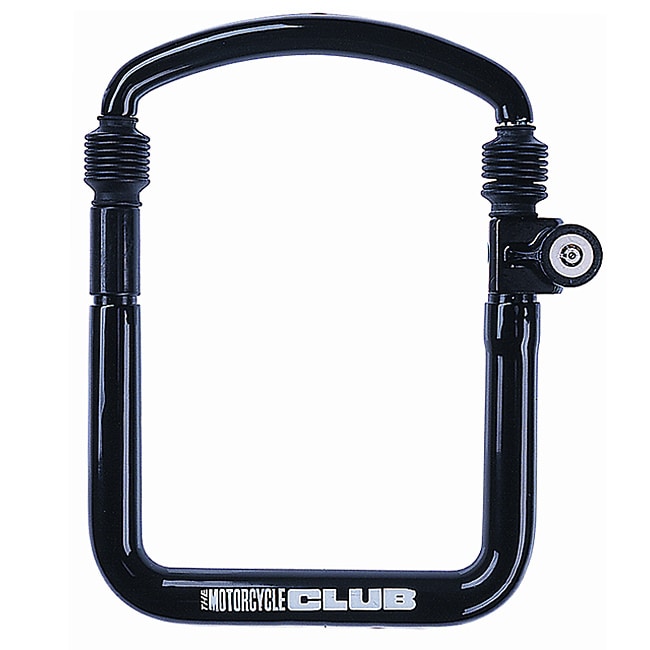 It fits the KLR perfectly. Thread it through the shock linkage and around the rear tire. We then also have a couple of cable locks which we use to lock all the bikes together.
---
My Kaw Barn - 2004 KLR, 2006 Concours (sold), 1997 Bayou 400.
"It's a friggen motorcycle, it's not supposed to be comfortable, quiet or safe. The wind noise is supposed to hurt your ears, the seat should be hard and riding it should make you shit your pants every now and then. "
<--- Please fill in the 'Location' on your personal profile page. User CP/Edit Your Details

This information makes it much easier for other members to answer/comment on your posts.
Heck, if there's three of you, just take turns with the shotgun!!
Doesn't that cylinder lock look like the ones Kryptonite had recalled because BIC pens could open them?
---
94 KLR,tank guards,sw motech centerstand,Doo done, african switch,mirror dampners, powerpegz, twisted throttle fuses, aluminum skidplate, Bigcee shark disc and jug holder and subframe upgrade, progrip grips,maier handguards/brushguards, avon distanzias,fmf q4 exhaust, headlight guard, handlebar risers, billet rear brake reservoir bracket and guard, dual star shifter,garmin 2820 gps, tmod,disc cover, pcv mod,corbin flat