Join Date: Jul 2008
Posts: 98
To St Augustine Fla and back......
---
Well I got 500 miles on her this week so I figured it was time to give her a run. I did a oil change at 100 miles on her and have just been looking/ checking ever since. So far all the blinker lights are still on...And now after this trip at 925 miles she has NOT burned a drop of oil!!!!! Bike is running very nice. I know now she is good on the super slab. She just cruses at 80 and has plenty left with quick response for passing as well at speed. She is averaging 44.75 miles per gallon. I was expecting a bit more but maybe after she gets broke in some more.
The only complaint I have is after 2.5 hrs in the saddle....My AZZ was screaming for a break!!! The New TMI cage with hwy pegs was a gem on the road. With the additional seating position this provides it is great on long rides!!! I highly suggest folks add this to the bikes if you haven't already!
I know I know...the bag on the back ...I'm working on it...ok.......
Now the trip....
Left the house here in Hinesville GA to run to see mom in ST augustine Fla. Ran I95 south kept at about 80 the whole time. Good ride no issues but kinda boaring. Arrived at moms place and Her and Aunt Geri came out for a photo...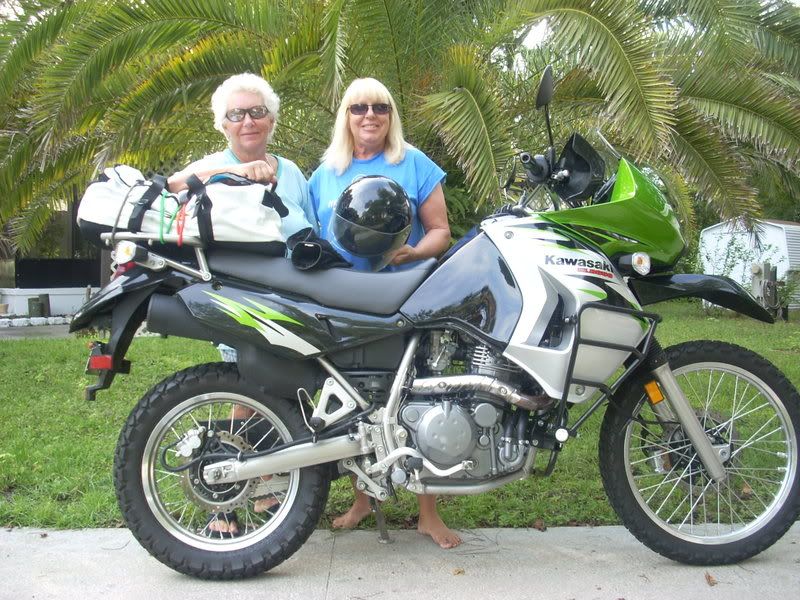 Then of course mom had to feed me so I just couldn't refuse....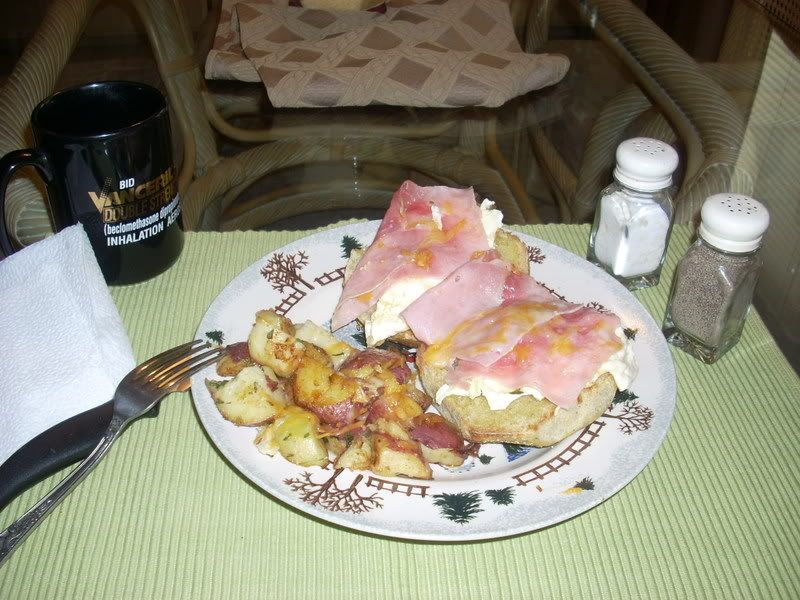 Hung out with mom and Aunti for a few hours then ran south to visit sis at Palm Coast. Spent the day in the pool and did a rodeo that night. Waited for mom to get off work in the morning and took her out to breakfast. Then I got on the road, Since I ran the hwy down I was going to run A1A along the beach back to Ga then get on 17 and take it to the house....
First stop.... Was the castle at St Augustine.. Castillo de San Marcos National Monument. For those who have never been there it is where the first spainairds settled in America. This was the very first establishment and got the ol' USA started.....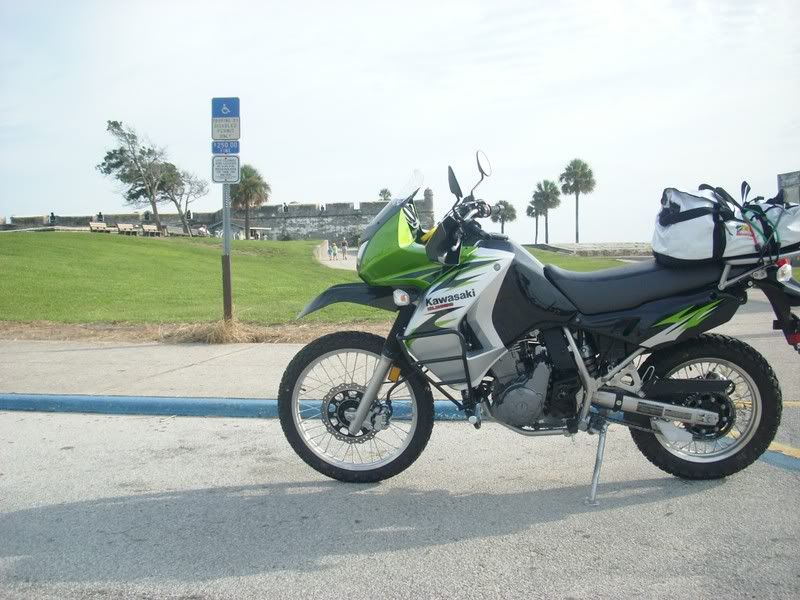 Then I stopped by the Fountian of youth....But there were only old dudes hanging around...... No Hotties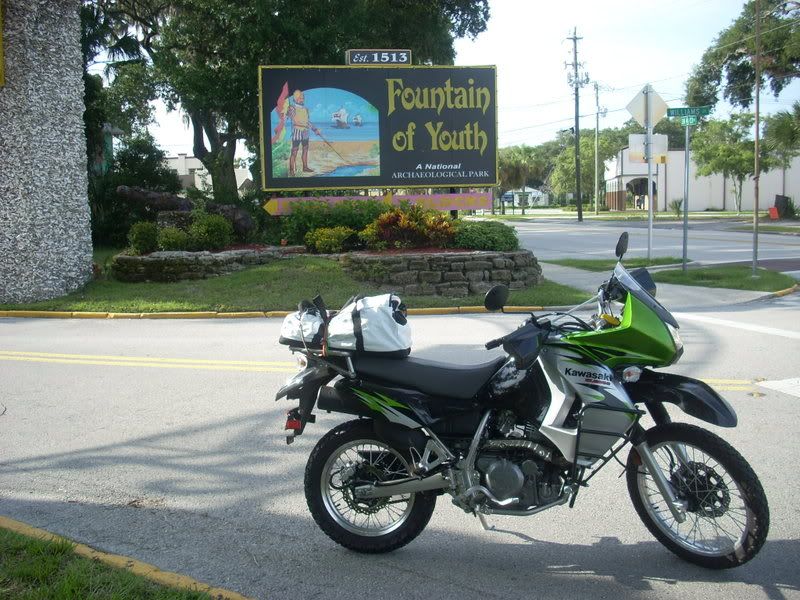 Here is a shot off of the Viliano Bridge getting on the beach . Kinda hazy but all the buildings you see line the beach thats the ocean on the other side...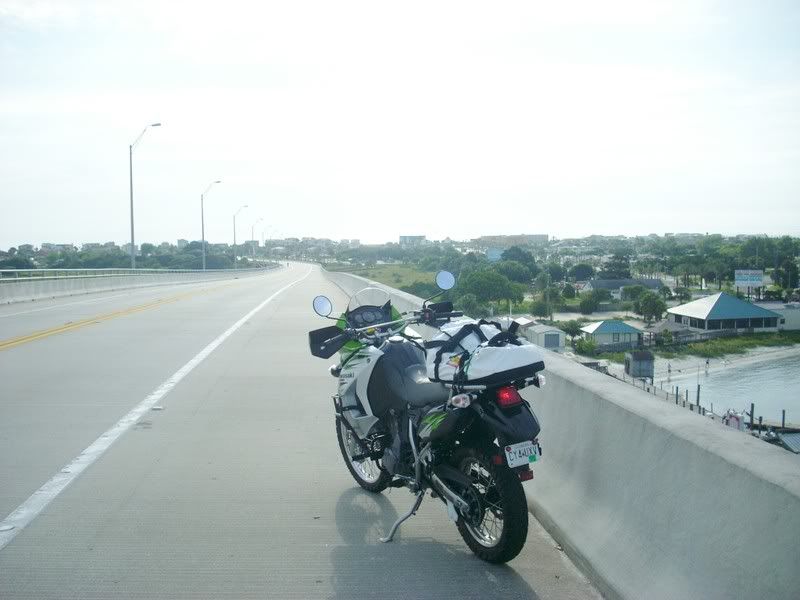 No traffic and had a nice ride up A1A . Stopped at this small access point and took a shot. Then a nice lady saw me taking the pics and asked if I wanted to get one with me.....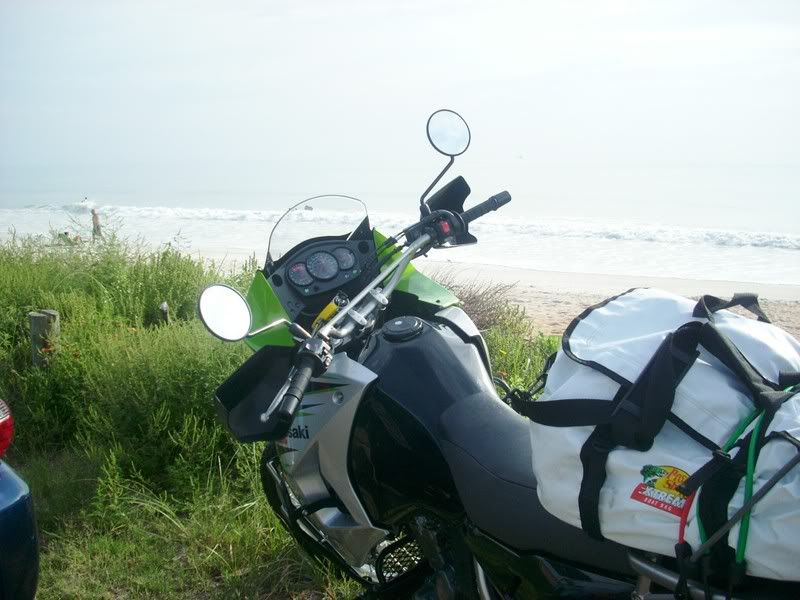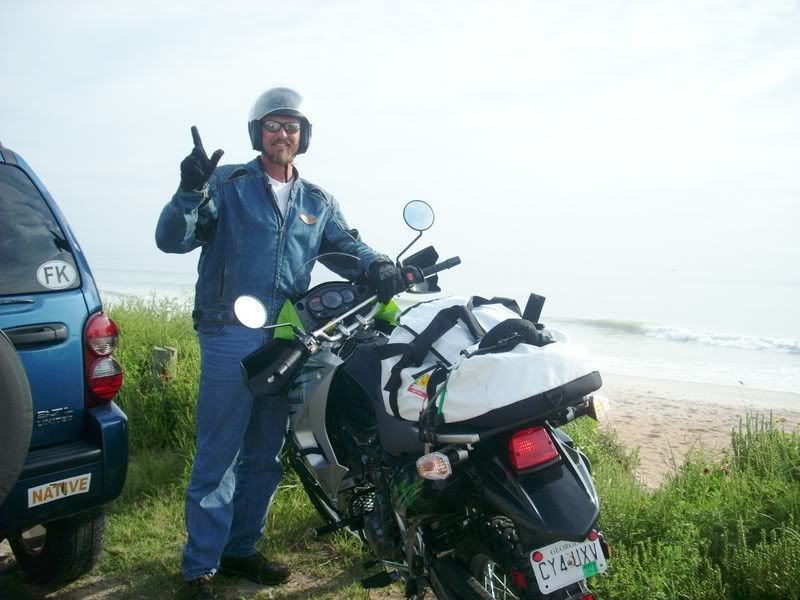 There were a few hotties hanging at the beach here ... But I had to ride......
Worked my way up the Mayport and the St Johns river ferry. Met two guys there also riding but they didn't want to wait the 20 min for the next ferry. So they took off.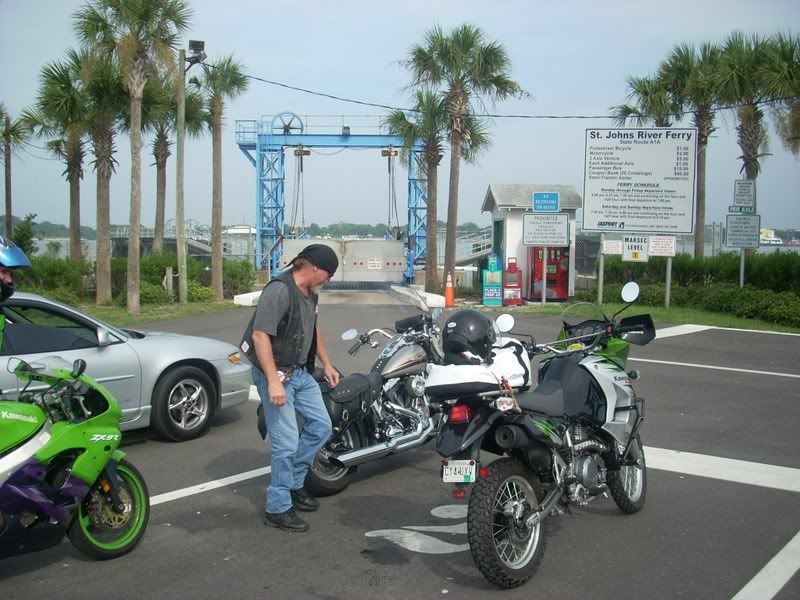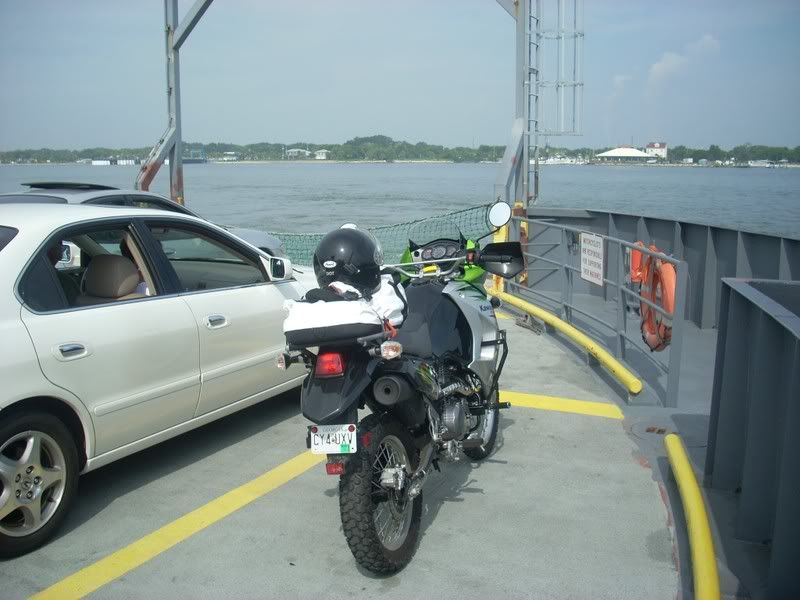 What I thought was cool, was as soon as I was exiting the ferry on the other side the two guys that didn't want to wait came by as I was waiting for traffic to start the run again..... So the time it takes to run around is the same time for the ferry.....
I stopped for a few shots at another state park just north of Jax..There are many parks along the way. Had I stopped to check them all out It would take me a week to get home. It was a hazy day and shows in the pics.....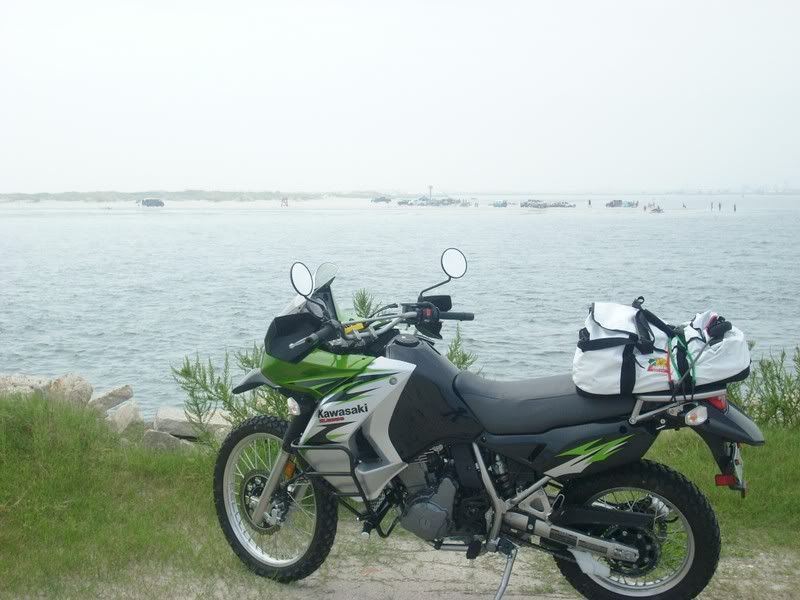 I kept running north on A1A all the way to Amelia Island Florida. Then I ran back out to 17 took 95 north just a bit and got off on Hwy 17 again in Georgia..This is where I found a real bargin, so I filled up!!!!
Then I made my way over to Jekyll island and just took a picture at the entrance.
I continued north as I saw the weather was changing the way I was going.....
Here is a shot of the marsh just north of Jekyll and the clouds are forming...
I only had about 45 more miles to the house, But I couldn't beat the rain. I got soaked so bad the "boys" were setting in a puddle Gotta love that!! It cooled me off though. I finally broke out the rain gear and continued my way home in down pour after down pour. What would a ride be with out a good shower afterwords!!!
Any way first real ride on the new KLR first picture report and can't wait to do it again. I need to find some riders here in SE Ga that want to link up.
With just short of 1000 miles on her...Overall impression of the bike is... If you don't have one...go get one!!!!!!
Outstanding report. Great pics too. Be careful tho, those long wonderful rides keep getting longer and longer...LOL, it becomes addictive.
Join Date: Jul 2008
Posts: 98
Quote:
Outstanding report. Great pics too. Be careful tho, those long wonderful rides keep getting longer and longer...LOL, it becomes addictive.
Your right..I can see this happening a bit more. It's a lot of fun and cheaper then running the boat for a day of offshore fisihing!!!!!!
Capt. Thank's for the post that is uplifting for this time of the year to read, That sure looked like a fun trip. I am considering a trip into canada this coming summer, we are on a island and we only have 36 miles of road. I am Going to take a ferry to canada and then not sure yet from there haha. Thank's
Hey,

Thanks for the report. I enjoyed the pics as well. I have some from the late 1800's or early 1900's that my great grandparents took as they had a couple of residences there and in Daytona. LOTS of history in St. Augustine, many don't even realize. The oldest house in America is there as well.

Looks like a nice ride!
---
Hugs,

~Swish~


[COLOR=#a33224]It's not whether you get knocked down, it's whether you get back up. [/COLOR]


[COLOR=#a33224][FONT=VERDANA, ARIAL, SANS-SERIF][SIZE=1][I]-Vince Lombardi[/I][/SIZE][/FONT][/COLOR]

[COLOR=#a33224][IMG]http://<!-- Facebook Badge START --><a href=[/IMG][/COLOR]
Join Date: Jul 2008
Posts: 98
my sis was married in that house years ago. you can rent it for occasions like that.
2nd Gear
Join Date: Jan 2009
Location: RIVERSIDE, CA.
Posts: 182
really nice pics! I used to live in KingsBay Ga./ just North of jekyl Isle.... Those pics brought back lotsa memories. Even though io didnt get the black KLR, yours still looks SWEET! Keep the pictures coming. Before i go though, others responded with fond memories in St. Augustine. Let me tell you mine.

Me and some Marine Corps buddies hooked up with these HOTTIES at the only all girls college in St. Augustine...Man those were the days! Thanks for taking me back!
---
Similar Threads
Thread
Thread Starter
Forum
Replies
Last Post
Just got back

Northman

KLR & Other Motorcycle Related Discussion

4

08-04-2008

01:47 PM

There and Back Again, Chapter 2

Gadget

Travel Log & Trip Reports

5

05-01-2008

03:20 AM

back from Alaska

brooksie-dog

KLR & Other Motorcycle Related Discussion

4

07-15-2007

12:34 AM

Back in the fold?

hopelessly lost

Introductions

1

05-27-2007

06:56 AM