Join Date: Jan 2009
Posts: 52
dual sport day trip
---
So I went out today with a buddy of mine who has a drz400 supermoto, not the nicest day it was 37F when i left and the highest temp I saw all day was 40 but we rode about 140-150 miles we started on some back roads and dirt roads, eventually we went out to the state land the klr didn't want to get through the ditch to get to some cool looking riding spots but i guess thats ok there will be plenty more attempts but we got my bike buried trying, and the supermotard is now the supermudtard because it schooled the klr and made it over, not gracefully, but he made it. eventually we took some trails that were legal and that was a good time, lots of snow though a few spots where it was a good 100 yards of 6 inch snow and some spots of pure ice across the whole trail but made it through that, stopped for some food, headed towards home and took a few more dirt/seasonal roads all in all pretty good time getting dirty with the klr hopefully some new tires and nicer weather and ill get to try again....
state land
jimmy and his drz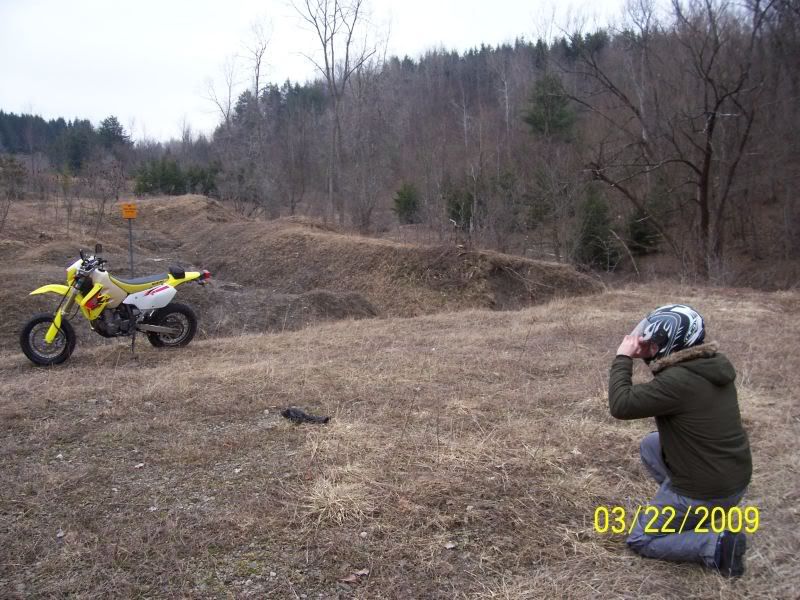 snow trails, we stopped here because around that bend behind us was a long, long sheet of ice and snow across the hole trail for a hundred yards or so that was pretty nerve racking.
stopped for burgers
klr buried
Looks fun. I believe you got stuck. I don't believe your buddy didn't end up on his ass.
Rocket.
---
"In a car you're always in a compartment, and because you're used to it you don't realize that through that car window everything you see is just more TV." R. Pirsig
PPMC #1.
Soon, we ride.
AKA JD Mader or you can call me "Dan" just not early for dinner.
Click my handle for a link to my homepage/blog...which has nothing to do with MCs. Free literature and music! Viva La Revolucion!
-------------------
2008 KLR 650
RIP DM - Soon, we ride.
Join Date: Jan 2009
Posts: 52
yeah like i said he made it but not gracefully, he slid out going up the other side but pulled it back up, there's a set of Avon tires on his bike now that are dual sportyish i guess i have a beat set of duro trails. plus hes like 6'5" 230lbs so he can throw the drz around a little better than i can the klr but im looking to get some k270's and go back out hopefully it'll be a little dryer little less soupy mud.... but either way good times
1st Gear
Join Date: Mar 2009
Location: Canmore AB
Posts: 27
vvery cool, and nice pics. What current treads you running on the klr?
---
Curiosity rests on the seat of a KilLeR.
Join Date: Jan 2009
Posts: 52
duro trails, they are pretty worn though, i picked up a set of kenda k270's to put on this weekend though. i believe he has avon distanzia's on the drz
Join Date: Jun 2009
Posts: 6
dual sport day trip
---
Just my prediction, -- within two years all dual-sport rides will be GPS only. The safest way to ride.
1st Gear
Join Date: Mar 2009
Location: Canmore AB
Posts: 27
Bah GPS is nice but it doesnt always work. Electronic are faulty by design. I'd use your nose and remember the ground. Landmarks are the best PGPS. Personal global positioning system you can always count on it.
A good set of tires and a little food, shelter and you balls are the only way to ride.
---
Curiosity rests on the seat of a KilLeR.