Flaming Gorge Ride Part 1 West Shore
---
Flaming Gorge Ride Part 1 West Shore
Today was a beautiful Hump Day my fellow riders! I purchased my KLR a few weeks ago and have been relegated to seeing it sit unused while Mother Nature pours rain on my parade! Well I woke up this morning to a beautiful sunny day and the plan that had been forming in my head since the day I brought my bike home was in action!
The beauty of owning a dual sport or any motorcycle is simple. Even in the economic trials most of us are experiencing $10.00 in fuel, a Camelbak full of water, a couple Turkey Sandwich's combined with a few odd snacks from the pantry and you can have a fun filled day with very little out of pocket expense.
I love short trips, although I have traveled to 38 countries and all 50 states I still get a rush out of seeing the wonders in my own back yard. The strange thing is most "locals" get desensitized to their surroundings and find it hard to take pleasure in what is close and instead focus on exotic destinations.
Today I took Hwy 530 out of Green River, Wyoming south travelling along the west shore of Flaming Gorge. Flaming Gorge Reservoir came to fruition in 1956 when the Army Corp of Engineers started construction of the Arch Dam stemming the flow of the Green River. "The Gorge" as we locals call it has an interesting and colorful history. Expedition Island is a park in Green River, Wyoming that marks the area where Major John Wesley Powell started an expedition down the Green River and Colorado River in 1871. The park is also believed to mark where Major Powell started a similar expedition down the two rivers in 1869.
These two expeditions are generally considered to have covered the last, large land area in the continental United States left unexplored by European-Americans.
The Gorge is also known as a "national fishing hotspot". It contains a ample amount of record breaking Mackinaw lake trout, rainbows and browns that can be fished all year around. World class Kokanee Salmon fishing is seasonal and some of the best on the planet. Top that off with a vast amount of Small Mouth Bass and the lake provides it all! OK what about us more civilized fisherman? Well the upper section of the Green River is frequented by yours truly where a bead head pheasant tail, Griffiths gnat and a selection of wooly buggers have never done me wrong. The tail waters coming out of the dam is widely accepted as a blue water fishery and is home to over a dozen guide services operating year round.
**A note on the fishing license, A Wyoming or Utah License combined with a special use stamp is accepted on the entire lake.**
Hold on! I am getting to the pictures I promise just reign those horses in a little, Don't you want to know where to find this gem?
OK maybe one of my most precious fishing partner and her catch of the day (Last Summer)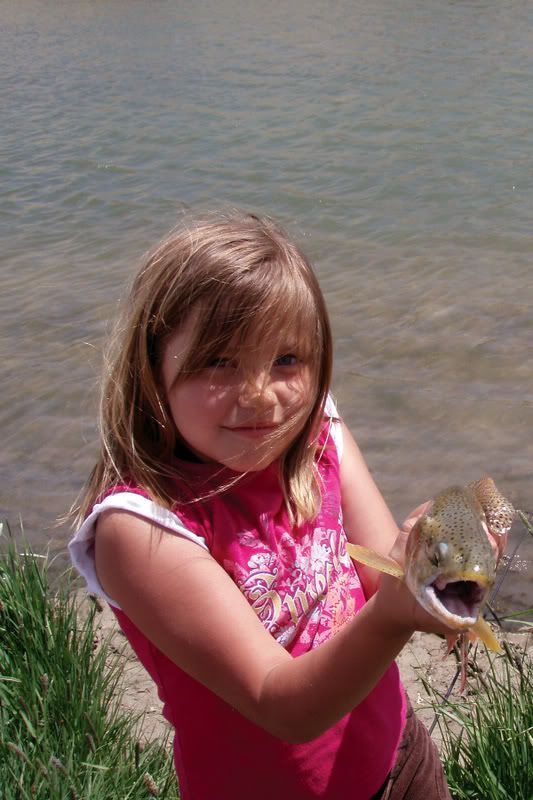 Flaming Gorge reservoir is located in South Western, Wyoming and North Eastern , Utah with the vast majority of the lake in Wyoming. The Gorge is rather unique as it starts in the High Desert of Wyoming dominated by sheer red cliffs and sage flats ending on the doorstep of the Ashley National Forest part of the Wasatch Mountain Range. A 160 mile loop that begins in either Rock Springs or Green River, Wyoming encompasses the entire Lake. For this ride we will take the west to east section. From I80 in Green River take WY HWY 530 South to Utah 44 if you have your map handy you can follow the sites along the way!
OK here are the Pictures..
First we will get the glamour shots out of the way.
My ride. '09 KLR 650 with exactly 172 miles on it after this trip!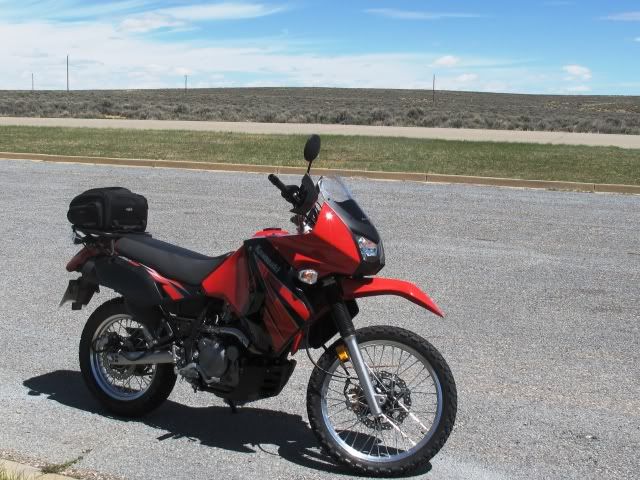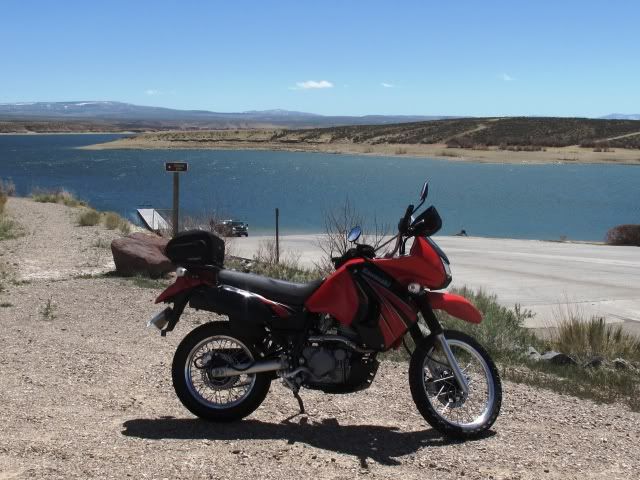 I chose red because we all know the red ones are the fastest! Honestly I have wanted a dual sport for longer than I can remember. I made my choice based largely on the info gathered from all of you while lurking around the boards for awhile. Given the cost of the bike vs. the value I am very happy with my choice.
Buckboard Marina
Most of the boats are still mothballed as the ice has only relented in the last 3 weeks.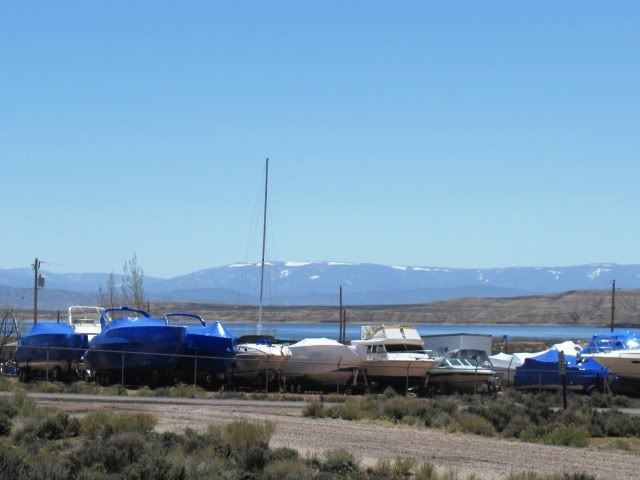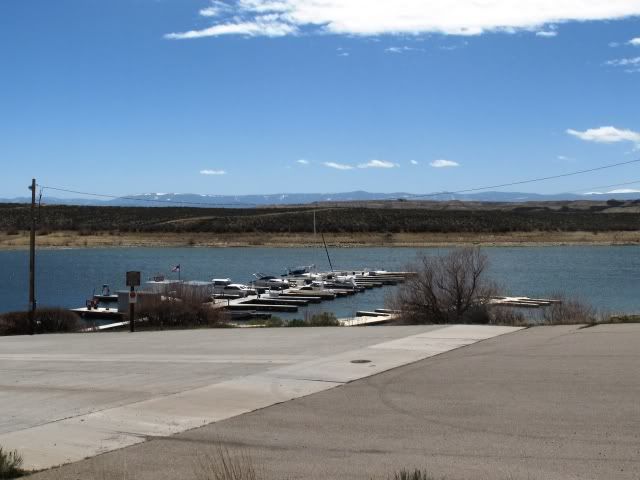 One of the reasons The Gorge is such a fishing hotspot is its numerous coves and canyons. When the wind blows as it always does! These protected coves give the fish a place to hide without diving to the depths of the dinner table of the huge Mac's that are not uncommonly caught at 20-30 lbs!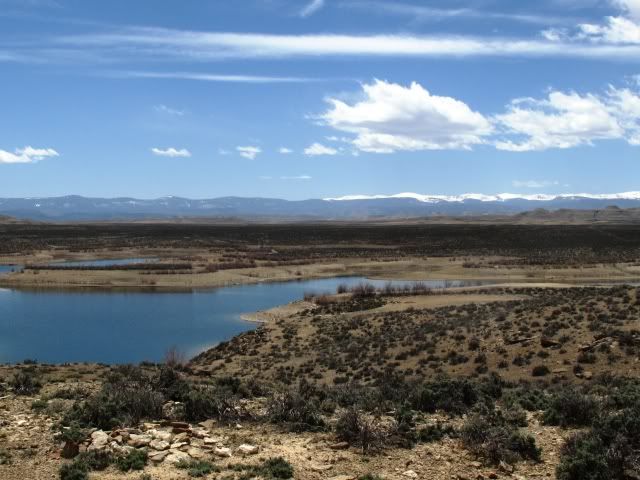 Homers Crossing Marina Campground & Boat Ramp
On the west shore of the lake are 3 established marinas and numerous camp grounds.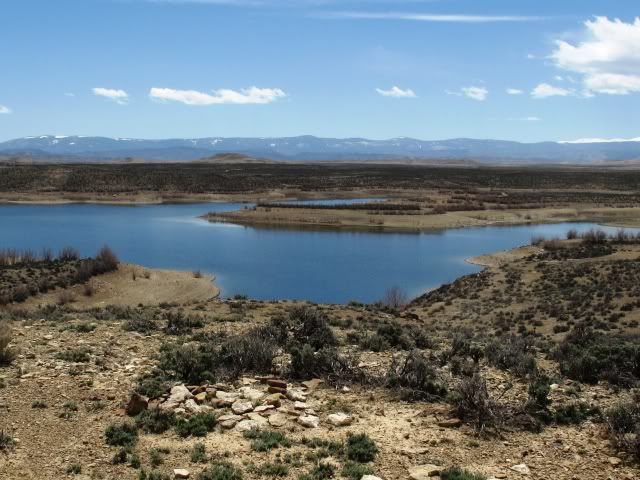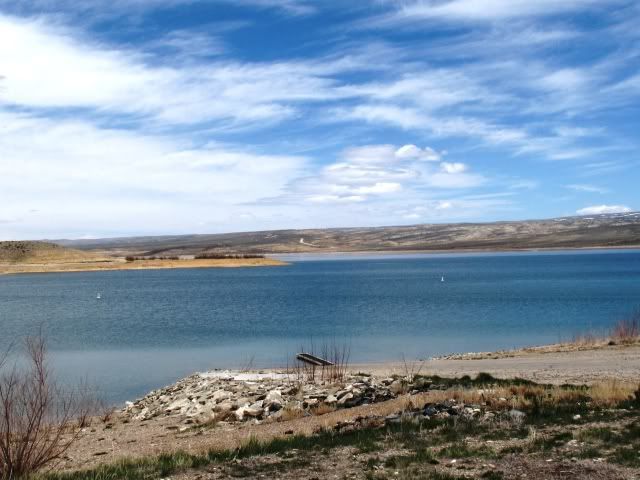 Anvil Draw Boat Launch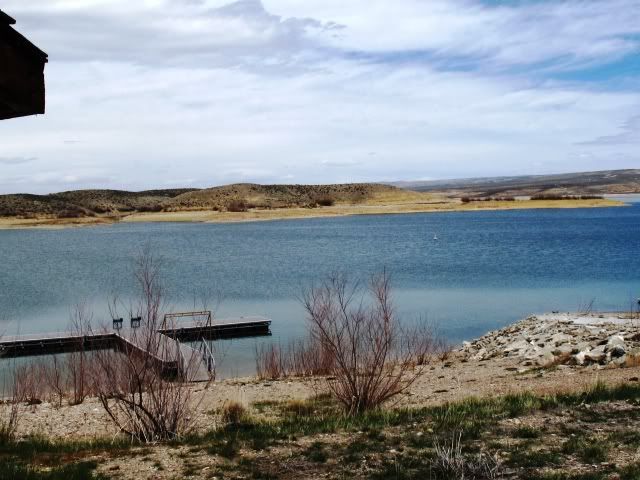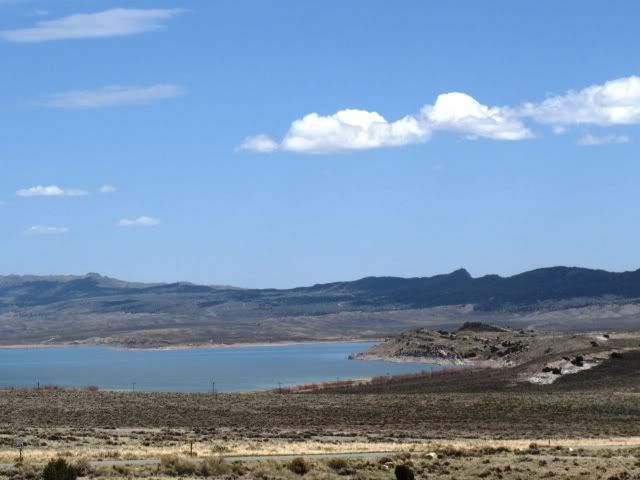 Lucerne Valley Marina & Campground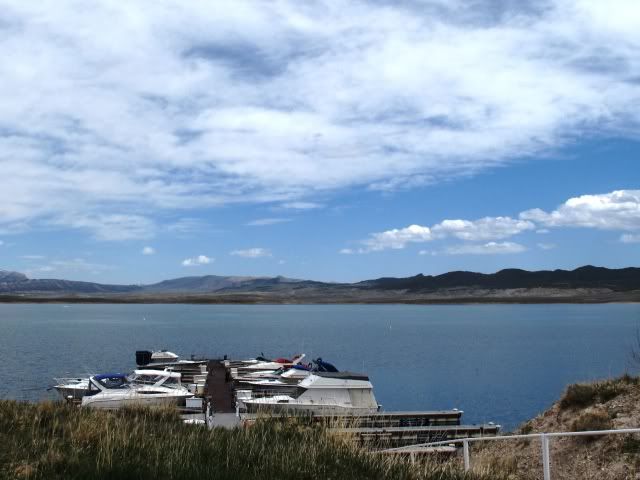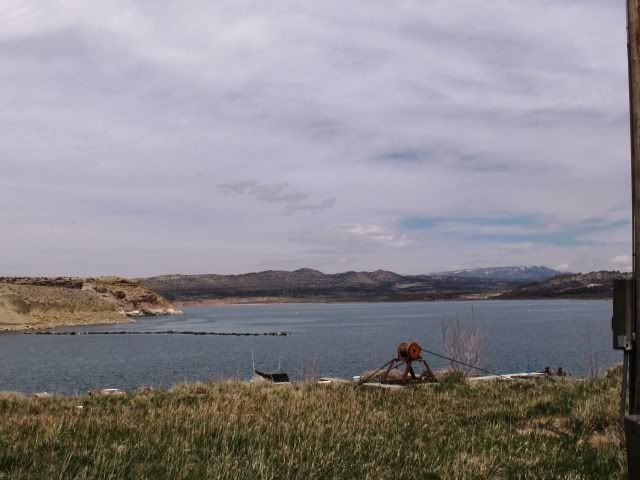 Lucerne Valley
An interesting tidbit regarding Lucerne Valley. During the creation of the Reservoir there was a town named Lucerne that was intentionally flooded to make way for the reservoir. The residents were relocated farther inland to what is now called Manila, Utah.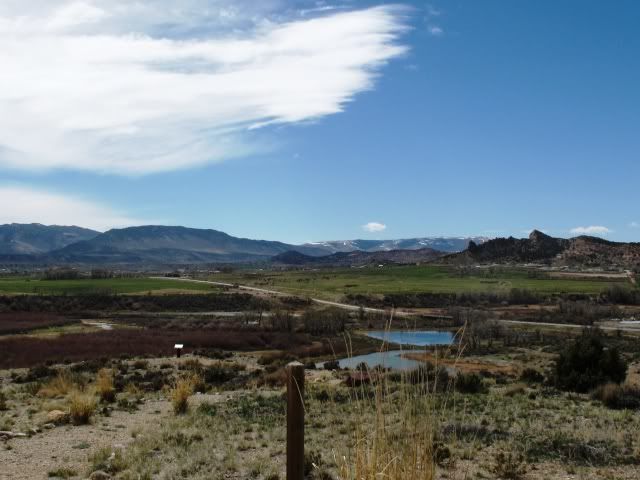 The mountains in the background are the northern edge of the Ashley National Forest. I will cover more of this area in part 2.
The Devils Backbone
One of the most intriguing geological formations I have ever seen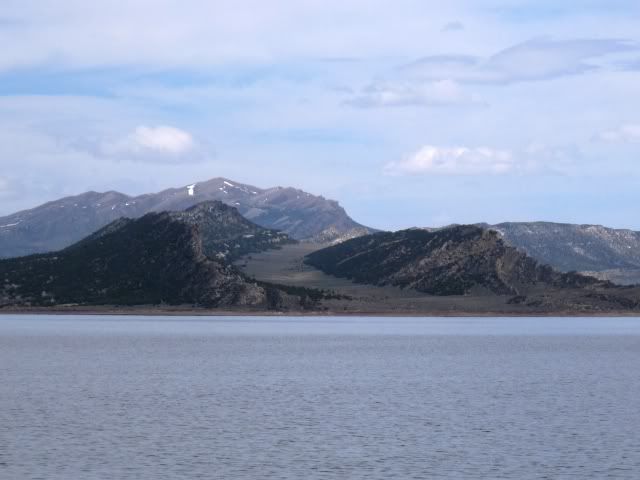 Another picture I took in November 2008 (with a REAL camera)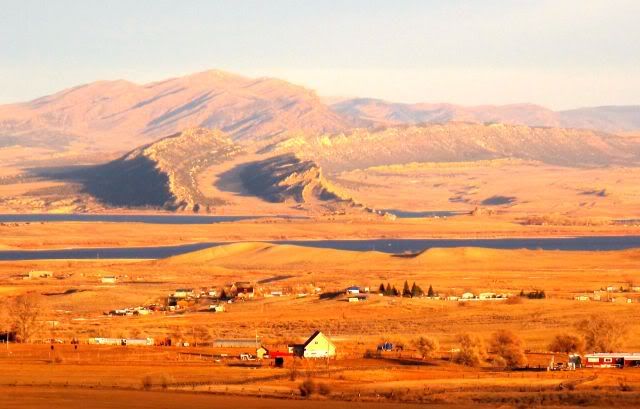 Swim Beach – In the back ground you can see the backbone giving you a perspective of how large this thing really is!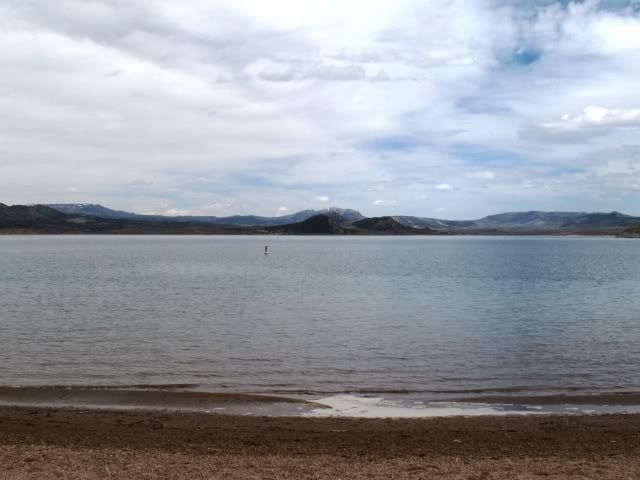 In total this trip took me about 4 hours and I only covered 47 miles of the 160. Riding conditions were great until my ride home where I experienced 50MPH winds with gusts up to 65MPH. Talk about riding sideways! It's all part of the Adventure and I wouldn't change a thing!
So.. do I have you intrigued? Are you ready to get out and ride yet?
Well here are a few parting teaser pictures of the southern end that you can read about in Part 2!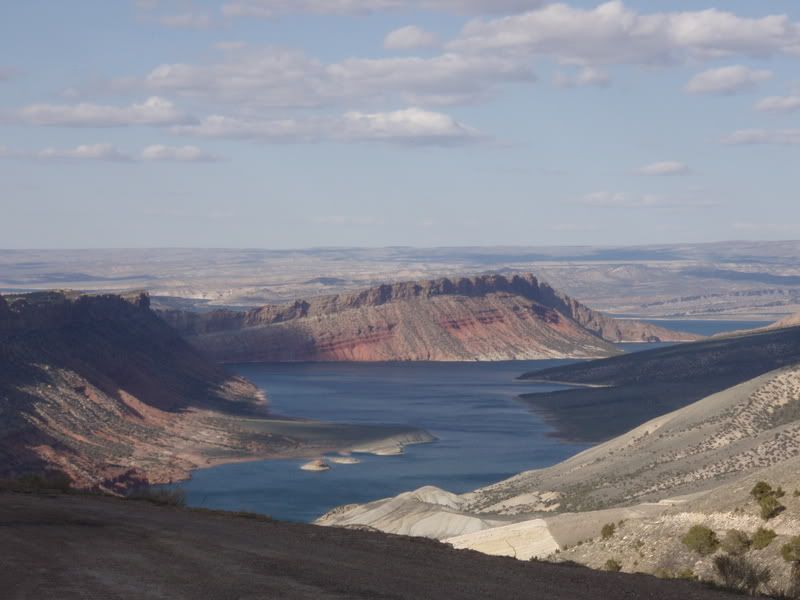 Nice report, and great pictures!

MB4
---
PPMC # 3

Yo! To the brothers.

RIP Darin, Ben, Carey


"I am the muffin man"
Another couple ,my wife and I rode through there two years ago.
Thanks bringing back those memories
---
08 Blue KLR 650
05 Yamaha FJR 1300
86 Honda Fourtrax 250R
87 Suzuki 500 LT
07 Honda Ridgeline

IBA# 25898
Thank ya Gents,

Any plans on coming out this way again? I would enjoy riding with you.