OverDrive
Join Date: Nov 2009
Location: Lander, Wyoming
Posts: 6,195
Quote:
Experiment:
[/url
I do not see any pic.
But in this quoted pre-view I can read an [img] address. But if I copy & paste that address I get a BIG WARNING!
---
pdwestman
Modify at "YOUR OWN RISK"!

Still riding my 1987 KL650-A1. 85,000+ miles & counting
5th Gear
Join Date: Jan 2011
Posts: 4,578
Post should read, "
FAILED
experiment!"
I tried to cobble an image code from the "invisible" images post above into the Photobucket format, in hope of unleashing an image. Didn't work!
EDIT: Thanks, campfire; stunning images now visible. Whatever you did, it WORKS!
---
"You better put down that gun. You got two ways to go, put it down or use it. Even if you tie me, you're gonna be dead." "John Russell" (Paul Newman), Hombre
---
Last edited by Damocles; 02-28-2020 at

08:34 PM

.
Quote:
That seems like a lot of extra work. But it does make a nice posting.

You currently have 6 pics open again in the 1st posting.
Thanks Paul, I did go back and re-installed the links for the pictures, and hope it works this time.
---
Confidence is the feeling you have before you fully understand the situation."

Jeff in Napa California
Back story to the old road
---
So way back when, we spent a lot of time at, and on, Lake Berryessa. Very rarely did we ever drive to the north end of the lake, but we did putt up here in the boat once in a while. I can remember seeing the ranches on the east side of the lake, and a road.
Asked my dad a couple of times how you got over there?
It was then that he told me that there used to be a town here before they built the lake. Now to a seven or eight year old, building a lake was a BIG deal. How on earth do you build a lake?
I always enjoyed the lake, especially in my teens (and High School cut days) but being the history buff that I've always been, I thought it was sad. Not sure at what age that I realized that they had flooded an entire valley, and destroyed a town to make that lake.
https://en.wikipedia.org/wiki/Monticello,_California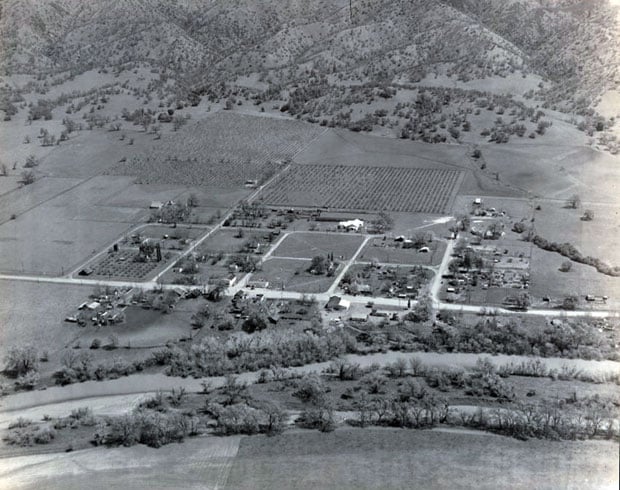 And somewhere in those early years, dear old dad told me that there was another town on up the road called Knoxville. "But it's a ghost town now, used to be a gold mine up there."
Ghost town? Gold mine?
Guess who bugged dad to no end to take him up there.
So to appease the "Dad, dad, dad, dad..." we set off one Saturday to go see what we could find.
AND, dad packed along the old .22 pistol.
I'm sure I probably popped off that night with "This was the best day of my life Dad!" what with looking for a ghost town and a gold mine. Neither of which we ever found, but we did find an old panel truck we could shoot at.
Now once you get passed the north end of the lake, the road gets really narrow, and has those cool water crossings.
Then sometime in the 70's we discovered BLM land up there that was designated a "off road vehicle area". And it was a safe place to go target shooting. One of the trips up there later, when I was around thirteen or so, he let me drive our old Datsun truck. Another "Best day of my life" moment.
AND... They found gold again! They opened up the Homestake Mining Company nearby and the area was booming again.
https://visitredwoodcoast.com/conten...575986FFE79F2E
But as with any gold mine, like the first one up there, it ran out. And when they close down a mine now, they start to erase it for environmental purposes. Buildings, GONE, pits, filled in, collection ponds are treated over & over. All that's left is a lot of land where stuff used to be.
Behind locked gates.
So of course when my son was old enough to learn to shoot, we took off for Knoxville with the same old Ruger 22, and spent the day roaming the hills in the truck looking for that fabled gold mine that they might have overlooked, and shooting bricks of 22. And of course, I took him to the old panel van for target practice.
So now when I cruise the area on the bike, it's a real sentimental ride with lots of great memories.
And that old panel van? That was used by who knows how many of hundred target shooters?
Yep, still there.
Sort of.
Thanks for coming along for the ride down memory lane.
---
Confidence is the feeling you have before you fully understand the situation."

Jeff in Napa California
---
Last edited by campfire; 03-07-2020 at

08:52 PM

.
1st Gear
Join Date: Apr 2007
Location: Sacto
Posts: 55
Brother Jeff - You are invited to post ride reports like this any day of the week.

Thanks for sharing the pics and historical summary for that area - neat stuff!
5th Gear
Join Date: Jan 2011
Posts: 4,578
Thanks for sharing, campfire!

I believe you're entitled to sing the song:

"Hey, omma the most happy fella
In the whole Napa Valley, . . ."

(From the Broadway musical.)

Your personal experiences, lyrical images, and historical background comprise the best qualities of an interesting and informative ride report.

Ride on!
---
"You better put down that gun. You got two ways to go, put it down or use it. Even if you tie me, you're gonna be dead." "John Russell" (Paul Newman), Hombre