2nd Gear
Join Date: Dec 2009
Location: Sacramento
Posts: 182
Death valley Trip Report
---
First time riding in Death Valley (DV). DV exceeded all expectations, a true training ground...You want rocks of all sizes, dirt, mud, snow, ice, sand, deep sand, deeper sand, silt, bedrock, pavement, goat trails, desolation, isolation, adventure.....I got all this my FIRST DAY IN DV. I'm a poor photographer...but here you go anyway (cut and pasted from the main forum I frequent).
3 Full days in Death Valley (DV). Always wanted to ride DV, finally got the chance last weekend. Pictures don't do DV justice, and I'm a poor photographer. Also, hard to get off and take pictures when your having that much fun. With that said, I tried to get some good ones.
We left Thursday night from Sacramento after work. 3 people, 2 bikes, 1 questionable trailer. On the road at 7pm, long story short: We rolled into a small desert campsite 15 miles west of Eureka Dunes, DV around 3am Friday morning. Made a fire, drank a beer, went to bed. Slept 4 hours, woke up to nothing but an isolated rugged valley that stretched as far as the eye could see. Quick breakfast, on the bikes by 9am.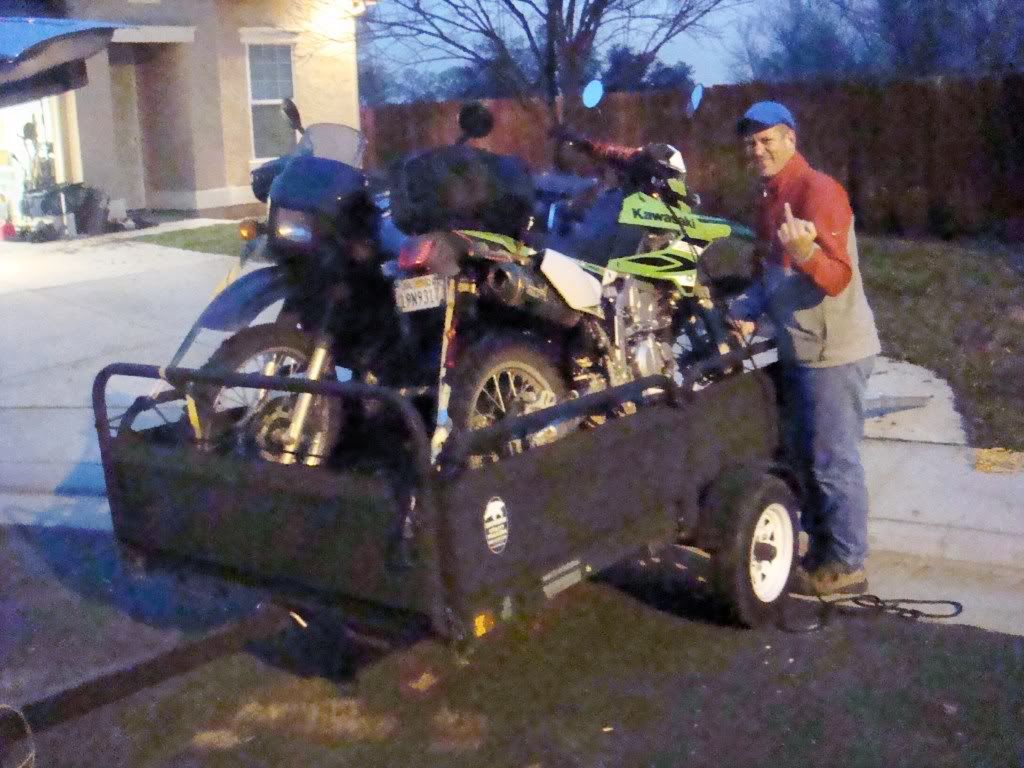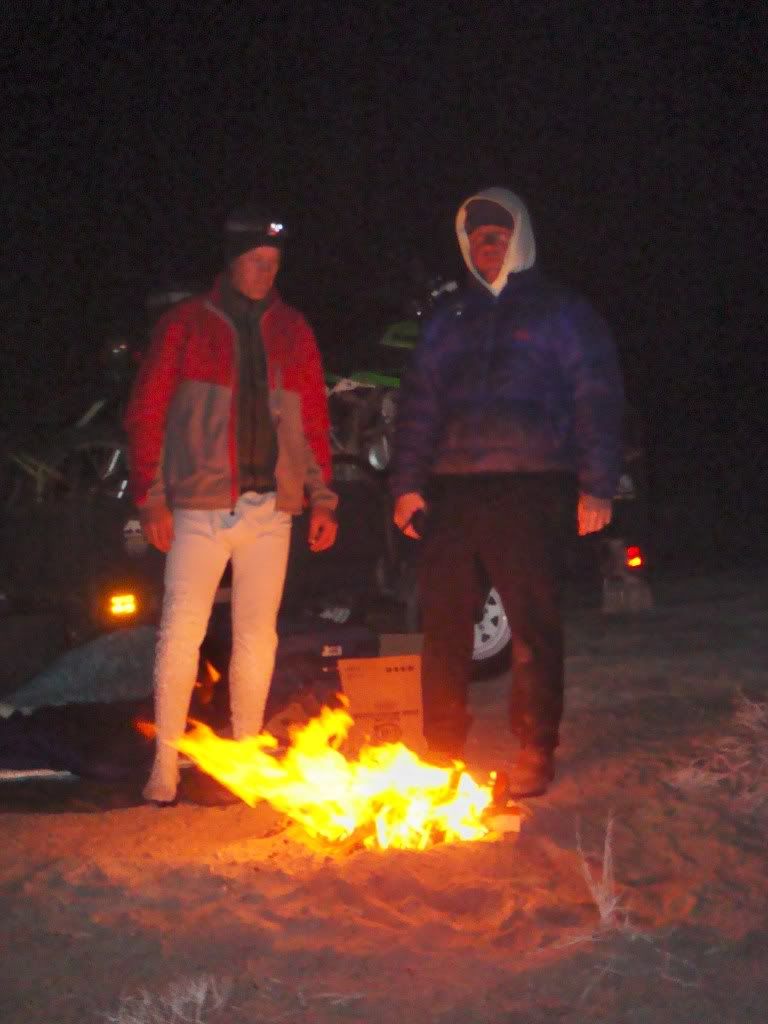 View from the campsite: Eureka Dunes way off in the distance (about 20 miles):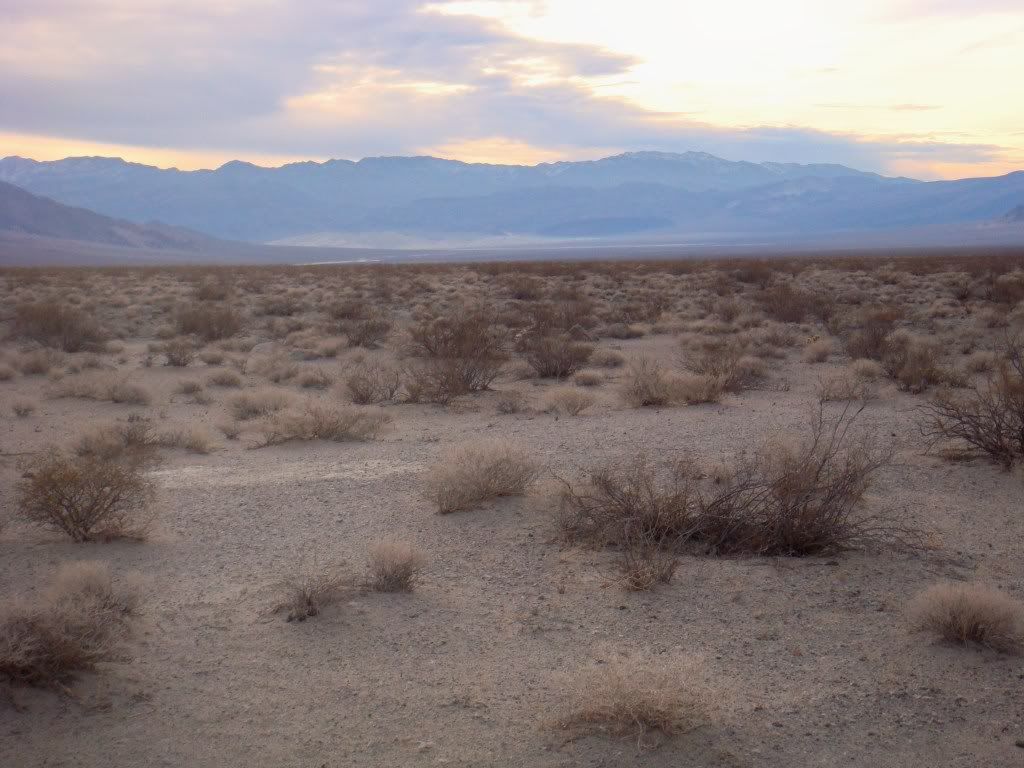 The plan was to do easy dirt roads to worthy sightseeing locations. I wanted to go up through Hanging Canyon to Crankshaft Crossing. From there, if time permitted we could go see Ubehebe Crater. That seemed doable even for 2-up. I had been told to stay off the mountain passes 2up unless my "girlfriend is badass and you are Dakar material," since I'm not Dakar material, we wanted something mellow....ease us into DV. Started off with a basic dirt road heading east towards the dunes. It took a couple minutes to get used to the front tire floating around, but after the initial adjustment, it felt good. We immediately missed the first left hand turn. I was a little surprised, there were a ton of roads going everywhere (but not on my map), but no signs. I guessed, we took a road that was routed towards the dunes, i kept waiting for an obvious left hand turn towards Hanging Canyon, while riding towards the dunes. Some pictures of the dunes.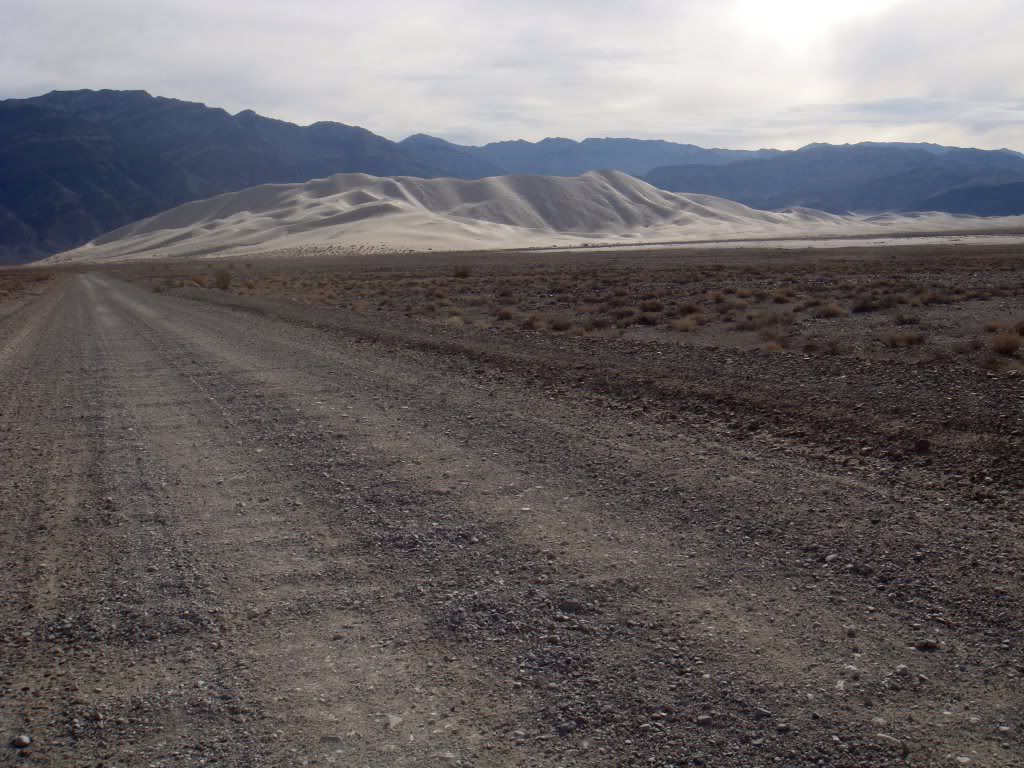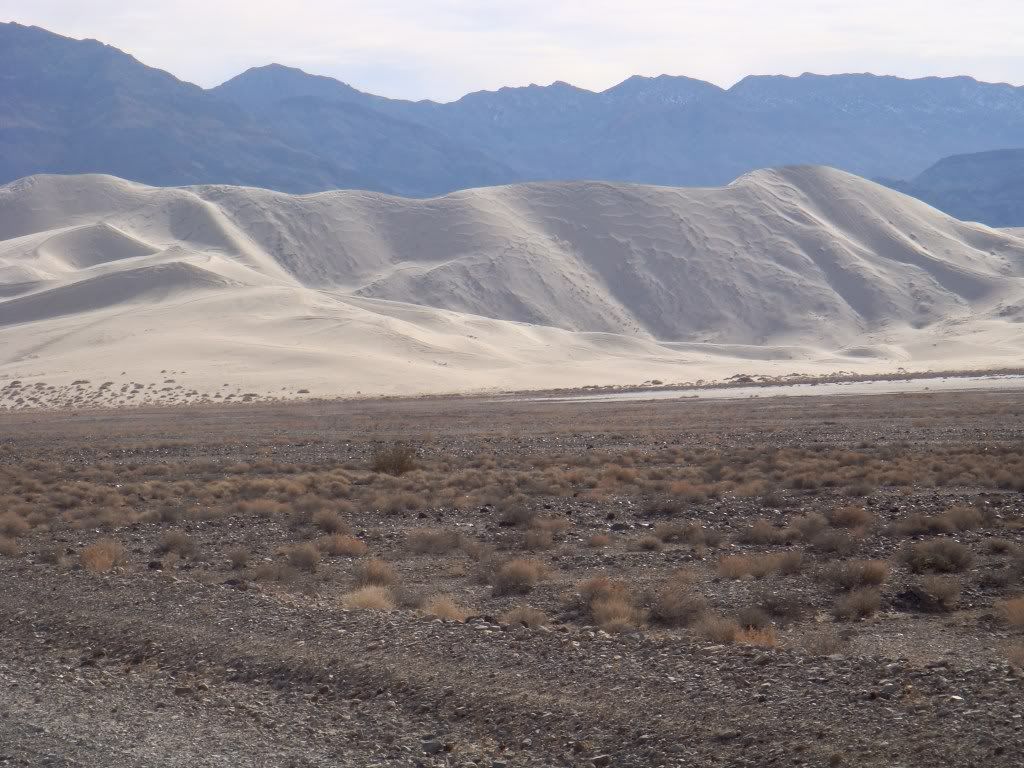 We took a short break at the dunes...quite spectacular. We continued, our trail was routed clockwise around the dunes, we immmediately hit deep sand like I had never seen or ridden in. Wrenching it out in 2nd gear, fish tailing all over, gf in shock but having fun.....this is what we came for. Once, the bike sunk to the swingarm....we endured and ended up at the head of what appeared to be a steep box canyon. Bad picture, but this is the entrance to the canyon.
Coming around the corner, I knew we had screwed up bad....this was Steele Canyon/Pass. Steele is one of the trickier ones I was warned about. Erin and I discussed it, we woud continue, just see a little bit of the canyon until she didn't feel comfortable anymore, then we would turn around. Technical doubletrack and a couple sections of steep rock steps later we had gotten through what looked like the worst of it. Erin ended up getting off once in this tricky section (one of the rock steps). This is looking back after emerging from the tricky part. At this point, it's hard to describe how immense and isolated this mountain pass became. Once again, pictures don't do it justice....here they are anyway.
Emerging from the tricky part, looking back on the exit to the box canyon.
Interesting roadside geology in Steele Canyon.
Note the road in the left hand portion of photo, at this point you are starting to emerge into an open plateau...spectacular.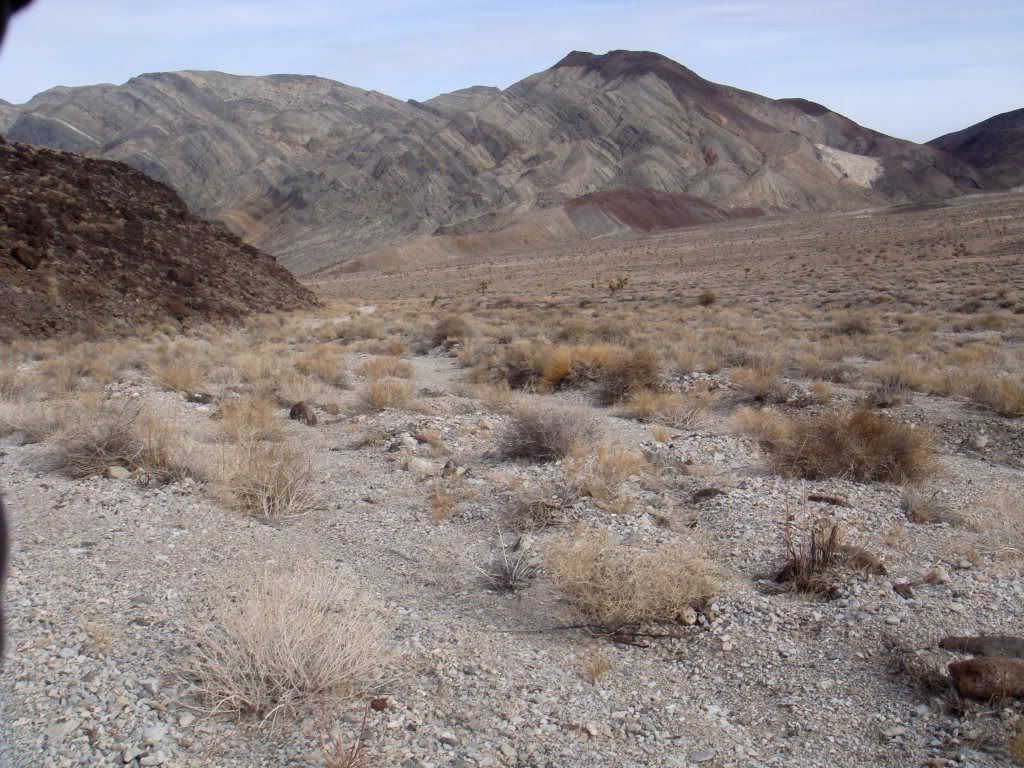 Same perspective but highter up in the canyon...looking down canyon you can see where the last picture was taken....this pic taken almost 5 miles up canyon.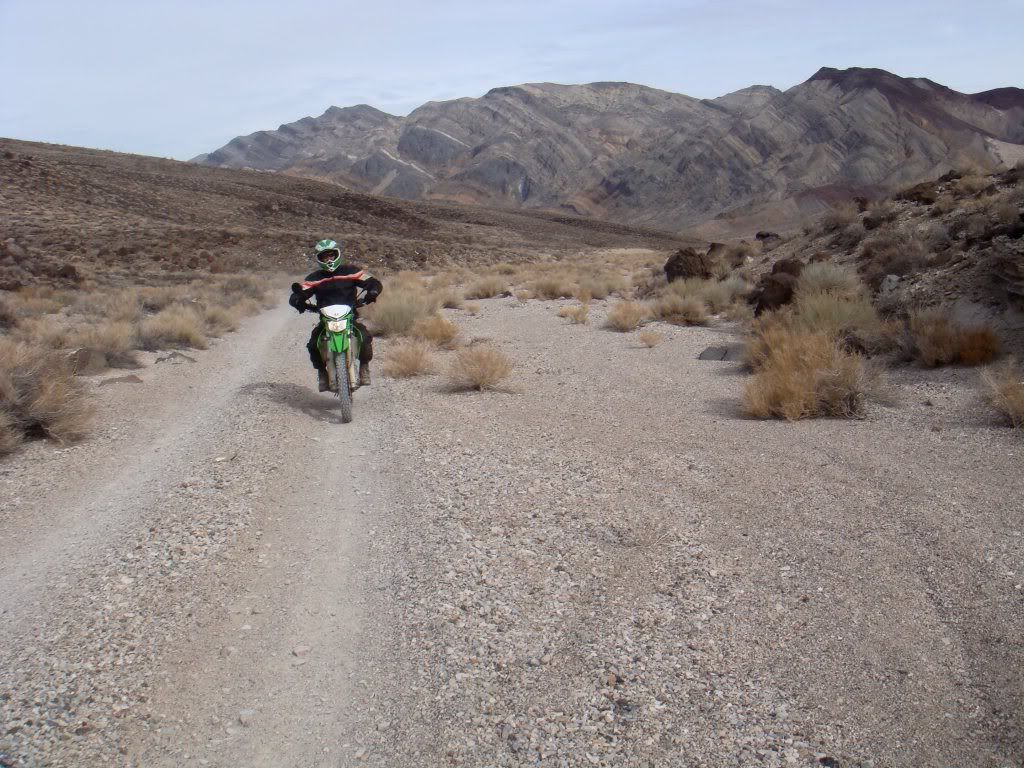 She's a real trooper...here we are enjoy the ride and DV.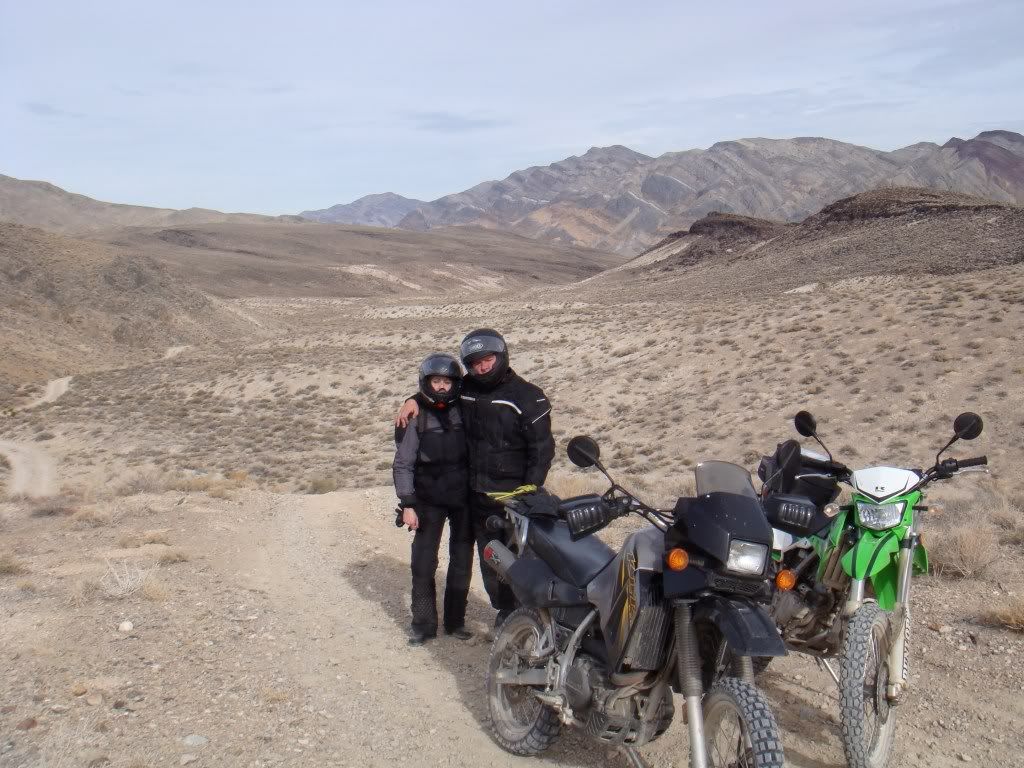 This picture shows almost the entire canyon above the boxed out section. Note the road winding up the left hand portion of the photo. Looking far down canyon you can see where the last two pictures were taken, and where the canyon opens up...almost 10 miles down canyon...what a trail. Where Erin is walking is the second place she had to get off...rocky, steep, loose...but short hill put us at the saddle....we could not locate a marker or summit register....nor the marble bath that I so badly wanted to find. The tricky section (you can't see it, Erin is at the top) looking down canyon...we had come a long way at this point.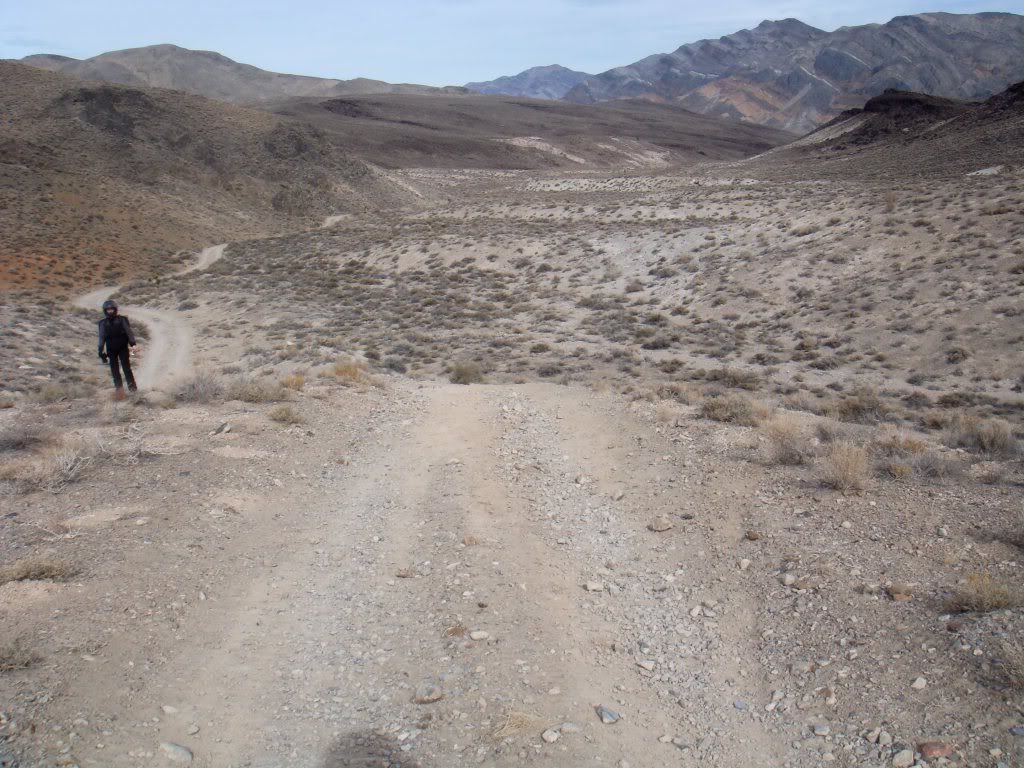 ---
HERE TO RIDE
2nd Gear
Join Date: Dec 2009
Location: Sacramento
Posts: 182
part 2
---
Looking off the saddle the other way into Saline Valley.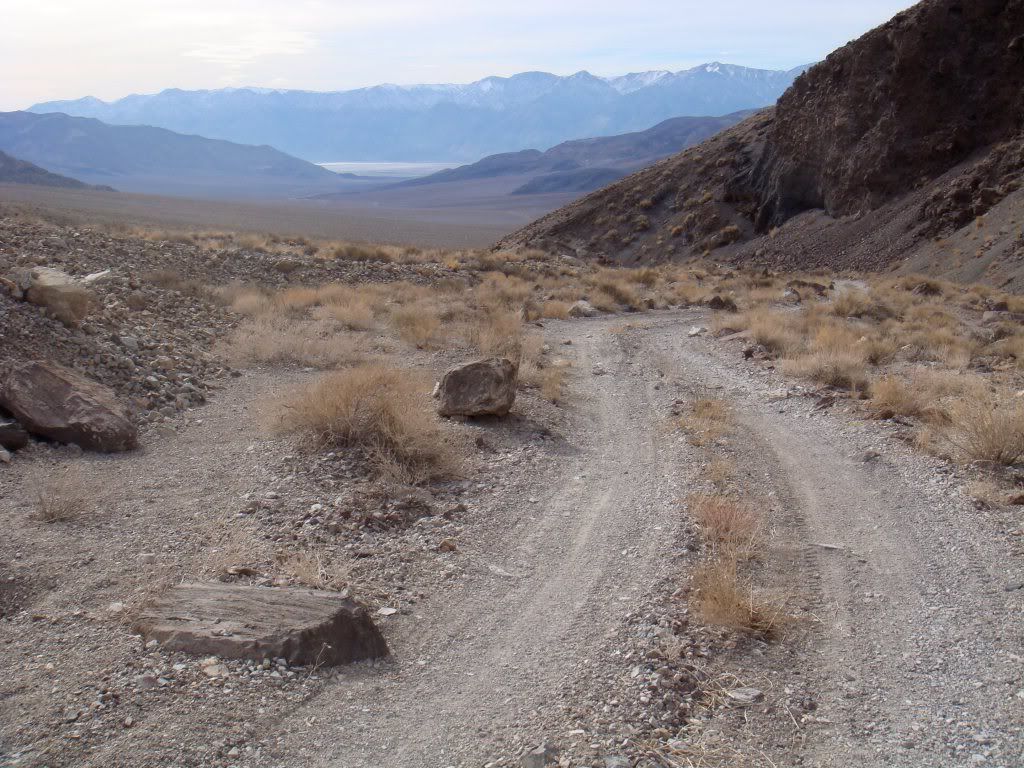 Same picture as the last one only zoomed in so we could see the road. I thought, maybe an hour to get down in there...no problem. Here's the pic.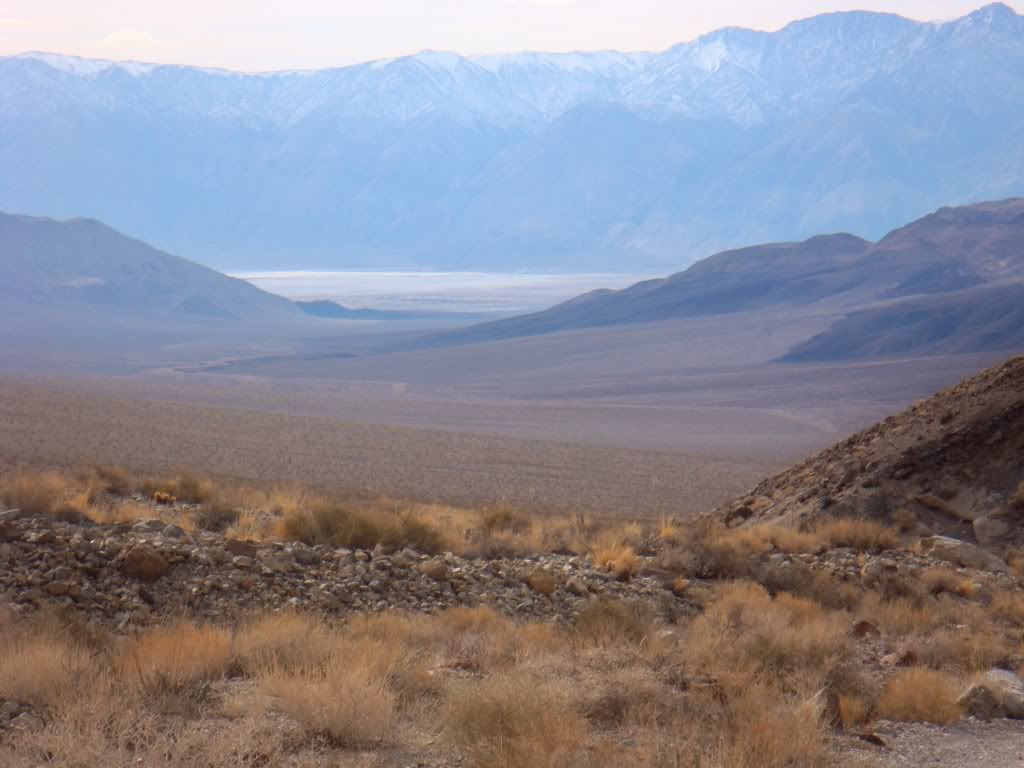 We didn't have time to look for the marble bath...so continued. 20 more miles of down hill loose deep sand, rocks, silt, and technical double track....all super fun. In this section we road down old river washes for miles, across ridges...down down down. Somewhere in there I lost the front end and washed out....punctured my water bottle, lost about a gallon of water down Erin's boot....bummer. We dusted off and caught Bill (he was railing everything) and took a break. We've been riding hard for awhile, Saline Valley still a long ways down. Here are Bill and Erin taking a break...the valley behind them is what we just rode down....
Another one.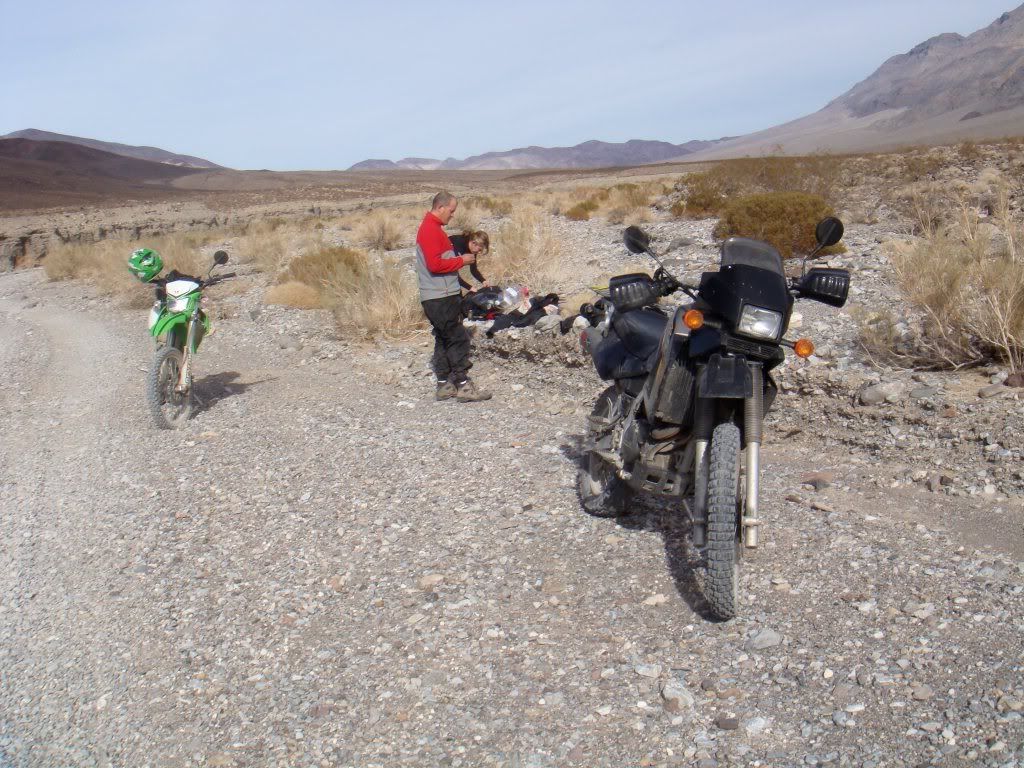 Me looking down into Saline Valley...and enjoying the isolation.
Very little damage.
Bill on the final push to Saline Valley.
We rallied down to the first hot spring at the very edge of the valley. Water was not hot enough to sit in...cool to look though.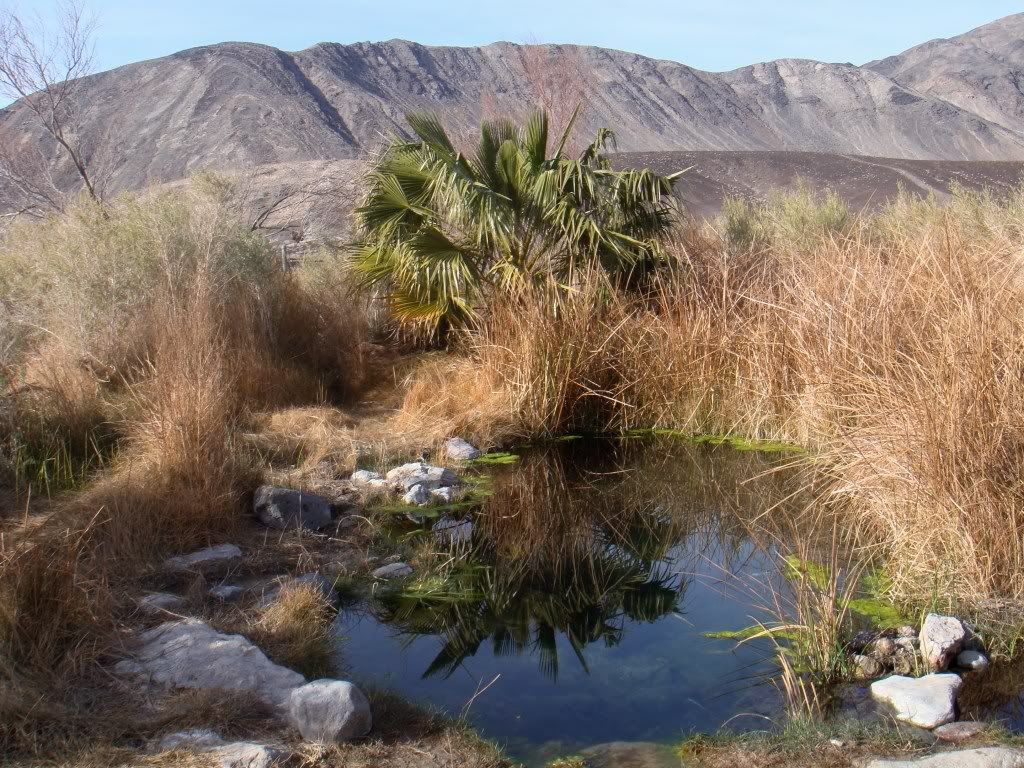 We continued down to the next spring...an oasis in the middle of the desert, very isolated, hard to reach. I was amazed.
Only dual-sport we saw all weekend.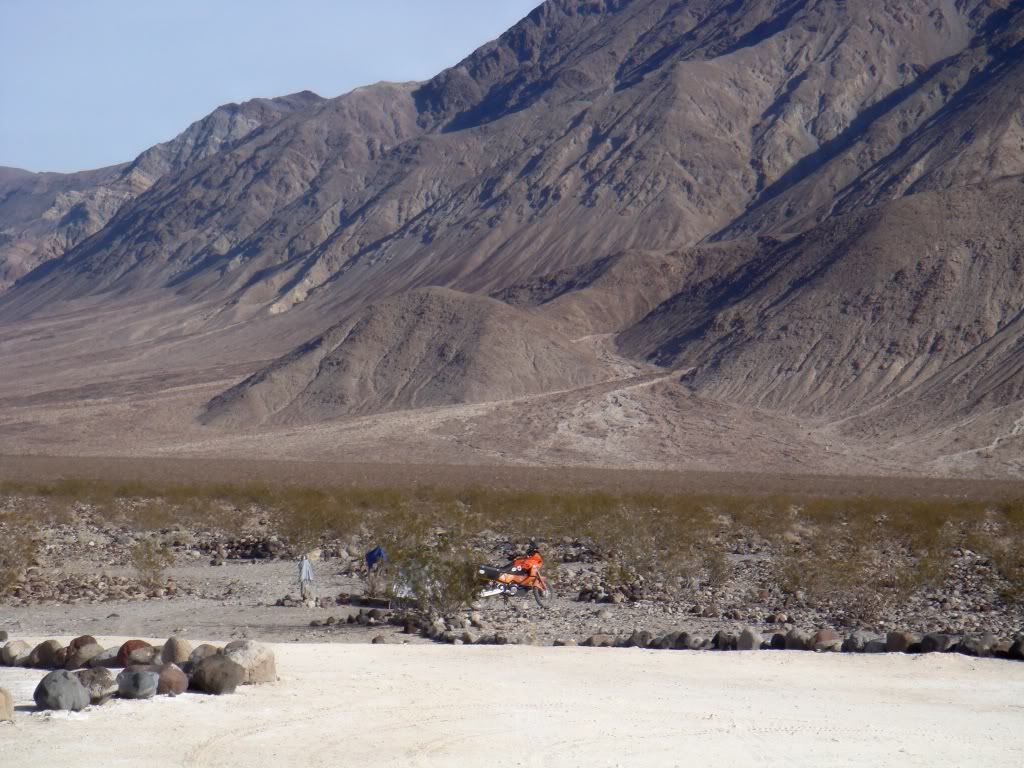 ---
HERE TO RIDE
2nd Gear
Join Date: Dec 2009
Location: Sacramento
Posts: 182
part 3
---
We kept going down to the main area. Worth going back. Next time, this will be my basecamp. I've heard things can get lively out here in the evenings...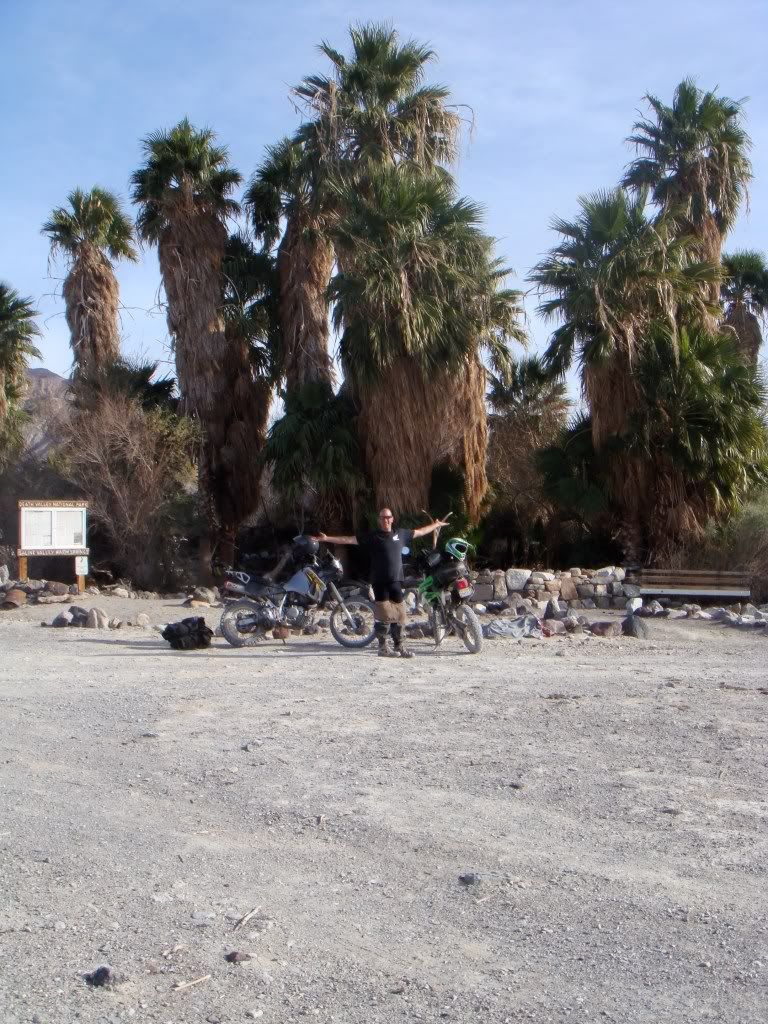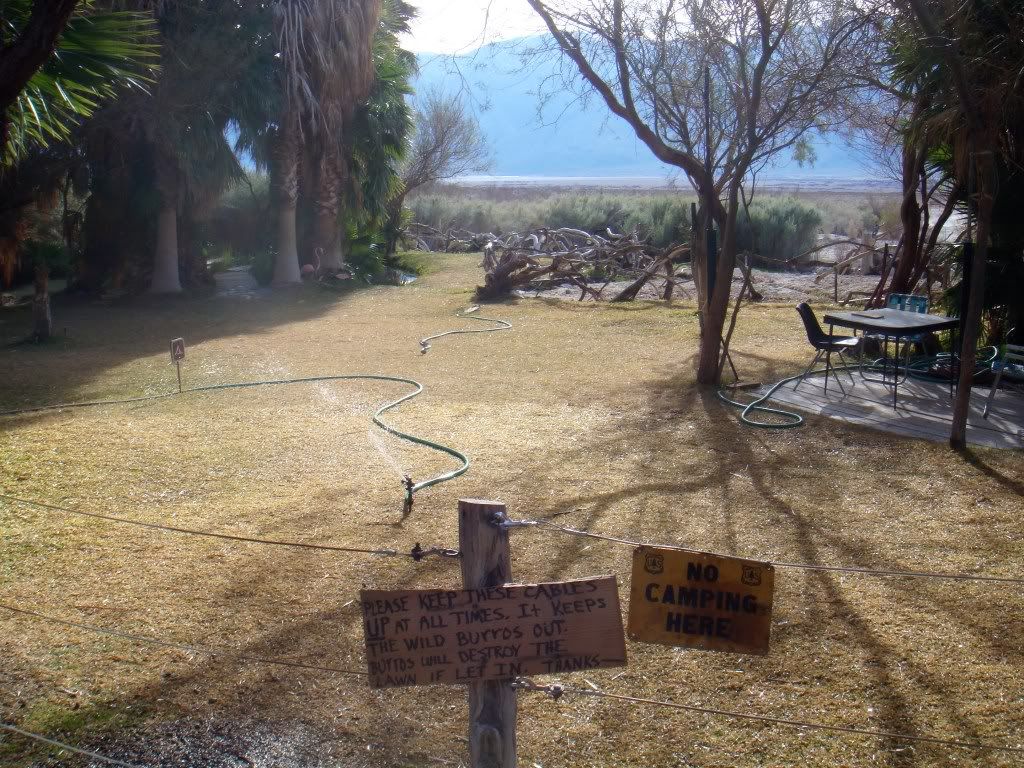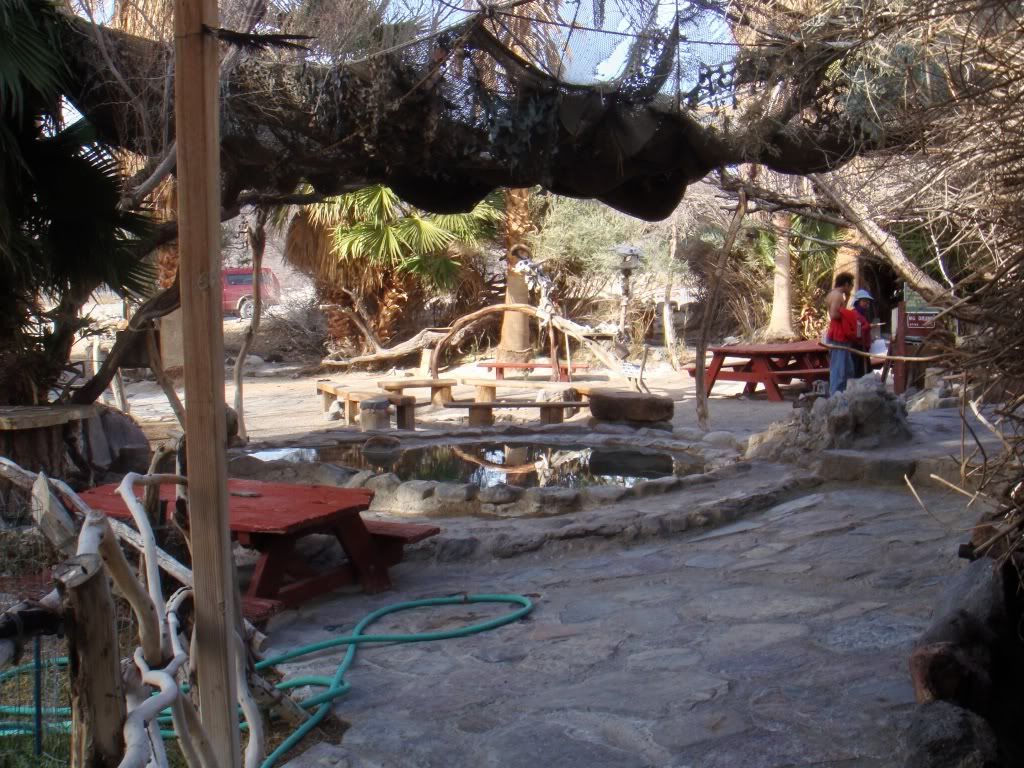 The main area contained a bath, shower, hot tub, grassy area....There was an upper tub we didn't go too, apparently it was the hotter of the two. We wanted to hang out, but didn't want to be out too late. We continued down into the valley towards Saline Valley Road and the end of the Steele Pass experience. Heading towards the other side of the valley.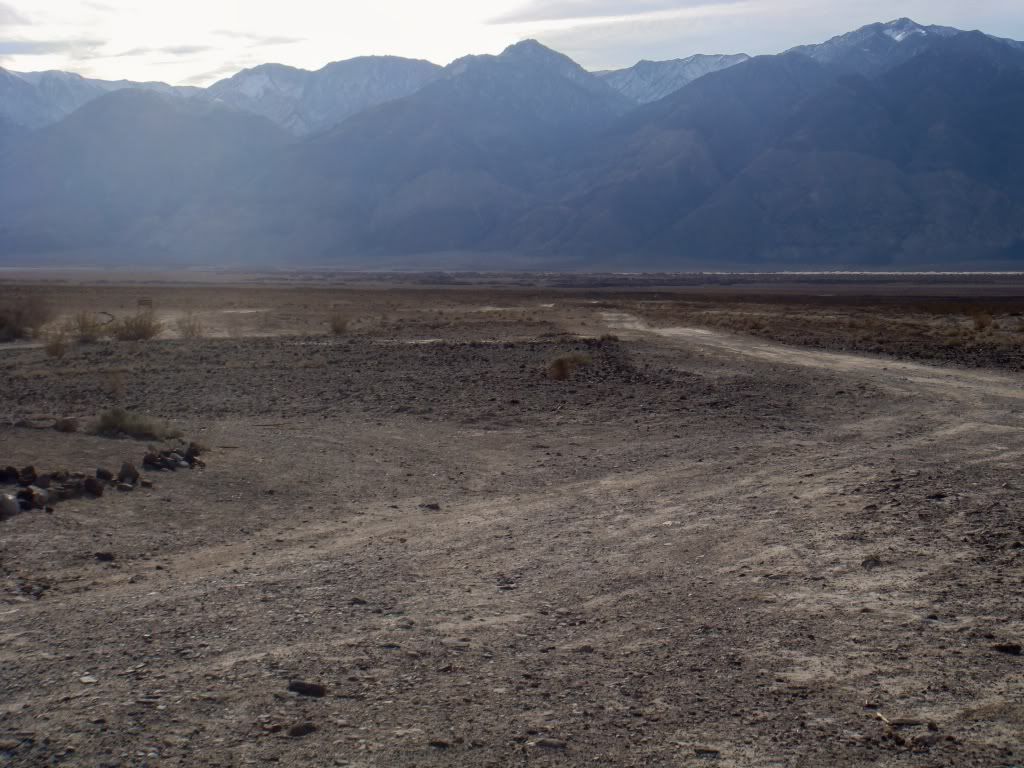 Passed this along the way.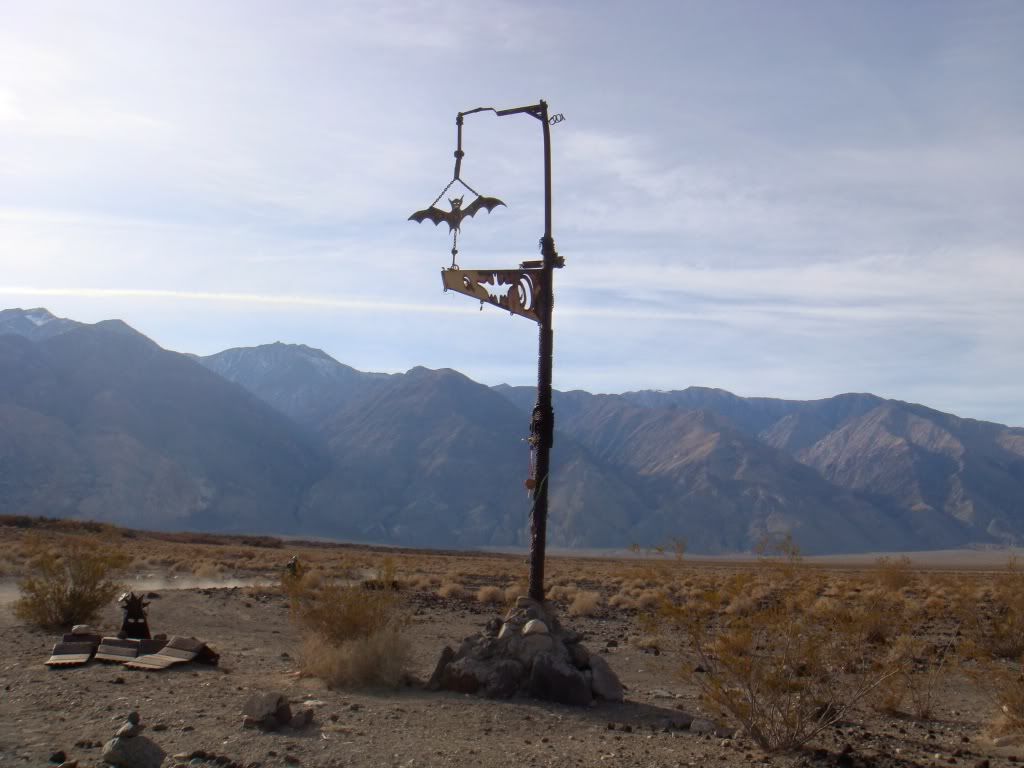 Almost there.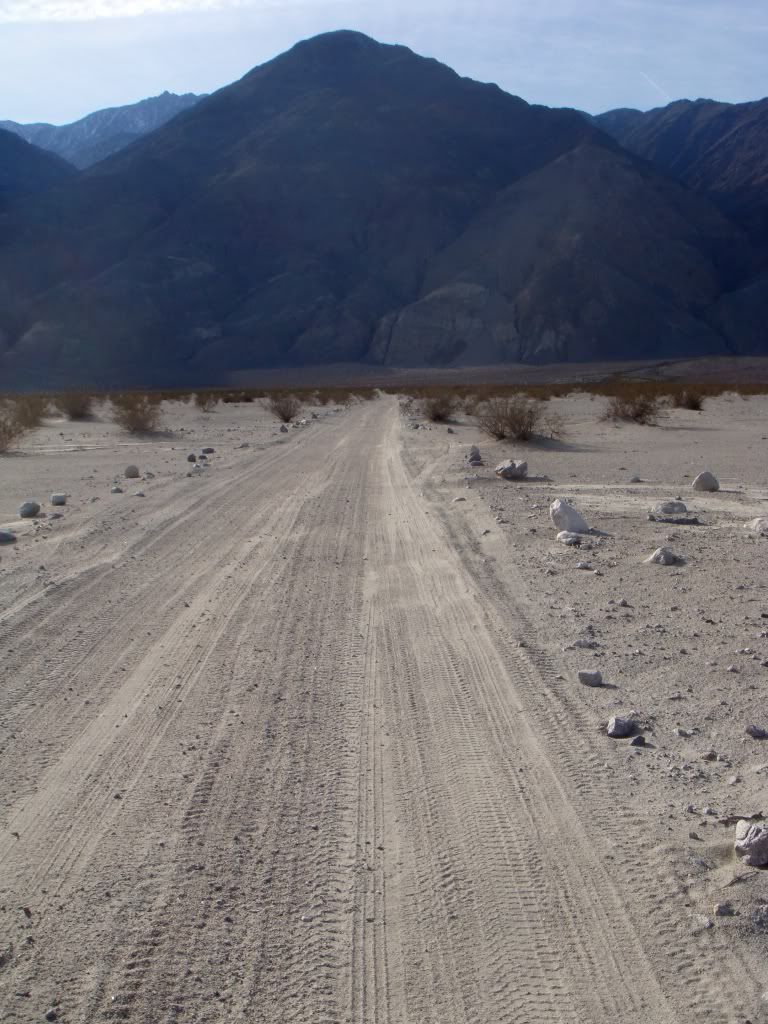 Fun road. White chalky compact dirt, small elevation changes...good times. The turn for the hot springs off Saline Valley was marked with bones....cool.
At this point, we've been at it for 6 hours, total distance 50 miles.
We headed south on Saline Valley Road. Strait for the most part with sections that dropped and twisted down through deep washes....we eventually starting gaining elevation, had fun with 2 creek crossing, then hit snow and ice. It was getting dark, we were riding an unknown road....I knew we were headed in the right direction, just not sure exactly where we were...very adventurous....
. After I made it through the snow/ice I waited for Erin (she walked this part) and got this picture...harder than it looks. Saline Valley in the far distance (background).
Although we were riding an exposed ridge, we could tell the snow would'nt be a problem from here on in...we took a break and got these pics...I think this is the southern part of Racetrack Valley...we are at least 2000 feet above...
Zoomed in.
From here, we dropped down for about 5-6 miles until we hit a sweet paved goat trail....we railed this back to 190. Back through the park on 190 to 395. Just before hitting 395 Bill ran out of gas...we dealt with this and were all in Lone Pine just as the stars were coming out. We filled up and headed the 50 miles to Big Pine. Bill was wasted and cold, he decided to get a room in Big Pine...it was 7pm. Erin and I headed out down 168 to Death Valley Road...37 cold icy miles over the pass back into Eureka Valley and the car - it was 830. That section is best described as cold and sketchy. We packed up and headed into Bishop for Denny's and a hotel room. 85 miles dirt, 135 pavement, almost 10 hrs ride time. Epic.
---
HERE TO RIDE
2nd Gear
Join Date: Dec 2009
Location: Sacramento
Posts: 182
Day 2
---
Day 2:

Considering our first day, we got out of bed late - around 9am. Erin was peeved I got her out of bed after the epic we had yesterday...she cheered up and agreed to ride 2up again that day. We quickly drove into Big Pine to make contact with Bill. Bill was not in a good way. Hurt back, tired, broken...
He refused to ride. This was not acceptable behavior while in DV. Erin hesitantly agreed to go as long as we established a turn around time...which I agreed too. Either way, we were back approximately 7 miles northwest of Eureka Dunes at noon (12 am). We found the left hand turn into Hanging Valley....paved goat trail for 5 miles through a desert canyon, this turned to dirt, went up over a pass on good easy dirt road...we made good time to the summit and took a break there.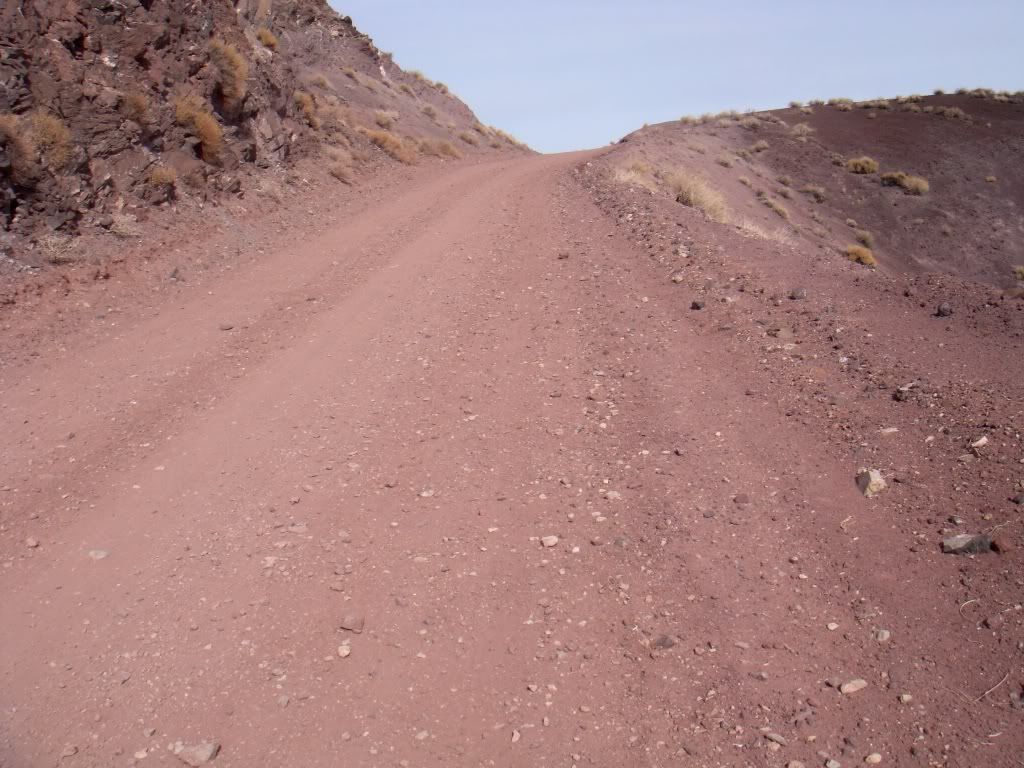 Cool geology near the saddle of Hanging Canyon.




Saddle looking down at Crankshaft Crossing.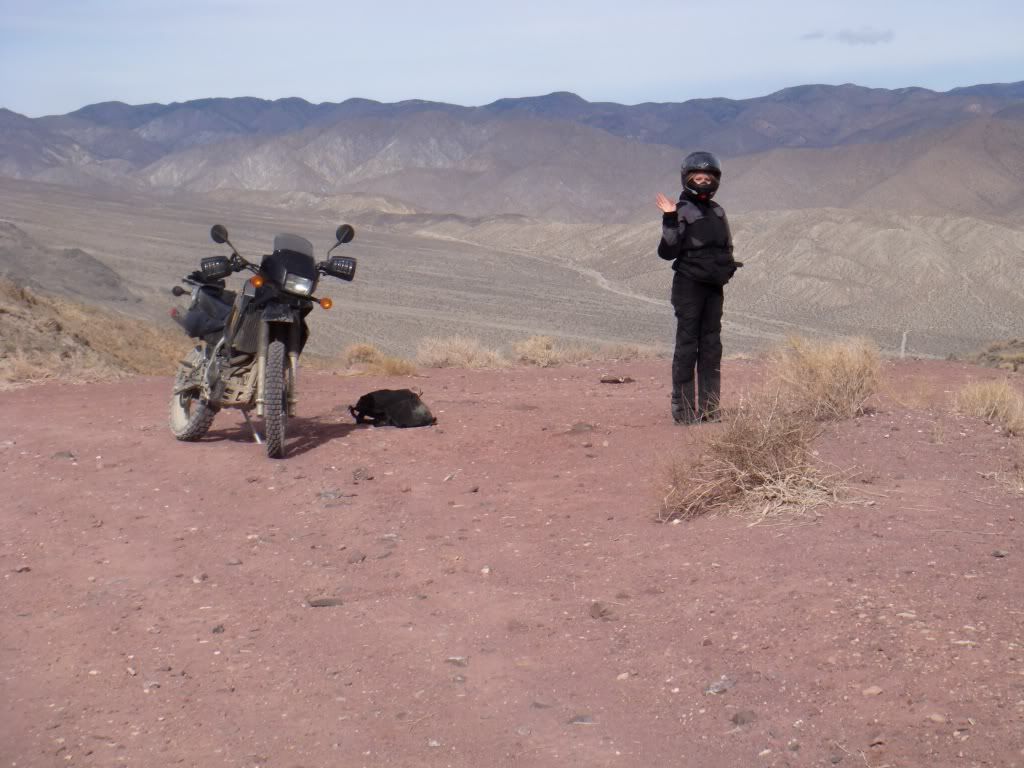 Cool road down to Crankshaft Crossing.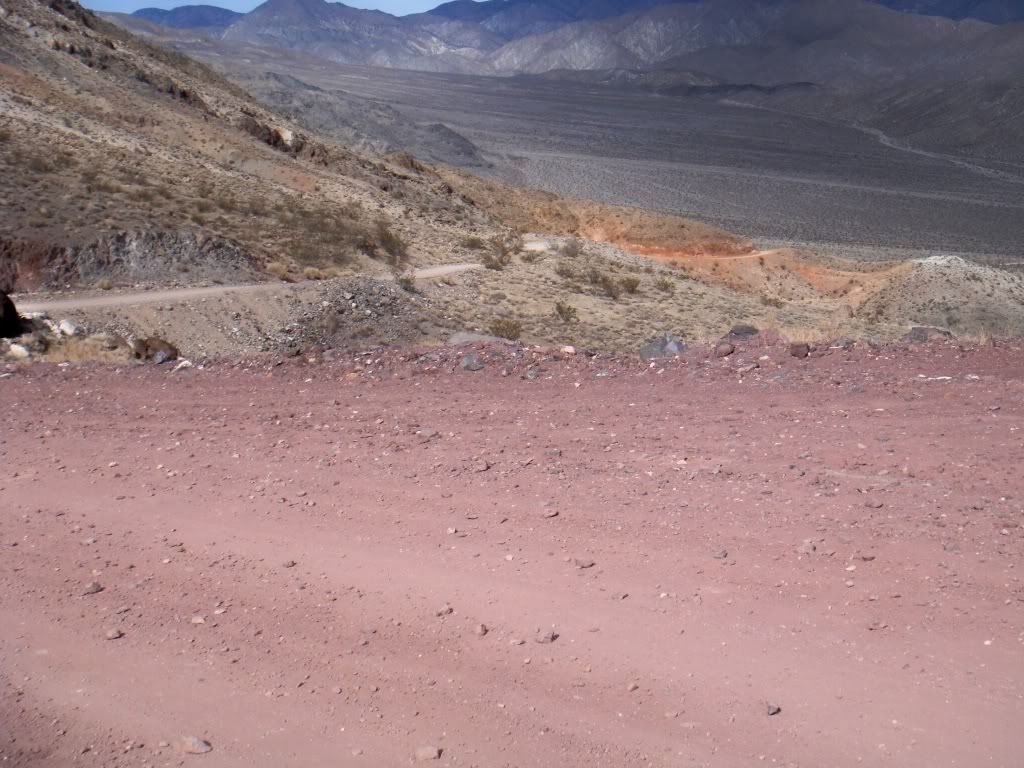 We headed down the other side to Crankshaft Crossing. Cool spot. Check out the road that goes off to the south....wow. We rode this 27 miles to Ubehebe Crater.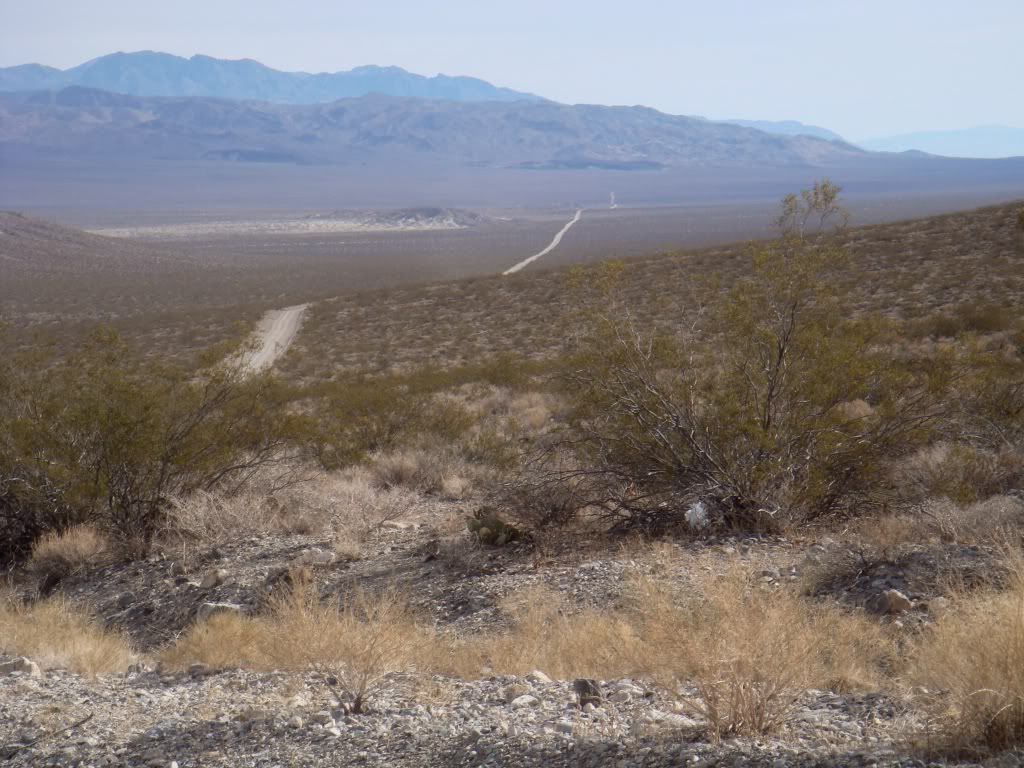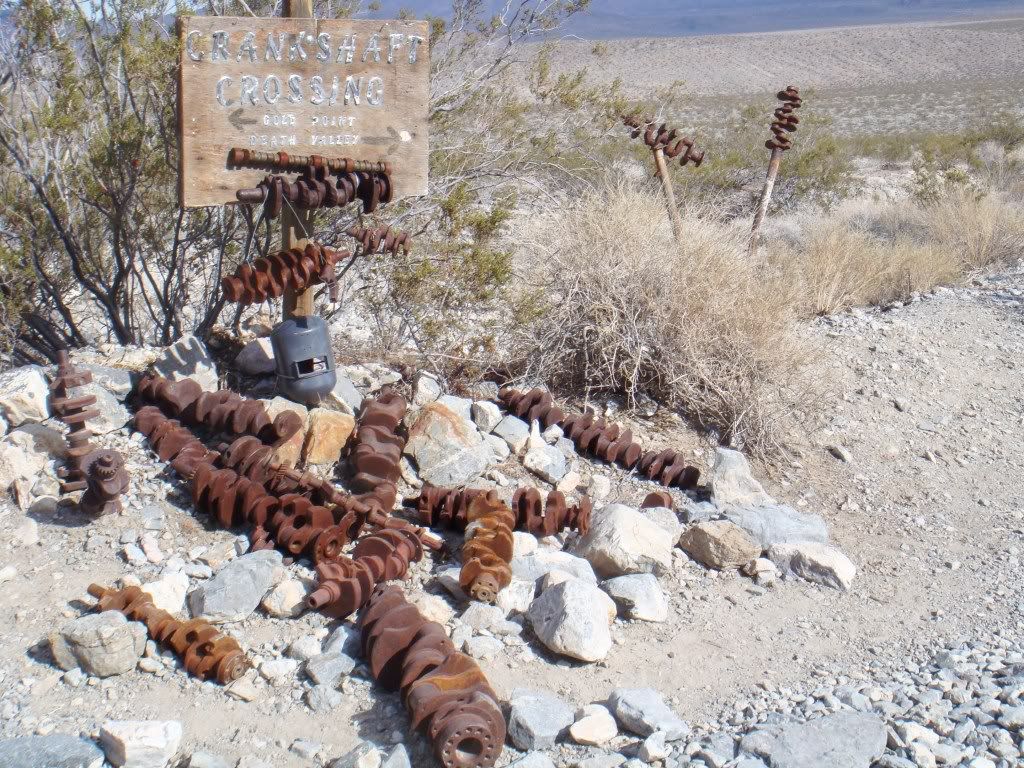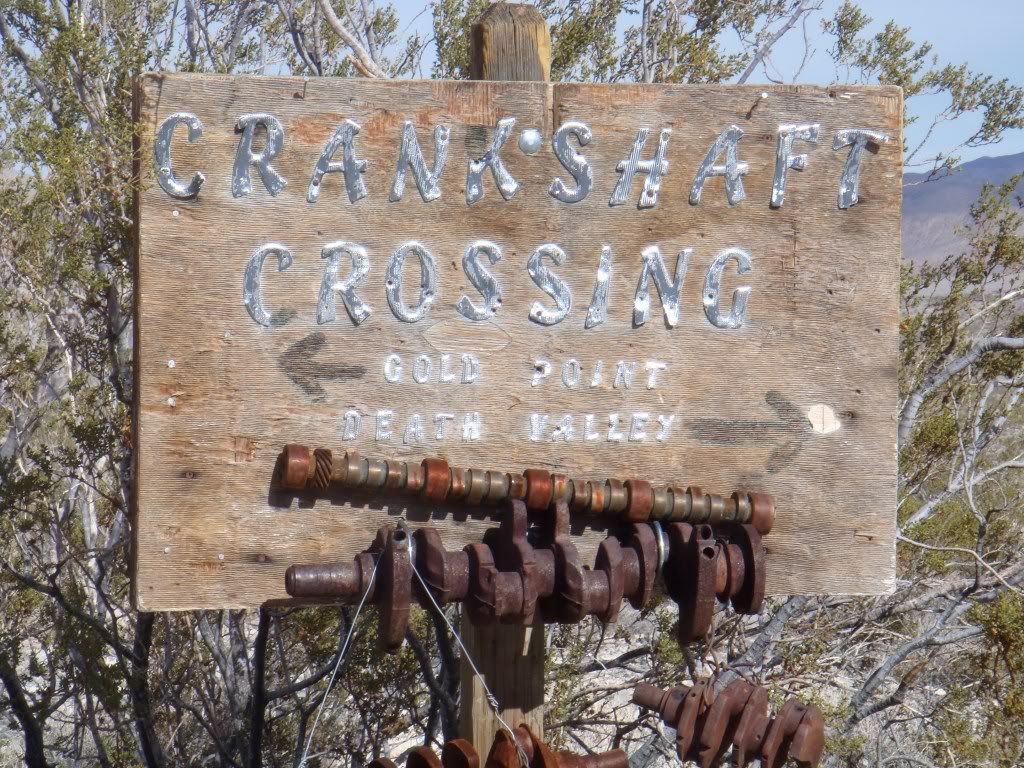 Before heading up to the crater, we took a break here - Racetrack Valley.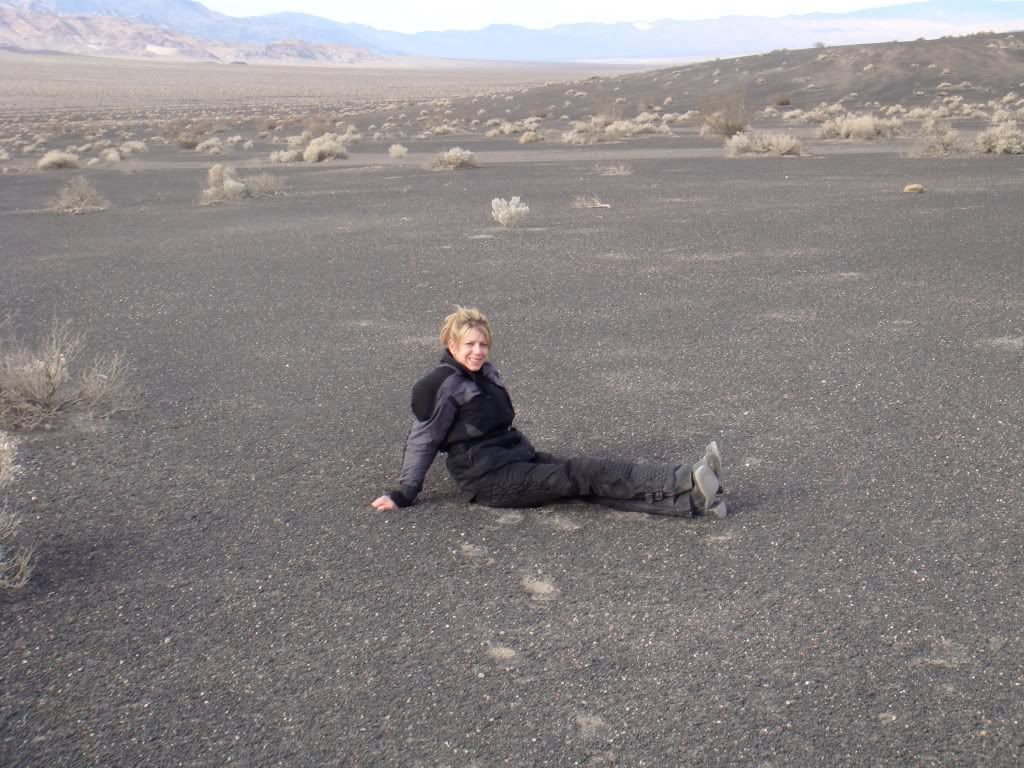 Looking south towards The Racetrack, Racetrack Valley.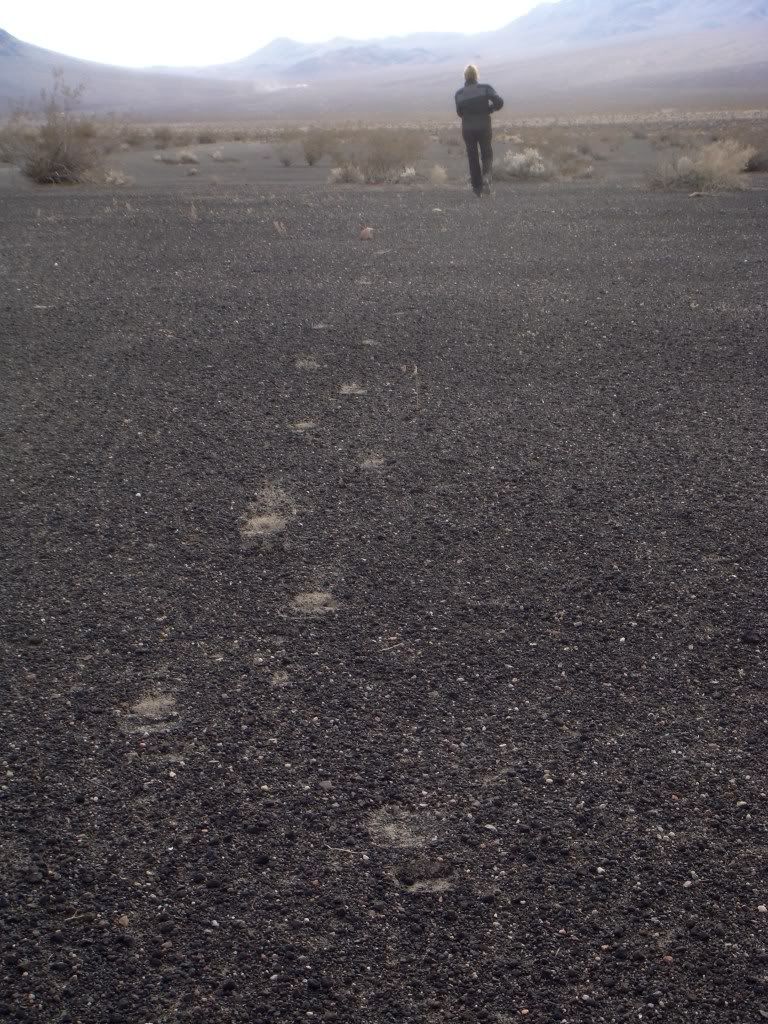 ---
HERE TO RIDE
2nd Gear
Join Date: Dec 2009
Location: Sacramento
Posts: 182
Day 2 continued
---
We rode across this valley to get to Ubehebe Crater. Our road traverses west of the white spot (rock) visible in the photo on the other side of the valley. Note the paved road into the Crater...this leads to Nevada.
Ubehebe Crater.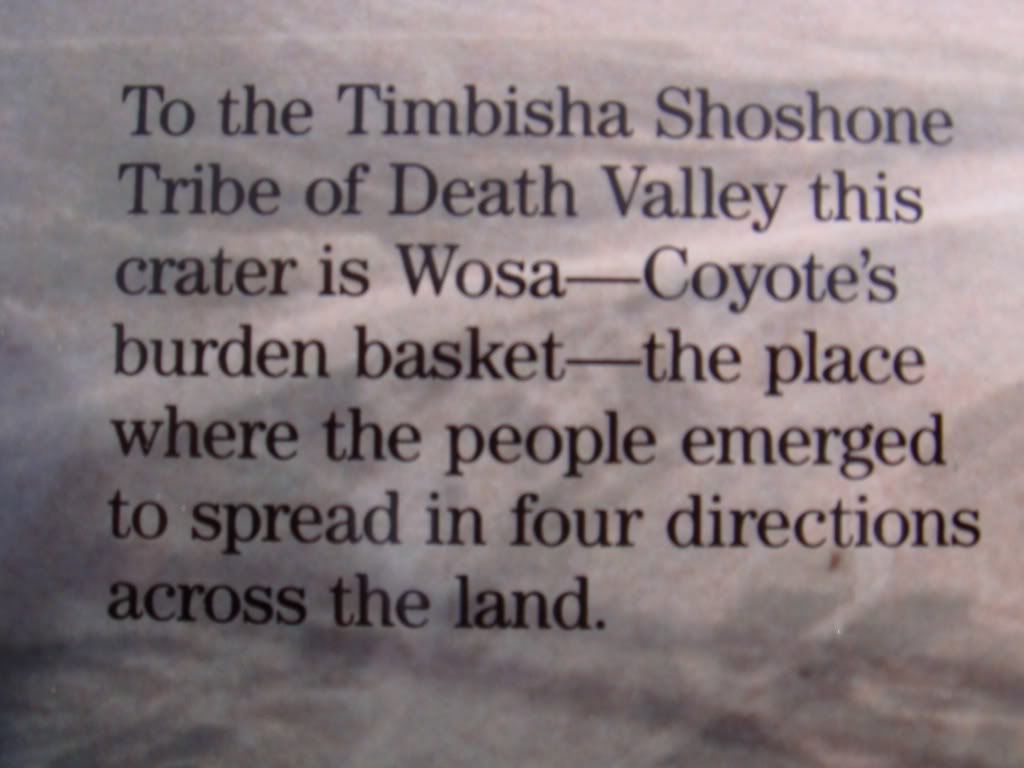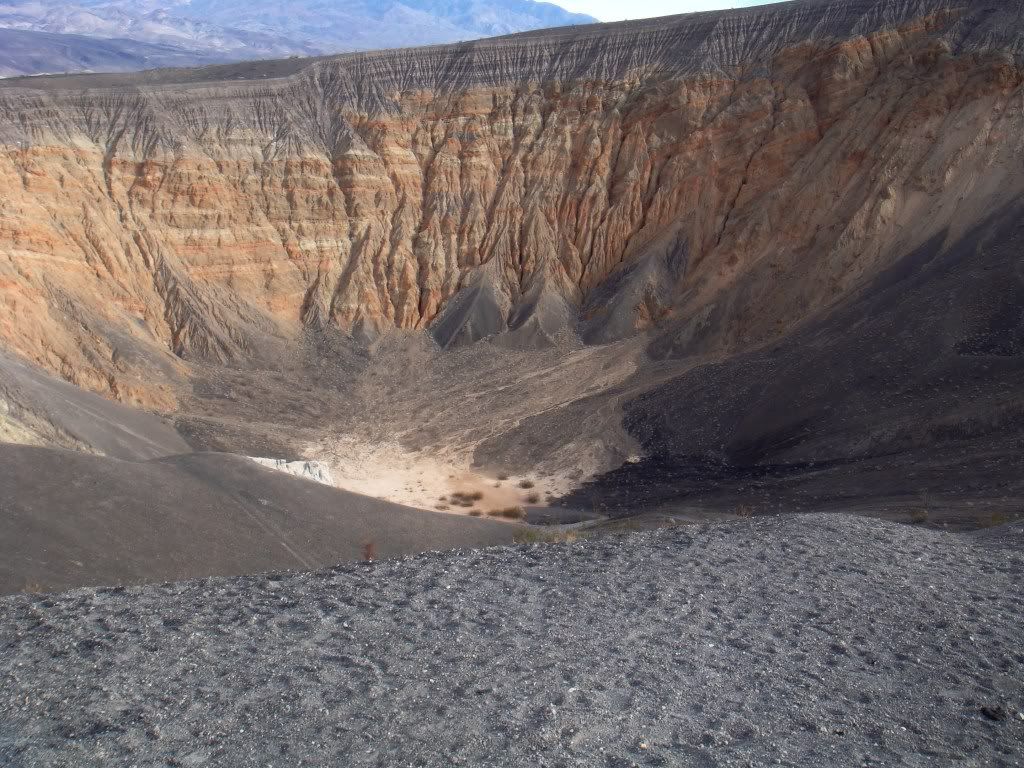 Thought about going to Scotty's Castle, but decided to save it for next time (and The Racetrack).
Made it back in 2.5 hours with a short stop at a borax mine...this chalky weird material with the consistency of silt was fun to ride in at the mine. No pictures, we were in a hurry to get back before the sun went down...which we did. Back in camp at 445...back in Bishop by 7. Took this as we were leaving.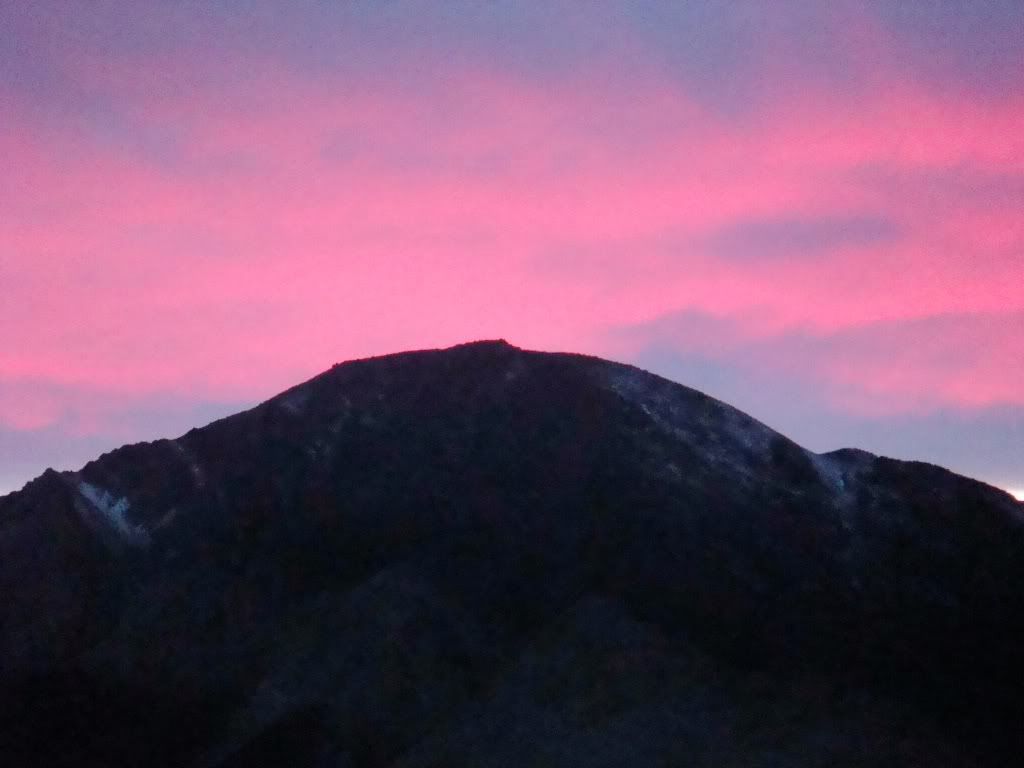 ---
HERE TO RIDE
2nd Gear
Join Date: Dec 2009
Location: Sacramento
Posts: 182
DAY 3 - The Drive Home
---
Day 3: The Drive Home.
After 2 spectacular days of riding, we decided to make our way back stopping at a few select places. We went from the warm desert to this.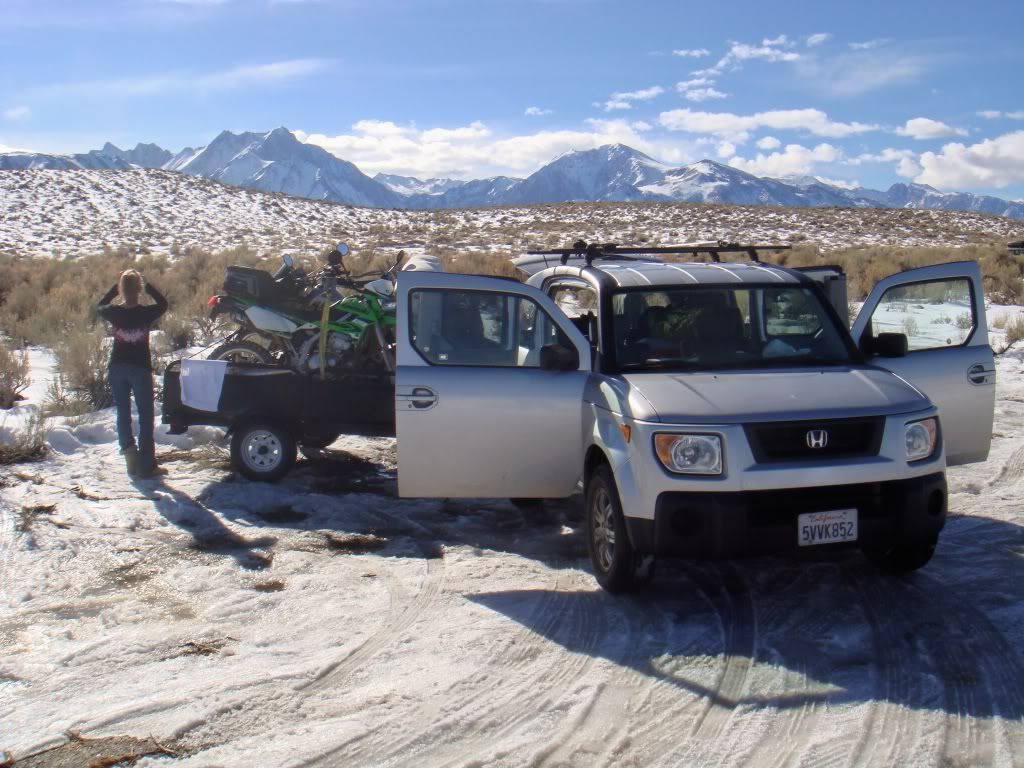 My car made it up this.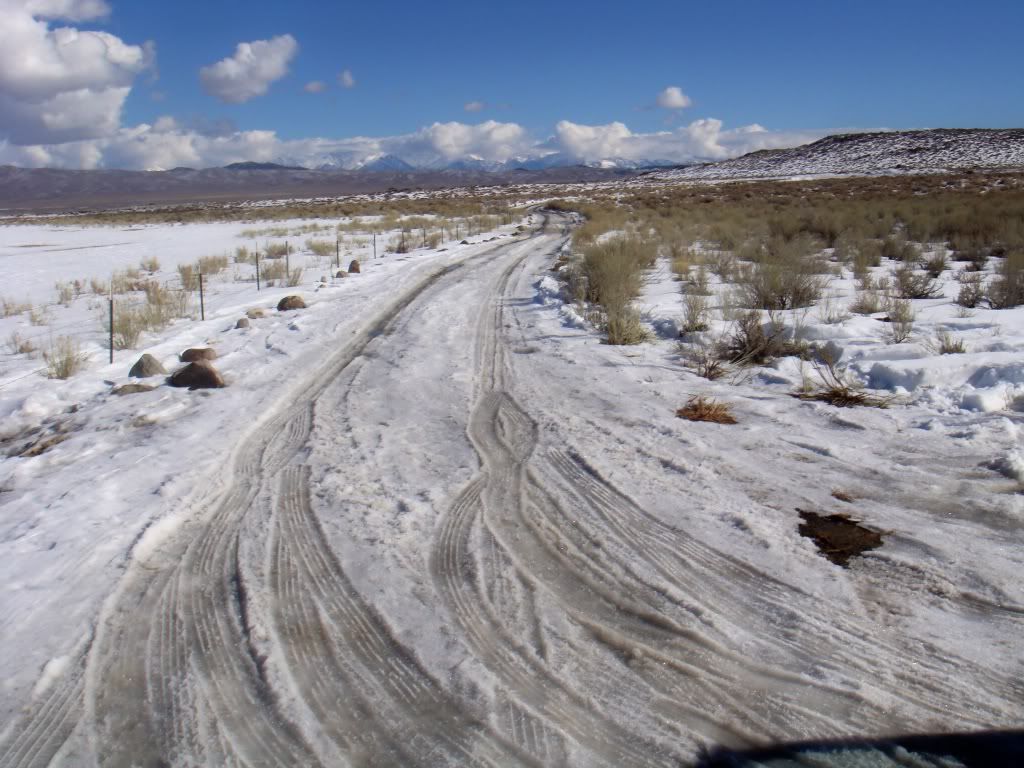 To get to this.
Great way to relax after 2 hard days.
Heading north, Minarets visible to the left.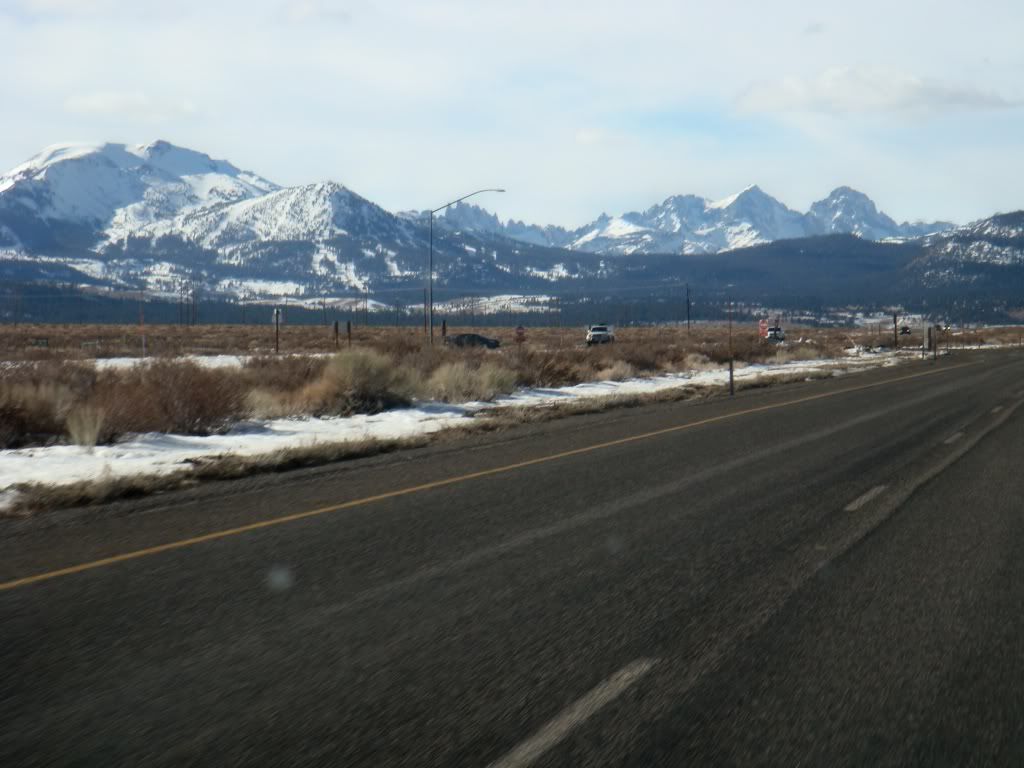 Heading down into the clouds. Had planned on going to Patnum Crater...probably not.
[IMG]http://i223.photobucket.com/albums/dd205/ridgerunner00/109_109.jpg[/IM
Instead, quick stop at Mono Lake. Serious change of weather.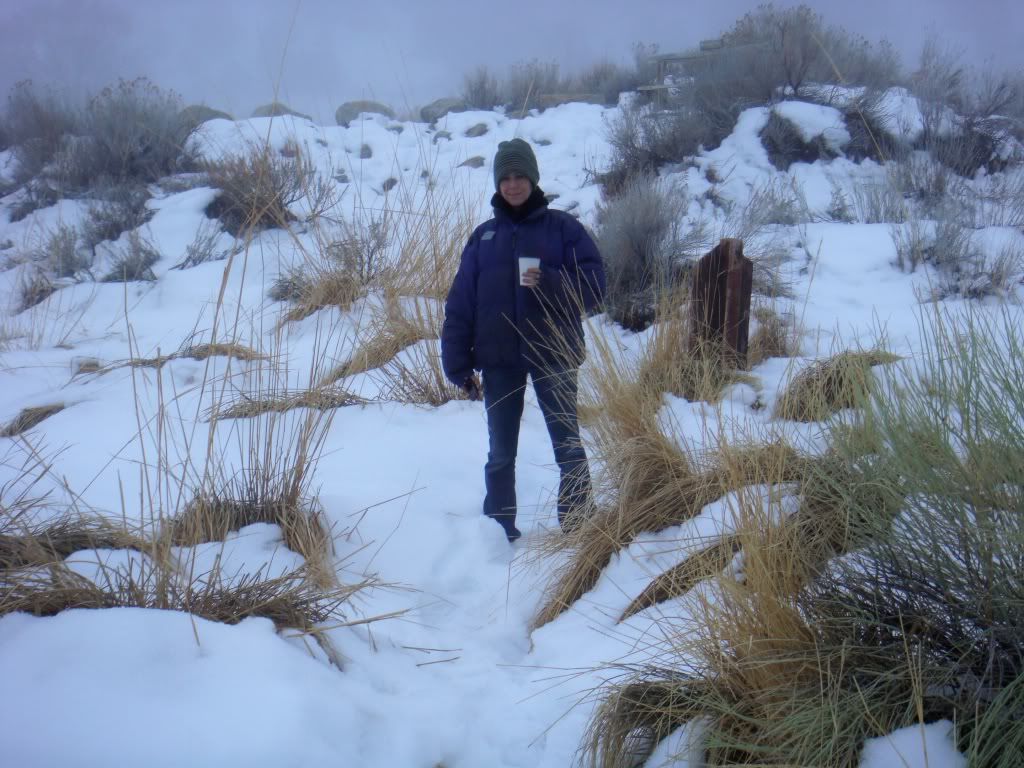 Mono Lake in poor light (that's me, I was there)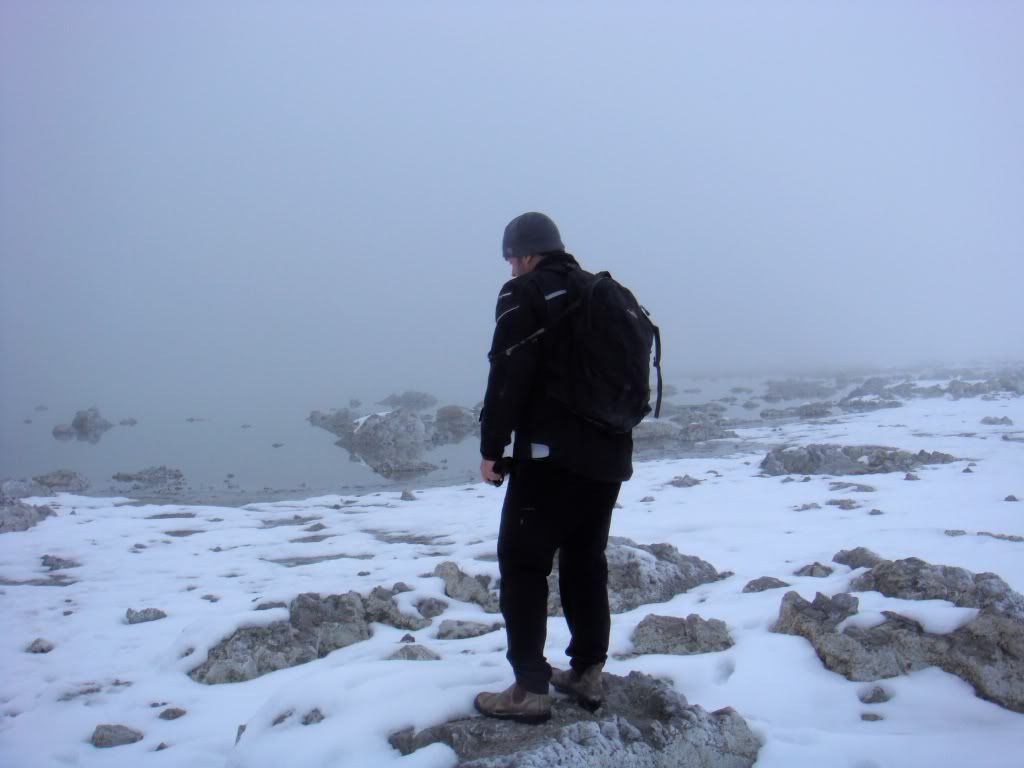 Climbed out of the clouds on the way to Bridgeport and was rewarded with this view of Mono Basin.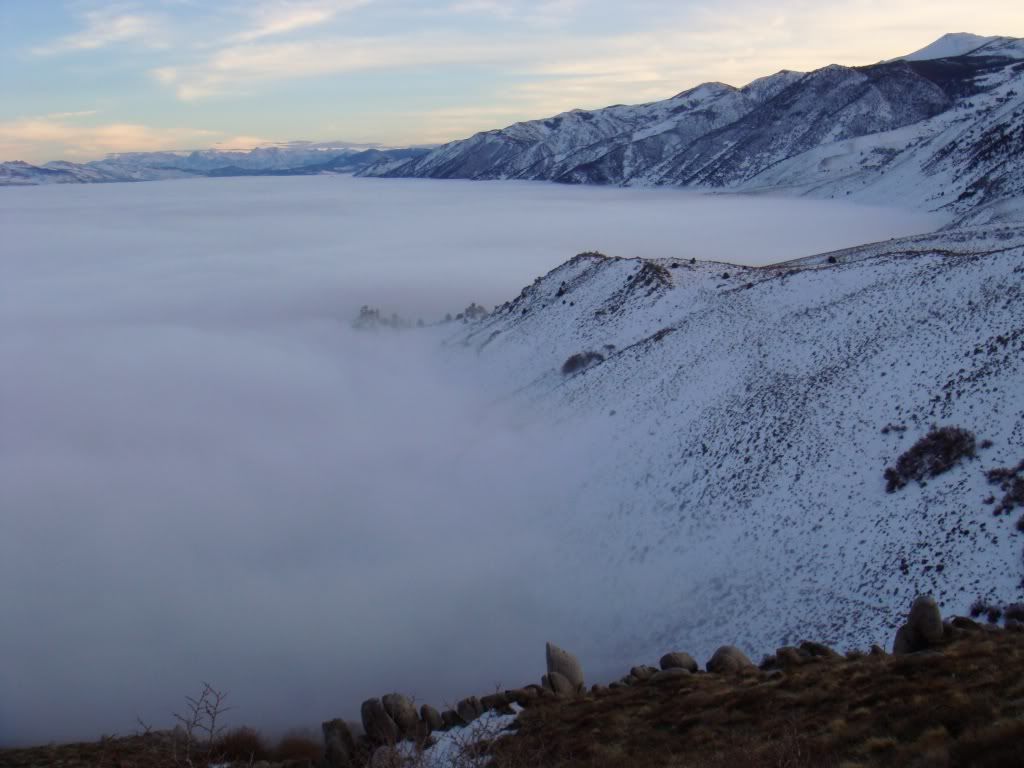 Then on to another spring.
---
HERE TO RIDE
2nd Gear
Join Date: Dec 2009
Location: Sacramento
Posts: 182
DAY 3 - The Drive Home
---
High above Bridgeport.
Following this...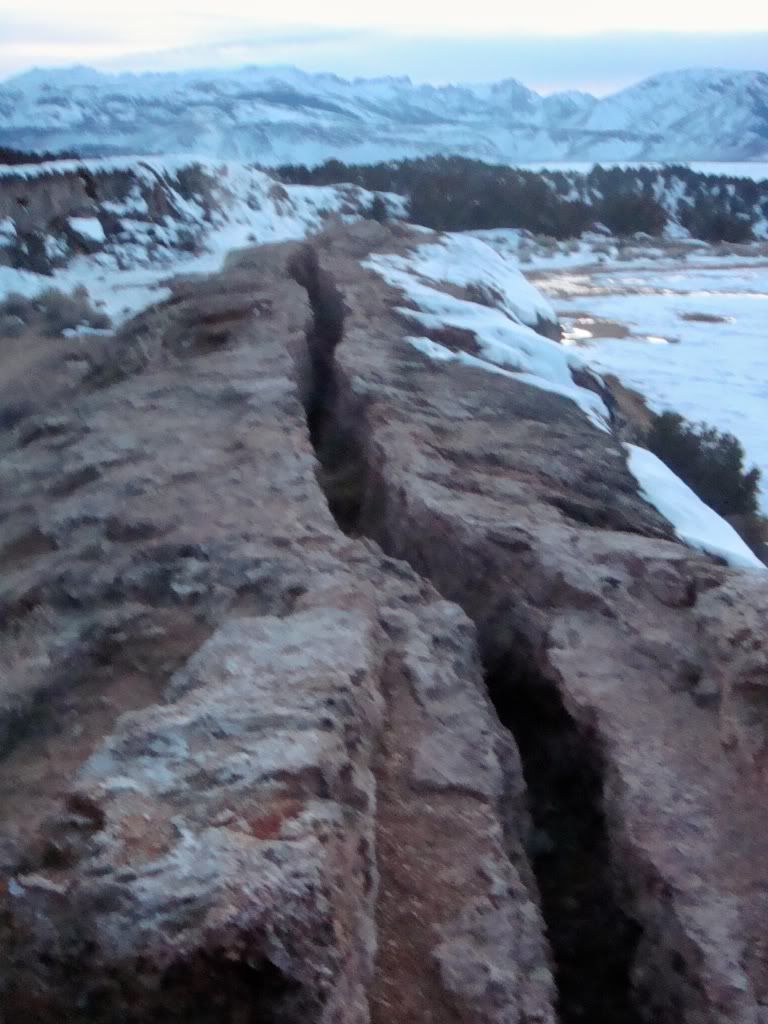 Hot water flowing down this travetine dike into pools...very nice.
Hot springs.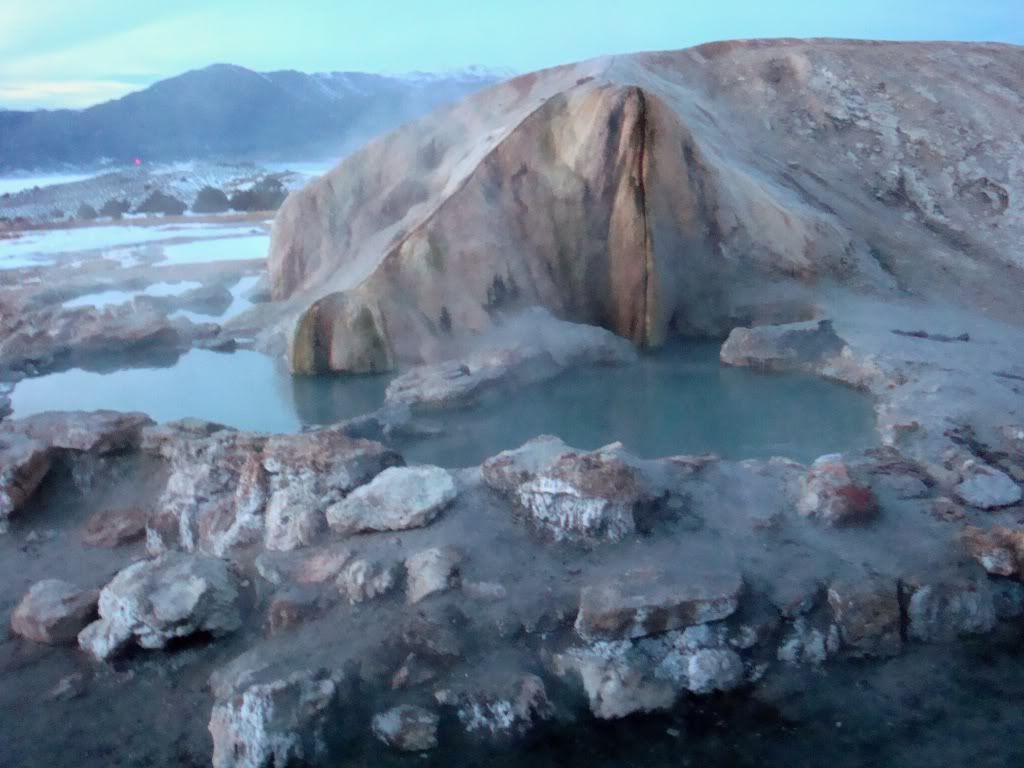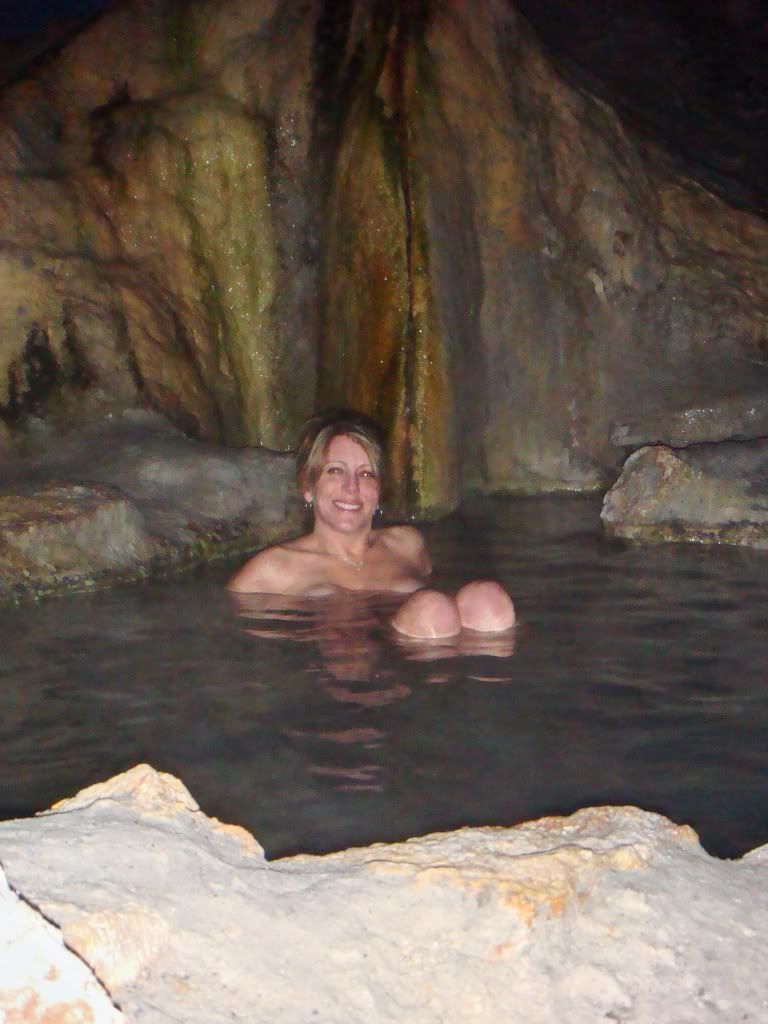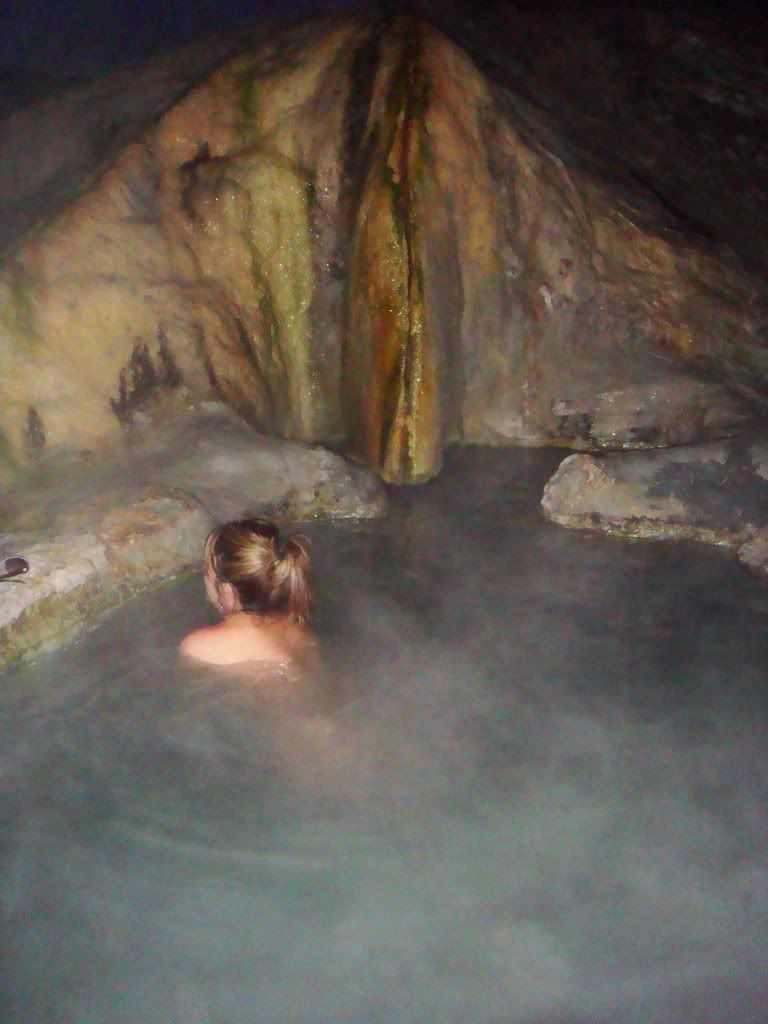 Back home in Sacramento by 1130pm.
Awesome trip. DV was everything I thought it would be and more. Can't wait to go back.
I have to say...I've been riding motocycle essentially my entire life. Last couple years I've spent most of my time riding canyons or at the track on my gsxr. I bought this $3K 2007 KLR about 4 months ago....and never looked back. The thing rails the pavement (passing many sport bikes along the way...very enjoyable), rails dirt including technical dirt, excellent for 2-up and touring, and is cheap as you could ever ask for.....what a bike. The KLR performed magically in DV....rant over.
---
HERE TO RIDE
That looks like you had an excellent adventure with great company. I'm a little jealous because I don't think I could ever get my wife out in such a remote location. I hope to make it to DV some time soon.
Hey RR. Great ride report. Looks and sounds like you enjoyed DV. Looking forward to more of your ride reports.
---
Tim

2005 KLR 685
2015 Yamaha Super Tenere ES, 5/23/2015
2012 Yamaha Super Tenere; Purchased 7/30/2011; Sold 5/23/2015