2nd Gear
Join Date: Dec 2009
Location: Sacramento
Posts: 182
Never Again
---
Bored, thought I would throw these up.
if you see this sign, please turn around and go the other way.
hard but at least not on a cliff. note bike in top corner...picture was taken from where i was able to turn the bike around. erin and i rode and pushed the bike through here, took near 1.5hrs.
close up of tricky part, almost bit the big one coming down this out of control. i think going up was easier.
above this it smoothed out big time but was slippery, steep, cliffside, and off-camber. hope to never make this mistake again. of course, there is much much more to the story, too long to even tell....in the end i got the bike out the FOLLOWING day with the help of 5 friends.
---
HERE TO RIDE
---
Last edited by ridgerunner; 03-28-2010 at

02:40 PM

.
2nd Gear
Join Date: Dec 2009
Location: Sacramento
Posts: 182
the day before was better
---
nice fire road. mike and sashi
lots of down trees to cross and go around. mike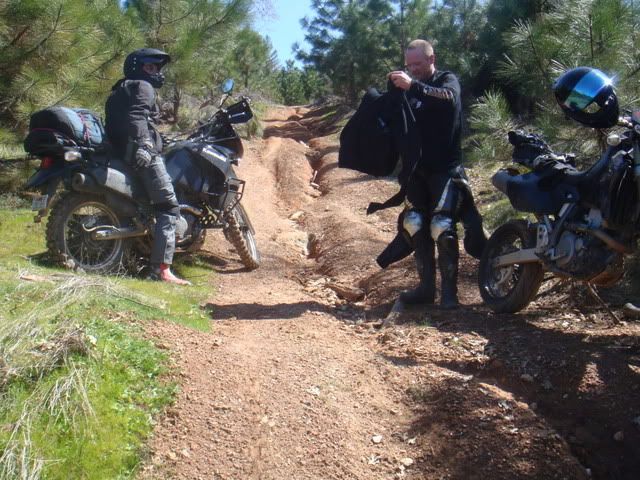 opened up
sashi
top of a long hill
fun hill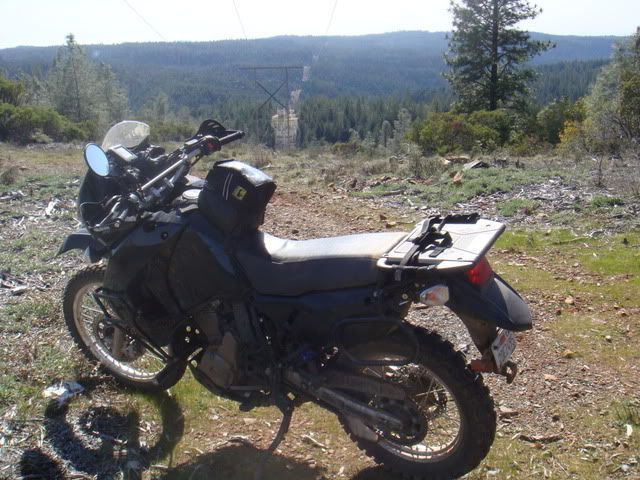 lots of trails
---
HERE TO RIDE
Sweet looking bike. You must be tired.
---
"In a car you're always in a compartment, and because you're used to it you don't realize that through that car window everything you see is just more TV." R. Pirsig
PPMC #1.
Soon, we ride.
AKA JD Mader or you can call me "Dan" just not early for dinner.
Click my handle for a link to my homepage/blog...which has nothing to do with MCs. Free literature and music! Viva La Revolucion!
-------------------
2008 KLR 650
RIP DM - Soon, we ride.
1st Gear
Join Date: Mar 2010
Posts: 37
dang all those rocks remind me of of the earth here in new england, where you riding?
Same here, I got nothing like that in north Texas. I would have to go 300-500 southwest to Big Bend country to get into some good hills
---
2009 KLR 650
2nd Gear
Join Date: Dec 2009
Location: Sacramento
Posts: 182
The really bad places I have gotten into up here were the kind that you don't even think about having a camera along on. Hills, yeah there's that but it is the peat bogs that will do you in. That and every trail has water somewhere on it and I don't mean puddles I'm talking bike drowner's. Other than that it's fun, that is why I say that I do 85% of my riding on hardtop, the other 15% is way too hard to do very often.
---
Spinning / flashing LED tail light;Dished seat;Nerf Bars;Panniers and rack;Aluminum skid pan;Master cylinder guard;tall shield;Heated gel grips;Acerbis Rally Pro guards with spoilers;Superbike low front fender;Doo upgrade;16T counter sprocket; K&N filter and box mod;GPS mount;Dash with voltage meter & clock;1" raising links;T bypass mod;anti vibe bars;anti vibe mirror mounts;Euro light switch; Aluminum choke leaver;new dry cell Super battery;Mefo Expolere's;New bearings and races