2nd Gear
Join Date: Dec 2009
Location: Sacramento
Posts: 182
east of lake pillsbury
---
close to 10 water crossings, passing bikes under logs, over logs, moving logs, crossing washed out roads, snow/ice, slick clay, tricky doubletrack, high speed fire roads..all in one day.

94 miles dirt / 220 pavement

nice to meet you dave, let's do it again.

pics on the way.
---
HERE TO RIDE
2nd Gear
Join Date: Dec 2009
Location: Sacramento
Posts: 182
Pictures
---
A few pics: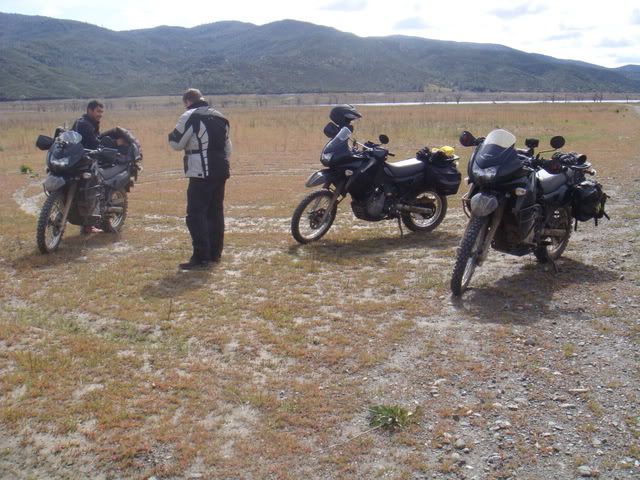 Indian Valley Reservoir. Just getting started.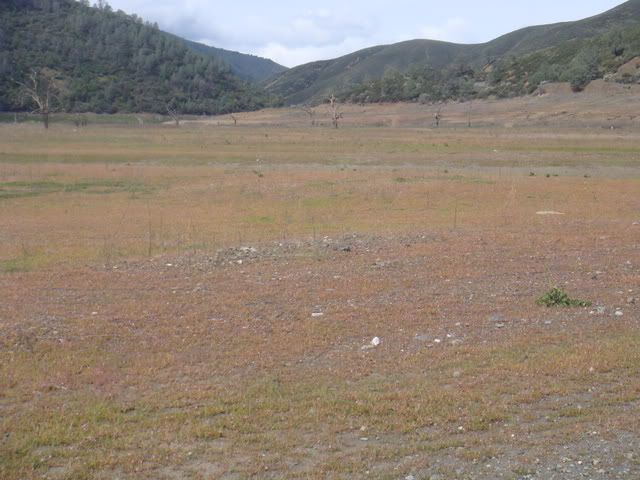 M12 winds up this canyon. Lots of single and double track options.
Turning north off M12 onto this closed road...should take us to Lake Pillsbury. Let the fun begin.
Deep rutted mud, trickier than it looks.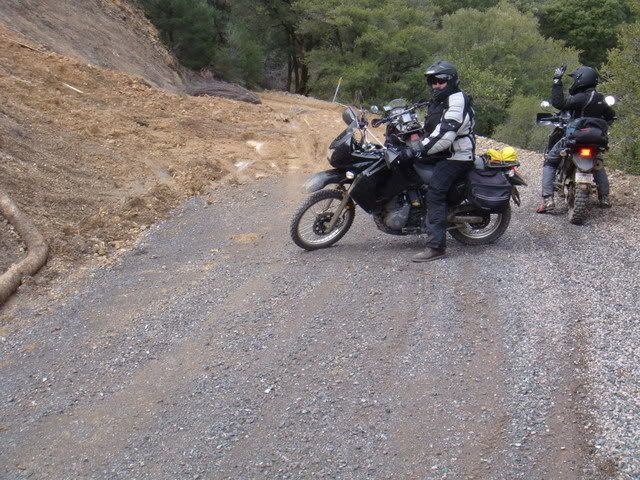 Dave and Sashi.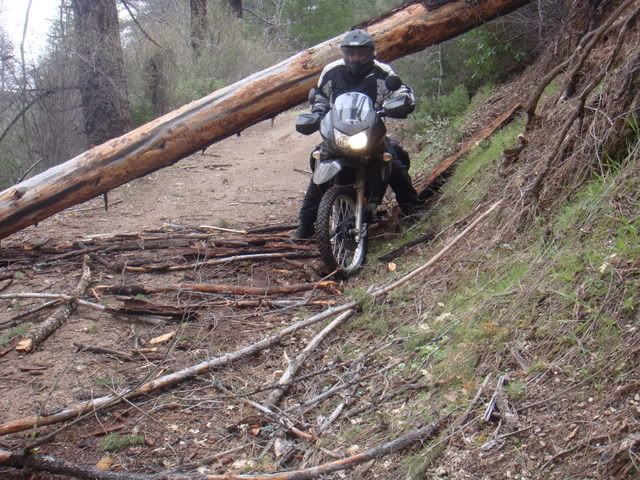 Dave, under a log.
Dave, across the creek.
---
HERE TO RIDE
Went for an epic ride with Ridgerunner yesterday and wanted to post a few pics. Long day that included a bit of everything: mud, snow, water crossings, log hops, etc. As always, no pics of the best stuff- too busy riding & having fun. Ridgerunner knows some great routes and has excellent knowledge of maps- came in handy.
Snow over Calistoga/Napa; knew it was gonna be an interesting day.
Trying to figure out how deep the water is.
Indian Reservoir Valley? Beautiful place to stop. Too funny- 3 black 09 KLRs without decals.
Lunch break.
Lots of downed trees. Will carry a saw from now on.
Pretty long water crossing- two parts. Once you get started, you are committed. Hope our guess about the depth was right...
Another obstacle.
Water crossing video. If you look ahead, you can see the second part of the crossing that came next.
http://www.youtube.com/watch?v=Woyr-qCpw5w
Another water crossing video. Bikes and riders did great. One was just too deep and we had to turn back. We had to push the bikes across another sketchy fast crossing. Spent a lot of time wringing water out of the socks. Next time I ride with Sean, I'll bring a wetsuit.
http://www.youtube.com/watch?v=QVkhccUc2W8
This was a great ride and I thank Sean and Sashi for letting me tag along. I can't wait to do it again (with crashbars..). At the end of the day, you could easily tell my bike from the others by the broken fairing and handguard!
Let's do it again!
---
PPMC #4
2nd Gear
Join Date: Dec 2009
Location: Sacramento
Posts: 182
part 2
---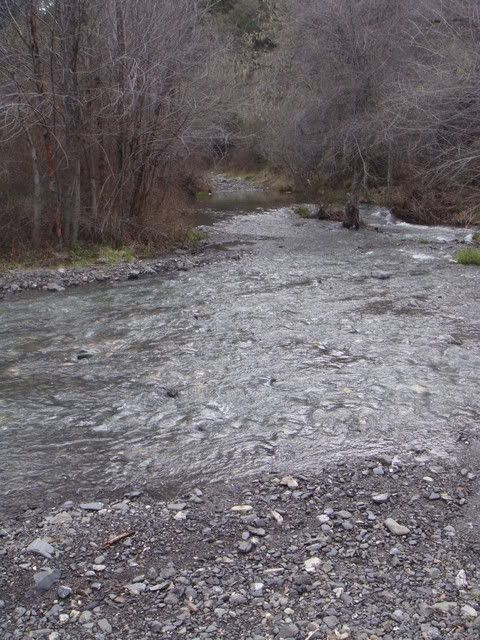 another fun crossing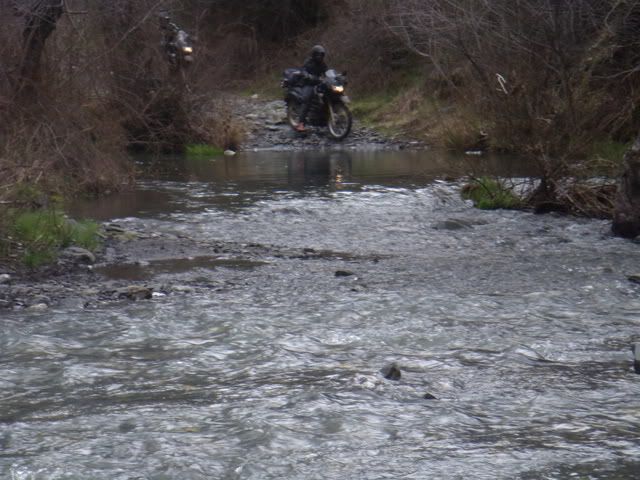 sashi and dave, this was a good one...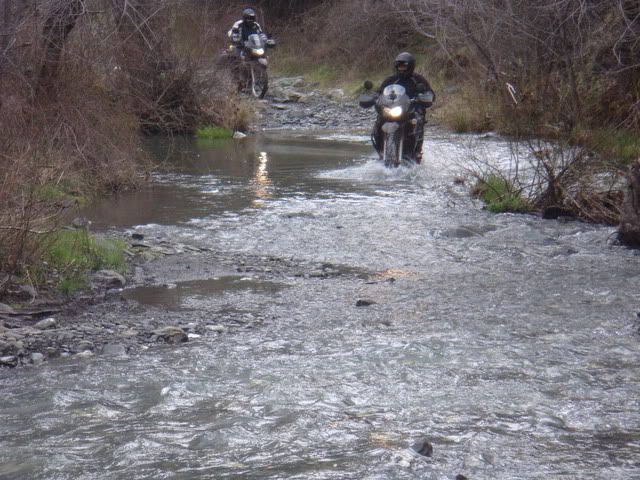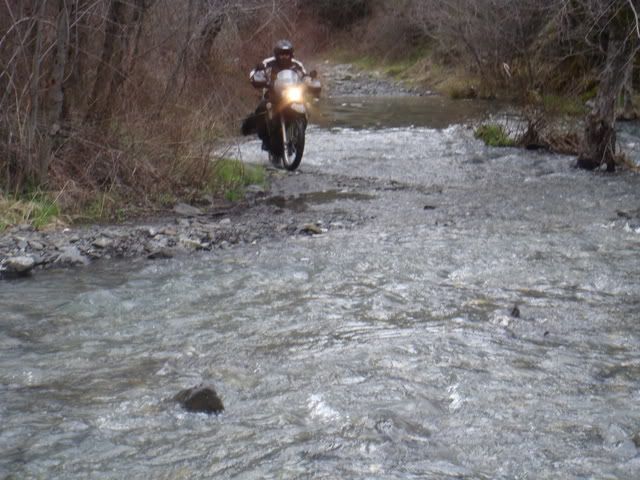 dave, making it look easy.
another tricky one.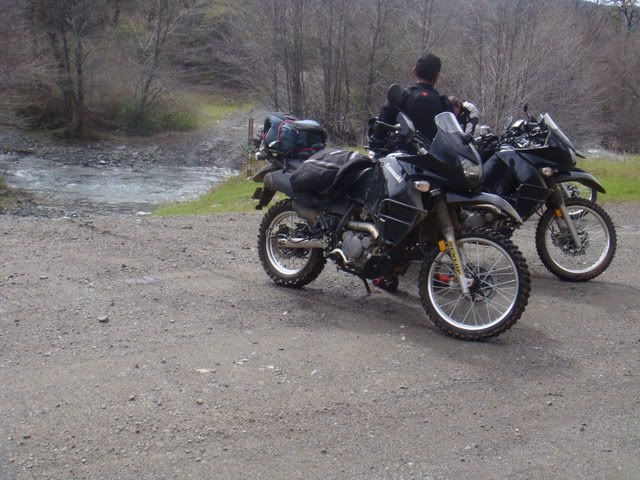 wasn't pretty - but we got them across.
At this point, were about 40 miles in...we are almost (within 5 miles) at the main road - we should be back down in clear lake within an hour. It's 330 pm.
SHUT DOWN. Rice Fork, Eel River. With a t-mod we would have crossed and been home free.
---
HERE TO RIDE
2nd Gear
Join Date: Dec 2009
Location: Sacramento
Posts: 182
Good Ride
---
Dave,

Anytime, good riding with you.

Lots to do up there...the possibilities are endless. Next time maybe head up around the backside of Pillsbury into the SheetIron.

Until then.
---
HERE TO RIDE
2nd Gear
Join Date: May 2007
Location: Fremont, Ca.
Posts: 111
Now that looks exactly what my mind's eye sees when I picture the type of riding I want to do. Thanks for the pics!
Awesome!




---
"In a car you're always in a compartment, and because you're used to it you don't realize that through that car window everything you see is just more TV." R. Pirsig
PPMC #1.
Soon, we ride.
AKA JD Mader or you can call me "Dan" just not early for dinner.
Click my handle for a link to my homepage/blog...which has nothing to do with MCs. Free literature and music! Viva La Revolucion!
-------------------
2008 KLR 650
RIP DM - Soon, we ride.