2nd Gear
Join Date: Dec 2009
Location: Sacramento
Posts: 182
Pine Nut Mountains / Mount Patterson
---
WARNING: Long winded, you can always just look at the pics. Or the mods can move this to the Dirt Section. Please keep in mind that I'm a dezert newb.
This was my first DS trip to Nevada - I wanted my maiden voyage to be something I would remember. I was looking for the classic dezert trip: Rugged, isolated, wide open spaces, and lots of sand. I researched a roadless area north of Reno near Pyramid Lake that's known for hardcore enduro riding, another area east of Carson City called the Pine Nut Mountains, and finally an area east of Walker that was described to me as 'mars like.'
The area north of Reno requires gps due to many sections with no roads - my gps is down so I chose to combine the other two areas (they are close) into one long epic marathon day. We would leave before the sun came up - go ride dezert single track in the morning in the Pine Nuts ultimately crossing over the range to the southeast ending in Wellington where we would get gas and head for the summit of Mount Patterson - after which we would burn home Monitor Pass / 88 / 89 / 50. As always, the pictures don't do justice to this spectacular area.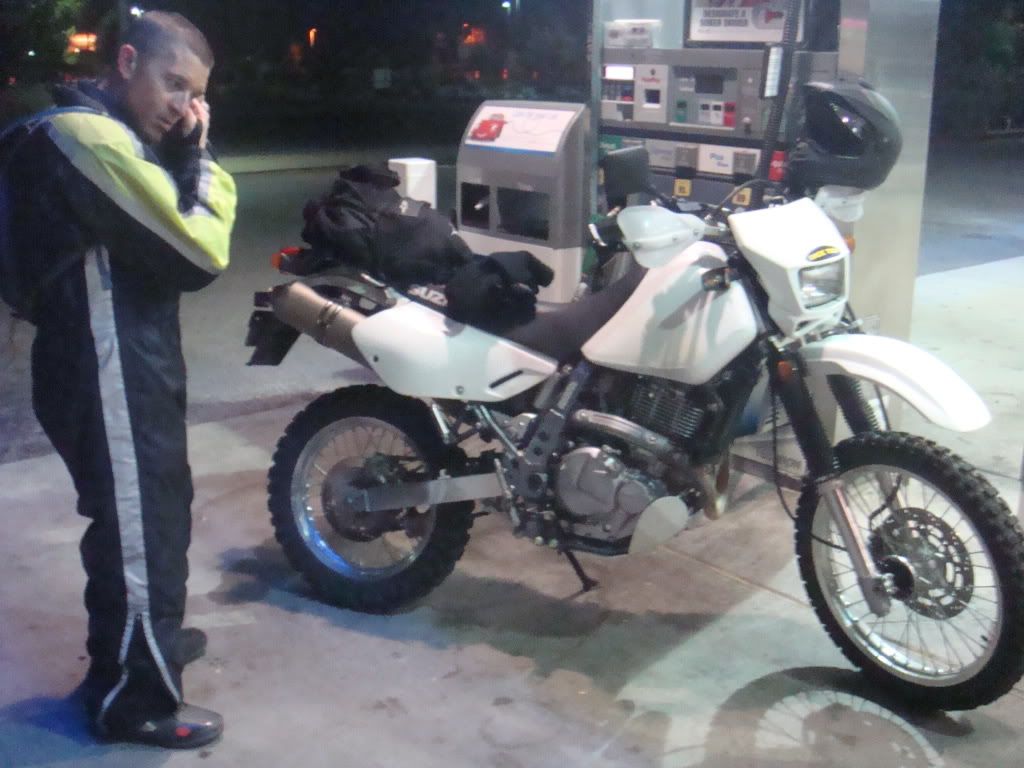 515 am, Chevron, Eldorado Hills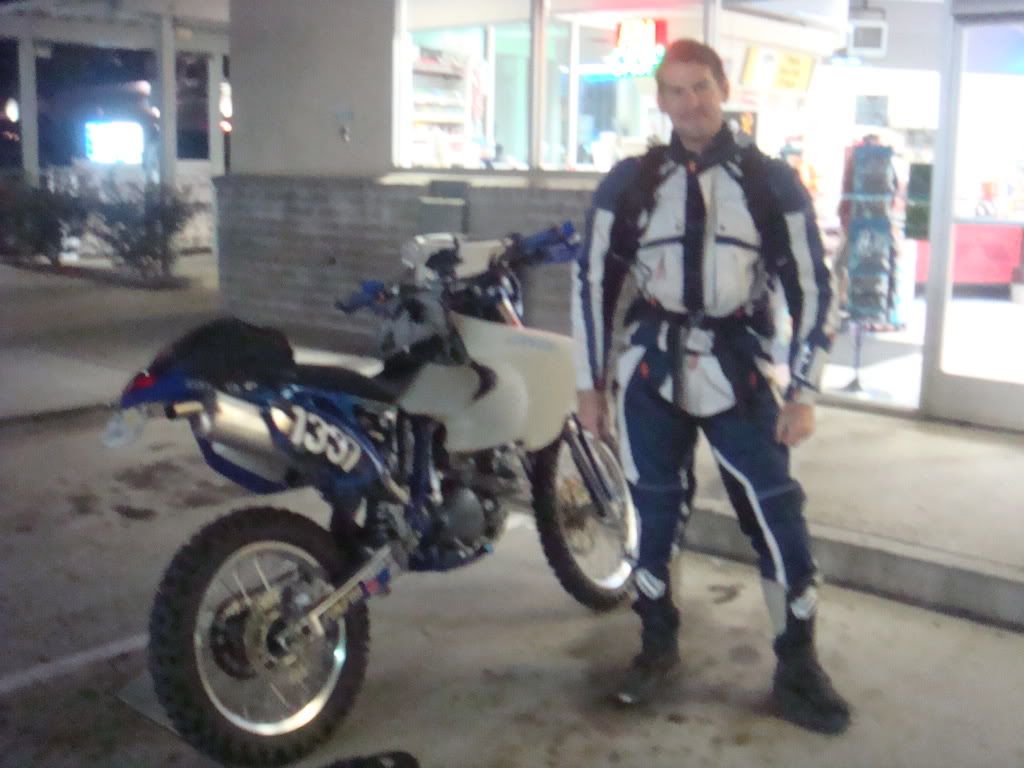 515 am, Chevron, Eldorado Hills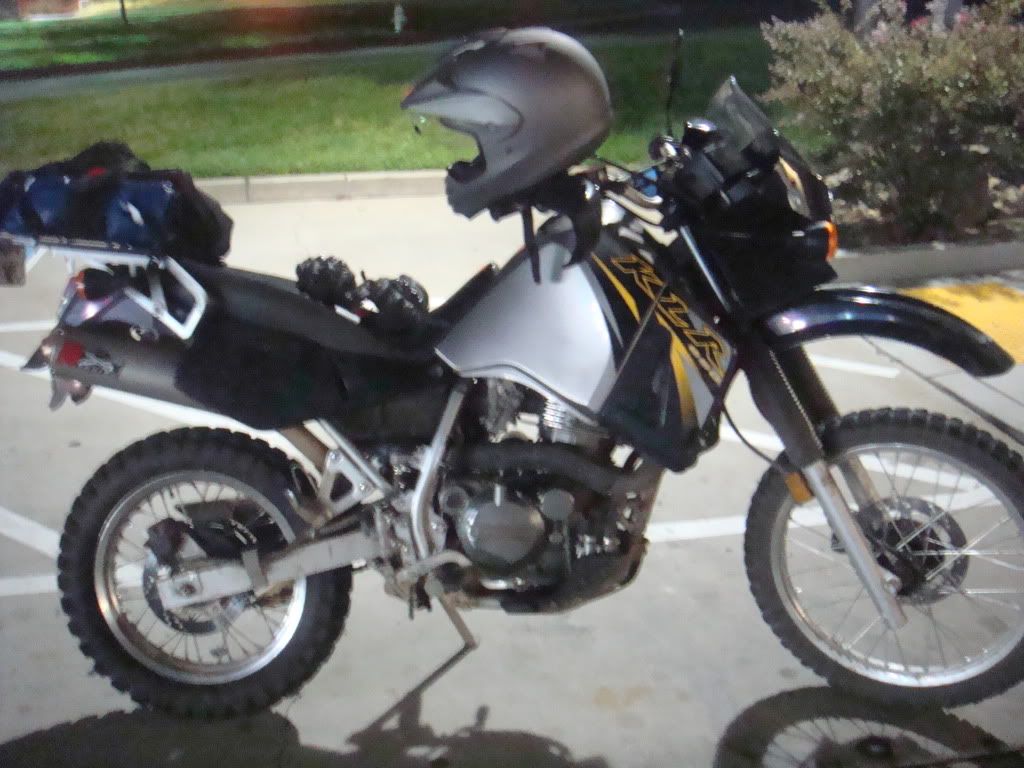 515 am, Chevron, Eldorado Hills
Heading over the summit at 6am - things were a bit chilly - Chris - being the minimalist that he is - didn't even bring a coat. We rolled into Carson City at 7:30am - filled up - and took off down Johnson Lane heading for Sunrise Pass Road. The only real map was in my head thinking we want to head south staying parallel with the Sierra Nevada's to the west and the Sweetwater's to the east. When we hit our 3rd main dirt road we could head east over the mountains for gas in Wellington.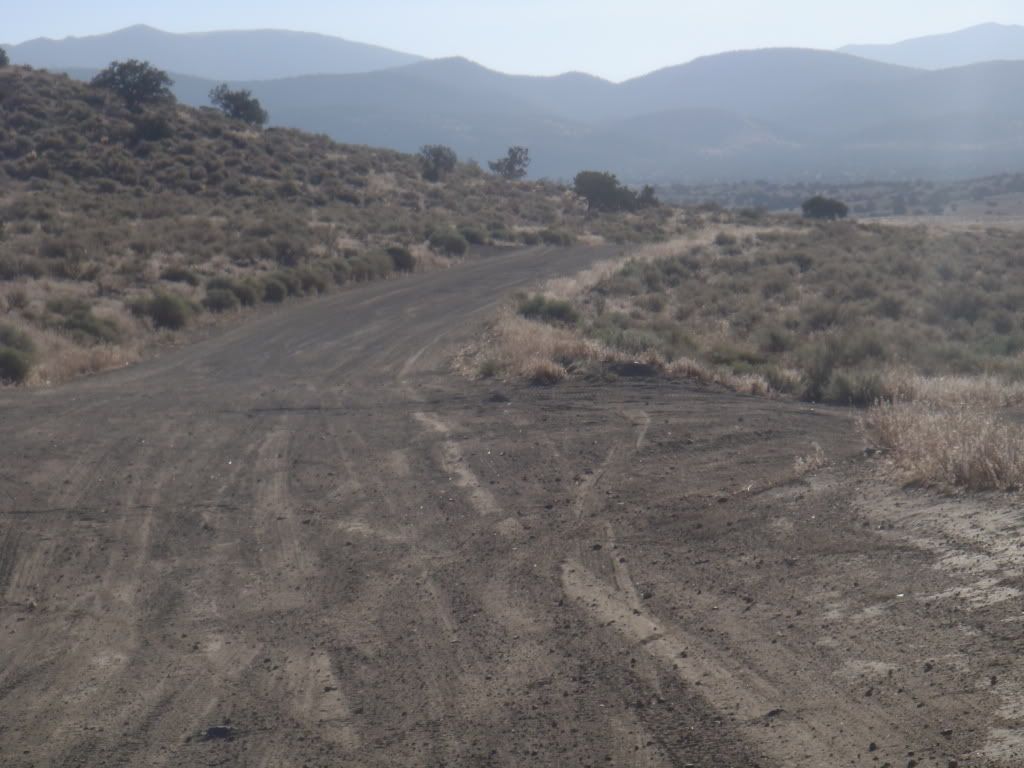 Immediately lots of options. The guessing regarding which way to go started here - no more than 5 minutes from where the pavement ended.
I had 3rd hand beta to "look south" where Brunswick Canyon intersected the road we were traveling on. That is where we wanted to go. Still not sure if I found Brunswick Canyon but nonetheless looking south.
---
HERE TO RIDE
---
Last edited by ridgerunner; 08-23-2010 at

08:11 PM

.
2nd Gear
Join Date: Dec 2009
Location: Sacramento
Posts: 182
II
---
Turning east into the mountains things got fun. Although you can't tell in these pictures - the sand is deep - the riding was tricky (for me). I wiped twice in this section.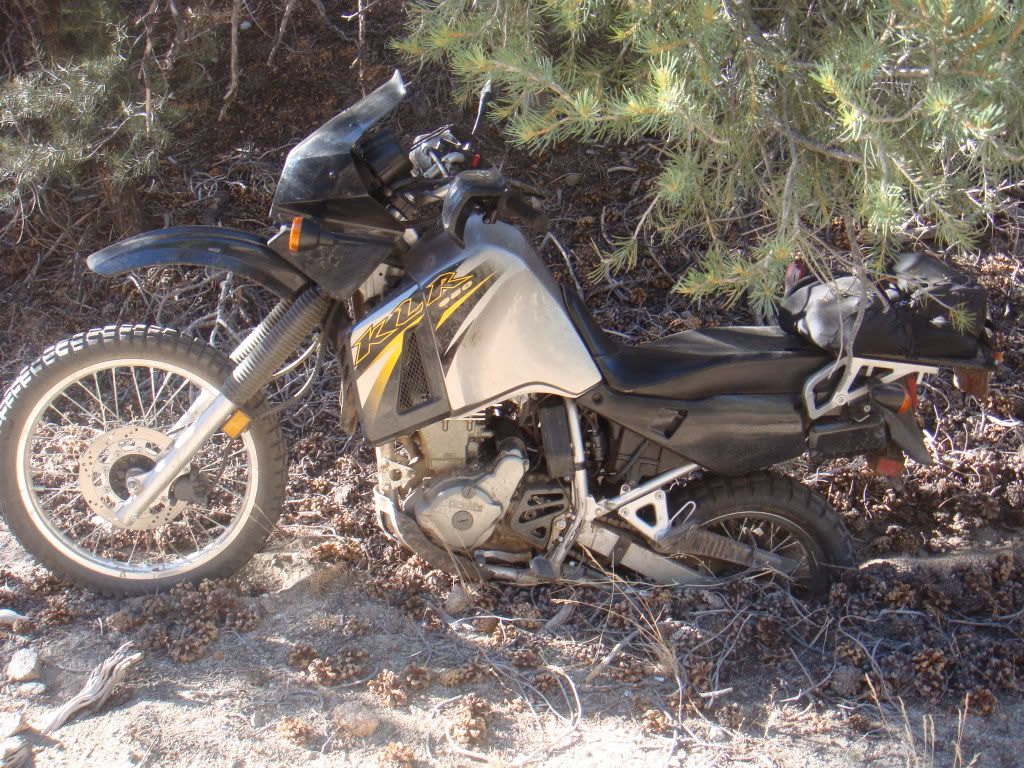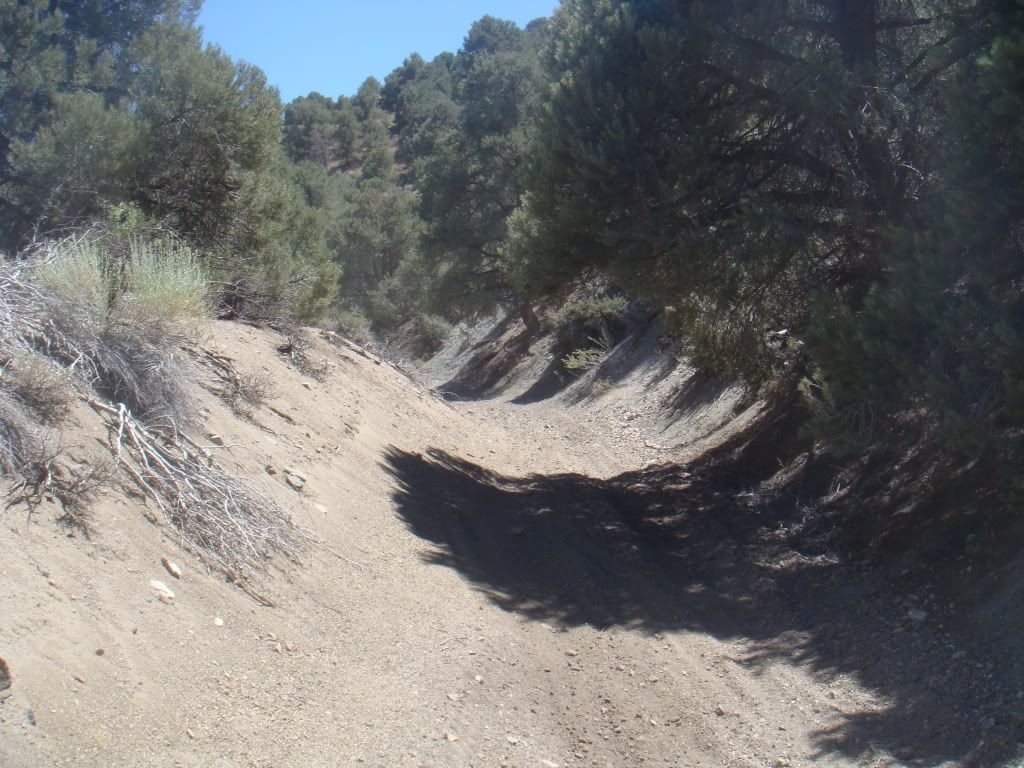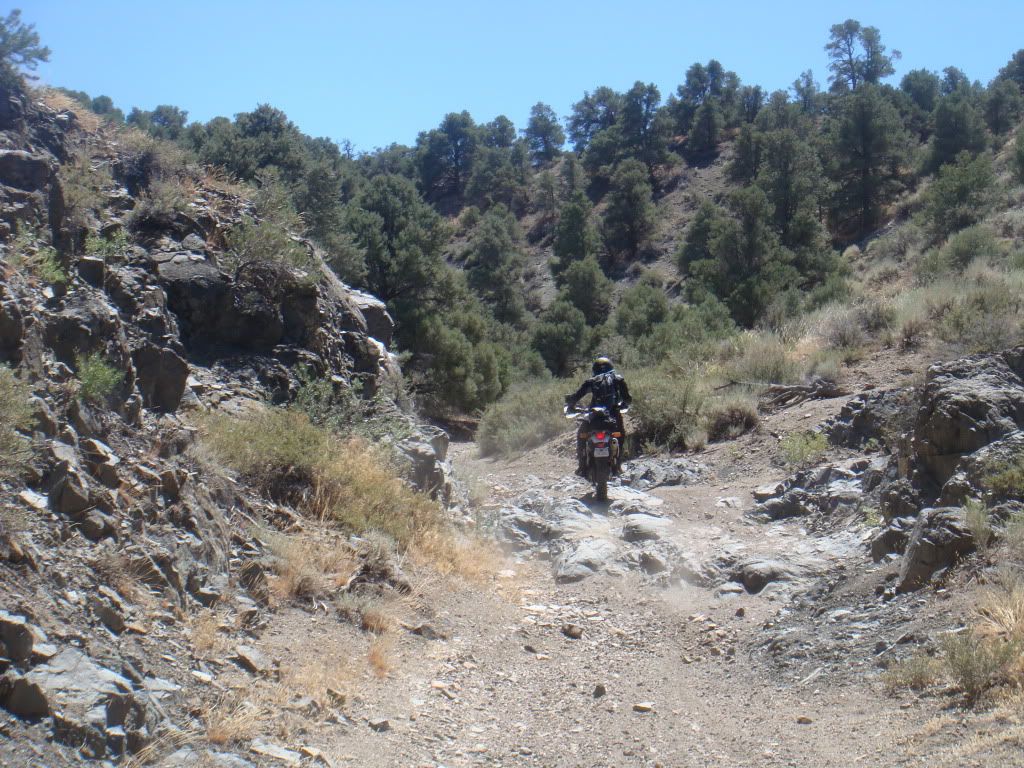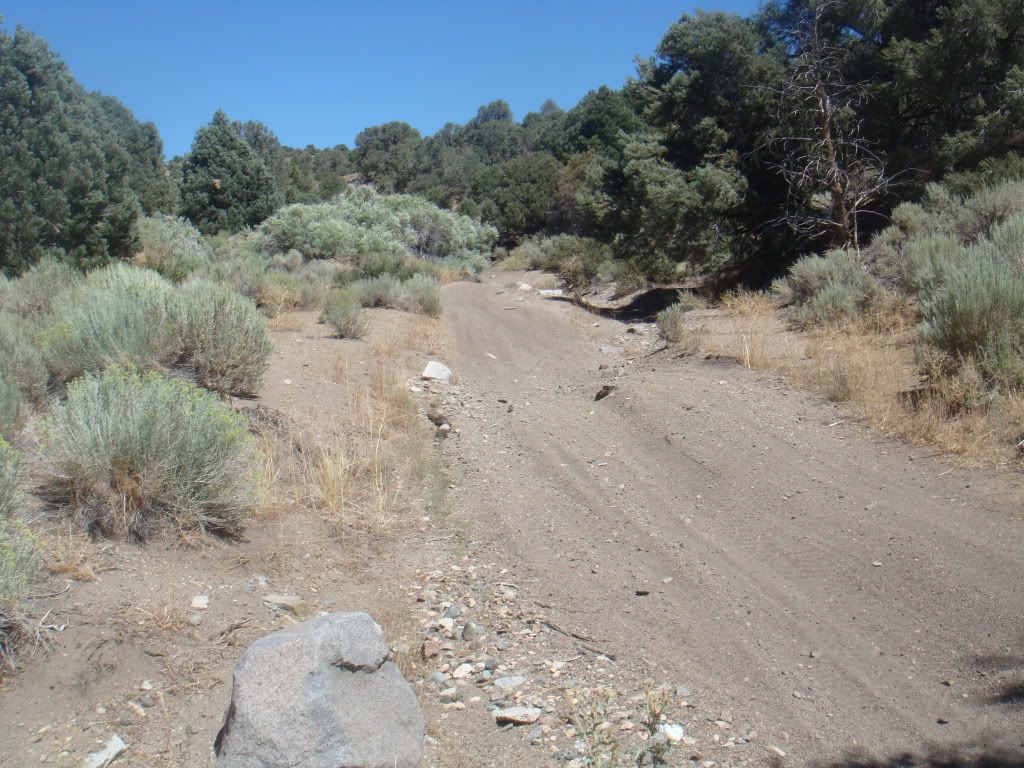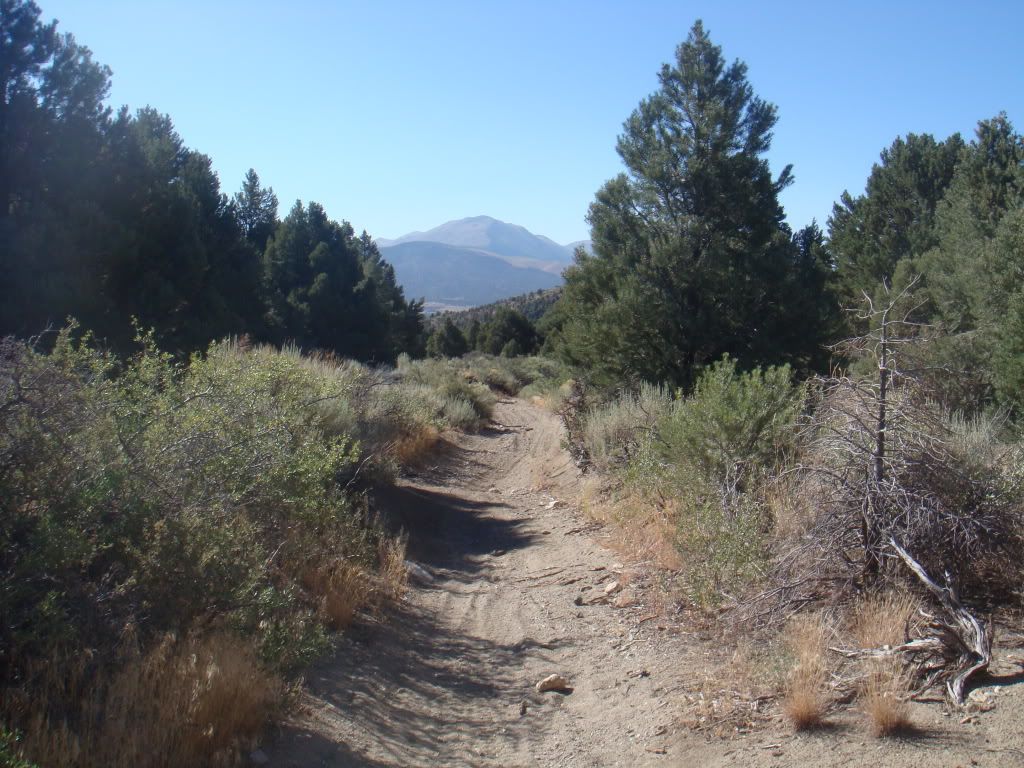 Basically - we rode some great sandy singletrack, but the highlight of the morning for me was the 10 mile long sand wash. Physically demanding, technical, and fun - this is where I took a beat down wiping out a couple times. We came out of the mountains at Bodie Flat covering about 40 miles of singletrack and dezert wash - it was 1230. Obviously since we weren't going to find our way over the mountains we headed south on 395 from Bodie Flat to Topaz Lake where we had lunch.
---
HERE TO RIDE
2nd Gear
Join Date: Dec 2009
Location: Sacramento
Posts: 182
Iii
---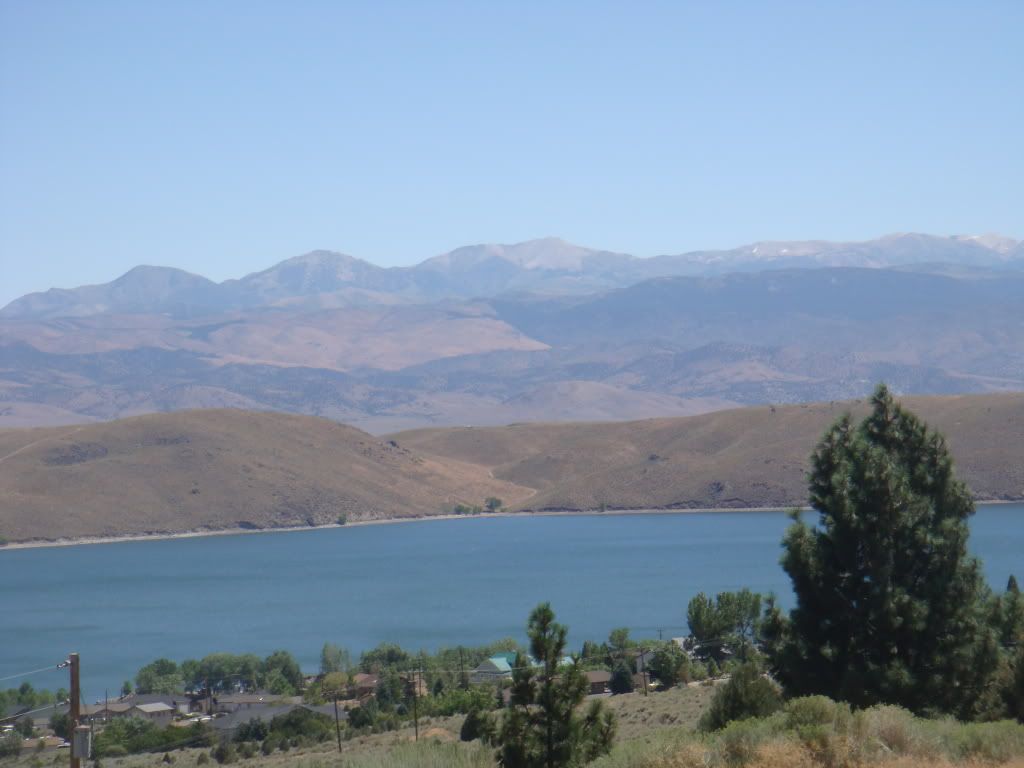 Topaz Lake, this was the view from where we ate lunch. The mountains off in the distance are part of the Sweetwater Mountains - one of those peaks is Mount Patterson - our destination for the afternoon.
We went 395 south just past the Monitor Pass turnoff to Topaz Lane and turned left. Headed out over the Walker River to Eastside Lane. From here I was told the wash to the south was fun - and was marked on my map as road 120. This was no road. Another wicked but fun wash up and over a little saddle where we hooked up with another rocky road that led up to a series of tricky and long hills, fun ridgelines, and ultimately steep and technical double track up Mount Patterson.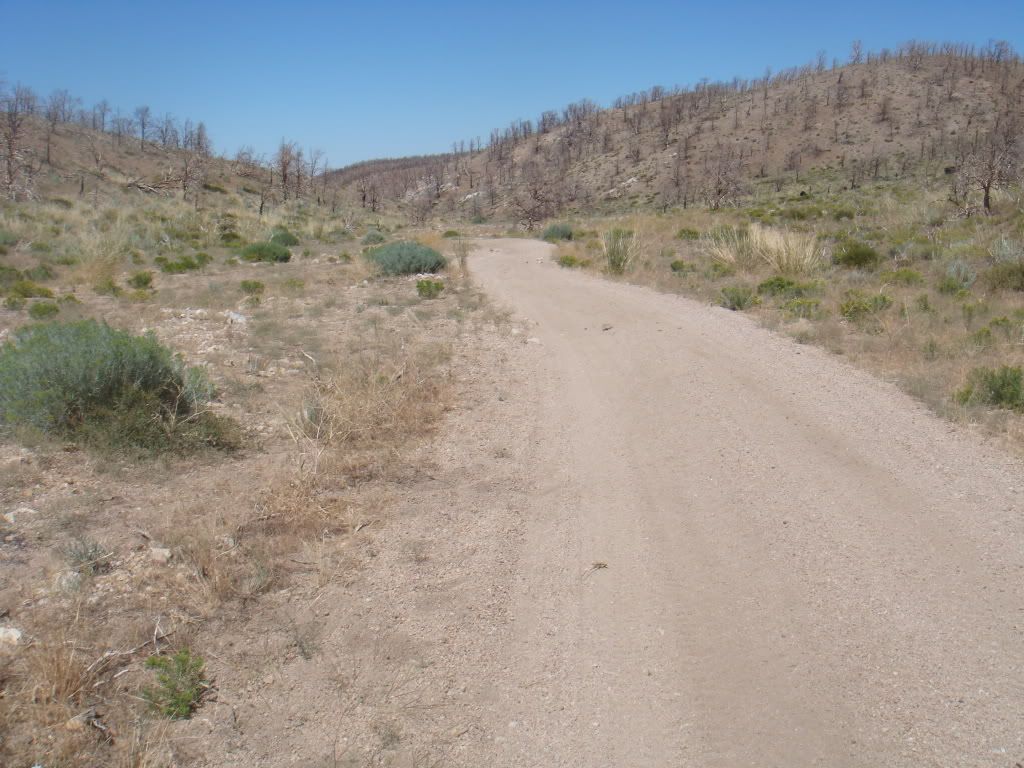 Opening up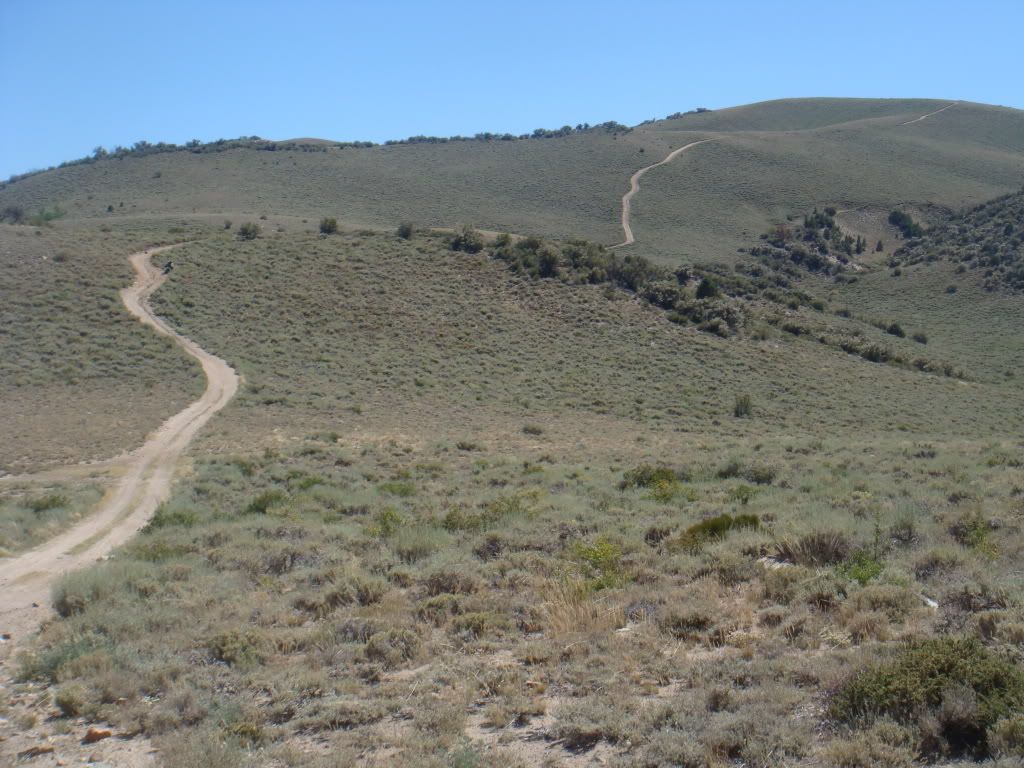 Out of the wash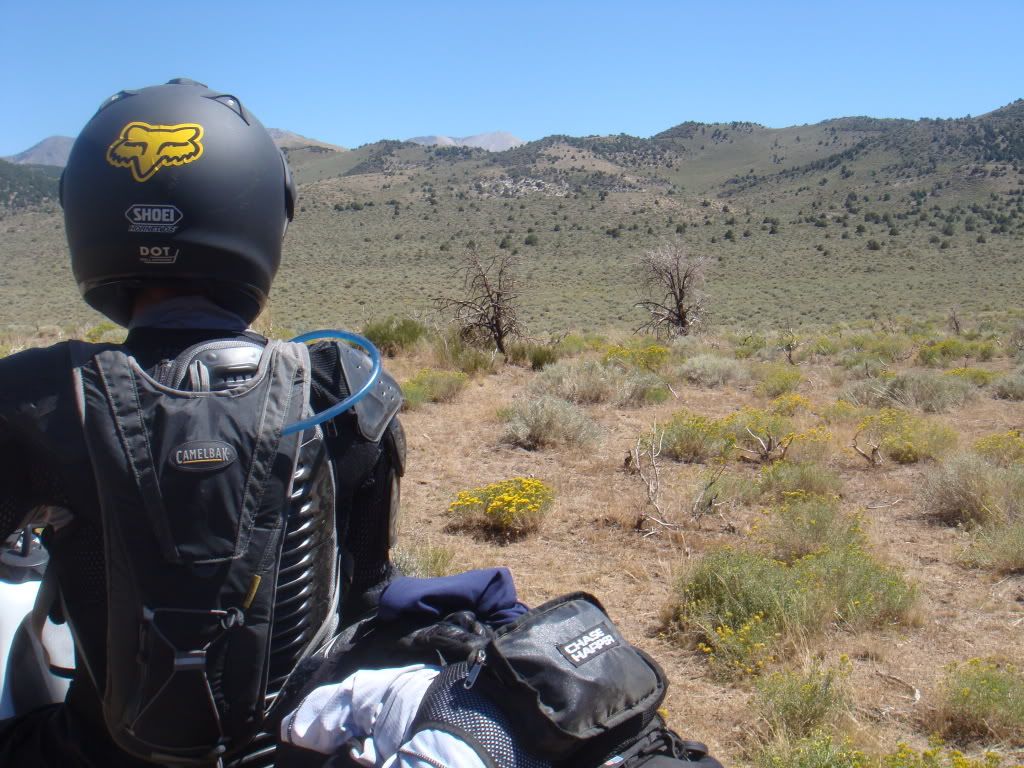 Yes, those are the mountains we are going too - today. Not exact on where this picture was taken.
Views to the west. Walker is down in the valley somewhere.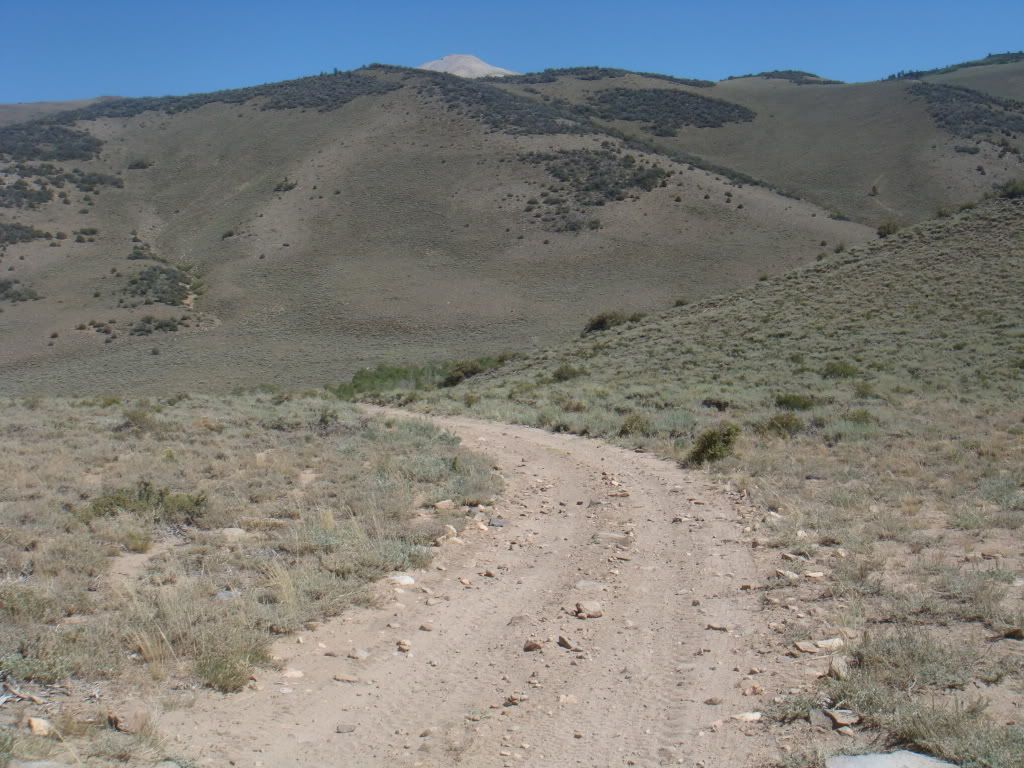 Getting there.
---
HERE TO RIDE
2nd Gear
Join Date: Dec 2009
Location: Sacramento
Posts: 182
IV
---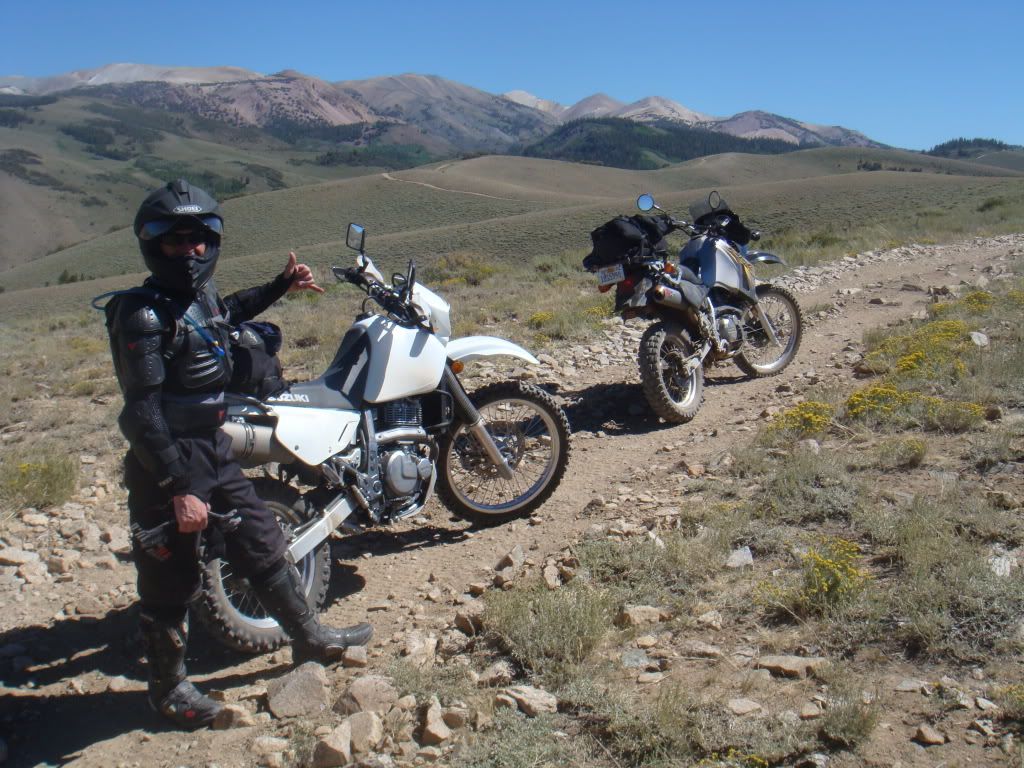 Taking a break. Mount Patterson in the background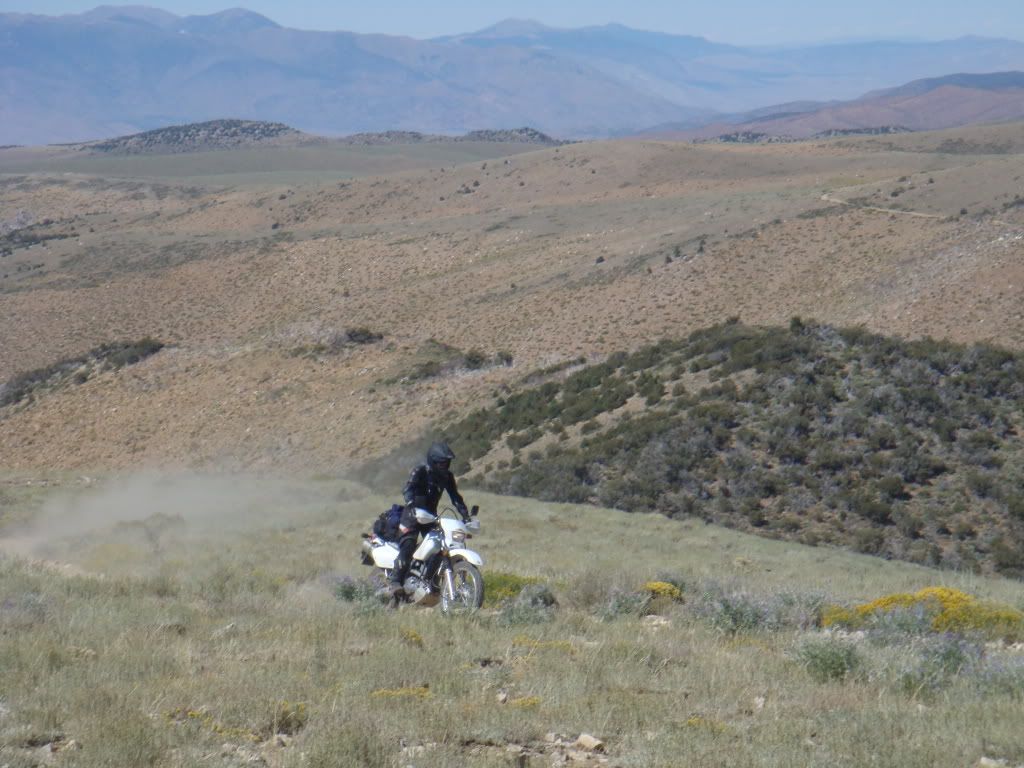 Chad - Sierra Nevada in the background.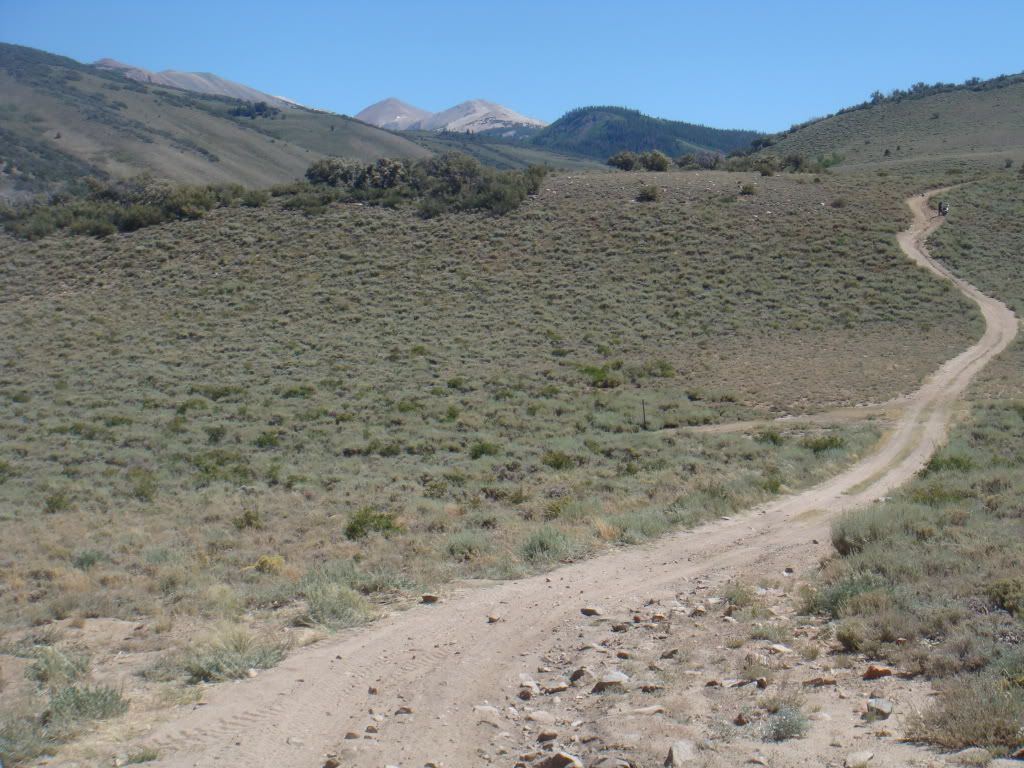 The mountain is getting closer.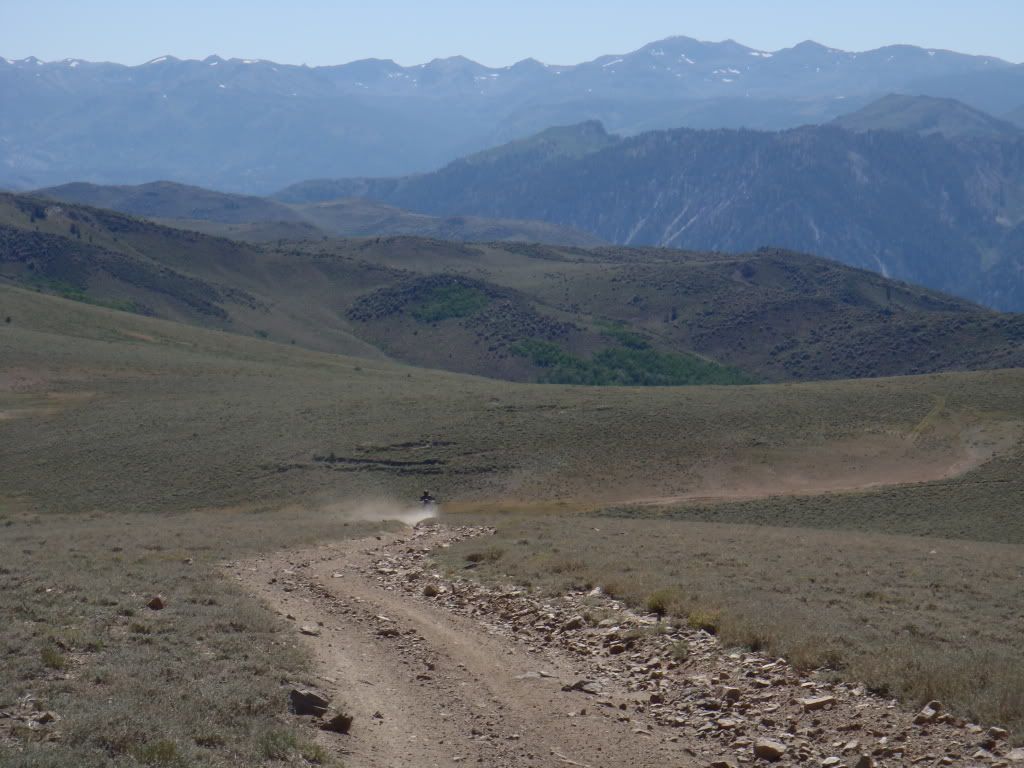 Chad.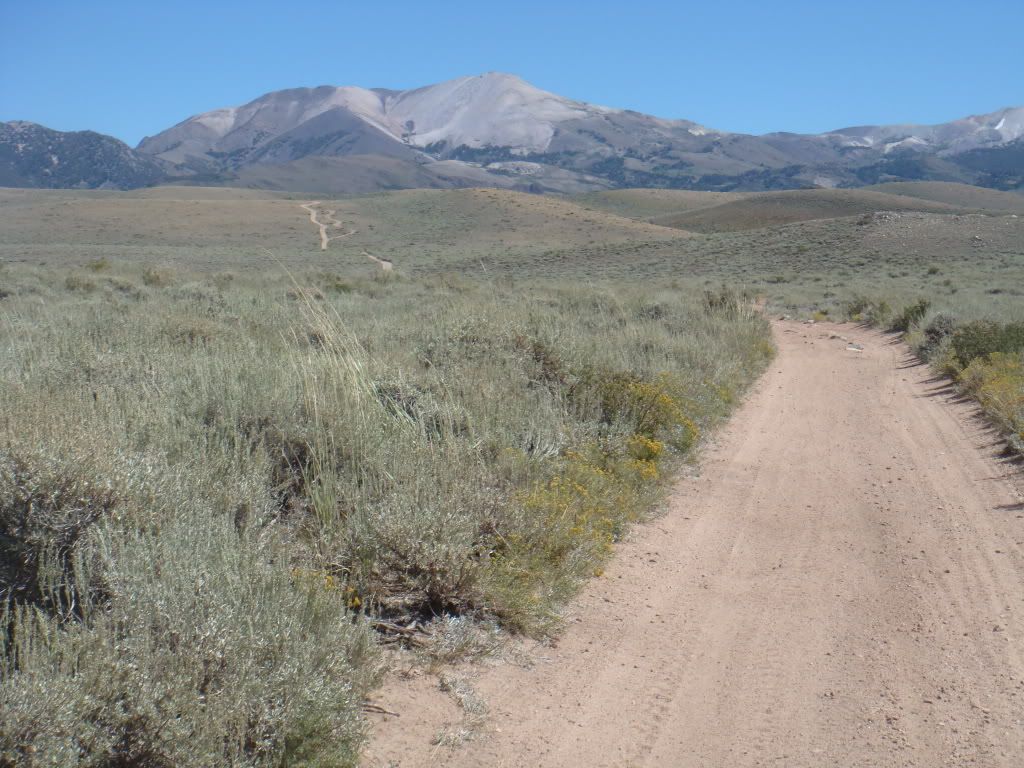 Just when you think your getting closer.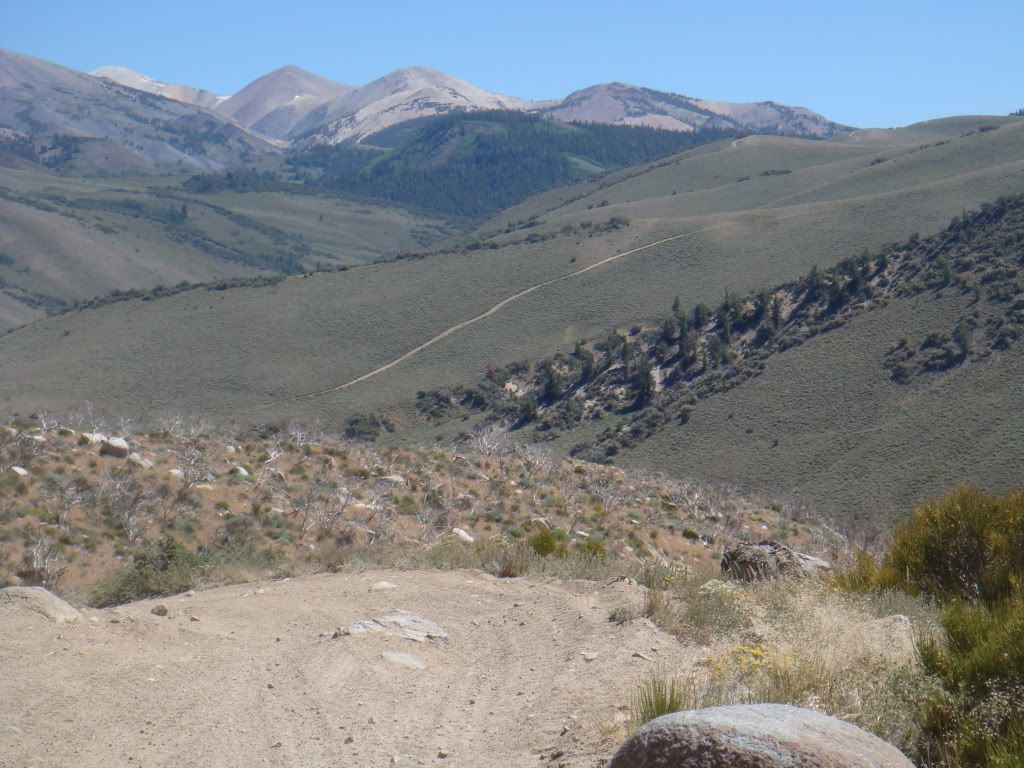 ---
HERE TO RIDE
2nd Gear
Join Date: Dec 2009
Location: Sacramento
Posts: 182
V
---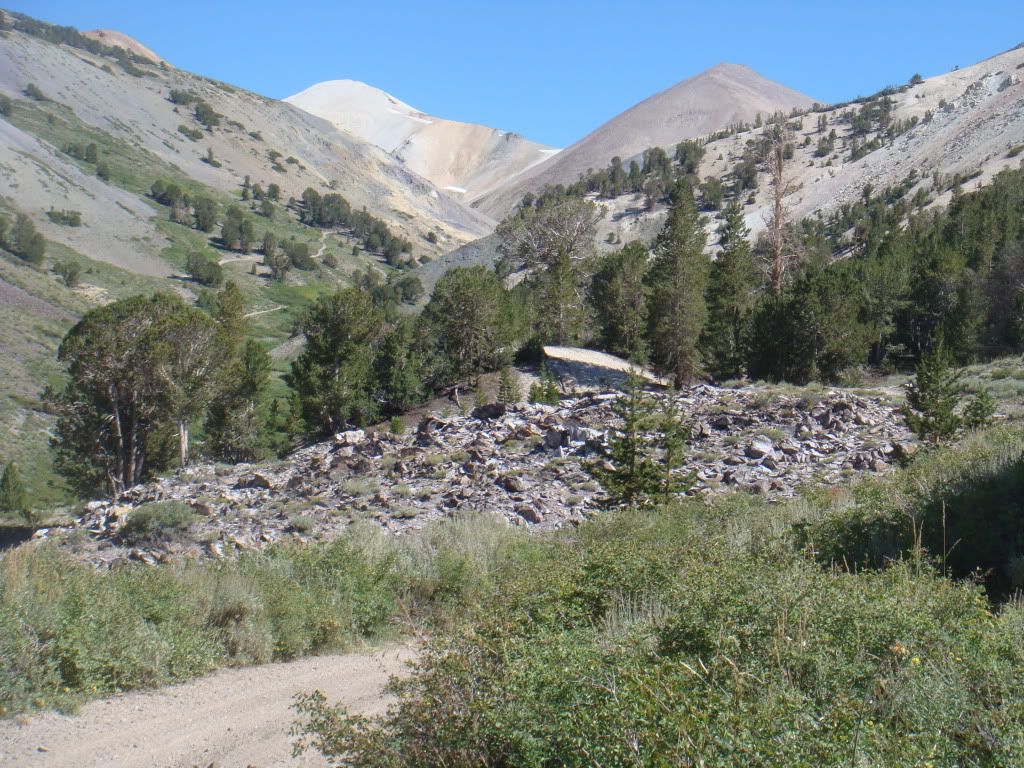 That is the canyon the trail goes up.
For me - this trail was intense.. I was literally sweating, not in hot sort of way. Consider I've been fishtailing it around all day - now we are on a trail maybe 4'-5' wide, sandy, off camber with 180 degree switchbacks - all on the side of a mountain of rock - i felt the exposure here for than any ride I have ever been on.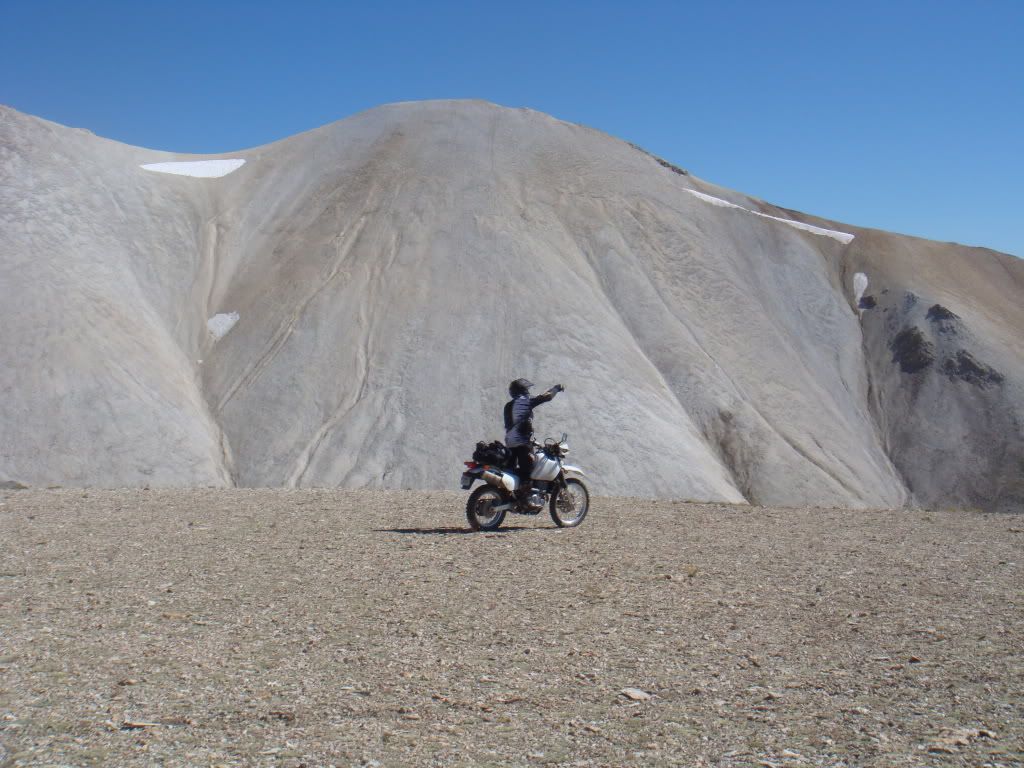 We came out here. Chad.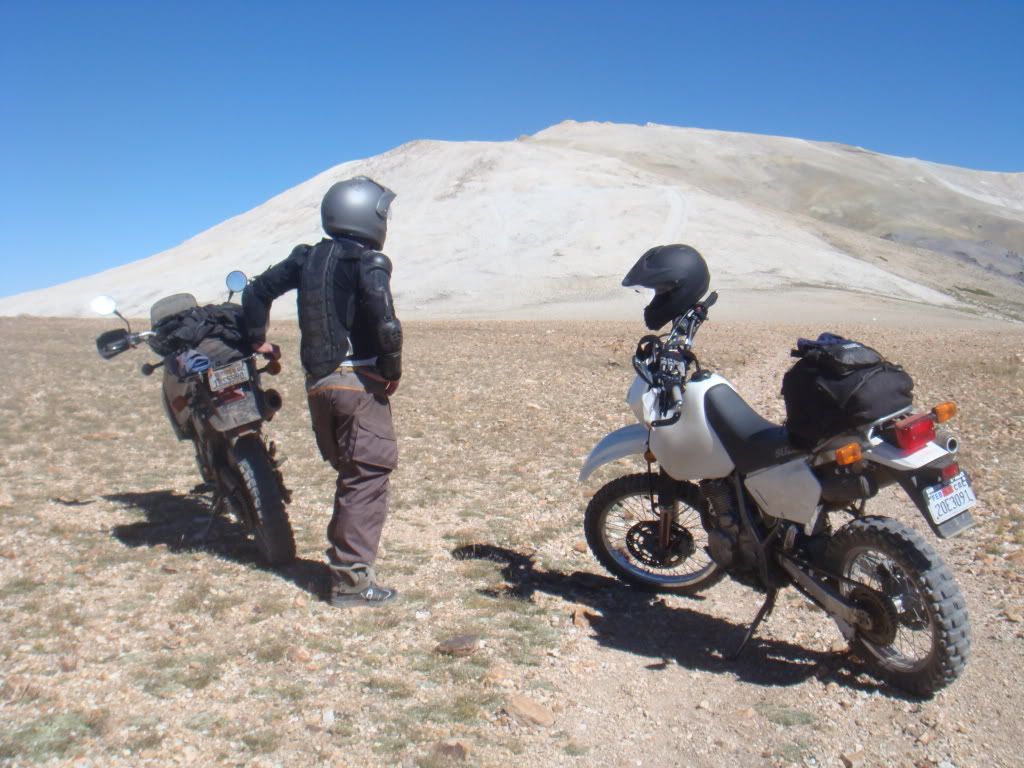 That's me contemplating if I can actually ride down what I just rode up while at the same time thinking are we really going to try and ride up THAT.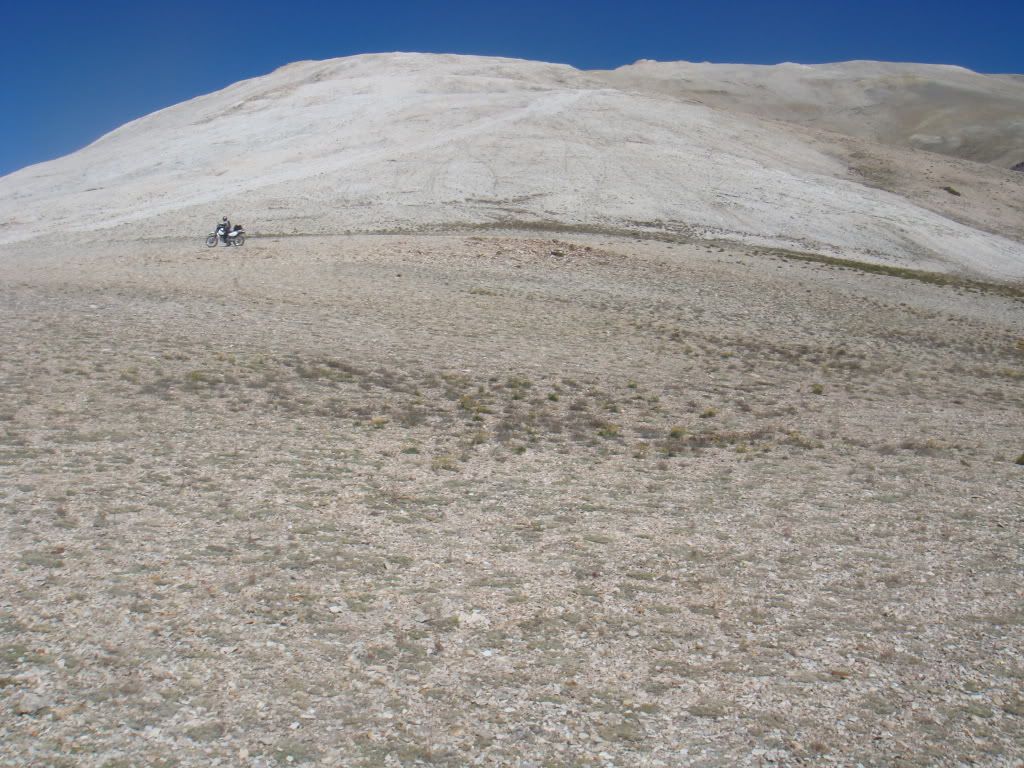 Chad. You can't ride up the road for various reasons - you have to angle up on the right to almost the top and then cut left across the road gaining less steep ground and the ridgeline. I think we are at about 11,000' here. My carbureted bike had maybe half of the 40 HP. I went for a pass on the road with the throttle wide open - the motor would just die. I knew it would take 2nd gear wide open to get over this obstacle but wasn't ready to risk it at 4pm on Sunday evening 2-3 hrs from pavement - 6 hours from home etc..etc...I know, the bottom line is we failed.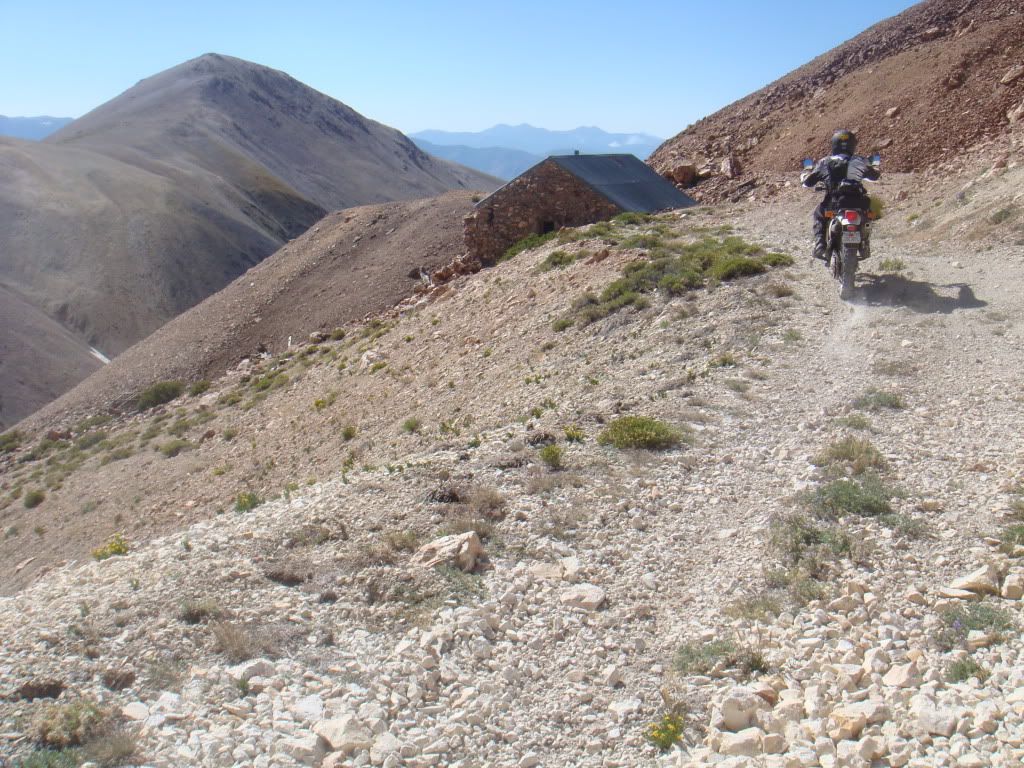 We didn't summit but took a little side trip down a canyon off the main plateau and found this neat little structure.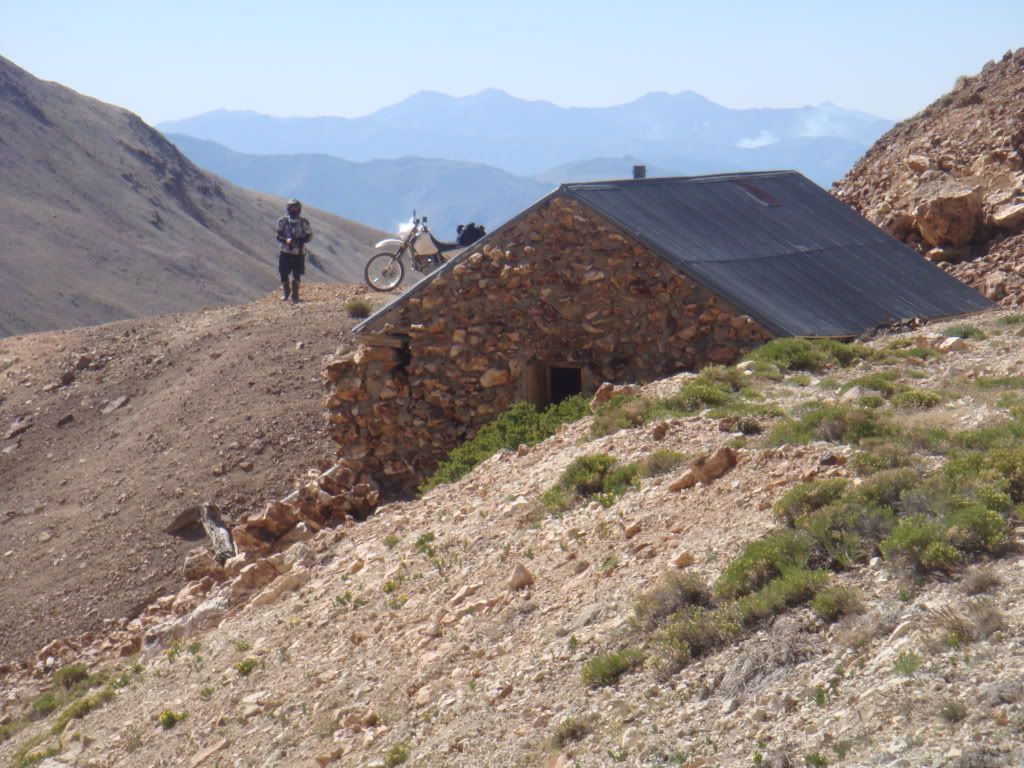 Chad
---
HERE TO RIDE
2nd Gear
Join Date: Dec 2009
Location: Sacramento
Posts: 182
VI
---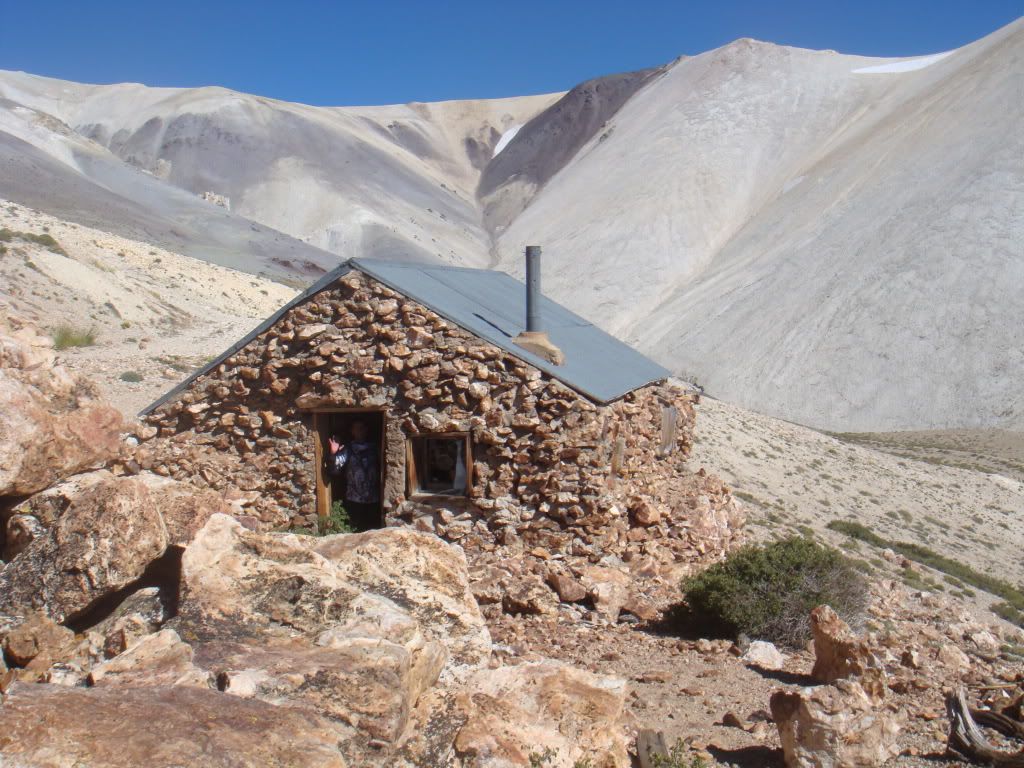 Mount Patterson in the background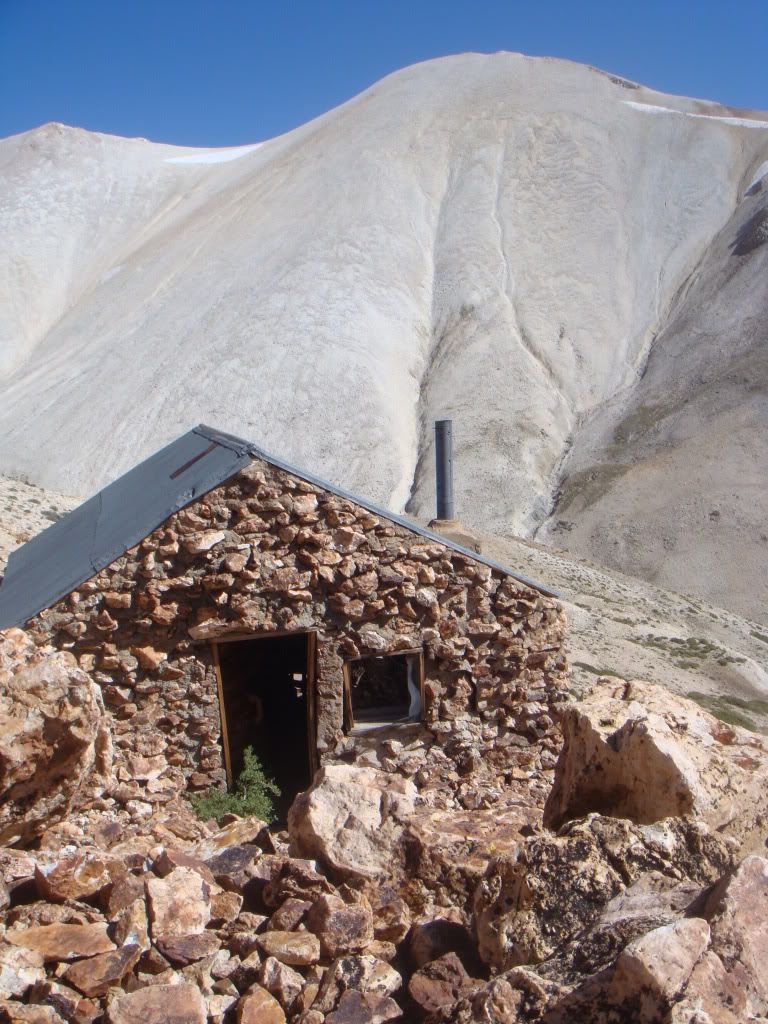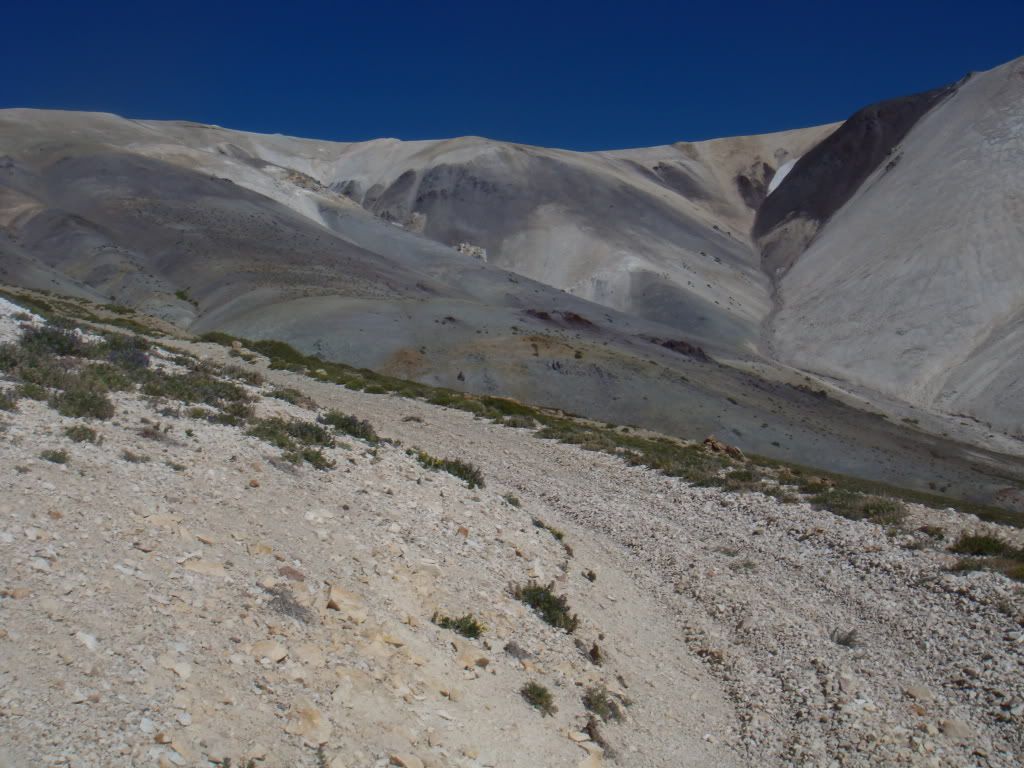 Back up to the plateau and then down the trail - heading for the lake.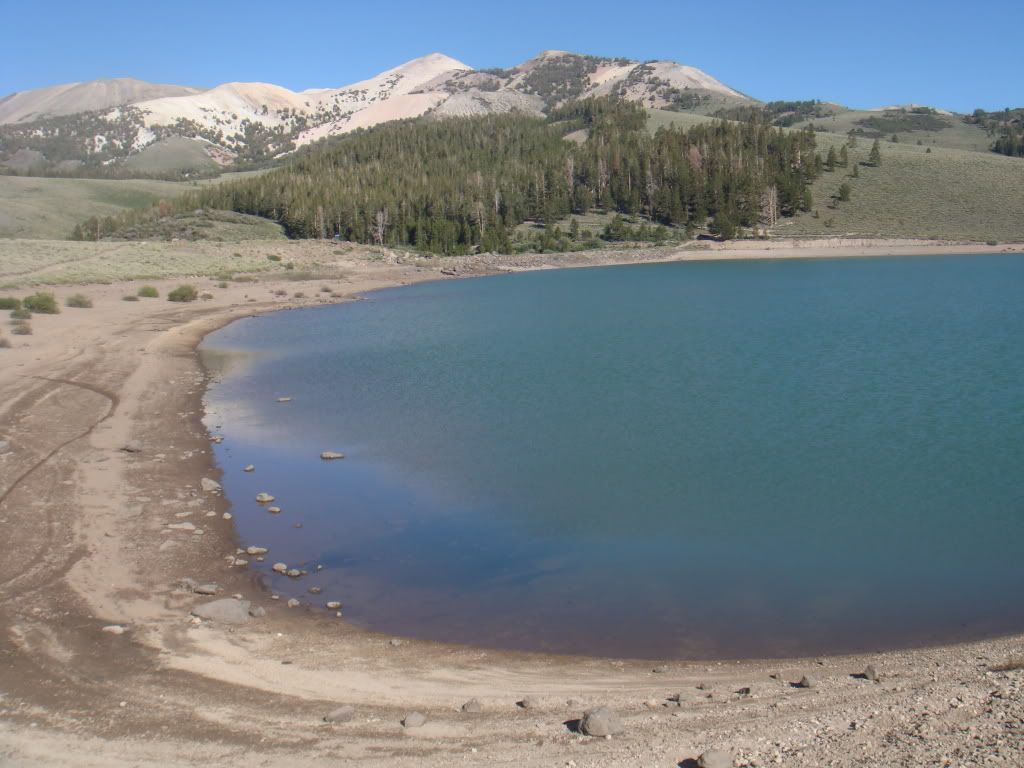 Found the lake. Looking back up where we came from...amazing place. We will be back this year to summit.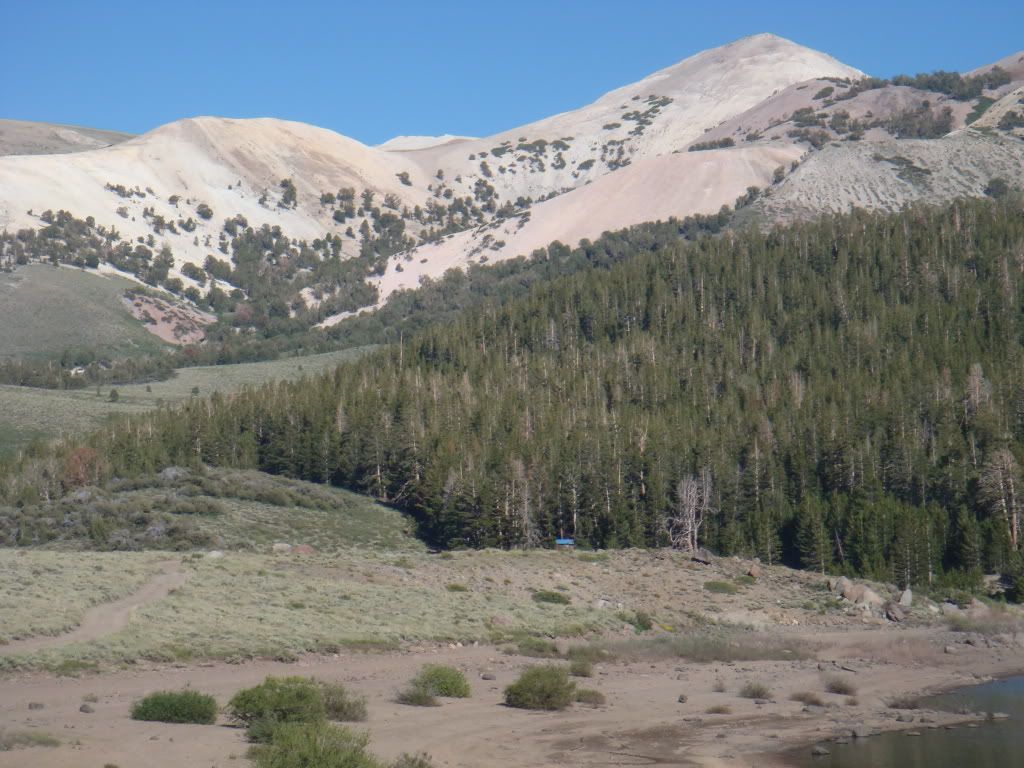 Amazing you can ride to the top.
---
HERE TO RIDE
2nd Gear
Join Date: Dec 2009
Location: Sacramento
Posts: 182
Vii
---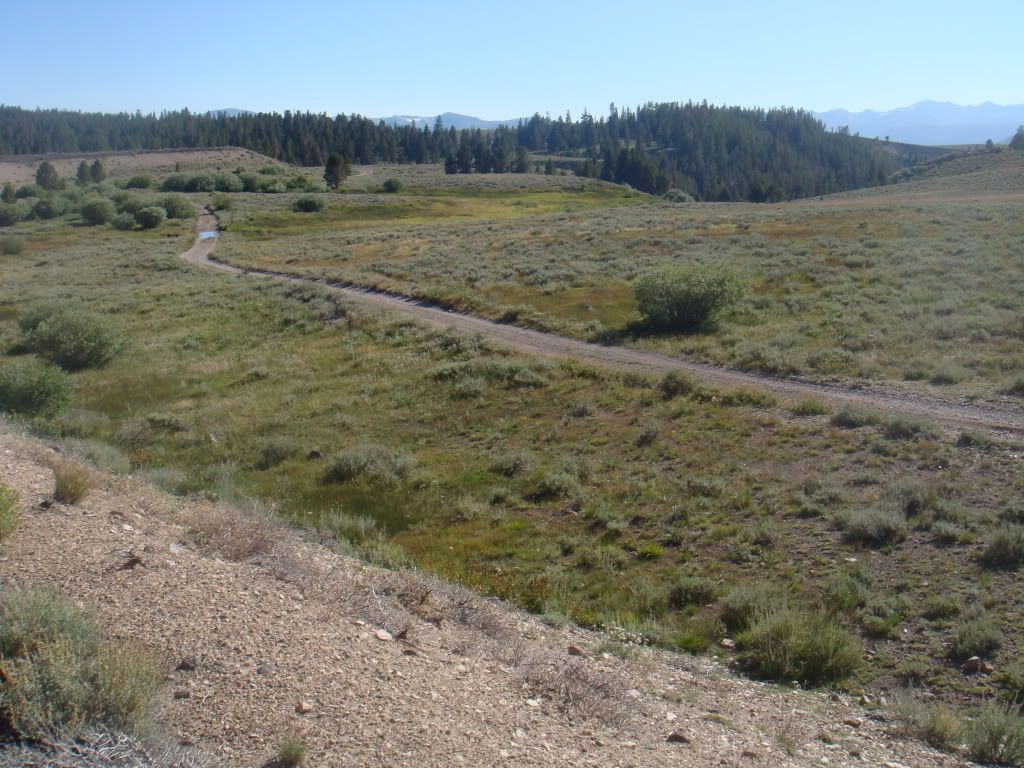 The road home. (Hwy 395 south of Bridgeport).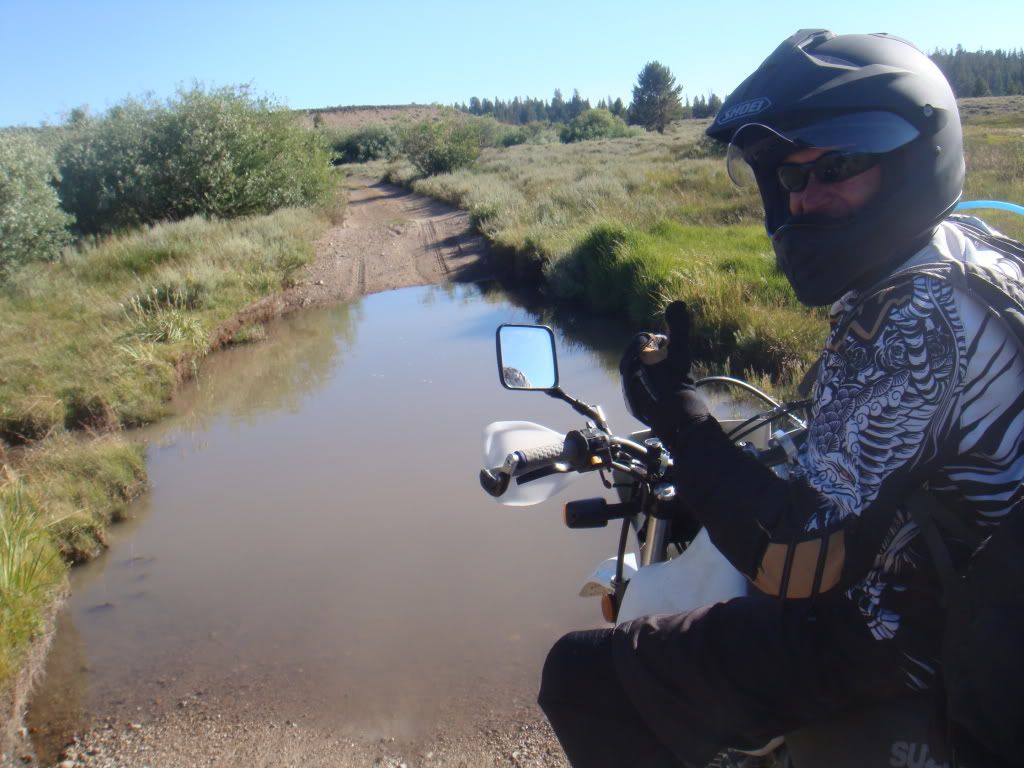 Surprise water crossing. Chad hit it at about 10 mph and got soaked.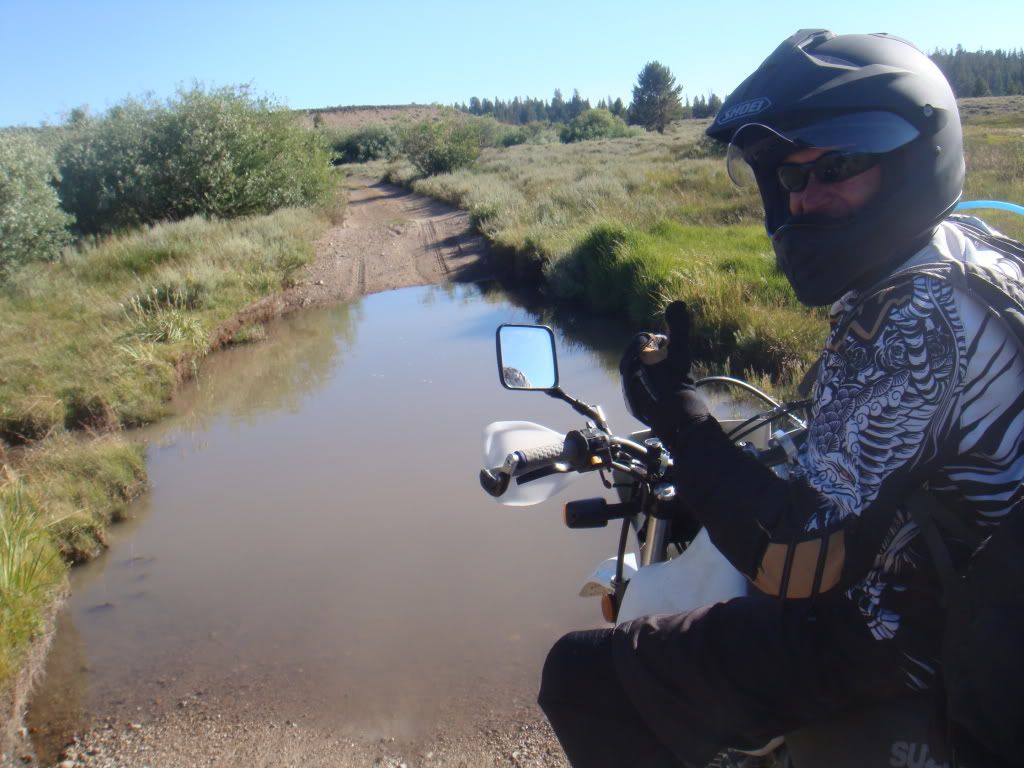 395 is down there somewhere. We were told by a hunter it was about 5 miles. Turned out to be about 20.
Good day. Home by 10pm. About 280 miles pavement, 120 dirt. We will going back to summit if anyone wants to join. Most likely within the month. We will go directly to Mount Patterson and ride to the summit - continuing down (on the motorcycle) the south ridge ultimately looping around near Bodie.
Until then.
---
HERE TO RIDE