Banned
Join Date: Mar 2012
Posts: 411
MegaLoop
---
I have been putting together routes for the upcoming SoJ Rally in September but thought I would put together a "local" loop of all loops. This loop circumnavigates Shasta Lake AND Trinity Lake in Northern California, most of it is all off road. I doubt if it could be done in a day. I might have to try it this fall. I have called it Mega Loop cuz that is exactly what it is !! Anyone that uses a Garmin and would like the route I could send it out...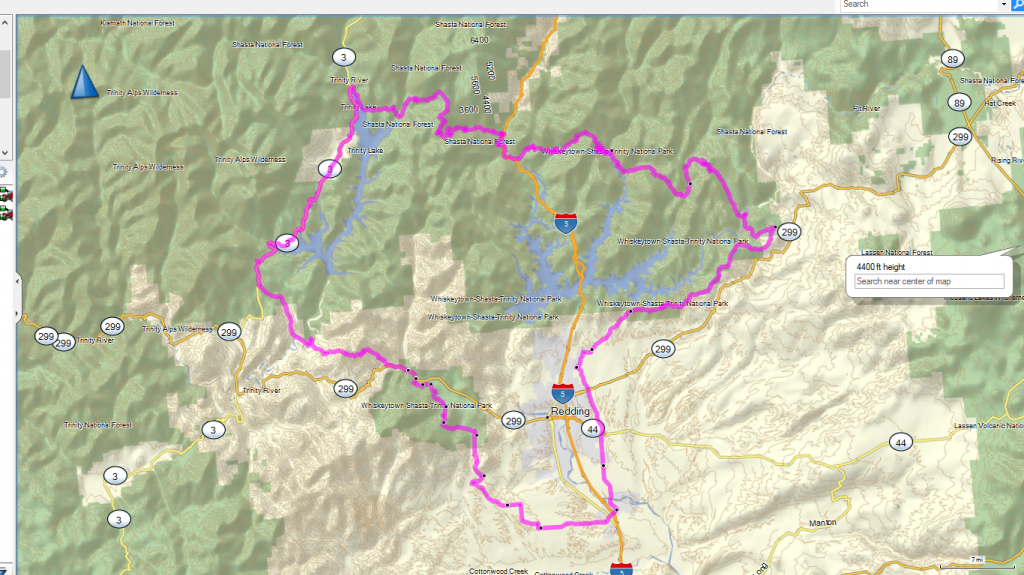 3rd Gear
Join Date: Jul 2011
Location: Napa, Ca
Posts: 667
Ah great! The wife's going to love hearing about another great ride I want to go on.
---
Confidence is the feeling you have before you fully understand the situation."

Jeff in Napa California
Banned
Join Date: Mar 2012
Posts: 411
Maybe later in the year Jeff? If more are interested I will make camping/lodging arrangements too...
That looks awesome!

What is athe Soj rally?
---
Sent from my rotary phone
================================
Track me here -
https://spotwalla.com/tripViewer.php...354a61e5f3997a
Michael G in SF
|
2018 KTM 1090R Adventure | 02 XR400R (Plated)
|
2011 FJ Cruiser Army Green
|
------------------------------------------------------------
"If you have the will and not the way, you wont get very far."
Snakeboy66
Banned
Join Date: Mar 2012
Posts: 411
The State of Jefferson Dual Sport Rally is something I conjured up a couple of years ago. Lots of rallies and rides to the south but nothing up here. The inaugural rally was based out of Mt. Shasta and we all had a great time. There is actually a video montage of it on my youtube channel.
Last year was looking like it was going to be awesome too but no one would commit. The first one was easy, I paid for everything.
I plan on trying again this year but making it a "bring what you want" unless I have some donations to make it work (1st year we had, Tri-tip, oysters, steaks, etc.). If it works this year camp will be in the Junction City area with many routes for everyone, crazy single track (NOT for a KLR), nice mixed loops and a highway only scenic loop with awe-inspiring vistas.
Even if it doesn't turn out a big following I plan on doing a weekend camp at Bigfoot CG this fall...
Neutral
Join Date: Jan 2012
Location: Redding, CA
Posts: 6
Looks like an adventure
---
I have done some of that route, Backbone out to Fenders Ferry. I have heard the riding out around Fenders Ferry is great.
i met a guy from shasta once. he said only two things bring him off the mountain....women and cheese. smart man
---
Never ride faster than your angels can fly
3rd Gear
Join Date: Jul 2011
Location: Napa, Ca
Posts: 667
What's the latest plans with this Brian?
Any dates possible? I might try to squeeze this one in.
---
Confidence is the feeling you have before you fully understand the situation."

Jeff in Napa California
Banned
Join Date: Mar 2012
Posts: 411
I hadn't really thought about it. Usually late summer/fall is the time to go around here, after kids are in school (less campers) and before hunting season(less shot riders).
I am up for this anytime we want to put it together. If we get some interest I will reserve a spot around Whiskeytown Lake or Shasta Lake for a base. If it will be just a few of us we can stay in town.
Lets try to drum up some people and ideas of what dates will work for everyone and get it going. That loop could be done in 1 hard days ride but probably better split it two or even three with side ventures. There is riding a plenty up here and we could stay busy burning fuel for weeks if we were so inclined...
Banned
Join Date: Mar 2012
Posts: 411
Jeff,
My input on this. I would like to do the loop too but it may take a different view. I personally would like to make the loop in 3 days with many peripheral jaunts. It would probably be 4+ hundred miles total but many of them being dual/single track fun. The first day might take us to one of the many ridges above Trinity Lake, a good camp and talk about the next day. A lot of this has been mapped and routed and ridden by me and we could easily spend a day without making a lot of forward progress but seeing some awesome stuff. The next day could be spent in some twisties getting down the valley and hitting some of my favorite stuff. We could easily make another day out of it but could also make it back to base for a night of campfire talk, licking wounds and aching bones. There would be nothing highly technical but some stretches of concentration needed.
Point is that for this to be done properly we would need to carry what we need for a 3 day venture. Fuel will be available on the way as well as motels, except for maybe that first night above Trinity. Heck, we could even ride into Trinity Center or Weaverville for those that HAD to shower...
It could be an epic ride for those up to the challenge......
Just a taste... seen before but this is a vid between French Gulch and Lewiston, part of what would be the Mega Loop... awesome ride. It was just me and Glenn and we are pretty close in speed and style so it was a lot of fun. It can be taken a lot more leisurely.
https://www.youtube.com/watch?v=oto3NOsNjj0
---
Last edited by SkiBumBrian; 05-07-2014 at

02:38 AM

.