View Poll Results

: Would You Like to Participate in BAKAR '07?

HELL YES!! Sign Me Up Early... I'm There!!
4
18.18%
Big Maybe... Depends On Time Frame/Dates
15
68.18%
Nah... I'm not ready to camp with strangers
3
13.64%
Voters: 22. You may not vote on this poll
Guest
Join Date: Jun 2006
Posts: 595
Big Ass Kalifornia Adventure Ride (POLL)
---
I've been thinking about this for quite some time... and I should probably ask what everyone thinks about this kind of ride. So this is really a "Feeler" post more than anything, as nothing is set in stone. I'm just trying to gain interest before I commit the time to laying this all out and lining my ducks up.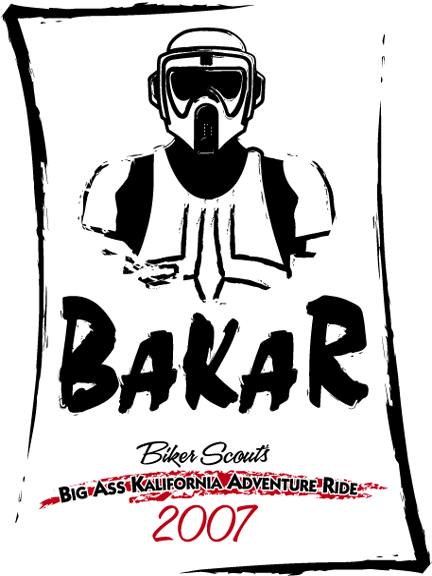 Here's the deal... it's going to be a 3-4 day Ride & Camp Trip that basically makes a huge loop though the Northern half of the State. We'd (Gather) start in Modesto at the Red Lion Hotel Parking Lot and leave at o'butt thirty and head out towards Yosemite... via old school dirt back roads. Have lunch in the valley floor, then head on over Tioga Pass, piss around Mono Lake before making our way into camp in Mammoth Lakes area. Find some Hot Springs, ride the millions of trails, etc... Then from there, we'd head North on 395 and cut over Hwy 89 (Monitor Pass) to Hwy 4 (Ebbets Pass) and ride up through Gold Country on Hwy 49 all the way to 89 again to reach Mt. Lassen and Mt. Shasta areas for another night.
From the Eastern side of the State, we'd cross over through the Trinity Alps and head on over to the coast. Ride through the Redwoods, Camp on the beach, look for Bigfoot etc... Then head South along Hwy 1, until we reached Santa Cruz, before heading back over the Coastal Range for a final dinner party back in Modesto.
Now, the route is just in my mind right now, and of course we'd not stick to a stringent schedule based on the size of the gorup... camping locations would obviously have to be worked out ahead of time etc... etc... There are plenty of side treks to keep us occupied based on where we are at any one particular time.
Basically, it's going to be Bad Ass and Huge!! I'd love to see at least 50 KLR riders on this trip, and I'd like to make this an annual event if it turns out well. The West Coast really needs some huge trip, other than just a bunch of Tech Days... our bikes should be in working order by the time this all gets together.
My plan is to make this available to riders of every skill level... most of the traveling will be done on 2 lane back roads. And most of the off roading will be more or less limited to Free Time once we make camp. So, other than the trip into Yosemite Park, there won't be any manditory dirt riding. Maybe a little up in Lassen or Shasta County's, but I'll have a better idea once I realize this thing is a go.
I'll be sponsoring this officially through my website once things are official... I'll be taking official sign-ups, and sending out packets. Everyone will get a T-Shirt, and there will probably be awards at the banquet dinner after we are all done. I'll have a couple of minor requirements before we disembark on this journey, but more on that later.
–––
As for timeframe... My gut says near the end of August... but I'm also tossing around Labor Day weekend... as it might be easier for more people to get Friday, Saturday, Sunday & Monday off. However, the only thing that keeps me from liking that weekend, is people usually have that time planned out ahead of time with family. Plus, camping might be harder if we have to make camp outside of the scheduled stops.
Anyway, I'm leaning towards the end of August if this thing is a for sure!
---
Last edited by Biker Scout; 03-28-2007 at

01:47 PM

.
2nd Gear
Join Date: Jan 2007
Location: Vallejo CA
Posts: 104
I like this idea generally.
I'd be intersted in less pavement.
And the timing will determin wether I can attend.
Guest
Join Date: Mar 2007
Posts: 16
Guest
Join Date: Mar 2007
Posts: 11
Sound like fun count me in when planning is better.
Guest
Join Date: Jan 2007
Posts: 8
I'd be really interested!
Guest
Join Date: May 2007
Posts: 29
Guest
Join Date: May 2007
Posts: 29
THIS SOUND KOOL THO I NEVER have gone on such a ride.... but have in hand KLR650-2003 SO this might help make it happen...
Guest
Join Date: Mar 2007
Posts: 42
Would you consider a weekend after labor day? Rates might go down and availability might go up. The weather would be a little cooler as well. When do the parks close in Cal.?
I am in Missouri, easily confused with misery, and would love to attend a ride of this sort.
Keep us posted.
Guest
Join Date: Mar 2007
Posts: 42
p.s. more dirt wont hurt.
Guest
Join Date: Jun 2007
Posts: 12
I'd be interested. Need some help getting stuff down there. Not huge on weighing down the bike..most I usually travel with is a backpack. Other then that, sounds like an awesome time!!